Football journey: Daniel Fells
October, 6, 2012
10/06/12
5:00
AM ET
FOXBOROUGH, Mass. -- Tight end
Daniel Fells
wasn't a highly touted prospect when he came out of UC Davis in 2006. He wasn't drafted, and his early years in the NFL were more about survival.
It started in Atlanta when he surprisingly made the Falcons' 53-man roster as a rookie, but was inactive for all 16 games. He was cut the following year, which was a blessing of sorts since Bobby Petrino had just been hired as coach and would later quit on that team.
So Fells spent 2007 on the Raiders' practice squad. Then in 2008, he began the year on the Buccaneers' practice squad.
Finally, there was the breakthrough.
A month into the 2008 season, the Rams needed a tight end on their 53-man roster and signed Fells off Tampa Bay's practice squad.
Fells has since played with the Rams (2008-10), Broncos (2011) and now the Patriots (three-year contract through 2014), and he shared his "football journey" this week with ESPNBoston.com.
[+] Enlarge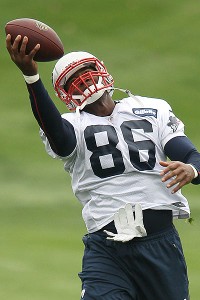 Jonathan Wiggs/Getty ImagesDaniel Fells on his decision to come to New England: "There is a lot of talent here, but I felt like I could grow here."
When he first started playing football:
"My freshman year of high school [at Fullerton Union in Fullerton, Calif.]. Our mom wouldn't let us play football until we were older, and my brother, who is a year older than me, started a year before me. I saw how much fun he was having out there and naturally jumped into it."
First positions:
"Wide receiver and free safety."
Favorite memories of high school football:
"Probably the decorated lockers before every home game."
Why he attended UC Davis:
"Good academic school. Coming out of high school, I wanted to be a veterinarian. Obviously, my plans changed when I got to UC Davis, but they have a real good program in that, plus a good football program."
Top football memory at UC Davis:
"Probably the victory over Stanford my senior year. Nobody gave us a chance; we were complete underdogs. We pulled it out."
Undrafted free agent in Atlanta:
"I just wanted to come in and show what I could do. I was just looking for an opportunity. They gave me one and I was able to perform well enough where I made the roster, but I didn't dress for a single game my rookie year. I was on the team the following year and that's when Bobby Petrino took over. I got released after training camp."
Landing on Oakland's practice squad for 2007:
"I was there for the whole year. It just didn't work out. Just thought it was best to move on after that."
Landing on Tampa Bay's practice squad for the start of 2008:
"It was the first four weeks, and then St. Louis had their tight end get hurt, so they brought me in and I was there the next three years."
Top memories of his time with the Rams:
"Probably my last year there [2010], where we were one game away from making the playoffs. When I first got there, we had a 2-14 season, then a 1-15 season, so it was a little dismal over there. But that last year there, when we drafted
Sam Bradford
, we ended up going 7-9 and our final game of the season was against Seattle, a division opponent. It came down to that last game, it was a big game, cold. We just couldn't pull it through."
Signing with the Broncos as a free agent in 2011:
"It was a good opportunity. In St. Louis, I didn't think they were going to allow me the chance to be a starter. I wanted to prove that I could be that. Denver was willing to give me that opportunity. They had a couple of young guys that they brought in, and I still had to go in and prove everything in training camp, but I ended up starting [17] games [including playoffs]."
Best memories in Denver:
"Probably our victory against Pittsburgh, the first week of the playoffs. Nobody gave us a chance. We pulled it off in overtime. One play. A one-hitter quitter. That's all it takes."
Signing a 3-year deal with the Patriots in free agency:
"It was the best decision for my family, as well as for my career. Looking at the situation, there is a lot of talent here, but I felt like I could grow here. I definitely liked what I saw."
Describing the atmosphere with the Patriots:
"It's a 'work hard' mentality. I like to consider myself a hard-working, blue-collar type player and that's the mentality of pretty much everyone on this team. It's all about getting work done. Bill [Belichick] is a no-nonsense type of guy and he's all about what you're doing on the field. That's what really matters. I definitely saw that approach and took to it."
What he loves about football:
"There is so much about it. The crowd is one thing, whether it's home or away. I just love the passion that fans bring to the sport. I'd have to say one of my favorite things is during away games, as high-pitched as crowds get, when you can silence them there is no better feeling. Just like when you're at home, and it's kind of quiet, and all of a sudden we make a big play and it just erupts. Those are some of the greatest moments."
Favorite teams and players growing up:
"Football wasn't that big in my family because we didn't start until high school. My dad is from Wisconsin, so my grandma would send us Milwaukee Brewers gear, and Packers stuff. So as I got older, I'd say it was the
Green Bay Packers
.
Randy Moss
was my favorite player."
Role models growing up:
"Probably my mom [Chandra]. She had four boys and it's definitely not easy with four boys -- four big boys at that. She worked a full-time job. She was able to take us to every single game. We grew up playing basketball, soccer and baseball, and she was at every game. I don't know how she did it, but she found a way for all of us. Just her dedication to us plays a role in my dedication to my son [Lennon] right now."
On his best teammate:
"My wife [Nahall] has played a big role in my life. I met her my sophomore year in college. I had a lot of injuries in college, but she's been there for me. She's been my rock. She's been my everything. She's been here throughout the entire journey -- every curve, every turn. She's my biggest supporter."
Summing up his football journey:
"Interesting. That's probably the best way to describe it. It's probably the path less chosen, but who really chooses their path? It's not set in stone how it's supposed to go. That's one of the great things I love about it. It kept my life, my journey, always changing. I think it humbles me and it makes me a better person for it."