Penalty watch: Hello encroachment
November, 1, 2012
11/01/12
5:00
AM ET
Through the first seven games of the season, the Patriots had been penalized for encroachment once. In Sunday's 45-7 win over the Rams, they were flagged three times for encroachment.
The tone was set on the first play when defensive lineman Vince Wilfork jumped across the line before the snap to get the flag. Rookie defensive ends Chandler Jones and Jake Bequette also were penalized for encroachment in the second half.
It was a rare blip on the radar for the Patriots, but one that still figures to be addressed by the coaching staff.
The breakdown of the season (includes declined penalties):
[+] Enlarge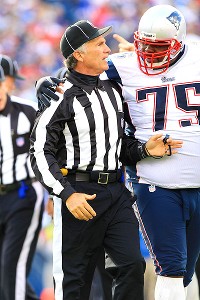 Kevin Hoffman/US PresswireVince Wilfork prefers to keep things friendly with the officials, but he's been flagged three times so far this year.
Penalty count
Rob Gronkowski
-- 4
Devin McCourty
-- 4
Brandon Spikes
-- 4
Alfonzo Dennard
-- 3
Ras-I Dowling
-- 3
Vince Wilfork
-- 3
Tom Brady
-- 2
Patrick Chung
-- 2
Julian Edelman
-- 2
Daniel Fells
-- 2
Chandler Jones
-- 2
Niko Koutouvides
-- 2
Jerod Mayo
-- 2
Sterling Moore
-- 2
Nate Solder
-- 2
Donald Thomas
-- 2
Sebastian Vollmer
-- 2
Danny Aiken
-- 1
Kyle Arrington
-- 1
Jake Bequette
-- 1
Marquice Cole
-- 1
Nate Ebner
-- 1
Steve Gregory
-- 1
Aaron Hernandez
-- 1
Dont'a Hightower
-- 1
Logan Mankins
-- 1
Matthew Slater
-- 1
Ryan Wendell
-- 1
Tavon Wilson
-- 1
TEAM -- 2
Most called penalties
Defensive holding -- 10
Defensive pass interference -- 7
False start -- 7
Offensive holding -- 5
Encroachment -- 4
Offensive pass interference -- 3
Illegal contact -- 2
Intentional grounding -- 2
Offside -- 2
Special teams holding -- 2
Special teams illegal block above waist -- 2
Illegal formation
Illegal motion -- 1
Illegal shift -- 1
Offside (special teams) -- 1
Personal foul -- 1
Roughing the passer -- 1
Special teams false start -- 1
Special teams illegal formation -- 1
Special teams offsides -- 1
Unnecessary roughness -- 1
Drawn holding penalties
Jermaine Cunningham
-- 3
Chandler Jones
-- 2
Brandon Lloyd
-- 2
Devin McCourty
(1 defense, 1 special teams) -- 2
Vince Wilfork
-- 2
Kyle Arrington
(special teams/KO coverage)-- 1
Rob Gronkowski
-- 1
Kyle Love
-- 1
Rob Ninkovich
-- 1
Trevor Scott
(special teams/KO coverage) -- 1
Brandon Spikes
-- 1
Wes Welker
-- 1
(two drawn holdings on special teams vs. Rams unclear)