Football journey: Malcolm Williams
November, 10, 2012
11/10/12
5:00
AM ET
FOXBOROUGH, Mass. -- Spend time speaking with second-year
New England Patriots
defensive back
Malcolm Williams
and one thing immediately becomes clear: He's a down-to-earth guy who is just happy to have a job, whether it's on the practice squad or active roster.
The 2011 seventh-round draft choice is currently on the 53-man roster, contributing as a core special teams player.
Williams' appreciation for a well-paying job in football traces back, in part, to when he was working at a bar in the Dallas/Fort-Worth International Airport. The year was 2006, and his football-playing future was very much up in the air.
[+] Enlarge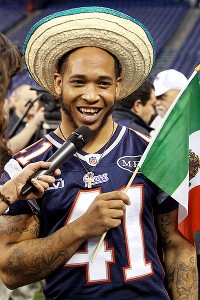 Jim Davis/Getty ImagesMalcolm Williams says, "To have that experience of playing in the [Super Bowl], it was probably the best feeling I've ever had."
That was one of the defining parts of Williams' "football journey," which he shared this week with ESPNBoston.com:
When he first started playing football:
"When I was about 7 years old. Me and my friends, our parents signed us up. We had to go take physicals. Being from Texas, it's real big there."
First positions:
"Running back and safety."
Top memories of South Grand Prairie (Texas) High School:
"First-round playoffs, senior year, against Denton Ryan. They hadn't lost a first-round playoff game in about 12 years, and we ended up beating them in overtime. We start off at the 20 in overtime, and their first play I ended up picking it and taking it back 80. We had already scored, so the game was over. That was probably the best memory. My senior year, we also beat Euless Trinity, and they were ranked really high in the nation. They ended up winning state that year. That was big."
Making the transition from high school to college:
"I knew I wanted to play football. I was getting offers, mostly from Big 12 schools, and a little after my sophomore year I committed to Texas A&M. After about a year, I decommitted and signed with [Oklahoma]."
Why he never went to Oklahoma:
"There is something called the TAKS test, an exit-level exam back in Texas. There are five portions, and the science portion, I didn't do so well and ended up failing. I ended up sitting out in '06, when I was supposed to be at OU, and working at Dallas/Fort-Worth airport [as a bar back]."
Taking flight from the airport to Trinity Valley Community College:
"Around mid-April, coach Brad Smiley gave me a phone call and asked if I was playing football anywhere. I was like, 'No, I'm just working at the airport.' I had already missed my whole '06 season and he was like, 'If you really want to play, I have a scholarship for you. Go get your GED and we can make it happen.' I took that second chance and ran with it. There's no looking back."
Using Trinity Valley as a springboard to land at Texas Christian:
"The whole reason I chose TCU was because during juco, me and my wife right now, we had our first baby. She's three years younger than me, we're both from the same area, and I didn't want to leave. I didn't want her to be stressed. I was thinking about family. TCU wasn't really recruiting me, but one of my high school coaches went to church with one of their coaches and he helped make it happen."
Top football memories at Texas Christian
: "We were 13-0 my senior year. We won the Rose Bowl, beating Wisconsin. That was a great memory. To go from where I came from and play with
Andy Dalton
,
Jeremy Kerley
and
Marcus Cannon
, it was a dream come true."
Being drafted in the seventh round by the Patriots:
"That was crazy, because my career at TCU wasn't what I was expecting. I really didn't play on defense. Coming out of high school, I was 5A defensive player of the year for the entire state of Texas. That was a little setback, and all of the people in front of me were people I was going to graduate with and they already knew the system. I ended up finding me a good role on special teams and I said, 'Let me go ahead and run away with these special teams thing,' maybe have a good Pro Day and maybe something would happen [professionally]. I had a pretty good Pro Day and did four Canadian [Football] League tryouts, two Arena ball tryouts, some UFL tryouts. I was going to play football somewhere. There wasn't anything I wanted to do other than play football to support my family. It was just a shock when Bill [Belichick] called me. He was like, 'I want to be the first to welcome you to the Patriots family.'"
Expectations leading into the draft:
"I didn't think I'd be drafted. Not a chance. I knew I put out some good numbers on Pro Day, but I didn't have any film on defense. It was just special teams. I didn't think I was getting looked at."
Summing up his time with the Patriots, including playing in last season's Super Bowl:
"I've had a job. I've been blessed to have a job and be coached by these coaches, especially Bill Belichick, one of the greatest minds in football. ... To have that experience of playing in the [Super Bowl], it was probably the best feeling I've ever had."
Favorite teams and players growing up:
"I was a big Cowboys fan.
Deion Sanders
,
Emmitt Smith
,
Michael Irvin
,
Troy Aikman
, all them. I used to go to the little minicamps they held in Wichita Falls, back when I was little I got a few autographs from them."
His teammates at home:
"I have a beautiful wife who just turned 22, Jessica Williams. We've been married since 2010. We have a beautiful little girl, Jadyn, who is 3 years old. Come the Rose Bowl in January, we ended up getting pregnant again, so we also have a 1-year-old, Jordyn -- another little girl. I think we're through with kids -- we have two who are healthy and we're living a happy life."
Summing up his football journey:
"I love it. I love every last bit of it. It's still fun, but you have to be smarter now. It isn't just running around and hitting like a chicken with your head cut off; you have to actually know what you're doing. You grow and you learn. It's a great experience."