Guess the game plan: Patriots-Jaguars
December, 21, 2012
12/21/12
11:12
AM ET


These Patriots are not an easy bunch to figure out. One week they'll try to ram the ball down an opponent's throat with the run, the next they'll spread it out and attack through the air, and they'll follow that with an ultra hurry-up approach to rattle a defense and open up holes. What'll it be Sunday against the 2-12 Jaguars without much at stake? Our three Patriots reporters try to get into the mind of Bill Belichick and guess the game plan.
Share your thoughts on how the Pats should attack or defend the Jaguars in the comments section.
Mike Reiss: Good time to add Bolden, play 'clean' football
[+] Enlarge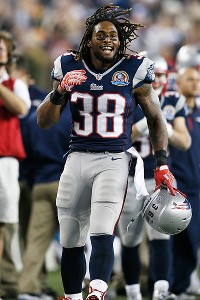 AP Photo/Damian StrohmeyerThe Patriots should use this week as an opportunity to get running back Brandon Bolden back into the rotation.
The Patriots' offensive game-plan will be to start faster than they did against the 49ers, and they figure to do so through the air, first and foremost. Quarterback
Tom Brady
traditionally has had success against the Jaguars (5-0), as he's completed almost 75 percent of his passes, with 13 touchdowns and no interceptions against them. He usually feasts on this type of defense, one that isn't exotic in its scheme.
That doesn't mean the Patriots will abandon the run, and it seems like a good time to be integrating rookie
Brandon Bolden
into the mix. When the Patriots' running game was at its best earlier in the season, it was when
Stevan Ridley
and Bolden provided the power presence, with
Danny Woodhead
and
Shane Vereen
complementing with the change-of-pace stuff and presence in the passing game. Following fumbles by Ridley and Vereen against the 49ers, getting Bolden some reps would add another capable option back into the mix.
Finally, the offense must work to get its turnover edge back. After turning the ball over a season-high four times against the 49ers, getting back to playing "clean" football should be a top priority.
Mike Rodak: Pats should focus on red zone execution
The Jaguars' defense allows a lot of yards and a lot of points per game, and it ranks among the bottom of the league in generating sacks and interceptions. But one area in which the Jaguars perform better than the league median is in red zone defense. They allow opponents to score touchdowns just 52.5 percent of the time, which ranks 13th-best in the NFL.
The focus for the Patriots, then, should be on finishing drives. The Jaguars don't allow many long plays, or touchdowns in general, so if the Patriots are going to score, it will probably be on long, sustained possessions. If an offensive series ends in a field goal, it's a morale boost for Jacksonville in front of their home crowd that will keep them in the game.
It's still unclear if the Patriots will have their red zone aficionado, tight end
Rob Gronkowski
, back for Sunday's game. If he's playing, then getting the ball to him inside the 20-yard line would be a great way of getting him back into the mix. But he's not the only offensive player who will cause problems for an overmatched Jaguars defense. Unlike last week against San Francisco, the offensive line can play a bigger role in moving the ball, so Stevan Ridley (if his recent fumbles don't limit his playing time) could also be a big factor in the red zone.
Field Yates: Minimize turnovers and big plays
[+] Enlarge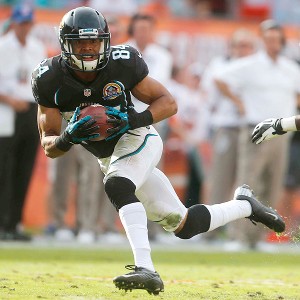 AP Photo/John BazemoreJaguars receiver Cecil Shorts III has a reception of 50 yards or more in each of his last three games.
There are two ways to keep a game close between teams with a marked difference in talent: turnovers and big plays.
Channel back to 2004, when the 12-1 Patriots went south to take on the 2-11 Dolphins on Monday Night Football and found themselves on the wrong end of a 29-28 decision. The downfall that night: four turnovers (the Dolphins committed just one).
This weekend, the Patriots must avoid what they did on that night and also this past Sunday, which was give the ball away on offense. It sounds simple, and it's been a strength of the offense all season, but this week it will come under magnified focus.
Jacksonville's offense has been stuck in the mud for much of 2012, but giving it additional opportunities on a short field is one way to push the wheels into motion.
Though the Jaguars have really struggled to score this season, they do have a player capable of making big plays down the field: wide receiver
Cecil Shorts
III. He has a reception of 50 yards or more in three of his past five games, and his 18.9 average yards per reception ranks second in the NFL.
The Patriots cannot let Shorts find open space that will allow him to exploit his very good athleticism, and they must patch up the holes in the secondary that accounted for three one-play scoring drives against San Francisco in Week 15.
Minimizing turnovers and big plays have been a prevailing theme for the Patriots throughout the 2012 season (and every season for that matter), and count them amongst the keys this weekend.