Penalty watch: Lloyd draws another hold
December, 27, 2012
12/27/12
5:00
AM ET
In updating this week's "penalty watch", a few thoughts stand out:
1. After committing three penalties on special teams against the 49ers, the Patriots didn't have any against the Jaguars. Overall, the Patriots had just five penalties (includes declined penalties).
2. Cornerback Kyle Arrington, defensive lineman Justin Francis and receiver Brandon Lloyd increased their totals on the "drawn holding penalties" list. Lloyd has drawn three holds this year.
3. Defensive lineman Vince Wilfork, with two penalties (offside, unnecessary roughness), climbs within one of the top spot on the list.
The full breakdown of the season (includes declined penalties):
Penalty count
Brandon Spikes
-- 8
Vince Wilfork
-- 7
[+] Enlarge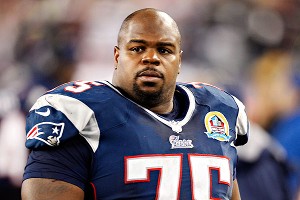 AP Photo/Stephan SavoiaVince Wilfork was hit with two penalties against the Jaguars and has seven on the season.
Kyle Arrington
-- 5
Alfonzo Dennard
-- 5
Jerod Mayo
-- 5
Sebastian Vollmer
-- 5
Patrick Chung
-- 4
Rob Gronkowski
-- 4
Aaron Hernandez
-- 4
Devin McCourty
-- 4
Nate Solder
-- 4
Tom Brady
-- 3
Ras-I Dowling
-- 3
Daniel Fells
-- 3
Chandler Jones
-- 3
Logan Mankins -- 3
Stevan Ridley
-- 3
Aqib Talib
-- 3
Donald Thomas
-- 3
Marquice Cole
-- 2
Jermaine Cunningham
-- 2
Nate Ebner
-- 2
Julian Edelman
-- 2
Dont'a Hightower
-- 2
Niko Koutouvides
-- 2
Sterling Moore
-- 2
Danny Aiken
-- 1
Jake Bequette
-- 1
Dan Connolly
-- 1
James Develin -- 1
Justin Francis
-- 1
Steve Gregory
-- 1
Rob Ninkovich
-- 1
Mike Rivera -- 1
Trevor Scott
-- 1
Matthew Slater
-- 1
Ryan Wendell
-- 1
Tavon Wilson
-- 1
TEAM -- 5
Most called penalties
Defensive holding -- 13
Defensive pass interference -- 12
Offensive holding -- 12
Encroachment -- 9
False start -- 9
Unnecessary roughness -- 6
Offensive pass interference -- 5
Offside -- 5
Special teams holding -- 5
Illegal contact -- 4
Intentional grounding -- 3
Roughing the passer -- 3
Face Mask -- 2
Illegal motion -- 2
Illegal shift -- 2
Illegal use of hands -- 2
Low block -- 2
Special teams false start -- 2
Special teams illegal block above waist -- 2
Chop block -- 1
Illegal formation -- 1
Neutral zone infraction -- 1
Offside (special teams) -- 1
Personal foul -- 1
Special teams illegal formation -- 1
Special teams offside -- 1
12-men-on-the-field -- 2
Drawn holding penalties
Jermaine Cunningham -- 4
Chandler Jones -- 3
Brandon Lloyd
-- 3
Wes Welker
-- 3
Vince Wilfork -- 3
Kyle Love
-- 2
Kyle Arrington (1 on special teams/KO coverage)-- 2
Justin Francis -- 2
Devin McCourty (1 defense, 1 special teams) -- 2
Rob Gronkowski -- 1
Rob Ninkovich -- 1
Mike Rivera - 1
Trevor Scott (special teams/KO coverage) -- 1
Matthew Slater -- 1
Brandon Spikes -- 1
(two drawn holdings on special teams vs. Rams unclear)