Weekly Patriots mail is delivered
January, 1, 2013
1/01/13
11:18
AM ET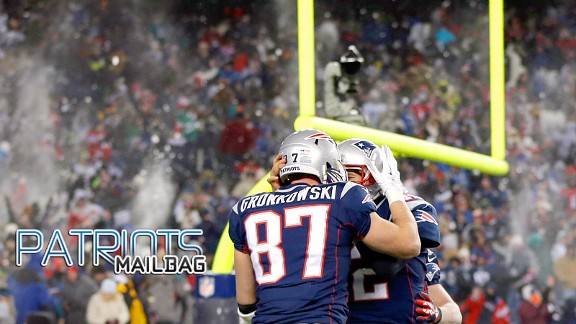 AP Photo/Elise Amendola
Every Tuesday on ESPNBoston.com, questions from Patriots followers are answered as part of a weekly mailbag.
This week's mailbag has been posted
and includes some of the following topics:
1. Selecting a best-case scenario for the Patriots in the wild card round of the playoffs.
2. Following up on Rob Gronkowski's return to the field.
3. Would Bill Belichick consider bringing Romeo Crennel back on staff, a la Josh McDaniels?
4. A closer look at the defense based on final statistical ranking.
5. Defensive end Rob Ninkovich and what he brings to the defense.
ESPN New England Patriots reporter
Covered Patriots since 1997
Joined ESPN in 2009
MORE FROM ESPN BOSTON

Want to submit a question for Mike Reiss' weekly Patriots mailbag? Click here and come back every Tuesday around noon for the 'bag.
Latest headlines on ESPNBoston.com:
UPCOMING GAMES
| | W-L | PF | PA | HM | AW | STK | L10 |
| --- | --- | --- | --- | --- | --- | --- | --- |
| BAL | 1-1 | 30.5 | 26.0 | 0-0 | 1-1 | L1 | |
| NWE | 2-0 | 40.0 | 19.0 | 2-0 | 0-0 | W2 | |
| | W-L | PF | PA | HM | AW | STK | L10 |
| --- | --- | --- | --- | --- | --- | --- | --- |
| IND | 2-1 | 19.0 | 22.7 | 1-0 | 1-1 | L1 | |
| NWE | 2-0 | 40.0 | 19.0 | 2-0 | 0-0 | W2 | |
| | W-L | PF | PA | HM | AW | STK | L10 |
| --- | --- | --- | --- | --- | --- | --- | --- |
| NWE | 2-0 | 40.0 | 19.0 | 2-0 | 0-0 | W2 | |
| SEA | 2-0 | 29.5 | 19.5 | 2-0 | 0-0 | W2 | |
BLOG ARCHIVE:
CATEGORIES:
LATEST ON THE NEW ENGLAND PATRIOTS