Picked-up pieces after first-half review
August, 10, 2013
8/10/13
2:00
PM ET
After rewatching the first half of the Patriots' preseason opener against the Eagles, passing along some picked-up notes and observations:
[+] Enlarge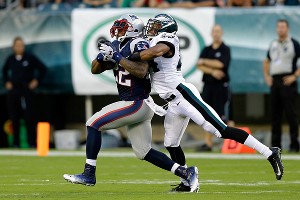 AP Photo/Matt RourkeStevan Ridley had plenty of room to run Friday thanks to the Patriots' great blocking up front.
1.
Stevan Ridley
dashed for 62 yards on the first play from scrimmage for the Patriots, taking the ball into the Eagles' red zone. He owes a thank-you to left tackle
Nate Solder
, who laid waste to Eagles defensive tackle
Fletcher Cox
on the play, springing Ridley for the big gain. The Patriots deployed "12 personnel" (one back, two tight ends, two receivers), with
Jake Ballard
attached on the left end of the line, adjacent to Solder. Ballard quickly aided Solder by putting a hand on Cox, but Solder won with his hands inside, simply overwhelming Cox, affording Ridley all sorts of room to run. Solder and left guard
Logan Mankins
would wear down Cox on a double-team block on the first third down of the game, giving
LeGarrette Blount
the space to convert for a first down.
2. It's not often we see four tight ends on the field on the same play, but the Patriots ushered out all four who were in uniform on the first scoring play of the game. What we saw was Ballard working on the end of the left side of the line, opposite of
Zach Sudfeld
.
Daniel Fells
was called upon to motion right to left, and
Michael Hoomanawanui
was aligned as a fullback. Although there were four tight ends on the field, this was essentially the same thing as a team's normal "jumbo" package, which features a running back, a fullback and three tight ends, one of whom is often an extra offensive lineman who is eligible on the play. We saw
Marcus Cannon
come in as a sixth lineman in the 2012 season.
3. Rookies looking to cement a spot on an NFL roster ought to take a close look at the way
Matthew Slater
approaches kickoff coverage and special teams. Slater, an ace coverage player for the Patriots, flew down the field on the team's first kickoff, getting on the back hip of the player trying to block him before subsequently running into the up-man on the Eagles' return team. Taking out two players with one body not only freed up another Patriots coverage player to pursue the tackle but also forced returner
Damaris Johnson
to change his lane and veer outside, where a swarm of blue jerseys met him. Slater's determination on special teams is exceptional.
4. Breaking down the Eagles' first touchdown of the game: the Patriots were in Cover 1, with
Steve Gregory
aligned to the right side of the formation and working as the over-the-top safety. Quarterback
Michael Vick
hooked up with
DeSean Jackson
down the sideline for a long touchdown as Jackson managed to get behind
Aqib Talib
. Jackson pressed outside on his release before nimbly working back inside Talib's leverage, allowing him to break free. Talib kept up with Jackson but was unable to close the cushion at the point of catch. Talib could have been better, but Jackson's world-class speed and an airtight throw from Vick deserve praise, too.
5. Always important to not overthink a single play or drive, but a few things caught our eyes from
Kenbrell Thompkins
in the second series of the night. First, he appears to have a strong understanding of his assignments and the adjustments in the passing game. On one play, he directed fellow receiver
Josh Boyce
to the right alignment; on another -- a second-and-3 -- he was in sync with
Tom Brady
to take a sight adjustment tear screen and pick up first-down yardage. Additionally, Thompkins showed the ability to win at the point of catch. That allows Brady to throw the ball to an area, not a specific target at Thompkins' frame. Lastly, when working from the slot, Thompkins showed the knack to take what the defense gave him, sit in soft spots and move the chains. Encouraging night for the rookie.
[+] Enlarge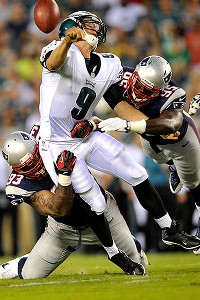 Joe Camporeale/USA TODAY SportsTommy Kelly, left, and Chandler Jones forced Eagles QB Nick Foles to fumble.
6. We'll be the first to admit that it can be difficult to assess a lineman's quickness before game action, and, with that in mind,
Tommy Kelly
's first-quarter sack was noteworthy. Kelly, working as a 3-technique, used a quick first step to cross the face of the guard attempting to block him, then followed that up with a rip move to break free and track down
Nick Foles
. As a follow-up, great point made by WBZ's Dan Roche during the game broadcast, alluding to Bill Belichick's decision to challenge the play in which Kelly sacked Foles. Sure, the outcome of the game doesn't matter, but the preseason is an opportunity for coaches to practice and improve, as well. Belichick challenged the play just as he would have in the regular season.
7. As we mentioned earlier, it's unfair to make too much of a single play or single series, but nonetheless, you'd like to see
Ryan Mallett
make the throw to a wide-open Boyce for what would have been an easy touchdown to open the second quarter. Boyce was totally uncovered and Mallett had the time to fit the throw in, but the ball floated just out of the reach of Boyce. As Mallett works to make progress in his third NFL season, those are the throws he must make with consistency.
8. Top draft choice
Jamie Collins
missed on his first opportunity for an NFL sack, bypassing Foles, who took off and scrambled. On the next play, Collins again pressured Foles, forcing an underthrow by getting his hands up in the throwing lane. Collins remains a work in progress, but what consistently stood out Friday night was his play-in-space ability. The NFL features up-tempo offenses, as we saw from the Eagles, and finding a guy who can range from sideline to sideline is the new wave of linebacking play. If Collins can harness his raw skills, he should find work early.
9. Three catches for
Julian Edelman
on Friday night, including two that stood out because he made them outside of his frame. Too often, we overlook how frequently receivers miss opportunities by throws that are slightly off the mark or are outside of the frame of their bodies. Edelman extended on a third-and-7 throw from Mallett midway through the second quarter, gaining just enough yardage for a first down.
10.
Dane Fletcher
made his return to game action Friday night after missing last season with a torn ACL, and it was a positive sign to see him working in coverage. On a third-and-7 throw,
Matt Barkley
looked to hook up with tight end
Zach Ertz
, putting the ball in a good spot to get the first down. Credit Fletcher for fighting through Ertz's arms all the way to the ground, eventually jarring the football free and forcing an incompletion.