Football journey: Chris Jones
October, 19, 2013
10/19/13
5:00
AM ET
FOXBOROUGH, Mass. -- Things have happened quickly for rookie defensive tackle
Chris Jones
with the
New England Patriots
.
Claimed on waivers Sept. 11, and a healthy scratch in his first two games with the team, Jones is now filling a crucial role after injuries to starters
Vince Wilfork
and
Tommy Kelly
. In last Sunday's 30-27 victory over the Saints, he played every defensive snap.
"In a short amount of time, he's become a pretty dependable guy for us," coach Bill Belichick said. "He's a hard-working kid that has some skills."
The 23-year-old Jones also has picked up some frequent-flier miles this year, as he joined the Patriots after being drafted by the
Houston Texans
in the sixth round, and spending a week with the
Tampa Bay Buccaneers
in early September.
This is his "football journey":
When he first started playing football:
"I was about 6 or 7. We were in Dayton, Ohio, and I played for the Wee-Vikes. The high school team was the Vikings so we were the Wee-Vikes. I played my first two years there. My next eight years, we were in Michigan, all through Little League, middle school and two high school seasons. Then we moved to Indiana and I played the next two high school years there, in Brownsburg."
[+] Enlarge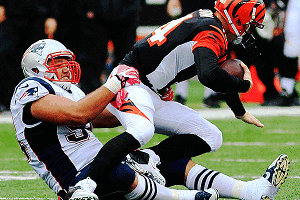 AP Photo/Tom UhlmanWith injures to several key Patriots starters, rookie DT Chris Jones has quickly made an impact.
Why he first started playing:
"My dad just took me one day. I was in baseball, T-ball, and he decided to try a different sport. Ever since then, I fell in love with the game and have been playing ever since."
First positions:
"Running back. I was a stocky kid, but I was kind of quick. I had some shuffle to me [smiling]. I didn't play defensive line until middle school, eighth grade."
Moving with his family and football helping those transitions:
"It was my parents' jobs. They were finding different opportunities, stepping up the ladder. Now they're settled in Indiana. Football definitely helped. One of the reasons I love playing the game is you get a lot of friends and meet a lot of people. Some of my best friends who will be in my wedding are past teammates of mine."
Top football memories from two seasons at Brownsburg High:
"That's a long time ago. We struggled a little bit. My junior year, when we first moved there, we beat the No. 2 team in the state, Hamilton Southeastern on a last-second play."
Earning a scholarship to attend Bowling Green:
"I had Toledo, Ball State and Illinois State, and Bowling Green was the first offer. The visit I took just blew me away. The players that were there took care of me. They are awesome guys. The people, all around, sold me. It was the right feeling."
Top memories at Bowling Green, where he started for three-plus seasons:
"I can't even answer that. I wouldn't go as far to say football. That was awesome, and I have
so many memories of football,
but it's more about the memories you have with your friends and the people that you meet. The people I met in college are the best of friends. I consider a lot of them my brothers."
Reaction to being drafted in the sixth round by the Texans:
"I was speechless when it happened. I didn't know what to say. Then your name pops up on the screen, and everyone is screaming. It was a great experience. It was cool having all my friends and family there supporting me."
Waived by the Texans on Aug. 31:
"I was kind of surprised. I already had a place in Houston. I got to learn what the NFL is like, what the coaches expect out of you, and what you need to expect out of yourself as an individual. I thought I worked hard in college, but now I realize there is a lot more that I need to do."
Claimed by the Buccaneers on Sept. 1 before being waived Sept. 10:
"I talked to [Buccaneers] Coach [Greg] Schiano. He's a great guy, but he said they needed to release me. At that point, I went to Houston. The NFL is a tough business. If you don't love it, it's probably something in which you won't be successful."
Claimed by the Patriots on Sept. 11:
"I really didn't know what to think, to be honest. I was excited and I know this is a great organization. Being here now, I realize this is a great fit. Coaches are taking the time, working with me, and I've been blessed to have this opportunity. The biggest thing is the expectation. There is a huge expectation of you. It's high everywhere, but it's higher [here]. You walk out and see the [Super Bowl] trophies and it's like, 'Wow, there is so much recent history here.'"
Role models in his life:
"Definitely my dad. When I was growing up, there was no one else around me more. He really kept me disciplined. I didn't get in to a lot of things when I was younger, and that helped me to get here. Also, Ronnie Goble, who I met at Bowling Green. Becoming a Christian was the best thing that has ever happened to me and he really opened my eyes to that."
Favorite teams growing up:
"I never really had a team, but I will say, I liked the Patriots.
Tom Brady
was the guy I watched and when they won three Super Bowls, you're like, 'They're obviously doing something right.'"
What he enjoys about football:
"There's nothing like coming out here with your teammates and going to work. You get to enjoy not only playing the game, but it's also the people you're around. Then the competition, at this level, that's the biggest thing. Every year it steps up. Even in college when you're getting older, your game is getting sharper and the same is true for the other guys. So you have to find different ways to beat people."
Summing up his football journey:
"I feel very blessed. I've been moving my whole life. I thought of it when I was younger, 'What would it be like to be in the NFL?' I'm watching all the guys, and now to be here … God's kept me healthy through all the years. I can't complain about a thing."