Picked-up pieces from 1st-quarter review
November, 4, 2013
11/04/13
3:45
PM ET
Picked-up pieces from first-quarter review of the Patriots' 55-31 victory over the Steelers:
1. The defense continues to be more multiple, switching between 4-3 and 3-4 alignments. To open the game, it was a 3-4 with
Isaac Sopoaga
on the nose,
Joe Vellano
and
Chris Jones
at end, with
Rob Ninkovich
and
Chandler Jones
standing up as outside linebackers and
Brandon Spikes
and
Dont'a Hightower
at inside linebacker. From a pure body-type perspective, Chandler Jones conjures up some memories of Willie McGinest with his 6-foot-5, 265-pound frame and long arms as a stand-up linebacker. He dropped into coverage on the first play of the game (6-yard pass to
Antonio Brown
), as well as the second, which reflects his athleticism. We often think of Jones as more of a straight-ahead player, but the more you watch, you see him doing much more than that.
2. That wasn't the only look the Patriots showed in the 3-4. On the Steelers' second drive, veteran
Andre Carter
came on as the right end for the first snap and Chris Jones moved to the nose over Isaac Sopoaga. Just an example of how the Patriots are mixing and matching with some different combinations.
[+] Enlarge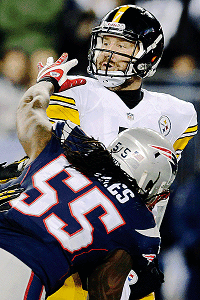 AP Photo/Charles KrupaPatriots LB Brandon Spikes forced Steelers QB Ben Roethlisberger to make quick throws early in Sunday's game.
3. On the Rob Ninkovich sack of
Ben Roethlisberger
that ended the Steelers' first drive, on a third-and-2 play, it was a good combination of rush and coverage. We'd give an assist to linebacker Brandon Spikes, who faked a blitz, then backed out to help in coverage on running back
Felix Jones
over the middle. That was Roethlisberger's first read, but when he spotted Spikes, he held on to the ball longer than he wanted to and by that point the rush arrived. It might not always look pretty, but just as he did against the Bengals on Oct. 6 with an interception, Spikes showed he can compete at times in pass coverage.
4. While in the process of giving Spikes an assist, let's hand him another one for a nice up-the-middle pressure on Roethlisberger's interception with 4:12 remaining in the quarter, as Roethlisberger heaved the ball up the left sideline from his own end zone as Spikes surged through the right side of the line to speed up the decision-making process.
5. While on the subject of "linebacker assists," Dont'a Hightower also gets one for his coverage on running back Felix Jones out of the right slot, which helped produce Chandler Jones' late first-quarter sack. That was another situation in which Roethlisberger had to hold the ball longer than desired because the first read wasn't there. Overall, it was a good first quarter in coverage for the bigger Patriots linebackers, which has been a trouble spot at times this year.
6. Likewise on the first sack of
Tom Brady
, on the Patriots' opening possession, the Steelers' coverage seemed just as responsible for the sack (third-and-4). The Steelers blitzed, backing out two linebackers and sending safety
Troy Polamalu
and cornerback
Cortez Allen
as fourth and fifth rushers, but Brady had time if the first read was available. Yet linebacker
Lawrence Timmons
appeared to have good coverage on tight end
Rob Gronkowski
, who was releasing off the right side of the line, forcing Brady to hold on to the ball longer than desired.
7. If the Patriots are going to be without safety
Steve Gregory
, who left the game in the third quarter with a right thumb/wrist injury, the Steelers' second drive was a good reminder of what they'd miss in terms of what Gregory does well. It started with a nice run force to team with defensive end/outside linebacker Rob Ninkovich in dropping Le'Veon Bell for a 1-yard loss. Then on third-and-6, Gregory was quick to break on an underneath pass to Bell and stop him short of the sticks for a 5-yard gain to force a punt. Gregory has played at a higher level on a more consistent basis this season, his second with the team. The Patriots will miss his smarts and solid tackling if he's out.
8. On the opening kickoff, which Felix Jones returned 40 yards (longest surrendered by the Patriots this season), it was a left return and
Marquice Cole
(5-10, 195) was easily blocked by defensive end
Al Woods
(6-4, 307) in the wedge and
Nate Ebner
(6-0, 210) was held up by linebacker
Vince Williams
(6-1, 250) to create the initial opening. In addition to the size advantage, the Steelers had a 6-on-4 numbers edge as Jones picked up a head of steam (which made us wonder if the Patriots' spacing was an issue) as the Patriots just couldn't get off 1-on-1 blocks. Linebacker
Chris White
came from the backside of the play to make a nice tackle.
9. Reminder to self: The next time I might be inclined to write that the best way to rattle Brady is to get to him early, remember this game. The Steelers had a sack to end the opening drive, and then Lawrence Timmons got a good hit on him on the third play of the second drive when he rushed up the middle and wasn't picked up as Brady fired incomplete. Those plays can sometimes set a tone. Not so on this day.
10. Two of the Patriots' best early-down passing plays – a 27-yard Brady-to-Gronkowski strike over the middle on first-and-10 with 5:41 remaining in the quarter and the 81-yard Brady-to-Dobson touchdown strike in the fourth quarter -- came out of a three-tight end package that would most often tip off a run. This highlighted one theme that cropped up over parts of the game – the Patriots had success throwing against the Steelers' base defense, and ran well against their dime defense. They took advantage of those matchups nicely, which from our view, highlighted the value of the tight end position.
11. On the fourth-and-goal run from the half-yard line in which
Stevan Ridley
was stopped, it looked like center
Ryan Wendell
and right guard
Dan Connolly
were turned too easily at the snap by the combination of defensive end
Cameron Heyward
and nose tackle
Steve McLendon
, with the Steelers gaining too much penetration. That forced Ridley to take the run out wider than he desired, giving the Steelers' pursuit a chance to close in, with safety Troy Polamalu fighting off fullback
James Develin
.
12. We're not a quarterback guru, but after hearing all about Tom Brady's mechanics and if they are where they needed to be as he struggled at times this year, we'd guess that his 34-yard touchdown to
Danny Amendola
with 4:06 remaining in the quarter would make him a leading candidate for the All-Mechanics Team. Part of why Amendola was so open on the play was because Brady dropped back and initially looked to his right, had a slight pump to hold the safety, before smoothly turning his body and head and delivering a dart to Amendola up the left side. It hasn't looked easy for Brady and Co. for long stretches of the year, but it did on that play. No questions for Brady on his mechanics this week.
13. On the third-and-30 play in which the Steelers picked up 29.5 yards, it looked like a busted coverage. The Patriots were in their dime defense, which has been run by linebacker
Dane Fletcher
the last two weeks. The breakdown appeared to be at the linebacker level with Fletcher and
Logan Ryan
, as they both broke to the opposite side of the field with receiver
Jerricho Cotchery
, leaving too much open real estate for Le'Veon Bell on a short pass. Rookie safety
Duron Harmon
also had a chance to make a tackle about 15 yards past the line of scrimmage, but Bell got the best of him in the open field.