Football journey: Sealver Siliga
December, 14, 2013
12/14/13
5:00
AM ET
FOXBOROUGH, Mass. -- Second-year defensive tackle
Sealver Siliga
stands out for both his size (6-foot-2, 325 pounds) and unique name.
After earning his first extended opportunity to play in the NFL last Sunday against the
Cleveland Browns
, he's now hoping most to stand out for his play.
Siliga, who joined the Patriots' practice squad on Oct. 23 and was promoted to the active roster on Nov. 27, started at nose tackle and did some positive things which caught the eye of coach Bill Belichick.
"I think he's a hard-working kid. He's improved a lot since he's been here," Belichick said. "Some of the things we've asked him to do are a little bit different than what he's been doing, but he's adapted pretty quickly. He's spent a lot of extra time here, working on his technique and some conditioning in the weight room.
"I thought he hung in there and played real competitively last week against Cleveland. Obviously, he's a young guy [23] and there is a long way to go, but I thought he definitely did a lot of positive things."
[+] Enlarge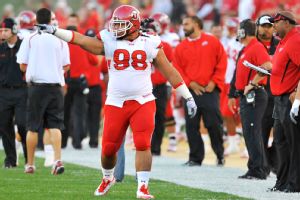 David K Purdy/Getty ImagesIncluded on Sealver Siliga's football resume -- helping Utah earn a Sugar Bowl win over Alabama.
The Patriots are Siliga's fourth NFL team in three seasons as he entered the league with the 49ers in the lockout-shortened offseason of 2011, and later landed with the Broncos and Seahawks. That naturally affected his development, but it's possible he's finally found a home in New England.
Born in West Jordan, Utah, and one of 11 children, his unique first name is part of being a Latter Day Saint. He explained that his aunt and uncle were sealed in a temple, and Sealver is a combination of "seal" and "forever."
He shares his football journey:
When he first started playing football:
"At the age of 9. I was a real active kid, a chubby kid growing up, and I had an old brother who saw my big body and was like, 'You stay home too much. I'm going to sign you up for football.'"
First positions:
"O-line and D-line."
Top memories at Cooper Hills High School:
"The school wasn't known for its football team. My freshman year, we had five [wins] and that was the best record we ever had in school history. But I grew up with all those kids and played Little League with them, so by the time you get to high school, we'd known each other our whole lives and the biggest memories are from hanging out in the offseason and before and after everything."
Enrolling at Utah to play football:
"I was a big fan of [defensive coordinator] Gary Andersen, who is now the head coach at Wisconsin. He was one of the
biggest reasons I committed to Utah
, and also for my parents and how costly it would have been for them to come watch me play [out of state]. It was either there or some of the California schools, or Oregon State."
Favorite memories at Utah:
"I had so many. Probably the biggest thing is how Coach [Kyle] Whittingham controlled our football team. The way he recruited – one-third white, one-third brown, one-third black – and he made sure we never sat by color. We got to know each other and it got to the point where everyone was involved with each other, and we were all friends with each other. You got to know a lot of different backgrounds and we were all there for one purpose."
Starting 21 of 37 games while recording 97 tackles and 2.5 sacks:
"We were real good. My first year, we went to the Sugar Bowl and smashed [
Dont'a] Hightower
's [Alabama] team [laughing].
We never went under 10 wins when I was there
."
Entering the NFL in 2011 after his junior season, a decision which surprised some, and landing with the 49ers as an undrafted free agent:
"That was a good learning experience. I was thrown right into the fire, almost like you are thrown to the wolves and you have to fight your way back out. All I knew was college, and that was the year of the lockout, so it wasn't like we had [organized team activities in the offseason]. Learning from [defensive lineman]
Isaac Sopoaga
, [fullback]
Will Tukuafu
and all them – after I got released, that really helped me. As bad as it hurt to get cut, I knew what to expect. I knew what to fight for."
Signed to the Broncos' practice squad in October of 2011 and playing one game in Denver over two seasons:
"I loved it out there. That's a great organization and that was a great experience. I met a lot of great people over there as well –
Ty Warren
, who used to be here [in New England], he was a big impact on me. I'd ask him questions all the time. In the locker room, it was
Elvis Dumervil
, Ty Warren and me, so I'm sitting there watching these two older guys and learning from them.
Kevin Vickerson
…
Justin Bannan
…
there were a lot of guys to learn from
."
Traded to the Seahawks in August of 2013:
"We had played [Seattle] two days before; that was rough. When I got traded, you're thinking, 'I'm good. I'll be playing for this team.' But then I got released and put on practice squad. Then I got released again. Then I got signed to the practice squad again, before getting released again [Oct. 4]. From that point on, it was a journey again of basically putting my nose down and working, hoping for the best but planning for the worst. I've been through it, so I knew what to expect."
Signing with the Patriots' practice squad in October of 2013:
"I had worked out other places and came here; I was privileged that they gave me the opportunity to show them what I can do. It was a great feeling. It's been great. I've been treated well. This organization speaks for itself and I'm blessed to be a part of it."
Role models in his life:
"Definitely my parents. I'm LDS [Latter Day Saint], so I'm big with my Heavenly Father. And then in football, players like Isaac Sopoaga, Ty Warren, Elvis Dumervil … guys I've always asked questions to and they've never shied away from them, always reaching out their hand to help."
Favorite teams/players growing up:
"I didn't watch that much football growing up, but I was a big Steve Young fan, being from Utah."
What he loves about football:
"The game is a brotherhood. No matter if you're playing high school, college, the NFL, it brings a bunch of men from different places together. There aren't a lot of jobs you can do, where at the end of the day it's game-time and there is one purpose and no one puts themselves in front of anyone else. That's pretty cool."
Summing up his football journey:
"In the process. I'm still not where I want to be. So it's in the process and still fighting to become what I want to be. I have a lot of work to do."