Quick-hit thoughts around NFL & Patriots
March, 23, 2014
3/23/14
12:01
AM ET
Quick-hit thoughts around the NFL and with the
New England Patriots
:
[+] Enlarge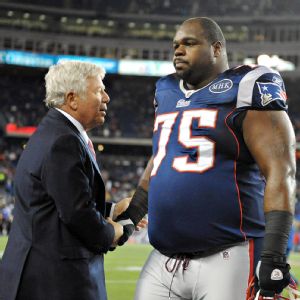 Kirby Lee/USA TODAY SportsWhat will Robert Kraft have to say about Vince Wilfork's status?
1. With owner Robert Kraft and head coach Bill Belichick scheduled to speak with reporters at the NFL's annual meeting in Orlando on Monday and Tuesday, the status of veteran defensive tackle
Vince Wilfork
figures to be a hot topic. Wilfork has asked the team to release him, but the team hasn't obliged the request at this point as the situation has simmered with Wilfork having been out of the country on vacation. After the initial flurry of free-agent signings by the team, Wilfork's status is the next big issue to resolve between now and the draft. One line of thinking is that the longer it goes, perhaps there's a greater chance for resolution. But I still think anything is possible and it will be interesting to hear what Kraft, in particular, has to say about Wilfork's future with the club.
2. My take on safety
Devin McCourty
's long-term future with the Patriots has been that it's more a matter of "when" than "if" he will be presented the opportunity to sign a lucrative contract extension. McCourty's contract expires after the 2014 season, and with Saints safety
Jairus Byrd
just landing a deal that averages $9 million per season, and Seahawks safety
Earl Thomas
set to hit the market after the 2014 season and likely eclipse that mark, a strong case could be made that the Patriots would be wise to be proactive with McCourty. The proactive approach has backfired at times (e.g.
Aaron Hernandez
), but McCourty, from this view, represents as safe an investment as there could be in a business in which there are truly no guarantees. He's the type of player to build a defense around, and seems to be the type of person you want others in the locker room following. Along those lines, I'm still puzzled at how he wasn't initially voted a captain in 2013.
3. In retrospect, the Patriots were ahead of the curve in their pursuit of receiver
Emmanuel Sanders
last offseason. Sanders was a restricted free agent with the Steelers and New England signed him to a one-year, $2.5 million offer sheet, which would have almost doubled the $1.3 million he had been scheduled to earn. At the time, we opined it was a strategic offer -- not breaking the bank, but increasing the salary enough to make the Steelers think long and hard about whether they should match or take a late third-round pick in return. Now after seeing what Sanders signed for in Denver as an unrestricted free agent this past week -- a pact averaging $5 million per season -- it was a solid reflection on the team's pro scouting, and also a confirmation to those who felt the Patriots would have landed Sanders last year if they were just a little more aggressive.
4a. With quarterback
Michael Vick
signing a one-year contract with the Jets, it sets up a possible first for him. He's never started against the Patriots. The closest he came was in 2005, when Vick was with the Falcons, but after being listed as probable with a knee injury up until the day before the game, he was ultimately downgraded to out. Bill Belichick was understandably furious, but the Patriots survived a
Matt Schaub
-led onslaught to post a
31-28 victory in the Week 4 matchup
. It was the only game Vick missed that season.
4b. That performance by Schaub played a part in the
Houston Texans
trading for him two seasons later, prior to the 2007 campaign. Coincidentally, on the same day Vick signed with the Jets this past Friday, Schaub was traded to the Raiders, who promptly named him their starter. Schaub's confidence seemed shot last year and now he's charged with the task of leading the Raiders into what looks like an
extremely tough schedule
-- playing the NFC West, the Broncos twice, as well as the Patriots. That's a tough spot. I'd be surprised if it ends well.
5a. In looking at several of the contracts signed by Patriots players in free agency, one thing that stands out is that roster bonuses are tied to being on the 46-man game-day list. In the past, those have mostly been tied to simply being on the 53-man roster, the player getting the bonus even if he was inactive for games. So this further protects the team in the event of injury, and that's what I think cornerback
Aqib Talib
was referring to in explaining the Patriots' contract offer as "shaky" to Peter King of TheMMQB.com. Talib has similar bonuses in his Broncos contract of up to $500,000 for each of the first three years, but it seems safe to assume the Patriots wanted more money than that tied to those bonuses and less money paid in the form of a pure guarantee than the Broncos anted up.
5b. Another reason not to like the roster bonus for being on the 46-man roster: If you're a player and a game-time decision because of injury, it creates the potential for hard feelings if you want to play and a team doctor rules you out anyway, potentially costing you as much as $31,250 or $46,875 depending on the level of your bonus.
[+] Enlarge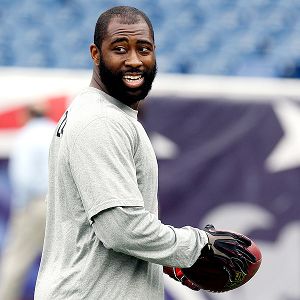 AP Photo/Stephan SavoiaWill Darrelle Revis end up wearing his customary No. 24 for the Patriots?
6. When the Patriots signed veteran safety
Adrian Wilson
last offseason, we had some fun with the storyline of Wilson offering a year's worth of Pampers to cornerback
Kyle Arrington
, a new dad, for his jersey No. 24. The trade was made, and now one year later, we wonder if No. 24 might be changing hands again with
Darrelle Revis
joining the Patriots. Of course, it all depends on if Wilson is part of the Patriots' plans after spending last year on injured reserve. The educated guess is that he isn't, and Revis won't have to wheel and deal for No. 24.
7. One of the more unusual behind-the-scenes free-agent stories I heard over the last week involved interior offensive lineman
Shelley Smith
, whom the Patriots had in for a visit two days into free agency and hoped to sign but were trumped by the Dolphins. Smith, formerly of the Rams, was on a tight itinerary as he had visits with the Giants, Patriots and Dolphins over a Wednesday-to-Friday span, knowing he had to get back to Arizona late Friday night for his wedding the next day. He made the wedding and the Dolphins get an "A" for effort when it comes to getting his contract signed. As it turns out, the Dolphins had to hurry Smith to the airport before the "I's" were dotted and "T's" were crossed on the contract, or Smith would have been in jeopardy of missing his wedding. Knowing that until a signature is on the dotted line there is still a chance the deal could fall through, the Dolphins still hoped to get the contract signed before Smith boarded the plane, but were running out of time. When the contract was finally ready, Smith had his boarding pass in hand and was ready to get on the plane, and that's when a Dolphins official navigated through security, raced to the gate, and got the signature in the nick of time. Nicely done. Now if only the Dolphins' offense can operate as efficiently in hurry-up situations in 2014.
8a. One of the first things I thought of with the combination of Panthers quarterback
Cam Newton
undergoing ankle surgery that will sideline him for at least four months, and Carolina undergoing almost a complete overhaul at the receiver position, is that some early growing pains for the Panthers' passing game are a near certainty. That's one thing that
Tom Brady
has stressed in recent years -- the importance of the offseason in building a foundation with new pass-catchers. If you're on the Panthers' schedule in 2014, catching them early would seem to be ideal.
8b. When I saw this
Newton-based tweet from ProFootballTalk.com
, this is what came to mind: Don't tell that to tight end
Rob Gronkowski
.
9. When it comes to Patriots scouting, Belichick's role in the process is well documented, as he makes an annual March trip across the country to meet with and work out players. The work of vice president of player personnel Nick Caserio and director of college scouting Jon Robinson has also been noted to be a big part of the process, and not to be overlooked, among others, is assistant director of college scouting Monti Ossenfort. The Patriots aren't into promoting personal agendas, and I've never had the chance to meet Ossenfort, but I hear good about things about him from respected people in the business. The 2014 season will be his 10th with the Patriots, and 13th overall in the NFL. Ossenfort was a four-year letterman and two-year starter at the University of Minnesota-Morris, where he graduated in 2000 with a degree in economics and management. He first got into the NFL as a training camp intern with the Vikings and has worked his way up the ranks quietly.
10. One could excuse
Ryan Wendell
if he is wondering what exactly he has to do to get even a sniff in free agency. All he did was start every game for the Patriots in each of the last two seasons, as the team advanced to the AFC Championship Game both years. Yet I haven't heard of Wendell taking a visit to another team, which I was reminded of when seeing the Giants signed former Dolphins guard
John Jerry
on Friday. John Jerry? Ouch. Perhaps some teams have reservations about Wendell's size and seeing him overpowered at times, but he's a heady, scrappy competitor who, at the least, could be a valuable sixth or seventh blocker (reserve center/guard) on the 46-man game-day roster. I'm interested to see if he ultimately returns to the Patriots. Former line coach Dante Scarnecchia seemed to be especially high on Wendell, but it's unclear how new line coach Dave DeGuglielmo views him.