Ty Law: Pats' defense best in 10 years
July, 28, 2014
Jul 28
3:55
PM ET
By
Lee Schechter
| ESPNBoston.com
FOXBOROUGH Mass. -- Soon-to-be Patriots Hall of Famer Ty Law says the 10-year search for the
New England Patriots'
next star cornerback and missing piece to the championship puzzle is finally over with the arrival of
Darrelle Revis
.
[+] Enlarge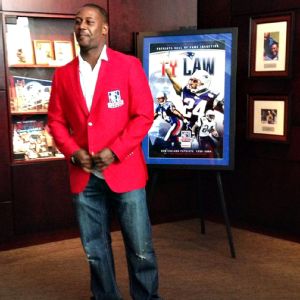 Mike Reiss, ESPNBoston.comTy Law was fitted for his Patriots Hall of Fame jacket on Monday.
"Being an analyst now and looking at the team now, it's like that's what they needed -- a marquee cornerback," Law said to reporters after Monday's jacket fitting for his Patriots Hall of Fame induction on Friday.
"Darrelle is special," Law added. "He is a different level. So when you look at the secondary now, when you look at another 24 out there and that elite of a cornerback and as a football player, you can really see these guys getting over the hump again. And bringing back home the trophy, where I think it belongs because we always strive to be champions."
Here are some other takeaways from Law's analysis of this year's defense:
Best defense in 10 years?
Adding Revis was a major move in Law's eyes, but he is focused on the extra experience and leadership of the rest of the Patriots' defensive personnel in 2014. "I think it is [the team's best defense in 10 years] because you've got to talk about the experience there is -- not only with the secondary because I think that was one of the weaker links in the defense for the last few years -- but you strengthened that five times with Darrelle Revis and you have [Brandon] Browner there," Law said. "[Rob] Ninkovich getting another year of experience, [Vince] Wilfork. There's a different type of leadership.
Chandler Jones
, another year of experience. So it is going to be amazing what these guys can do."
Health is the key to winning a Super Bowl.
Law thinks the Patriots have all of the pieces to win the franchise's fourth Super Bowl, but last year's health issues still raise a red flag. "You can have all the talent in the world but if you can't stay out there on the field, you're going to be hurting your team," Law said. "So if this team can stay healthy and the offense can continue putting up the numbers consistently like they have been doing with
Tom Brady
leading the pack and they can protect him, good things are going to happen."
Law knew all along that Revis was destined for greatness.
Law and Revis both grew up in Aliquippa, Pennsylvania, a small Pittsburgh suburb that produced multiple NFL talents. Despite the age difference, Law saw early on that Revis was a game-changing player. "When you look back and I'm a player in the NFL and this guy [Revis] is still in Pop Warner and I was fortunate to play long enough where he made it to the NFL and we played together on the field as two guys from Aliquippa," Law said. "But seeing it right away -- his agility, his passion, his aggressiveness at such a young age."
Law's Super Bowl pick.
Law may be an analyst these days, but he isn't shy about who he wants and thinks will win it all in 2014. "Hopefully I can still do my job, you know being an analyst, but I'm going for the Patriots every time."