Sunday, November 27, 2011
Edelman blitzes the Eagles

---
By Chris Forsberg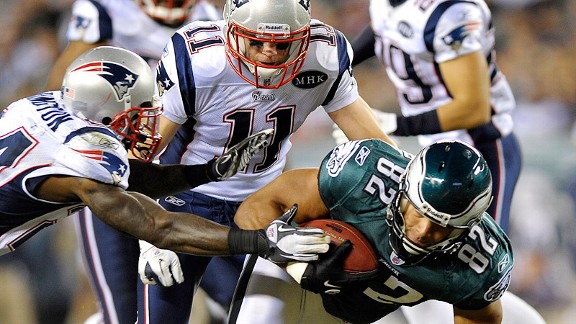 AP Photo/Michael PerezJulian Edelman helps out on a tackle Sunday vs. the Eagles

PHILADELPHIA -- A college quarterback, Julian Edelman absorbed his fair share of hits from opposing blitzers. On Sunday, he got a chance to flip the script.

Edelman, in an increasing role as nickel corner, came free on a blitz in the second half of Sunday's 38-20 triumph. Edelman didn't get the sack, but he put a textbook shoulder into the midsection of Philadelphia's Vince Young as he delivered, leaving the quarterback a bit slow to get up while the pass fell incomplete.

Edelman smiled while recounting the play.

"With the new rules and stuff, I didn't want to get a penalty or anything," he said. "So I just kinda tried to hit him in the right zone."

In limited snaps, Edelman finished with three tackles, including two solo. Whenever he's on the field he seems to have a knack for being around the ball and is proving he's no liability on defense, also making a nice open field tackle on LeSean McCoy in the third quarter.

"Every play you get a little more experience," he said. "I wouldn't say I'm totally comfortable out there, but I'm starting to learn a little bit."

He still played a handful of offensive snaps and served on special teams. Does he have a preference on a role?

"Whether it's defense, offense, or special teams, I just like being on the field," he said.

His teammates and coaches are taking notice of his talents on that side of the ball.

"I like to call him 'Slash,' because he's a versatile player, he can do so much," safety James Ihedigbo said, repurposing Kordell Stewart's nickname. "Having him there, and his ability as a receiver to know routes and to cover [them] is great. I'm glad to have him."

Said Patriots coach Bill Belichick: "Julian's worked hard... he's had to keep up with what's going on on offense and also the kicking game. But he's worked hard, spent a lot of extra time with [defensive backs coach] Josh [Boyer] and kinda splitting time between meetings -- between offense and defense and, of course, he does all the special teams stuff, too. He's worked hard and he's really been a huge help for us. We've been in a couple tight spots here and we were in it again today and we went strolling back outside at the end of the game. He's worked hard and he's really helped us."

Could we see the Patriots dial up more blitzes for Edelman down the road?

"You'll have to talk to Coach [Belichick] on that," said Edelman. "We'll see."



---