New England Patriots:

2013 Week 12 DEN at NE
November, 25, 2013
11/25/13
3:30
AM ET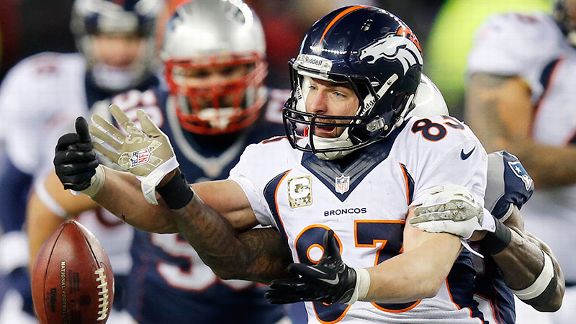 AP Photo/Elise AmendolaWes Welker had four catches for 31 yards in his return to New England.
FOXBOROUGH, Mass. -- It was a situation that
Wes Welker
has been in countless times: Pressure moment. Gillette Stadium. A high, spiraling punt making its way through the air toward him as he stood deep in his own territory.
Welker often has turned those situations into something special, or at the least ensured that disaster was averted. That's why what unfolded in overtime late Sunday night was a cruel twist for the New England Patriot-turned-Denver Bronco, as his slight indecisiveness contributed to the game-changing play -- the punt touching teammate
Tony Carter
with New England safety
Nate Ebner
recovering to set up the winning 31-yard field goal in the Patriots'
34-31 victory
.
Welker said it's his job to race up, wave his arms, and yell, "Peter! Peter! Peter!" if he decides against fielding the punt.
"I was probably a little late getting it to him," he acknowledged. "I have to do a better job of getting up to him and getting those guys out of the way. I was a little bit in between, and you can't be that way."
Carter had been blocking Patriots gunner
Marquice Cole
, and thought he was setting up a return for Welker on the sky-high 42-yard punt that landed at the Broncos' 15.
Welker explained his mindset as the ball soared through the air on a frigid, wind-whipped night, fans chanting his last name in an attempt to distract him.
"I just felt like there was a lot of traffic, it was a high ball, and basically didn't want to get into a situation where somebody is running into me or anything else. It ended up with the situation that I didn't want to happen in the first place," he said.
Truth be told, this whole night could fall into that category for Welker.
He didn't say it, but his highly anticipated return to Gillette Stadium, where he was an instrumental part of six successful Patriots seasons, had to be a bit bittersweet. One just had to follow him out of the Broncos' locker room afterward and see the meaningful embraces he had with several former teammates to understand that.
When Patriots defensive coordinator Matt Patricia gave him a hug and the two exchanged a warm greeting, Welker said, "Miss you too, bud." Then it was safety
Devin McCourty
, linebacker
Dane Fletcher
... and right down the line. Welker even popped into the Patriots' players lounge after the game in a reminder that the strong bonds formed from 2007-2012 don't just disappear.
On the field, his emotional day began when Patriots owner Robert Kraft approached him during warmups and the two hugged. Kraft must have told Welker to keep an eye on the scoreboard because Welker looked up about 10 minutes before kickoff to see a highlight montage the club put together for him, followed by a thank-you note that read: "The Kraft Family, the
New England Patriots
thank Wes Welker for six memorable seasons."
Welker was touched.
"It was very, very classy of them to do something like that. I appreciate it very much," he said. "It was a little different, for sure. It was great seeing Mr. Kraft. I have a lot of respect for him as a man and as an owner of a team. He's a good one."
Then there was Belichick, who sought Welker out after the game for an embrace, along with several others, including receiver
Julian Edelman
, who sprinted across the field to find him. Welker had joked with ESPN's
Tedy Bruschi
in an interview that whatever exchange he'd have with Belichick would probably be awkward, but he struck a different tone after the game.
"It wasn't awkward at all. It was good to see him. I have a lot of respect for him as a coach," Welker said. "He came over and he was like, 'Good job, we'll see you all again, I'm sure.'"
Welker never did get to see his best pal, quarterback
Tom Brady
, even though he waited for him on the field afterward, only to call it off when Brady was pulled away from an NBC interview. "I kind of looked for him, but he's Mr. Paparazzi after games," Welker cracked.
Turns out Welker waited for Brady after both conducted interviews but the two couldn't connect, adding to the downer of a night for Welker.
"You try to make it just a regular game. It's hard at times, but you try to just go out there and focus and try to do your job," he said, adding that he was unsure what the home crowd was chanting when he was back fielding punts.
It was "Wel-ker! Wel-ker! Wel-ker!" While the fans cheered Welker in the pregame during the classy highlight montage, they also razzed him a bit when he couldn't hold on to a short pass on third-and-8 in overtime. "I just have to squeeze the ball in tighter on that and make that play," he said.
Between that and the final punt, Welker was a big part in the outcome. Just not the way he hoped it would be.
Asked if the night helped give him closure from the Patriots chapter of his career, he shrugged.
"It probably would have been a lot better closure if we would have won," he answered. "I had a lot of good years here and things like that, but I feel like I've had closure before and I've kind of moved on."
Maybe so. But the words, much like the way Welker approached the game-changing punt in overtime, just weren't very decisive.
November, 25, 2013
11/25/13
2:40
AM ET
FOXBOROUGH, Mass. --
Stevan Ridley
lost his third fumble in as many games Sunday night, putting it on the ground on the Patriots' first drive and watching the Broncos'
Von Miller
pick it up and take it into the end zone for the first points of the game.
[+] Enlarge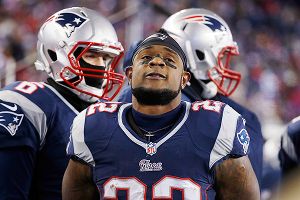 AP Photo/Elise AmendolaStevan Ridley lost his fourth fumble of the season on the Patriots' opening drive and didn't play again the rest of the game.
Broncos linebacker
Wesley Woodyard
got his helmet on the ball while tackling Ridley, knocking it loose. It was the last play of the night for Ridley, who took off his helmet and slammed it to the ground on the sideline.
"For me, it's almost disgusting, man," he said in the locker room after the Patriots' come-from-behind
34-31 overtime victory
. "Consecutive weeks. Personally, as a player, my team deserves better. I come in, I work, bust my a-- every day. To come in and have the same mistakes happen, there's something I gotta do different, I gotta do better. As a competitor all I can do is come in here and keep working. ... I just gotta be there for the team when they call me."
How often the team calls his name going forward is in doubt. He leads the Patriots with seven rushing touchdowns and there's no question he has lead-back ability, but Bill Belichick isn't going to lean on a back who fumbles as much as Ridley has.
"When I put the ball on the ground, they have no option but they take me out. It's sickening, man," Ridley said. "I'm frustrated, but it's part of the game. I think that as a player, you're going to have your ups and your downs, but the main thing is you have to stay focused and keep your eye on the prize at the end of the day. I'm not going to get too far down. I'm going to put more pressure on myself to go out there and practice and change up some things. I can't keep doing this."
Ridley was far from the only player with butterfingers on a frigid, windy night at Gillette Stadium. There were a total of 11 fumbles in the game, including on each of the Patriots' opening three drives, all recovered by the Broncos. Running back
LeGarrette Blount
put it on the ground in the first quarter as well. Like Ridley, he too spent the rest of the game on the sideline, leaving the running back duties to
Shane Vereen
(8 catches for 60 yards, 10 carries for 31 yards) and
Brandon Bolden
(13 carries for 58 yards and a touchdown).
"We did some things and shot ourselves in the foot, and they did exactly what I expected them to do," Ridley said. "They have to go with another guy and those guys stepped up and got it done. That's what a team is about."
Information from Field Yates was used in this report.
November, 25, 2013
11/25/13
2:20
AM ET
FOXBOROUGH, Mass. -- After winning the coin toss before overtime, Patriots coach Bill Belichick made the unorthodox decision to kick off, rather than taking the football and having the chance to score a touchdown on the first drive to win the game.
The reason?
[+] Enlarge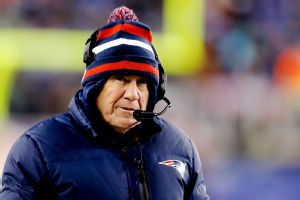 Photo by Jim Rogash/Getty ImagesBill Belichick's decision to take the wind in overtime against the Broncos paid off.
"The wind, it was a strong wind," he said. "We just had to keep them out of the end zone, obviously. I just felt like the wind would be an advantage if we could keep them out of the end zone on that first drive. We were able to do that. The wind was significant in the game, it was definitely significant."
Wind swirled throughout the day in New England, bringing the temperature down into single digits at kickoff. Though the Patriots were able to rack up 344 passing yards in the
34-31 win
, many conceded after the fact that the wind made a substantial difference in the game.
"It [had] a pretty decent effect in the kicking game, more so than the passing game," wide receiver
Julian Edelman
said. "But I mean, both sides and to deal with it."
The wind appeared to impact
Peyton Manning
more than
Tom Brady
, as ESPN NFL analyst
Trent Dilfer
noted that Manning was just 9-of-18 for 75 yards, one touchdown and one interception in throws into the wind, while Brady was 17-of-23 for 201 yards and two touchdowns.
"The wind played a huge factor in the game," cornerback
Aqib Talib
said. "A lot of deep balls hung up in the air going toward the lighthouse. It changed what you did as a quarterback. That's why we gave them the ball and gave them the wind too."
Belichick's decision to take the wind was lauded by defensive back
Devin McCourty
, one of the captains responsible for notifying the referee of the decision to bypass the chance to receive.
"Bill's a genius," McCourty said. "Even the captains were like, 'Really? Defer?' He wanted to take the wind. Obviously that was the best call."
In the end, the swirling winds deterred Broncos coach Jack Del Rio from attempting a long field goal in overtime that would have been from 55 yards out. In more common conditions, kicker
Matt Prater
has the leg to make such a kick, but the wind guided Del Rio in his decision-making process.
"It was a factor in that if we had the other direction, we may have had an opportunity with those 5 yards," he said. "That certainly ended up being to their advantage."
The winds reared their head one more time in the play that turned the game, as a punt from Patriots rookie
Ryan Allen
hung in the air and eventually hit Broncos defensive back
Tony Carter
for a fumble that the Patriots would recover.
The elements weren't enough to knock
Stephen Gostkowki
's game-winning field goal off its line, however, as he gave the Patriots their eighth win of the season in thrilling fashion.
November, 25, 2013
11/25/13
2:03
AM ET
FOXBOROUGH, Mass. -- On the night when
Wes Welker
returned to Gillette Stadium for the first time as a member of the
Denver Broncos
, it was another receiver who often operates out of the slot who shined brightest.
Julian Edelman
, the lone holdover from the
New England Patriots
' wide-receiver corps who had a reception last season, had his finest game of 2013, totaling 110 yards on nine catches, including two for touchdowns.
[+] Enlarge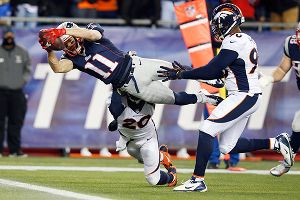 AP Photo/Elise AmendolaJulian Edelman goes the extra yard for one of his two touchdowns against the Broncos.
For perspective, the dynamic trio of Broncos wide receivers -- Welker,
Demaryius Thomas
and
Eric Decker
-- combined for just nine catches, 77 yards and a single score on a chilly, windy New England night.
Beyond his receiving efforts, Edelman returned three punt returns for 39 yards, including a 20-yarder.
"Julian did a great job," coach Bill Belichick said. "First of all, he did a good job of handling the ball, especially in the third and fourth quarter there. Made a couple good runs with the ball in his hands, also got open, caught the ball. The end route he got there gave us the field position in the overtime, it was a big play."
The narrative of Edelman coming through for the Patriots this season has become almost commonplace, as he's up to 61 catches, a career high and tied for 11th in the NFL with
Dez Bryant
and
Jordy Nelson
, names many associate with descriptors such as "elite."
"He's been so dependable and consistent all year for our team," quarterback
Tom Brady
said of Edelman. "He's been the one veteran player on our offense that's been in there and has been around. He always does a great job. He's tough, smart, disciplined. It's fun to see him do well because he deserves it."
Edelman, the former college quarterback who generated minimal interest in free agency this offseason, is playing on a one-year, incentive-laden deal that carries a maximum value of just over $1 million. He's well on his way to hitting his maximum incentives, as he needs just nine more catches to earn a $250,000 bonus.
But he has proven time and time again this season that his value to this offense is difficult to quantify.
"He's been a good receiver," Welker said. "I've told a lot of people that he's a good player. People are finally starting to take notice."
On few nights has that been more apparent than it was on Sunday, as Edelman was the star receiver in a game featuring the aforementioned trio of Broncos wideouts, as well as
Danny Amendola
, the free-agent acquisition who many envisioned would replicate Welker's role in New England.
Edelman, true to form, remained humble following his effort.
"You know, I haven't even thought about it," he said. "Today, my number was called a few times and I was able to have to some opportunities and I just tried to take advantage of them."
November, 25, 2013
11/25/13
12:33
AM ET
FOXBOROUGH, Mass. -- At an initial glance, a look at those players who were "up" in the
New England Patriots
'
34-31 victory
against the
Denver Broncos
and those at the opposite end of the spectrum:
Up
Tom Brady
-- Becomes just the fifth quarterback in history to throw 350 career touchdowns.
Marquice Cole
-- Cornerback is the gunner on the punt team and his effort contributes to the key play -- the Broncos'
Tony Carter
touching the punt that the Patriots recovered to set up the game-winning field goal.
Julian Edelman
-- The receiver once viewed as the replacement for
Wes Welker
, who was then trumped by
Danny Amendola
, turns in a Welker-type effort.
Logan Ryan
-- Rookie cornerback intercepts
Peyton Manning
early in the fourth quarter that the Patriots turn into a go-ahead touchdown.
Brandon Spikes
/
Dane Fletcher
-- Spikes plays with infectious energy and a physical edge, while Fletcher forces a third-quarter fumble that contributes to the momentum swinging in favor of the Patriots.
Down
LeGarrette Blount
-- Running back loses a first-quarter fumble and doesn't play again.
Dont'a Hightower
-- Linebacker appears to struggle on third-and-20 screen play that goes for 31 yards and doesn't play in the second half (which potentially could have been injury-related).
Stevan Ridley
-- Running back loses a fumble in the first quarter, continuing a disturbing run of ball-security problems, and doesn't play again.
Nate Solder
-- Left tackle is beaten for two sacks, the first of which leads to a Tom Brady fumble that is turned into a Broncos touchdown.
November, 25, 2013
11/25/13
12:22
AM ET
FOXBOROUGH, Mass. -- Some thoughts on the
New England Patriots
' 34-31
overtime victory
over the
Denver Broncos
:

What it means:
What a game. The Patriots played a pathetic first half and then turned in a stellar second half to roar back from a 24-0 deficit and win in overtime, when Bill Belichick's decision to take the wind had the potential to blow up with "fourth-and-2" type intensity. Belichick always preaches the importance of playing 60 minutes. On this night, about 43 minutes got the job done in what marks the biggest deficit Brady has overcome. A special-teams play was the difference -- the Broncos'
Tony Carter
touched a punt, which the Patriots recovered to set up the game-winning, 31-yard field goal. The Patriots improve to 8-3, while the Broncos fall to 9-2 in a game that could later have an impact on the race for a top playoff seed.
Brady does it again:
In the 14th installment of the
Tom Brady
versus
Peyton Manning
rivalry, Brady played the more consistent game. Manning showed he was up to the task by leading a game-tying touchdown drive in the fourth quarter. Brady is now 10-4 in his career in games against Manning-led teams. Two great competitors doing their thing.
Stock watch:
Running backs
Stevan Ridley
and
LeGarrette Blount
both lost fumbles in the first quarter and didn't play again, as their miscues put the Patriots in an early hole. Ball security has been an issue for both players, and their roles going forward could be affected.
Defense does its part:
While the Broncos ran the ball more than many anticipated -- and had impressive results -- the Patriots defense held its ground enough against the NFL's highest-scoring team. A forced fumble by linebacker
Dane Fletcher
in the third quarter, recovered by linebacker
Brandon Spikes
, contributed to the big momentum swing.
Edelman with the Welker-type effort:
Julian Edelman
, the receiver once viewed as the replacement for
Wes Welker
but was then trumped by
Danny Amendola
, turned in a Welker-type performance. Edelman was sensational in two roles -- receiver and punt returner -- providing a big spark on a night when Welker's return was a big storyline. If there was one downer, it was the missed connection in the end zone that could have given the Patriots a 10-point lead (they instead settled for a field goal) in the fourth quarter.
Welker's return not a big factor:
The Patriots played highlights of Welker before the game, and the Kraft family had a thank-you message for him on the scoreboard after the highlights played. The fans cheered. Welker and Belichick shared an embrace after the game. But overall, Welker's return wasn't a huge factor in the game.
Injuries to monitor:
Third-year right tackle
Marcus Cannon
, who has been elevated to the top unit after starter
Sebastian Vollmer
sustained a season-ending leg injury Oct. 27, left the game in the first quarter with an ankle injury and did not return. … No announcement was made during the game, but Blount might have sustained a concussion on the hit on which he fumbled. … Starting cornerback
Alfonzo Dennard
left the game in the second quarter and did not return. He entered the day questionable with a knee injury … Receiver
Aaron Dobson
didn't play on the final five drives, but it was unclear if that was injury-related. … Veteran defensive tackle
Isaac Sopoaga
didnt play in the second half, although it was unclear if that was because of injury.
What's next:
The Patriots visit the
Houston Texans
on Sunday, Dec. 1. (1 p.m. ET).
November, 24, 2013
11/24/13
10:07
PM ET
FOXBOROUGH, Mass. -- Sharing thoughts at halftime of the
New England Patriots
' game against the
Denver Broncos
, with New England trailing
24-0
:
Pathetic performance:
No need to sugarcoat it. This has been a pathetic performance by the Patriots.
Ridley and Blount don't play after lost fumbles:
Running backs
Stevan Ridley
and
LeGarrette Blount
lost fumbles in the first quarter and didn't play again. Ridley's ball-security issues are a big problem for the team and threaten his role going forward. If the coaching staff can't trust him to hold on to the ball, it puts the entire team at risk.
Offensive line a disappointment:
Broncos defensive end
Von Miller
is one of the NFL's most dynamic pass-rushers, and he made Patriots left tackle
Nate Solder
his latest victim with a first-quarter strip sack. The play highlights a general theme from the first half -- the Patriots' offensive line and disappointing play. The unit was supposed to be the strength of the offense.
Third-and-20 on defense ... and the Patriots give it up:
While the Patriots' defense hasn't been the main problem, it also has contributed to some of the struggles. When the Broncos face a third-and-20 and convert a screen pass to move the sticks, it highlights what a tough night it's been overall for the Patriots.
Broncos get some credit, too:
While the Patriots have played uninspired football, the Broncos' role in the way the first half unfolded also shouldn't be overlooked. The defense delivered some big hits on Ridley and Blount, and also produced the Miller strip sack of
Tom Brady
with an explosive rush off the edge.
Patriots get ball to start second half:
The Patriots won the opening toss and deferred. So they will get the ball to open the second half. As the Patriots went to the locker room at halftime, the crowd booed.
November, 24, 2013
11/24/13
9:21
PM ET
FOXBOROUGH, Mass. -- After 15 minutes of play, the
New England Patriots
trail the
Denver Broncos
,
17-0
. Passing along quick-hit notes and observations from the first quarter.
1. No Dennard, Spikes in starting lineup.
Patriots cornerback
Alfonzo Dennard
(knee) and linebacker
Brandon Spikes
(knee) were both listed as questionable to play, but each suited up. However, neither was in their customary spots in the starting lineup, with rookie cornerback
Logan Ryan
and linebacker
Jamie Collins
in the starting lineup. Dennard and Spikes appeared on the defense's second drive.
2. Ridley fumbles, Miller returns for a score.
Patriots running back
Stevan Ridley
fumbled with just over 10 minutes to play in the first quarter, his third straight game with a fumble. Broncos linebacker
Von Miller
scooped up the fumble and returned it 60 yards for a touchdown. It would be a surprise to see Ridley back on the field for quite some time.
3. Brady stripped, Broncos capitalize.
Just two plays after Ridley's fumble,
Tom Brady
was strip-sacked by Von Miller and the Broncos took over deep in Patriots territory. Just two plays after that, running back
Knowshon Moreno
scampered in for a two-yard touchdown to give the Broncos a two-score lead.
4. Blount fumbles, Broncos add FG.
Running back
LeGarrette Blount
, taking over for Ridley following his fumble, had a costly fumble of his own, as he put the ball on the ground and gave Denver the football at the Patriots' 44. The defense did well to hold the Broncos to a chip shot field goal. The Patriots became the first team to fumble three times in the first quarter of a game since 2007.
5. Penalty box.
The following Patriot was flagged for a penalty during the first quarter: tight end
Rob Gronkowski
(false start).
November, 24, 2013
11/24/13
8:40
PM ET
November, 24, 2013
11/24/13
8:28
PM ET
Welker
FOXBOROUGH, Mass. -- On the scoreboard about 10 minutes before tonight's game, the Patriots showed a collection of highlights of
Wes Welker
's time with the team.
After the highlights was a
note in which the Kraft family thanked Welker for six memorable seasons
. Fans cheered after the highlights.
This is Welker's first game back in New England since signing with the Broncos this offseason.
November, 24, 2013
11/24/13
7:20
PM ET
FOXBOROUGH, Mass. -- Cornerbacks
Alfonzo Dennard
and
Aqib Talib
are active for Sunday's game against the
Denver Broncos
, which was the most notable news from the team's list of inactive players.
Multiple media reports early in the week had indicated that Dennard (knee) would be out tonight.
PATRIOTS INACTIVES
G
Chris Barker
DE
Jake Bequette
LB
Steve Beauharnais
WR
Josh Boyce
DL
Marcus Forston
S
Steve Gregory
TE
Michael Hoomanawanui
ANALYSIS:
Steve Gregory, the team's starting safety and primary communicator, will miss his second straight game. He had returned to practice this week but it wasn't enough for him to clear the hurdle of being active. ... Josh Boyce was the primary kickoff returner last week, so his inclusion on the inactive list is a bit of a surprise.
LeGarrette Blount
will likely handle those duties. ... Otherwise, no major surprises as linebacker
Brandon Spikes
-- who was downgraded to questionable earlier today (knee) -- is active.
BRONCOS INACTIVES
QB
Zac Dysert
RB
Ronnie Hillman
CB
Champ Bailey
S
Michael Huff
C
J.D. Walton
G
Chris Kuper
TE
Julius Thomas
ANALYSIS:
The big news is with Julius Thomas (right knee), as he made the trip but just couldn't get over the hump.
Joel Dreessen
likely will take the majority of his reps. ... Champ Bailey said he would test his left foot on the FieldTurf, but it didn't seem like a reasonable chance that he would play, and that's the way it turned out.