New England Patriots:

2013 Week 13 NE at HOU
December, 1, 2013
12/01/13
8:15
PM ET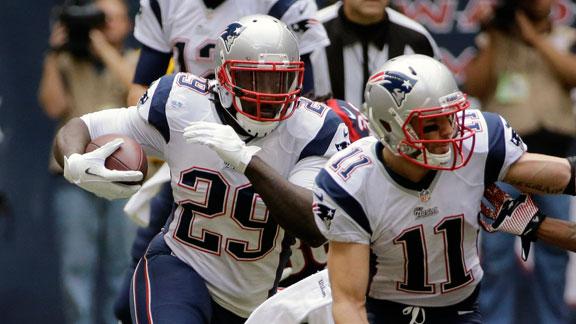 HOUSTON -- Here's one way to sum up the
New England Patriots
' offense in recent weeks: "What a difference a Gronk makes."
While
Rob Gronkowski
officially returned to action on Oct. 20 against the
New York Jets
, he has only recently returned to top form and it's no coincidence that the Patriots' attack has started to click as that has happened. The latest example came in Sunday's
34-31 victory
against the
Houston Texans
when Gronkowski finished with six catches for 127 yards and one touchdown.
"I mean, Gronk is one of the top tight ends in the league," receiver
Julian Edelman
said. "Anytime you have 'Big Gronk' out there, it definitely makes the team better."
In this case, it's more about the "Full Gronk."
It took Gronkowski a while to get to this point after missing all of training camp and the first six games of the season, so his first three to four games essentially served as his preseason-within-the-season. The breakthrough has just recently occurred.
In the Nov. 24 victory against the
Denver Broncos
, Gronkowski played every snap, which was the first sign that he's at top form. He nearly did the same Sunday against the Texans, with the top highlight coming on a 50-yard catch early in the third quarter that helped spark an offense that had been inconsistent in the first half. Gronkowski dragged two defenders along for a ride at the end of the catch-and-run. Then there was his 23-yard touchdown catch in the first quarter when he plucked a low throw from quarterback
Tom Brady
over the middle.
"The touchdown was a great play. It was an adjustment," Brady said. "He was covered early and wheeled out of the route and made a great catch. The catch in the third quarter to drag those guys down the field was awesome too. He made a great play on a catch-and-run there."
Gronkowski appeared to get his foot/ankle caught when tackled in the fourth quarter. He finished the game and didn't appear to have any issues with it after the game.
That's good news because after seeing what Gronkowski means to the offense, it would be a major setback if he was sidelined for any period of time.
"Whenever he gets going, the rest of us get going," Brady said. "I hope he realizes the importance for him to be able to play that kind of style for us. It really helps everyone."
December, 1, 2013
12/01/13
8:00
PM ET
HOUSTON --
Ryan Allen
was a junior at West Salem (Oregon) High School in 2006 when the
New England Patriots
drafted
Stephen Gostkowski
in the fourth round as the replacement for arguably the greatest clutch kicker in NFL history,
Adam Vinatieri
.
So the rookie punter and holder on field goals knows little about what NFL life has been like for Gostkowski, especially in the early years. There were some shaky moments.
"You can see how calm and collected he always is. He's a veteran player and he carries himself that way," said Allen, who had the best close-up view of Gostkowski during Sunday's
34-31 victory
over the
Houston Texans
in which he drilled two clutch 53-yard field goals in the fourth quarter.
"It shows he's mentally stronger than most. It's amazing to watch how composed and confident he is, no matter the conditions or if he's had a rough day."
On a day in which the Patriots weren't at their best and had to scrape past a two-win Texans team that has now lost 10 games in a row, this might have been Gostkowski's finest NFL hour.
A 53-yard field goal to tie it with 7:16 remaining. Money.
A 53-yard field goal to take the lead with 3:12 remaining. Money.
They weren't end-of-game heroics, but in terms of degree of difficulty, it was about as tough of a fourth-quarter challenge as the affable 29-year-old has faced.
"I take pride in every kick," Gostkowski said, "but especially kicks in the fourth quarter."
Gostkowski has five career game-winning field goals -- four in the regular season (2010 and three in 2013) and one in the playoffs (2006 season). They came from 31, 35, 35, 31 and now 53 yards.
Distance-wise, one of them obviously stands out from the rest.
That's why, of all the storylines that unfolded in Sunday's closer-than-many-anticipated victory, Gostkowski stood slightly above the rest.
Surely, there will be plenty of discussion about
Stevan Ridley
as a healthy scratch, his future as the team's lead running back now at a crossroads because of ball-security issues. The run defense looks like a concern. The slow starts aren't good. Tight end
Rob Gronkowski
is a beast and his return to form has changed the complexion of the offense.
But from this perspective, this was a day to highlight Gostkowski's work more than anything else, his powerful right leg needed by the Patriots perhaps more than at any time over his eight-year career.
"It's crazy the way games can play out," he said. "It's nice to get opportunities to kick long kicks in good weather. It's tough to make kicks of that distance in December in Foxborough, so you wouldn't be expected to be called out there for a couple of 53- or 55-yard field goals. Just to be able to do it in the fourth quarter, and when the team needed me to tie it and to put us ahead, it definitely makes it feel a little bit more special after the fact."
It was clear in pregame warmups that the ball was exploding off Gostkowski's foot. The retractable roof at Reliant Stadium was open but it still had more of an indoor feel in which his distance appeared to approach about 60 yards.
Still, there were other challenges. Gostkowski said the natural grass surface, patched in certain areas, "kind of stunk" and was elevated in certain areas. So he said he focused on slowing himself down and altered the approach he would normally take on FieldTurf.
"You can't kick behind the ball because you don't know what the surface is going to be like. On turf, you can do that and know how your foot is going to slide," he said. "So you have to be clean and hit a good ball every time."
Gostkowski felt he did so on a 55-yard attempt in the second quarter that missed, snapping his streak of 21 straight field goals that went back to Sept. 22 against the
Tampa Bay Buccaneers
.
"It wasn't a bad kick, but things have to be pretty much perfect to make a kick from 50 plus. There's no room for error," he said. "I knew if I had another opportunity, I was right on it."
He was, just as he's been most of the season. Gostkowski has converted 12 field goals of 40 or more yards this season, breaking a Patriots record previously held by Vinatieri.
Just another reminder of the kicker he replaced eight years ago.
There have been some highs and lows along the way. Sunday's clutch effort was perhaps the highest of them all.
December, 1, 2013
12/01/13
5:25
PM ET
The
New England Patriots
have scored just seven points in the first half of their past two games, trailing at halftime by a combined score of 41-7 against the
Denver Broncos
and
Houston Texans
. The slow starts have been offset by scorching second halves, as the Patriots have mounted consecutive comebacks with 61 points in the second half against Houston and Denver, pushing their record to 9-3.
Following a come-from-behind
34-31 victory
Sunday against Houston, the Patriots weren't making any excuses or hiding behind their sluggish beginnings.
[+] Enlarge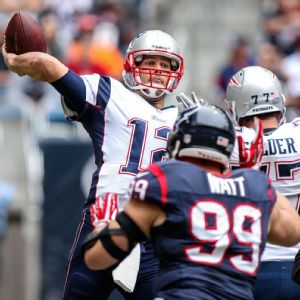 Troy Taormina-USA TODAY SportsAlthough he led the Patriots to 27 second-half points, Tom Brady knows his team needs to get better before intermission.
"We're not playing well enough, we're not coaching well enough," coach Bill Belichick said of the first half. "We're not doing a good enough job in any area, from opening kickoff, from the defense to the offense, nothing's good enough. We've got to do a better job coaching, we've got to do a better job preparing, we've got to do a better job executing."
A week ago against Denver, turnovers plagued the Patriots, as three first-quarter fumbles resulted in a lightning-quick deficit. There was just one turnover on Sunday, but quarterback
Tom Brady
noted that the team once again missed opportunities in the first half, just as the Patriots felt they had done against the Broncos.
"I wish we could start faster, put the foot on the gas pedal the whole way, but we just got behind a little bit, played a lot better in the second half," Brady said. "We still had plenty of chances to convert more. We've got to find a way to keep moving the ball, getting the ball in the end zone, but a lot of guys made some really big plays."
He added that slow starts are something the Patriots must avoid going forward.
"I've got to watch the tape and figure it out," Brady replied when asked what accounted for the slow start on Sunday. "But just what we're doing is not good enough, and we can't keep getting behind because you've got to play too well in the second half to overcome."
Seemingly with the flip of a switch, the Patriots have turned their fortunes around in the second half. They've scored touchdowns on their first two second-half possessions in three straight games, and on Sunday they generated a total of 27 points on their first five drives after halftime.
Belichick alluded to the fact that they always evaluate and implement adjustments during the 12-minute halftime, something Brady pointed to as the difference-maker.
"Our coaches do a great job of getting to the adjustments that we make because you go through the first half and you don't produce much at all, and then coaches come in at halftime and say these are the things we're going to have to do to move the ball," he said. "And then we started it with a great drive there to start the [third] quarter and then scored again, scored again. It was just, it was really a great way for us to play offense."
December, 1, 2013
12/01/13
5:10
PM ET
After fumbling in three straight games,
New England Patriots
running back
Stevan Ridley
was a healthy scratch for his team's Week 13 matchup with the
Houston Texans
on Sunday afternoon.
Following the
34-31 win
, during which New England accumulated 87 rushing yards on 27 carries, Patriots coach Bill Belichick offered a simple reason why Ridley was declared inactive for the first time since his rookie season in 2011.
[+] Enlarge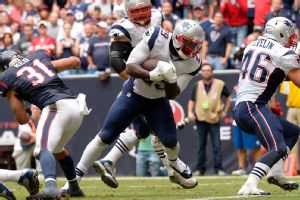 Thomas Campbell/USA TODAY SportsLeGarrette Blount led the Patriots with 12 carries and 44 rushing yards.
"Because there were 46 other players active ahead of him," he said.
The Patriots turned to a four-back attack in Ridley's absence, as
LeGarrette Blount
led the way with 12 carries for 44 yards and a touchdown, and
Shane Vereen
added 75 total yards and a receiving touchdown.
Brandon Bolden
had four total touches, and fullback
James Develin
scored the first touchdown of his career.
The group drew praise from quarterback
Tom Brady
after the game.
"LeGarrette ran really hard. Shane's doing a great job for us coming back off being out for a while, and Brandon got a lot of touches, too," he said. "So all those guys contributed. We're going to need them all, that's one of the strengths of our team."
What remains to be seen is how long it will take for Ridley to work his way back into the lineup, as he was benched following his fumble in the first quarter last week.
He's proven to be one of the better between-the-tackles rushers in the NFL when on the field, but ball security has been a problem. He has nine fumbles in 42 career regular-season games, six of which have been lost.
The Patriots next take on the
Cleveland Browns
, one of seven teams to enter Sunday allowing fewer than 100 yards rushing per game.
That matchup might lead the team to work Ridley back into the mix as they aim to further hit their stride down the stretch.
December, 1, 2013
12/01/13
4:20
PM ET
HOUSTON -- A look at
New England Patriots
players whose performance was "up" against the
Houston Texans
, and those at the opposite end of the spectrum:
Up
James Develin
: Fullback's 1-yard touchdown run is reflective of his career path from Brown University to the Arena Football League, the United Football League, an NFL practice squad and then an NFL roster -- a gutsy never-give-up effort.
Julian Edelman
: Comes up big for the second week in a row and is currently the team's most reliable and consistent receiver.
Stephen Gostkowski
: Two field goals from 53 yards in the second half are clutch.
Rob Gronkowski
: Tight end continues to round into form and is a big factor in the passing game with another day over 100 yards receiving.
Offensive line: Solid protection for quarterback
Tom Brady
for much of the day as
J.J. Watt
isn't heard from often.
Down
Kyle Arrington
: Cornerback is in coverage on a 66-yard reception by receiver
DeAndre Hopkins
in the fourth quarter. Arrington was excellent in the slot last week against
Wes Welker
and the Broncos, but his struggles against Houston came on the outside.
Dont'a Hightower
/run defense: Linebacker is one of several defenders to struggle getting off blocks and making tackles, as the Texans have success on the ground.
Kickoff coverage: Opening return of the game for the Texans got them started on the right foot.
December, 1, 2013
12/01/13
3:58
PM ET
HOUSTON -- Some thoughts on the
New England Patriots
' 34-31
win
over the
Houston Texans
at Reliant Stadium:

What it means:
This wasn't the Patriots' best effort. After two prime-time games against top teams, they played down to the level of their competition against the two-win Texans in a natural letdown-type situation. They'll take the win after making the plays in critical situations, but they know they'll need to play better in the weeks to come. The Patriots improve to 9-3 and keep pace in the overall AFC playoff race, while the Texans drop to 2-10.
Gostkowski's clutch kicks a big part of the story:
Kicker
Stephen Gostkowski
hit two field goals from 53 yards in the fourth quarter, and the Patriots probably don't win the game if not for his powerful and accurate right leg. It's been eight years since the Patriots had Mr. Clutch,
Adam Vinatieri
. In terms of clutch performances, this was one of Gostkowski's best.
Monster game from Gronkowski:
Not that it's a newsflash, but the presence of tight end
Rob Gronkowski
simply changes everything for the Patriots' offense. It's no coincidence that as Gronkowski has rounded into form, the offense has done much of the same. He had six catches for 127 yards and looks like his old self.
Run defense gashed:
One of the big issues for the Patriots was run defense. They struggled to get off blocks and tackle -- mostly fundamental-type stuff. This has been a struggle at times for the team, and other times they've been solid (versus Carolina, minus QB scrambles). When it comes to top areas to address in the weeks to come, this one is high on the list.
Stock watch:
Lead running back
Stevan Ridley
, who lost fumbles in each of the past three games, was a healthy scratch. This puts his future as the team's top option at the position at a crossroads (
analysis here
).
Shane Vereen
played the majority of running back snaps for the Patriots in the game.
Edelman cashes in:
By making his 70th reception of the season, receiver
Julian Edelman
earns the maximum $250,000 incentive bonus in his one-year contract. Edelman has been terrific this season.
Injuries to monitor:
Receiver
Kenbrell Thompkins
, who started in place of the injured
Aaron Dobson
, left the game in the first half with a hip injury. He returned for three plays before shutting it down for the day. There were no other notable injuries.
What's next:
The Patriots return home to host the
Cleveland Browns
on Dec. 8 (1 p.m. ET).
December, 1, 2013
12/01/13
2:20
PM ET
HOUSTON -- Sharing some thoughts at halftime, as the
New England Patriots
trail the
Houston Texans
,
17-7
:

Letdown comes into play:
The Patriots are coming off two prime-time games against top teams, and they have played down to the competition against the 2-9 Texans. They didn't come ready to play in all three phases -- offense, defense and special teams -- and this is the result. Credit the Texans for playing hard, but it's also been uninspiring football from New England.
Struggle to get off blocks and tackle:
Haven't seen the Patriots struggle to get off blocks (linebacker
Dont'a Hightower
on
Ben Tate
's TD run as one example) and tackle as they have today in some time. Just poor fundamental football.
Defensive plan heavy in zone coverage:
The Patriots have played a lot of man coverage this season, but it has been more zone today. Not sure why coach Bill Belichick has opted for the switch, but it hasn't produced the desired results. One would think the Patriots want cornerback
Aqib Talib
following
Andre Johnson
all over the field. Quarterback
Case Keenum
hasn't been flustered much, with one of the few times the Patriots did resulting in a
Logan Ryan
interception (with pressure from
Andre Carter
and
Rob Ninkovich
contributing to the play).
Thompkins injury update:
Receiver
Kenbrell Thompkins
attempted to come back into the game in the second quarter after suffering a hip injury, and was on the field for three snaps, before coming off again. He was seen riding the stationary bike on the sideline, but hasn't played since.
Josh Boyce
is taking his reps.
Gotskowski's streak comes to an end:
Kicker Stpehen Gostkowski missed a 55-yard field goal attempt in the second quarter, stopping a streak of 21 straight field goals that began in Week 3 against Tampa. Gostkowski easily had the range in pregame warm-ups, which likely played into the decision to kick it. But the miss was just another part of an overall uninspiring first half for the entire team.
Sopoaga gets a sack:
Nose tackle
Isaac Sopoaga
picked up his first sack as a member of the Patriots, which served as a reminder that he still has something left. One of the knocks on Sopoaga in Philadephia when the Patriots acquired him in a trade from the Eagles was that he had little gas left in his tank. That seems to be a bit off the mark.
Working through issue with Brady's helmet:
At one point, quarterback
Tom Brady
was having trouble getting the play-call in his helmet, which was another part of the general struggles/obstacles the Patriots were having. Brady had his helmet replaced after the drive, and the issues didn't seem to resurface.
Patriots get the ball:
After losing the opening toss, and with the Texans electing to receive to open the game, the Patriots get the ball to open the second half.