New England Patriots:

2013 Week 16 NE at BAL
December, 23, 2013
12/23/13
12:17
AM ET
BALTIMORE -- This wasn't just the best win of the
New England Patriots
' season. The
41-7 dismantling
of the
Baltimore Ravens
ranks among the best regular-season victories in Bill Belichick's 14-year tenure as head coach.
Consider all the elements that were stacked against the Patriots: M&T Bank Stadium is one of the toughest places in the NFL to win. The Ravens were on a four-game winning streak, riding high with confidence. And the beaten-up Patriots were being held together by duct tape in some areas.
It's no wonder
all the "experts"
had chalked this one up in the Ravens' favor.
Oops.
But it was even more that ranked this victory in such lofty status over the past 14 years, as it was
how
the Patriots achieved the end result that was so impressive. Their physicality shined, and a commitment to the running game was a change from the norm. The defense got back to its turnover-producing roots and special teams played tight against a dangerous foe.
As one would expect, there was jubilation in the locker room afterward, players donning their navy AFC East championship hats and T-shirts. This is old hat for the Patriots, as they became the first team since the NFL merger (1970) to win 10 division titles in an 11-year span, according to Elias Sports Bureau, but one got the sense that maybe this one meant a bit more than those from the past.
"Every year is special," quarterback
Tom Brady
said, "but we've really earned it this year."
"It gets better every year because you know how hard it is, especially with the crazy year we've had, having some of our big dogs get hurt," receiver
Julian Edelman
added.
That's the thing about these Patriots: Their resilience is their most admirable quality. Just when it looked like there had been too many injuries, that maybe things had finally caught up to them, they responded with a championship-type effort.
They knew what they had to do to beat the defending champion Ravens. They had to out-physical them.
"I know no one ever calls our team physical, but I think if you ask the guys that line up across from us, we're never scared to get after it," offensive lineman
Logan Mankins
said. "We want to run it. We want to hit you in pass protection. That's just the way we play. We're going to cut you, whatever it takes."
If anyone was doubting it before Sunday's game, they shouldn't be now. The Patriots ran the ball 34 times and had 26 pass attempts, and it's not often the pendulum swings so dramatically in that direction. In the previous four games, Brady had thrown the ball 50, 41, 52 and 55 times.
But the Patriots had success with some zone runs, stretching the Ravens' defense, and running backs
LeGarrette Blount
and
Stevan Ridley
hit the cut with authority while the revamped offensive line with Mankins at left tackle and undrafted rookie
Josh Kline
of Kent State, making his first career start at left guard, paved the way.
The Patriots prioritized being stronger at the line of scrimmage by using more packages with multiple tight ends, or a tight end/fullback combination, compared to their three-receiver groupings. While they took some shots down the field in the passing game, they were more calculated and situational.
[+] Enlarge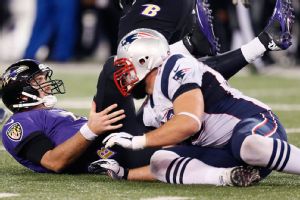 Mitch Stringer/USA TODAY SportsRob Ninkovich and the Patriots got physical with Joe Flacco and the Ravens.
As for the defense, the undermanned unit that lost another key contributor when safety
Devin McCourty
likely sustained a concussion in the third quarter, also played physical, but the real key was getting back to its turnover-producing ways. Rookie cornerback
Logan Ryan
had two interceptions and also a fourth-down pass breakup as the Patriots took advantage of a less-than-100 percent
Joe Flacco
, who didn't have his regular zip on passes.
"We got the turnovers and that was the big thing for us," said defensive end
Rob Ninkovich
, who also had a fourth-down stop. "We didn't have the turnovers in the last three or four weeks. We knew Flacco wouldn't be as mobile as he was in the past."
And as for all the experts, well, the Patriots had earned the right to gloat a bit. Whether it was observers declaring the Patriots a finesse team or picking them to lose to the Ravens, players made it clear they are aware of public perception.
"The experts, I know, they always have all the answers," Mankins said. "They really had them when they picked the winner of this game. When they don't mention us as physical, I always say, 'Go ask the guy that lines up across from me if we're physical.'"
The answer was decisive from the Ravens, as linebacker
Terrell Suggs
already was trying to forget what had unfolded.
"Burn the tape," he said. "It's not even worth looking at."
They'll be happily watching it in New England, of course, as this wasn't just the best win of the Patriots' 2013 season.
It was, without a doubt, one of the top victories in Belichick's 14-year tenure.
December, 23, 2013
12/23/13
12:05
AM ET
BALTIMORE -- The first sign Sunday against the
Baltimore Ravens
might be different for rookie cornerback
Logan Ryan
was when fellow cornerback
Alfonzo Dennard
went through a pre-game test in front of the team's medical and athletic training staff. Dennard's knee continues to be an issue to manage, and while he was ultimately deemed healthy enough to dress, the Patriots hoped to limit his time on the field.
So Ryan got the start. And boy, did he make the most of it.
The third-round draft choice from Rutgers had two interceptions and a pass break-up on fourth down (essentially another turnover) as the Patriots got back to their turnover-producing ways after a recent drought.
"Ever since the first game, I've always wanted to be prepared. Whatever my opportunity is, I want to make the most of it -- whether it's starting the game or coming in sub, I want to make an impact in the game," Ryan said as he donned an AFC East Championship hat.
Ryan's first interception, in the first quarter, came on a tipped pass by linebacker
Dont'a Hightower
. The second came on a play in which Baltimore Ravens tight end
Dennis Pitta
couldn't corral a
Joe Flacco
pass in the third quarter.
Ryan credited the coaches' call in putting him in position to make the play, as well as Hightower's athleticism. He also said one of the primary points of emphasis was "don't let those guys get going with their deep shots."
Ryan now has five interceptions on the season, which leads all NFL rookies. Asked how he'd like to be viewed as a player, he said, "Hard worker. Not [just] on Sundays, but during the week. I want to be consistent. It's great to have interceptions, but you have to be consistent 50 other plays in the game. I just want to be known as someone who works hard each and every day and is consistent out there."
As for the Patriots' resounding victory, Ryan said: "I don't know if it was a statement or not. We know we have a big one next week. We continue to control our own destiny. We're going to enjoy this one and then focus on the
Buffalo Bills
."
December, 22, 2013
12/22/13
10:50
PM ET
BALTIMORE -- The
New England Patriots
have won the AFC East title in 10 of the past 11 years, and it seemed as if this one was appreciated as much, if not more, than most others. Consider quarterback
Tom Brady
's remarks.
"Every year is special, but we've really earned it this year," Brady said after the team's 41-7 win over the
Baltimore Ravens
on Sunday. "The NFL has a lot of stiff competition. Winning 11 games is very hard. We have faced adversity all year. Of course, other teams have, too, but our mental toughness has really gotten us through this. ... We've shown that we can hang together all year."
Players celebrated in the locker room with navy AFC East championship hats and T-shirts.
"I'll be wearing it all week," Brady said. "Those hats and T-shirts are important because of what they mean. I hope we can keep getting more hats and T-shirts."
Brady, who said he was unaware that
Denver Broncos
quarterback
Peyton Manning
had broken his single-season record for touchdown passes, also touched on the importance of the commanding win over Baltimore.
"This was a great win against a very good team on the road," he said. "To come in here, in one of the toughest places to play in the league, and win in all three phases of the game means a lot to us."
December, 22, 2013
12/22/13
10:30
PM ET
BALTIMORE --
New England Patriots
coach Bill Belichick altered the team's schedule on Friday and took players to the movies at nearby Patriot Place to see "Lone Survivor", which detailed a Navy SEALS mission in 2006 in Northern Afghantisan.
Belichick was asked about the outside-the-norm decision after Sunday's win.
"We do different things from time to time," he said. "Mark Wahlberg, obviously, is a huge Patriots fan and a huge supporter, and I really appreciate everything that Mark did to make it possible to watch the show. He's a tremendous guy and it was such an honor to meet him a few weeks ago.
"I think the movie certainly had the messages of leadership, perseverance, preparation, and then execution. It's one thing to prepare, it's another to actually go out there and play the game and go through the battle the way they do. So, that was a great message, no question, and a great movie."
December, 22, 2013
12/22/13
10:20
PM ET
BALTIMORE -- Patriots coach Bill Belichick was naturally pleased with the team's
41-7 victory
over the Ravens at M&T Bank Stadium, as well as the team clinching the AFC East title.
"I thought it was a really good job from our team today," he said in his opening remarks. "We had a lot of guys banged up coming into the game, lineup changes and all of that, but we had a good week of practice. I thought our players really prepared hard and played hard, and played well.
"I'm really proud of the way they played; that they competed. Being able to finish and play 60 minutes is good. They earned it today and that's a good football team we played. I'm happy to win the AFC East and hopefully we can build off this game. It was a good one for us."
Belichick repeated multiple times that it took a full-team effort. There was another part of the performance that was a relief.
"It was kind of nice to be in a game that didn't come down to the last seconds," he said. "That brings out excitement. When you can win in this league on the road, beat a good football team, they deserve the excitement."
As for clinching a playoff berth, he said: "That's what we work for all year. We started with the offseason programs, OTAs, and training camp. We worked to put ourselves in position to have a chance to compete at the end of the year, and we did that. We got ourselves in position to qualify for the playoffs; that's good. We'll see what happens going forward, and that's what we play for -- to be able to play in the postseason. Fortunately, we have that opportunity and now we'll see what we can do."
December, 22, 2013
12/22/13
8:15
PM ET
FOXBOROUGH, Mass. -- A look at those who were "up" in Sunday's game against the Ravens, and also those at the opposite end of the spectrum:
Up
LeGarrette Blount
-- Running back brings a hard-charging style to an offense that achieved the desired balance.
Julian Edelman
-- Receiver rolls 7s with seven catches for 77 yards as he continues to be one of the club's most reliable players.
Rob Ninkovich
-- Defensive end records a sack and crashes down on fourth down to make the tackle and turn the ball over on downs in the third quarter.
Offensive line
-- With
Logan Mankins
starting at left tackle and undrafted rookie
Josh Kline
at left guard, this was a stellar effort.
Logan Ryan
-- Rookie cornerback has two inteceptions and a pass-breakup on a fourth-down play in the third quarter.
Down
Steve Gregory
-- Called for pass interference in the fourth quarter to set up the Ravens' first touchdown, and also can't corral
Torrey Smith
on a long third-quarter gain down the sideline.
Devin McCourty
-- Safety can't corral two would-be interceptions.
Ron Winter's officiating crew
-- Too many penalties contribute to a game that is long and has little flow.
Expert picks
--
Any chance we can get a re-do
?
December, 22, 2013
12/22/13
7:53
PM ET
BALTIMORE -- Sharing thoughts on the
New England Patriots
' 41-7
victory
over the
Baltimore Ravens
at M&T Bank Stadium:
What it means:
This day couldn't have gone much better for the Patriots. Before they took the field, they clinched the AFC East by virtue of the Dolphins' 19-0 loss to the Bills. Then they produced their best road win of the season -- and maybe their best in years -- against a Ravens team that had a lot of momentum with four straight wins. This was a complete team win, arguably the Patriots' best of the season. The Patriots will earn a first-round playoff bye if they win their season finale at home against the Bills.

Physical approach stands out:
The way the Patriots won was impressive, as they proved they could meet the physical match. Particularly, when they turn to the running game like they did with success in the first half, it's a different brand of football from the spread-it-out, pass-first style we're used to seeing from them.
Turnovers return for the defense:
Simply put, this was a sensational effort by the Patriots' undermanned defense. While Ravens quarterback
Joe Flacco
appeared to be affected by his injured left knee, the defense came through with stops on third down, and the much-needed turnovers returned after a two-week hiatus.
Stock watch:
Up --
Logan Ryan
. The rookie cornerback was inserted into the starting lineup in place of
Alfonzo Dennard
, whom the team had dressed for emergency purposes but preferred to keep on the sideline because of a knee injury. Ryan made the most of his extended reps, with an interception in each half and also a pass breakup on fourth down in the third quarter.
Injuries to monitor:
Running back
Shane Vereen
(groin) left the game in the first half, retreating to the locker room. Vereen returned to the sideline but didn't play again in the game. ... Safety
Devin McCourty
left the game in the third quarter with a head injury and did not return. ... Linebackers
Brandon Spikes
and
Dont'a Hightower
and safety
Steve Gregory
all left the game at various points but returned.
A word on the referees
: The Patriots entered the day as the NFL's least penalized team, but one wouldn't have known it after this one. Referee Ron Winter's crew was flag-happy, with both teams benefiting from the heavy number of penalties, as this was a long game that had little flow. The third "team" was a bit too involved for our liking.
What's next:
The Patriots have their season-finale at home against the
Buffalo Bills
on Sunday (1 p.m. ET).
December, 22, 2013
12/22/13
6:02
PM ET
BALTIMORE -- Sharing some halftime thoughts of the
New England Patriots
' game against the Ravens (New England leads
17-0
):

One of Patriots' best halves of the season:
This has been, across the board, some of the best football the Patriots have played this season. All three phases are getting it done. On offense, a commitment to the ground game has stood out. On defense, the turnovers are back. And the special teams coverage has been outstanding, sparked by captain
Matthew Slater
. For the Ravens, quarterback
Joe Flacco
doesn't look completely comfortable.
Replay review critical for Patriots:
Danny Amendola
's late second-quarter fumble was overturned on replay, which was crucial for the Patriots because it could have been a momentum-swinging turn of events -- the Ravens getting the ball on a short field and then at the start of the third quarter. Turnovers are such a big part of the action, as we saw in the first quarter for the Patriots (
Logan Ryan
interception sets up the second touchdown).
Red-zone struggles corrected:
One of the big storylines entering the game was the Patriots' red-zone performance (1 of 4 vs. Miami). They are 2 of 2 today, with a power running game (
LeGarrette Blount
) and then a well-designed pass play (
Shane Vereen
) the successful formula.
A lot of penalties:
Ron Winter's crew has been busy tonight. It's always difficult to tell while watching live if all the calls are warranted, but our general preference are games with fewer flags. It seemed like a long half because of it, with little flow. This reminds us of the
2009 Patriots-Ravens regular-season game
, in Foxborough, in which Winter was also the referee.
Injuries to monitor:
Vereen left in the second quarter with a groin injury and has not returned.
Brandon Bolden
has assumed his role as the top "passing back." ... Safety
Steve Gregory
left in the second quarter with what looked like a right knee/leg injury. It looked signficant, and rookie
Duron Harmon
took his place. ... Linebacker
Dont'a Hightower
left the game briefly in the second quarter, but returned.
Ravens get the ball:
The Patriots had called heads at the opening toss and it came up tails, with the Ravens deferring the choice to the second half. So the Ravens get the ball to open the second half.
December, 20, 2013
12/20/13
6:00
PM ET
There are some games that just have a certain feel to them -- a different feel from other games.
This Sunday's rematch of last year's AFC championship game has that feel.


Even if there wasn't so much at stake for both the Patriots and Ravens in Week 16, the buildup to this game would likely be intense. There's no love lost between these two teams, who have shared the field for some of the more memorable games in recent NFL seasons.
The fact that there are playoff implications for both sides makes the matchup even more intriguing. The Patriots can potentially clinch a top two seed in the AFC if things fall their way, or at the very least can sew up the AFC East division crown with a win.
The Ravens, meanwhile, can move closer to an AFC North title with a win, and a win combined with a Miami loss would ensure that they'll extend their NFL-best streak of seasons making it to the playoffs to six.
The Patriots are hopeful to become just the second team to beat the Ravens on their home turf this season, and if they are able to do so, it would be their best win away from Gillette Stadium in 2013.
With plenty to play for, here's a look at what we'll be watching for this Sunday.
1. Red zone offense.
The Patriots have scored touchdowns on just 39 percent of their red zone trips in games that
Rob Gronkowski
has not played in this season. For the seven-game stretch that they had Gronk, that number ballooned to 69 percent. The Ravens happen to boast the league's best red zone defense and stymied the Patriots in the red zone last postseason, so converting their chances will be a tremendous key for the Patriots this weekend. The potential return of wide receiver
Aaron Dobson
, whose 6-foot-3, 215-pound frame makes him a difficult matchup in man coverage, would aid the offense in the red area.
2. Blindside protector.
For the second consecutive week, Patriots starting left tackle
Nate Solder
is dealing with a concussion. He was able to play in Week 15, but ultimately left the game early after appearing to take a knee from a Dolphins player. While he hasn't been ruled out for Sunday, if he's unable to play, it'll be interesting to see how the Patriots opt to replace him. They kicked
Logan Mankins
out to left tackle last Sunday, inserting
Josh Kline
in at left guard. With a week of practice, the team could also opt to insert veteran
Will Svitek
at one of those spots if need be.
3. Kickers battle.
It's not often that we highlight the kickers in advance of the games, but this Sunday features a pair that have had largely terrific seasons. Stephen Gostkowksi slipped up for his team last week but has still had clutch moments this season.
Justin Tucker
, the Ravens kicker, drilled six field goals Monday night, including a game winner from 61 yards. He's in line for potential postseason honors. Their strong legs shorten the field for an offense.
4. Slowing Rice.
Ray Rice
hasn't had nearly his best season in 2013; in fact, he's averaging just 3.1 yards per carry. Nonetheless, he's still a gifted running back whom the Patriots, who have had massive struggles stopping the run, must account for. While Rice is most often responsible for carrying the football, he's also a reliable pass catcher that will flare out of the backfield and make yards in open space. Coverage has been an area of struggle for Patriots linebackers this season, and containing Rice as a pass catcher will be no small chore.
5. Pressuring Flacco.
The last time the Patriots played the Ravens, they didn't register a single hit on quarterback
Joe Flacco
. He largely had his way, working the middle of the field effectively by targeting tight end
Dennis Pitta
and wide receiver
Anquan Boldin
. Sacks have been an issue for Baltimore this season, and the Patriots need to find their way to Flacco early and often. The two individual matchups to watch will be
Chandler Jones
facing off against left tackle
Eugene Monroe
and
Rob Ninkovich
working to get around right tackle
Michael Oher
.
December, 20, 2013
12/20/13
3:55
PM ET
FOXBOROUGH, Mass. -- In shutting down the laptop and packing up the work bag around 12:15 p.m. today, it turned out to be good timing to see a most unique sight in departing Gillette Stadium:
Patriots players, as a group, were heading to the movies at nearby Patriot Place to see "
Lone Survivor
."
Gronkowski
One by one, they walked out of the large blue gate that separates the pavilion area outside of the team Hall of Fame from the Gillette Stadium playing field, before proceeding to elevators that brought them to the level of the nearby cinema. The theater itself is essentially a long
Tom Brady
touchdown pass away from the team's locker room.
Many of those shopping in the area quickly took out their phones to snap pictures, and one image stood out above all else -- head athletic trainer Jim Whalen pushing injured tight end
Rob Gronkowski
in a wheelchair, with Gronkowski's right knee/leg elevated.
As colleague Field Yates noted
, sometimes trips like this can serve as a bonding experience, as long as they don't come at the expense of work. And at this point of the week, most of the Patriots' work is completed. Then again, the Jets tried something similar the night before a November game against the Bills,
with a team excursion to Dave & Busters
, but it didn't produce the desired result.
In the end, the idea of breaking routine, ever so slightly, comes down to a head coach's feel for his team.
Bill Belichick was expansive and engaging in his morning news conference, going into detail on a variety of topics. Players relayed in the locker room early this morning that Belichick has generally been pretty positive with them this week as well.
That seems to be a theme of the past few days.
After a tough loss to the Dolphins, and now a challenging road game at Baltimore on Sunday, the different-from-the-norm vibe has been notable at Gillette Stadium. This could, among other things, be geared toward keeping a younger team loose as the playoff stakes get higher.