New England Patriots:

2013 Week 9 PIT at NE
November, 3, 2013
11/03/13
11:50
PM ET
FOXBOROUGH, Mass. -- The
New England Patriots
' offensive explosion in their
55-31 pasting
of the
Pittsburgh Steelers
on Sunday is bigger than any one player. But if you'd kindly oblige, we'd like to start with the player arguably most responsible for the surprising output.
[+] Enlarge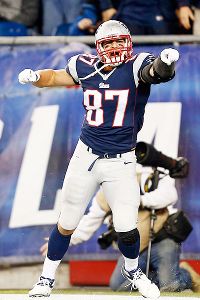 Mark L. Baer/USA TODAY SportsIn addition to his nine catches for 143 yards, Rob Gronkowski opened things up for teammates with his mere presence.
Hello, tight end
Rob Gronkowski
.
With Gronkowski rounding into form, the Patriots' offense suddenly has a much different look. It's more powerful in the running game, more diverse in the passing game and more flexible with the groupings offensive coordinator Josh McDaniels can call upon.
Consider that the Steelers had never given up 55 points or 610 yards of total offense in their 81-year-history. But on Sunday they did against a team that has -- to be kind -- been offensively challenged in 2013. No one, including quarterback
Tom Brady
, saw this coming against the NFL's second-ranked passing defense (in terms of yards against).
Welcome back, Gronk.
"When he's healthy and on the field, he's tough to stop," Brady said after Gronkowski finished with a team-high nine catches for 143 yards and one touchdown, while also drawing a pass interference penalty in the end zone to set up another touchdown.
"He's a great run-blocker and what he does for us in the passing game, it's tough to match up. And if the attention goes to Gronk with extra coverage, it opens it up for all the other guys. He's a big presence on our team and when he's out there for every snap it's going to be even better."
That's the thing. As good as Gronkowski was on Sunday, it's hard to believe that wasn't even the "full Gronk."
Including penalties, Gronkowski was charted on the field for just 48 of 75 offensive snaps, a sign that he's still working himself back into tip-top football shape as he comes back from four surgeries on his left forearm and one on his back since last November. He's also been slowed by a hamstring injury over the past week.
"It felt good getting more games under me and I'm feeling good, getting better every week," Gronkowski said in a celebratory locker room after players had earned an unprecedented six days off from coach Bill Belichick on their bye week. "When we're clicking, we're clicking and it's awesome."
They were especially clicking in the first half, when Gronkowski was at his best with seven catches for 119 yards and a 19-yard touchdown grab. That led the Steelers to put more emphasis on him in the second half, as he was routinely jammed at the line of scrimmage, sometimes by multiple players. That in turn opened up opportunities for others, and Brady was especially dialed in, identifying the soft spots and making the Steelers pay.
It was a snapshot of what the Patriots' offense could be as it gets its top players back into the mix, with the 6-foot-6, 265-pound Gronkowski the centerpiece.
"Rob and I haven't played together a lot in games, but I can tell that defenses need to cover him with one or two guys, which means other guys have to make plays and be there," said receiver
Danny Amendola
, who was a beneficiary in totaling four catches for 122 yards and a touchdown. "He's a great player. Everybody tries to double-team him and do a lot of things to take him out of the game."
The other part about Gronkowski's reintegration into the offense is that his presence creates more flexibility with personnel groupings, which was evident as the Patriots ran more plays with two or more tight ends on the field Sunday (36 of 75) than they have in most games this season (112 of 593 entering the day).
The multiple tight-end groupings seemed aimed at creating more balance between the run and pass, which was especially effective. Yet it is an approach the Patriots probably wouldn't have adopted if the top two options at the position were backups
Michael Hoomanawanui
and
Matthew Mulligan
, because they don't provide enough of a consistent threat in the passing game to call on them that often. That's why the Patriots have run so many plays with three or more receivers on the field this season (385 of 593).
But things are changing a bit as Gronkowski starts to find his groove after three games back. And don't look now but running back
Shane Vereen
is eligible to return for the team's next game, Nov. 18 at Carolina.
With Brady himself answering some lingering questions -- is his hand OK, is age catching up to him, can he still throw the deep ball? -- the pieces are starting to fall into place.
But from this viewpoint, the biggest piece of all is Gronkowski, with Sunday a most decisive piece of evidence as to his value to the Patriots.
November, 3, 2013
11/03/13
11:35
PM ET
FOXBOROUGH, Mass. -- Even quarterback
Tom Brady
didn't see this coming.
"You don't wake up in the morning and think they're going to be like that," he said after the Patriots' 55-31 victory over the Steelers. "That was pretty sweet."
Brady had his best day of the season, finishing 23-of-33 for 432 yards, with four touchdowns and no interceptions. In the process, it marked the sixth time he's led the Patriots to a 50-point output, tying Len Dawson for the most 50-point games by a starting quarterback in NFL history.
Brady
A few other milestones for Brady:
This marked the 15th time in his career that he has had four or more touchdowns in a game when not throwing an interception. Brady passed Saints quarterback
Drew Brees
for the most such games in NFL history.
He also had two passes of 50 or more yards in a single game for the eighth time in his career. His 81-yard touchdown pass to rookie receiver
Aaron Dobson
tied for the fifth-longest pass of his career and the sixth touchdown pass of 80 or more yards of his career.
The 432 yards marked the third highest single-game total of his 186-game career. The only times Brady threw for more yardage came against the Dolphins on Sept. 12, 2011 when he had 517 yards and against the 49ers on Dec. 16, 2012, when he had 443.
"There's a reason Brady is considered the best," Steelers defensive end
Brett Keisel
said. "He put the ball exactly where it needed to go and he knew exactly who to throw it to. He beat us all over the place and it's as simple as that."
Brady called it a fun day, saying "they don't always go like that." It was a performance that showed how the Patriots are evolving a bit on offense.
"I think there were some elements of our game that we're starting to show," he said. "When Gronk [
Rob Gronkowski
] plays like that and can produce like that, and Danny [Amendola] does that and Aaron [Dobson] does that and the backs do that and the line blocks, it's a good way to play football," he said.
"There were a lot of guys that played really well and that's what it's going to take, I think, as the season goes [on]. We have to keep getting better. It's been a process for us, but at the bye week, 7-2 is not bad. Hopefully our best football is ahead of us."
November, 3, 2013
11/03/13
10:30
PM ET
FOXBOROUGH, Mass. -- With the bye week upon them, the
New England Patriots
have managed to
pile up seven victories
in their first nine games.
That's the good news.
Unfortunately, injuries also have piled up, as the team placed yet another defensive veteran on injured reserve on Saturday in defensive tackle
Tommy Kelly
, and Sunday brought more bumps and bruises.
[+] Enlarge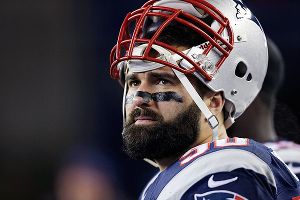 AP Photo/Steven SenneDefensive end Rob Ninkovich was on the bench much of the second half with a foot injury.
Safety
Steve Gregory
left the game with a right thumb injury, while defensive end
Rob Ninkovich
missed the latter part of the second half after injuring his foot in the third quarter. Cornerback
Alfonzo Dennard
left the game late, although the nature of his injury is unclear.
None of the players addressed the media after the game, though Ninkovich was in the locker room and did not show any noticeable limp in walking around.
Already down captains
Jerod Mayo
and
Vince Wilfork
for the season, the Patriots also were without top cornerback
Aqib Talib
on Sunday, as he missed his third straight game due to a hip issue.
As has been the case throughout the season, Sunday's injuries led to another opportunity to test the "next man up" approach that has for so long been a pillar to the team's success.
Gregory was replaced by rookie safety
Duron Harmon
, who had his second interception in as many weeks, while veteran
Andre Carter
, recently re-signed, notched his first sack of the season in relief duty of Ninkovich.
Once again, fill-in players stepped up, though dealing with all the injuries has been admittedly tough for the Patriots.
"You just keep playing, I mean, it's tough," captain and defensive back
Devin McCourty
said. "You think about it, but we know we've got to win games and we know whatever guy goes down, the first thing he's thinking is 'how can we win this game' and that's what he wants for the team."
The defense has been hit particularly hard, but the offense hasn't gone unscathed. Starting right tackle
Sebastian Vollmer
missed his first game of the season as he was placed on injured reserve this past Tuesday, while veteran wideout
Austin Collie
left Sunday's game with a knee injury.
Battered as they may be, the Patriots won't use injuries as an excuse, rather focusing on the task at hand to continue to win games.
"This team, we just gather together and understand what happened and then we move and we play," McCourty said. "We love playing with each other, we enjoy each other and I think that's why we come out and we play hard each play out there, each game for each other."
November, 3, 2013
11/03/13
10:15
PM ET
FOXBOROUGH, Mass. -- It wasn't long ago that
New England Patriots
' rookie wide receiver
Aaron Dobson
's role was more unpredictable than consistent.
[+] Enlarge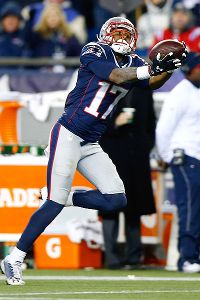 Jared Wickerham/Getty ImagesWith his role increased, Aaron Dobson had a career-high 130 receiving yards and two touchdowns.
He missed the season opener due to a hamstring injury, and the emergence of fellow rookie wideout
Kenbrell Thompkins
cut into Dobson's opportunities.
But much has changed in recent weeks, as Dobson has evolved into the team's primary "X" receiver, aligned on the perimeter of the formation and providing a vertical presence.
On Sunday, with Thompkins inactive as a healthy scratch, Dobson played a predominant role, logging 68 offensive snaps -- his second highest output in a game this season. The results were plentiful, as Dobson finished with a career-best 130 receiving yards and two scores.
"It feels good, just all the hard work, just having the outcome of a game like that, it's big," Dobson said following the game. "It feels good to have the confidence going into -- well, we're going into the bye week -- but going into my next week, it just feels good."
The second-round pick seemingly has developed a stronger rapport with quarterback
Tom Brady
, and though he has had struggles with drops during his rookie campaign, he said on Sunday that he has grown more confident as his role has expanded.
"I'm just learning, I'm just getting comfortable with the offense," Dobson said. "I've still got a long way to go, but I'm just more comfortable than I was when I first got here."
Perhaps no plays demonstrated that more than Dobson's two touchdowns, as he corralled a back shoulder throw in the end zone to open the fourth-quarter scoring and followed that up with an 81-yard score late in the game to effectively put it out of reach.
That sort of vertical-stretching speed is what the Patriots had hoped to find in Dobson when they took him out of Marshall, and though it took some time to adjust to life in the NFL, Dobson said his hard work with Brady is adding up.
"All the work is paying off, all the extra things we do, just meetings, just extra stuff in particular is paying off," he said.
November, 3, 2013
11/03/13
10:00
PM ET
FOXBOROUGH, Mass. --
New England Patriots
running back
Stevan Ridley
was spared responsibility for his third-quarter fumble by coach Bill Belichick, as Steelers safety
Troy Polamalu
ripped the ball out of his grasp after he caught a pass along the right sideline.
Since Ridley was benched in the season-opener due to ball-security issues, Belichick's post-game remarks were most significant.
"I thought Stevan did a good job. It was really a tremendous play by Polamalu," Belichick said. "Stevan caught his ball with his back to the defender. As he turned, Troy came in there and instead of making a tackle he was able to dislodge the ball. He anticipated Ridley turning up and Troy made a good play on it. I don't think Stevan really had much of a chance to do anything but turn.
"Sometimes turnovers are a result of real good defensive plays. Sometimes they're a result of sloppy plays offensively. I would, unfortunately, have to credit that one to Polamalu. He made a great play and that's one of those things you have to live with."
That will be welcome news to Ridley, who was charted on the field for a running back-high 51 snaps, as the Patriots turned to him as their workhorse one week after limiting him to just 20 snaps.
Belichick liked what he saw as Ridley totaled 115 yards on 26 carries and two touchdowns. It was Ridley's first 100-yard game of the season and fifth of his three-year career.
"Stevan ran hard, like he always does," he said. "He's a tough runner, he gets his yards, and then he always gets a few more because of his running style and his toughness and his pad level and getting downhill. He gave us that again."
Ridley, perhaps sensing that his role and fluctuating snaps would be a focal point of media-based discussion, declined comment after the game. But his teammates were happy to speak on his behalf.
"He runs so hard. You give it to him, you have so much confidence that you're going to gain yards," quarterback
Tom Brady
said. "He has a great spirit and energy about him, in what he brings to our offense in emotion. When he's confident, it helps our team immeasurably."
November, 3, 2013
11/03/13
8:25
PM ET
FOXBOROUGH, Mass. -- At initial glance, a look at which players were "up" for the
New England Patriots
against the
Pittsburgh Steelers
, and those at the opposite end of the spectrum:
Up
Danny Amendola
-- Receiver comes through with a few big plays to take advantage of what appeared to be busted coverages by the Steelers.
Tom Brady
-- Quarterback has one of his best games of the season, delivering some lasers as he finishes 23-of-33 for 432 yards with 4 touchdowns and no interceptions.
Marcus Cannon
-- Starting at right tackle in place of
Sebastian Vollmer
, he seems to hold his own as we don't hear much from
LaMarr Woodley
.
Aaron Dobson
-- Rookie receiver hauls in an 81-yard touchdown from Brady in the fourth quarter on a career day.
Julian Edelman
-- His 43-yard punt return to give the Patriots a short field and set up a Dobson touchdown grab early in the fourth quarter is a key play in the game.
Rob Gronkowski
-- Tight end looks like the "Gronk" of old as he dominates in the first half. The Patriots offense obviously looks much different when Gronkowski is at full strength.
Stevan Ridley
/ Josh McDaniels -- One week after Ridley was limited to just 20 snaps as part of a running back rotation in a bit of a head-scratcher, McDaniels calls on him as the workhorse and is rewarded.
Down
Kyle Arrington
-- Slot cornerback is asked to play on the outside and struggles at times as the Steelers seem to target the matchup. Arrington hangs tough with a pass breakup early in the fourth quarter on an overall tough day.
Logan Mankins
-- One week after giving up multiple sacks against the Dolphins, the left guard is called for clipping and a false start and doesn't seem to be his usual dominating self.
Coverage units -- Both the kickoff and punt coverage units have their struggles.
November, 3, 2013
11/03/13
7:57
PM ET
FOXBOROUGH, Mass. -- Quick thoughts from the
New England Patriots
' 55-31
win
over the
Pittsburgh Steelers
:

What it means:
The banged-up Patriots enter their bye with a 7-2 record. For much of the first half of the season, it was the defense that picked up the struggling offense. But the offense found its groove in this game, with quarterback
Tom Brady
, tight end
Rob Gronkowski
and receivers
Danny Amendola
and
Aaron Dobson
playing starring roles. This was an offensive explosion against the NFL's No. 2-ranked pass defense in terms of yards allowed per game.
Injuries continue to add up:
This was a physical game that left a mark. No. 4 receiver
Austin Collie
left with a knee injury in the second quarter and did not return. ... Starting safety
Steve Gregory
left with a right thumb/wrist injury in the third quarter and did not return. ... Starting left defensive end/outside linebacker
Rob Ninkovich
left in the third quarter with a foot injury and did not return. ... Starting cornerback
Alfonzo Dennard
came off on the final drive and was being looked at by the medical staff and didn't finish. Ninkovich seemed to dodge a bullet as he returned to the sideline and gave a thumbs-up to his teammates. It might have been a case where the Patriots just decided to play it safe by not putting him back in the game.
Ridley is the workhorse:
One week after being limited to just 20 snaps, which sparked media-based discussion on why the Patriots aren't playing their best running back more,
Stevan Ridley
was used as the workhorse and responded with his first 100-yard rushing game of the season. It almost makes one wonder if the coaching staff was out-thinking itself at times in limiting Ridley, who we charted on the field for 51 snaps (including penalties).
Gronkowski impact in full effect:
Playing in his third game since returning from five surgeries since November, tight end Gronkowski was immense. He had seven of his nine receptions in the first half and quite simply, the Patriots' offense is a much different unit when he's at full health. He's a true difference-maker.
Any more questions about Brady?
His age is showing. He can't throw the deep ball. He's not the same quarterback we've seen in the past. All those storylines that have surrounded Brady can be tossed out the window after a game like this. Same old Brady.
Defense limps to the bye:
How many more hits can the defense take? Playing without cornerback
Aqib Talib
for the third straight game, the unit hung tough, with newly-acquired nose tackle
Isaac Sopoaga
showing up with a few plays in limited work (he held his ground on a fourth-and-1 stop and nearly had an interception on a batted ball). Losing starting safety Steve Gregory would be a blow as he's been playing well and leading the defensive huddle the past two weeks.
What's next:
The Patriots enter a long bye week as they visit the
Carolina Panthers
on ESPN's "Monday Night Football" on Nov. 18.
November, 3, 2013
11/03/13
7:10
PM ET
FOXBOROUGH, Mass. -- With just one quarter to play, the Patriots lead the Steelers 27-24. Passing along quick-hit notes and observations from the third quarter:
1. Ridley fumbles early.
Patriots running back
Stevan Ridley
had been playing well of late, though a costly early fumble in the third quarter quickly ended the Patriots' opening drive. After catching a pass near the sideline, Ridley had the football stripped by safety
Troy Polamalu
. Pittsburgh would go on to score a touchdown five plays later.
2. Ninkovich banged up.
Defensive end
Rob Ninkovich
was banged up early in the third quarter with what the team announced was a foot injury. Ninkovich went to the locker room not long after he left the game along with members of the team's medical staff. In his absence, the Patriots turned to veteran
Andre Carter
. Ninkovich eventually returned to the sidelines briefly, but then retreated back to the locker room.
3. Gregory too.
Safety
Steve Gregory
, who was wearing the green dot as the on-field communicator for the defense, also left the game with a thumb injury and headed straight to the locker room. Linebacker
Dont'a Hightower
took over the green dot duties, as he has done previously. Gregory had been playing well as a run stuffer for the Patriots. The team announced that he is questionable to return.
4. Steelers tie game, Pats go up on FG.
The Steelers did well to quickly erase a 14-point halftime deficit, as quarterback
Ben Roethlisberger
threw two touchdown passes to
Jerricho Cotchery
in the first eight minutes of the half. The Patriots added a 32-yard field goal to retake the lead.
5. Penalty box.
The following Patriots were flagged for penalties during the third quarter: safety
Tavon Wilson
(holding) and guard
Logan Mankins
(false start).
November, 3, 2013
11/03/13
5:17
PM ET
FOXBOROUGH, Mass. -- After 15 minutes of play, the Patriots lead the Steelers 7-0. Passing along quick-hit notes and observations from the first quarter:
1. Ninkovich with early strip sack.
The Steelers got a good opening kickoff return and had something going in Patriots territory, but defensive end
Rob Ninkovich
came up with a strip sack on third down that was recovered by defensive tackle
Joe Vellano
. It was the 36th straight game with a turnover forced by the Patriots defense and Ninkovich's third sack of the year.
2. Gregory donning dot again.
For the second straight week, Patriots safety
Steve Gregory
is wearing the green dot on the back of his helmet, signifying that he is communicating with defensive coordinator Matt Patricia through a headset.
Jerod Mayo
had worn the headset until his injury, and
Dont'a Hightower
wore it the first game that Mayo missed. Gregory has emerged as one of the Patriots' most reliable defenders.
3. Bolden plunge overturned, Pats come up short.
Brandon Bolden
took a carry 1 yard for what looked like the game's opening points. The ruling was overturned, however, and
Stevan Ridley
was stopped short on fourth down on the very next play. Not to be overlooked were three catches from tight end
Rob Gronkowski
, who looks very much to be back near the level he was playing at last season before injuring his forearm.
4. McCourty comes up with big pick, Pats capitalize play later.
Devin McCourty
came up with his first interception of the season, picking off
Ben Roethlisberger
in Steelers territory. He continues to play as well as any safety in the AFC this season. Just one play later,
Tom Brady
found a wide-open
Danny Amendola
for a 34-yard strike, putting the Patriots up 7-0.
5. Penalty box.
The following Patriots were flagged for penalties during the first quarter: guard
Logan Mankins
(clipping).