New England Patriots:

2014 NFL Preseason Week 3 PHI at NE
August, 18, 2014
8/18/14
6:05
PM ET
FOXBOROUGH, Mass. --
New England Patriots
running back
Stevan Ridley
has always been up-front about some of his past struggles with ball security, and Monday was no different.
Ridley's final play in Friday's preseason victory over the
Philadelphia Eagles
was ruled a fumble. The Patriots recovered, but Ridley didn't play again, which was a déjà vu of sorts to last December when he was a healthy scratch for a game against the
Houston Texans
after multiple fumbles.
Ridley
Ridley hoped to leave those issues behind in 2014.
"When I go back and watch the play, and the ball is out again, Week 2, it kind of sucks,' he admitted. "But it's football, man, and I can't get down about it. I can't harp about it. That's why you have preseason. I'm just going to keep on working and keep on pushing.'
That's always been Ridley's approach, and while he might take some solace in the fact he might have been ruled down had the Patriots challenged the fumble, it's not something he simply dismisses.
"It's too close to call, man. Either way, I need to avoid those plays in general," he said. "There's nothing really else to be said about it. ... I hated it. It was a sick feeling for a second. We looked at the play, it is what it is, but either way one out is too many. But I'm not going to harp on that. I'm going to learn from it."
Asked what he could have done differently on the second-quarter play in which safety
Earl Wolff
ripped the ball out of his grasp, Ridley smiled.
"That's what I'm still trying to figure out," he acknowledged. "Getting tackled by a few defenders, it's football, they're taught to go after the ball and attack it. It's just staying alert, being conscious of that, and trying to get two hands on it. That's really all you can do."
Ridley wasn't sure if he was removed from the game for the fumble, or it was simply a case of him having taken his expected workload (16 snaps).
"It was what it was. We had a first half of football to play. That was the time that we got," he said of the team's starting unit. "Either way, that really wasn't my call. I didn't know how much longer I'd be in there or not.
"I had a nice little workload early on, and I think the coaches saw what they wanted to see. For me, I came on out when they told me to come out. Like I said, we're moving on. This week's Carolina. There wasn't too much said about it -- just get back to work, learn from your mistakes just like everybody else and keep on pushing."
As for the questions from reporters, Ridley said he understands that comes with the territory.
"That's part of your job. I know it's coming, you all have to write articles and do what you all do. It's part of it. You take the good with the bad, every time,' he said.
"I'm just thankful it's preseason. It was a close call and the ball was out, but it could have been down, could not have been down. Guess what? If it's in my hands, you don't have to answer that question.
"Either way, I'm man enough and am going to stand up here and do what I do. Like I say, it's another Monday that I'm out here and I'm in pads and I'm back to work today. So I just have to learn from it and keep it moving and not sulk on that.
"I will try not to have the issue and this be the topic the whole year this year because I think I can do a few other things that you all can write about, and hopefully have some good things to say. Either way, I have to own up to it and that's what it was."
August, 16, 2014
8/16/14
5:00
AM ET
FOXBOROUGH, Mass. -- A few leftovers from the
New England Patriots
' 42-35 victory over the
Philadelphia Eagles
in the second preseason game for both clubs:
Butler drawing notice
. Undrafted free-agent cornerback
Malcolm Butler
started opposite
Darrelle Revis
and showed up with some positive plays, like his third-quarter forced fumble that he recovered himself. "He competes hard," coach Bill Belichick said. "I'd say he's played a lot of snaps in these first two games and gotten a lot of snaps in practice [and] he competes hard every day."
Thompkins' TD catches Brady's eye
. Receiver
Kenbrell Thompkins
' 15-yard touchdown catch on a back-shoulder fade in the first quarter had quarterback
Tom Brady
buzzing. "A great catch," Brady said, later praising Thompkins' instincts. "I've got so much confidence in him and what he's been able to do, and continue to achieve for us. So hopefully there will be a lot more of those."
Arrington on his move to safety
. One of the notable twists defensively had the Patriots playing cornerbacks
Kyle Arrington
and
Logan Ryan
at safety. "There's a lot more responsibility [playing safety]," said Arrington, who started at that spot next to
Devin McCourty
. "You have to be in tune with the corner on your side and the linebackers. You have to be a little more vocal. ... It's just one of those deals where [you play] wherever the coach feels confident in putting guys on the team. We have the utmost confidence in ourselves to get the job done."
Props to Tyms
. Second-year receiver
Brian Tyms
high-pointed a 17-yard arcing pass from
Ryan Mallett
for a touchdown in the third quarter, with cornerback
Curtis Marsh
in coverage. Mallett knew where he wanted to go with the football. "You build confidence in practice, and we've been watching 84 [Tyms' jersey number] do that all camp," Mallett said. "He's been making plays and he got one-on-one coverage, so I'm going to let him making a play and just try to get it close to him."
Turnovers produce points
. The Patriots totaled four turnovers (2 fumbles, 2 interceptions), and turned them into 21 points. "We always try to aggressively attack the ball," Belichick said, praising safeties
Nate Ebner
and
Duron Harmon
for two of the turnovers. "You get an opportunity defensively, you need to take advantage of it; [whether] it's dropped interceptions or missed fumbles or plays like that, they're just foul balls. Those can be game-changing plays, so when you get a chance to make them, you need to make them. It looked like we made most of them."
Third-down offense is impressive
. One reason for the Patriots' lopsided time-of-possession edge (39:44 to 20:16) was strong play on third down. The Patriots offense converted 10 of 15 chances. For the Eagles, a lack of pressure was cited as a reason for their struggles on third down. "We're not getting to the quarterback," coach Chip Kelly said. "We need to generate a better pass rush, especially against someone the caliber of Tom [Brady]."
August, 16, 2014
8/16/14
1:25
AM ET
FOXBOROUGH, Mass. --
New England Patriots
coach Bill Belichick keeps his players on edge in different ways, and one of them is to insert them in a game when they least expect it. Rookie quarterback
Jimmy Garoppolo
found that out on Friday night.
"They kind of just threw me in there, it was kind of a last-minute thing," Garoppolo said of entering the Patriots' 42-35 preseason victory over the Philadelphia Eagles with 5:01 remaining in the first quarter. "But you always have to be ready. Whenever the opportunity comes, you have to take advantage of it."
[+] Enlarge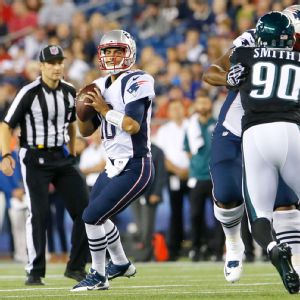 David Butler II/USA TODAY SportsJimmy Garoppolo threw for two scores and 72 yards as the first quarterback to come off the bench.
Garoppolo mostly did for the second straight week, finishing 6-of-12 for 72 yards and 2 touchdowns. After playing only in the second half of the preseason opener, he led the Patriots to touchdowns on his first two drives, his insertion into the game over four-year veteran
Ryan Mallett
(7-of-11 for 92 yards, 1 TD passing, 1 TD rushing) was notable as the two jostle for positioning on the depth chart behind
Tom Brady
(8-of-10 for 81 yards, 1 TD, 1 INT).
It was a good night for all of them.
"I thought all three quarterbacks handled themselves pretty well," Belichick said. "There weren't a lot of major problems. ... It's always good to see 42 points on the board."
Belichick particularly liked the production in the running game, as the Patriots churned out 250 yards, with 97 coming in the first half. Just as the coach wants his players on edge, he always wants his team to have an edge, and developing a physical mentality on the ground is part of that.
That often comes down to the offensive line, and the Patriots worked with a variety of different combinations up front throughout the game, using an extra offensive lineman as a tight end on eight first-half snaps for more of a power look, while splitting carries between running backs
James White
(24 snaps),
Stevan Ridley
(16 snaps),
Shane Vereen
(8 snaps) and
Brandon Bolden
(4 snaps) in the opening two quarters.
Ridley looked like the most explosive of the rushers, but his night ended on a second-quarter fumble that, had it been reviewed, might not have been a fumble. It was close. Ridley's ball-security, of course, has been a trouble spot for him in the past.
One of the other downers for the offense was a Brady pick-6 on the opening drive that came as a result of tight end
Steve Maneri
saying that he ran his route at 8 yards when it was supposed to be at 6, which gave cornerback
Cary Williams
a chance to jump it and return the pick 77 yards for a touchdown.
"Just miscommunication," Brady said. "It happens and I'm glad it happened in the preseason. The one thing about offensive football is all 11 guys have to be on the same page, so those are things we're all working to try to correct."
Maneri probably deserves some slack on that one, as he just signed with the team Sunday and played extensively on Friday night because the team has a shortage of healthy tight ends.
While they are currently thin at tight end, the Patriots look well-stocked at quarterback with Brady, Garoppolo and Mallett. The only surprise Friday was the order in which they played, with Garoppolo entering ahead of Mallett.
Mallett seemed unfazed.
"I get to play in the game, that's all that matters," he said. "I just want to get out there and try to get better as a player and I felt I did that. I just have to keep building on it."
He's not alone. There was plenty to build on for the Patriots' offense as a whole.
August, 15, 2014
8/15/14
10:54
PM ET
FOXBOROUGH, Mass. -- One of the more intriguing subplots from the
New England Patriots
' 42-35
preseason win
over the
Philadelphia Eagles
was how the team employed its quarterbacks.
Tom Brady
started and played the first two series for a total of 23 snaps (including penalties), before rookie
Jimmy Garoppolo
relieved him and played the final five drives of the first half (30 snaps, including penalties). Four-year veteran
Ryan Mallett
then played the entire second half.
The insertion of Garoppolo over Mallett figures to spark speculation as to the depth chart behind Brady. Could Garoppolo really be threatening Mallett for the No. 2 role? Or was this just a case of the Patriots wanting to see Garoppolo against better competition?
Our educated guess is the latter, and Garoppolo passed the test from this view. Brady, as one would expect, also played well. So did Mallett.
Overall, this was a good night for Patriots quarterbacks.
Here are some other thoughts on the game: