New England Patriots:

Albert Haynesworth
November, 13, 2011
11/13/11
5:45
PM ET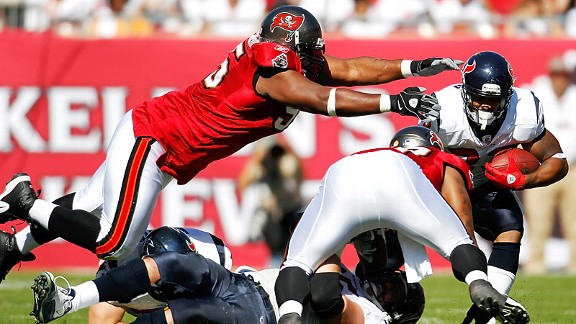 J. Meric/Getty ImagesAlbert Haynesworth leaps while trying to make a tackle in his debut for Tampa Bay.
In his debut with the
Tampa Bay Buccaneers
,
Albert Haynesworth
basically matched -- or maybe even exceeded -- his entire production from his time with the
New England Patriots
.
Haynesworth, released Tuesday by the Patriots, started for Tampa Bay and finished with five tackles and a blocked extra point in a 37-9 loss to the
Houston Texans
. He was credited by coaches with six tackles (in-game statisticians had him for only three based on official league stats) in six games for the Patriots.
November, 9, 2011
11/09/11
11:13
AM ET
FOXBOROUGH, Mass. -- Patriots coach Bill Belichick opened his press conference Wednesday by addressing the release of defensive tackle
Albert Haynesworth
.
"I'll just say this on the Albert situation: I thought that both he and myself -- speaking for the [coaching] staff -- we really tried to make it work," said Belichick. "He had a few physical limitations to overcome when he got here, but I thought he really tried to do what we asked him to do. We tried to work with him. In the end, it just didn't work out. I think the best thing we could do was just move on."
When a reporter tried to ask a follow-up, Belichick interrupted saying, "That's all we have to say about it. We'll talk about the guys that are here and move on to the Jets."
Pressed on whether there was a lingering physical issue with Haynesworth, who battled back problems that forced him to miss two games and often limited him in practice, Belichick said, "No, he missed some time early in camp, but in the end, that all worked out."
When a reporter asked if what the Patriots gave up was worth the risk in bringing in Haynesworth, Belichick again noted, "It's all done with; On to the Jets."
November, 8, 2011
11/08/11
3:31
PM ET
Putting the final snaps of
Albert Haynesworth
's career with the Patriots under the microscope after New England released the veteran defensive tackle Tuesday:
Believe it or not, Haynesworth's first three snaps of his final full drive (or one that didn't end with a one-play touchdown) with the Patriots were actually pretty solid. On the first play after the Giants took over early in the second quarter following a
Tom Brady
interception, Haynesworth jetted right past
David Diehl
and nearly blew up a running play at the handoff (see screenshot above). On second down, he got good push against guard
Chris Snee
and the Giants dropped a pass.
After an encroachment penalty gave the Giants a new set of downs, Haynesworth came about as close as he had to registering a sack, drawing a holding penalty (above) while still nearly getting to quarterback
Eli Manning
. If his day had ended there, Haynesworth would probably still be on the Patriots' roster.
But things went downhill. Quickly. And Haynesworth spent his final five snaps either being pushed around or on the ground.
November, 8, 2011
11/08/11
2:22
PM ET
The great Albert Haynesworth experiment is over for the New England Patriots.
The team on Tuesday released Haynesworth, a league source told ESPNBoston.com's Mike Reiss, just a few days after the underperforming defensive lineman clearly struggled in the third quarter of Sunday's loss to the New York Giants. After getting overpowered by Giants guard David Diehl on a 10-yard touchdown run by Brandon Jacobs with 9:10 remaining in the quarter, Haynesworth did not see the field the rest of the game.
Coach Bill Belichick said Haynesworth's absence after the play was not due to injury, indicating it was "rotation related."
Click
HERE
to read more of this story
October, 25, 2011
10/25/11
12:28
PM ET
Mike Rodak/ESPN BostonPatriots defensive tackle Albert Haynesworth talks to reporters at his locker Tuesday.
FOXBOROUGH, Mass. -- Offdays are hard to come by during the football season, but even as teammates like
Tom Brady
bolted for the Bahamas, Patriots defensive tackle
Albert Haynesworth
couldn't help but watch football on Sunday.
"What else should I watch on TV? I'm not a soap opera guy, I don't watch broadway or anything like that," said Haynesworth. "Sunday, that's what you're going to watch: Football. Monday night, you're going to watch football.
With the Patriots set to trek to Pittsburgh Sunday, Haynesworth found himself doing a little advanced scouting on New England's next opponent.
"I caught myself watching the Steelers play," he said. "I watched a lot of football, so I guess I didn't get away from football. I'm drawn to it. I like to watch it.
"When I was on other teams, I loved watching [the Patriots] play football. They are well-coached and just went out there and handled business. I don't think I'm a fan of anybody else, but I like seeing how the Titans were doing, or the Lions and people that I respect. I had a good time with [Lions coach and former Titans defensive coordinator Jim] Schwartz and [Titans coach Mike] Munchak."
Haynesworth said he tends to focus on the defensive line play while watching, though he also scouts the opposing offensive lines and quarterbacks to learn their tendencies. His reference to the Lions and defensive linemen begged the question about his thoughts on
Ndamukong Suh
.
"I'm not going to to get into that, because I'm not getting yelled at by Coach," joked Haynesworth.
As for his own performance, Haynesworth suggested he's still knocking rust off.
"I feel fine," said Haynesworth, who has battled a back injury early in the season. "But I gotta keep working -- knocking the rust off and getting back to where I was back in Tennessee."
October, 9, 2011
10/09/11
9:12
PM ET
AP Photo/Charles KrupaMark Anderson highlighted both an improved Patriots pass rush and third-down defense.
FOXBOROUGH, Mass. -- After captain
Jerod Mayo
went down with a knee injury last week in Oakland, Patriots defensive tackle
Albert Haynesworth
said he heard talk from pundits suggesting that a struggling New England defense was further doomed without its leader in the middle of the field.
Haynesworth and the Patriots' defense responded with their most inspired effort of the season, limiting the rival Jets to 255 yards of total offense (roughly half of the 506 yards they allowed in Oakland, and nearly 200 yards fewer than their previous best effort of the season) in a 30-21 triumph at Gillette Stadium.
Perhaps the most encouraging stat was that New York converted just 3-of-11 third-down conversions Sunday, allowing the defense to get off the field, including a staggering seven three-and-outs over 11 drives (essentially, if the Patriots didn't get off the field in three plays, the Jets scored a touchdown).
"We put more -- and I'm not saying we haven't -- but players put more of an emphasis on third down today and getting off the field on third down," Haynesworth said. "We took the challenge, then went out there and got it done. We're still not happy with 21 points, but we'll work on that.
"We know that we've got the talent, we have all the parts, we just need to put it together. That's what we did.
"Jerod wasn't out there with us and I heard the media -- some of the guys said we don't have a shot because Jerod wasn't in the game. We wanted to step up and show that it's a good defense, no matter who comes in for him."
Haynesworth said he cramped a bit in the second half, but that could have been the result of sitting out the last two games with a back injury. He didn't register a tackle Sunday, but aided an improved pass rush with one of five quarterback hits for New England.
"There's a lot of new pieces -- me, Andre [Carter], Shaun [Ellis]-- we need time to gel," Haynesworth said. "We didn't have that minicamp, that offseason, so we've got to let this defense gel. And once we do gel, we'll become a good defense."
September, 13, 2011
9/13/11
12:23
AM ET
MIAMI GARDENS, Fla. -- The sleeping giant awoke, but turns out he wasn't in a particularly destructive mood just yet.
Playing his first regular-season game as a member of the
New England Patriots
, defensive tackle
Albert Haynesworth
registered a modest night with just two tackles while rotating snaps on the defensive line. He helped pressure the quarterback (though he didn't log any of New England's 10 quarterback hits or four sacks).
Haynesworth was content to be back contributing on the football field.
"It felt like football," he said. "It felt good, felt real good to be on the field, felt good to get a victory in the first game, and it also felt good for our offense to score a lot of points to save the defense.
"It's always good to feel needed. Always good to get out there and play and earn my check."
Haynesworth didn't start, but appeared on nine first-quarter snaps (including penalties). He raved about New England's ability to swap out defensive lineman, but admitted he's still knocking rust off and he still has a long way to go to be where he wants.
Asked about the biggest difference between playing in New England and Washington, Haynesworth couldn't resist a playful jab at his former team.
"We won," he said with a smile. "No, I actually played, too."
Watching
Tom Brady
pass for a Patriots record 517 yards, Haynesworth was happy to be on the same sideline as the reigning NFL Most Valuable Player.
"I'm glad not to be on the other side of the ball, I'll tell you that much," said Haynesworth. "Against him -- shoot, I thought [being on the same team] was a dream."
September, 1, 2011
9/01/11
11:59
PM ET
FOXBOROUGH, Mass. -- After logging his first playing time in a Patriots uniform in Thursday's exhibition finale against the
New York Giants
, defensive lineman
Albert Haynesworth
gushed about his time in New England, suggesting he'd give all the money he made in Washington back for a chance to come here sooner.
"[Fellow former Redskins defensive lineman
Andre Carter
and I] were talking, just about how different it is, how we really like this place," said Haynesworth. "For me, it's a career-saving place for me to come. I had no idea it would be like this. It's unbelievable. I wish I kinda took two years ago and came here."
When it was noted he earned a handsome payday for his time -- as turbulent as it was -- with the Redskins, Haynesworth added, "You know what, when all is said and done, hell, I'd give that money back and I'd come here."
Haynesworth started for New England and got tremendous penetration on the first snap which led to a New York fumble. Haynesworth finished with two tackles overall.
"It was great," said Haynesworth. "I need to knock off a lot of rust. I've kind of been just rusting, sitting in D.C. So, I need to get back, get back to that playing form when I was with the Titans."
While rhapsodizing about the depth on the defensive line, suggesting it was better than during his best days in Tennessee, and noting how that will allow him to "play as hard as I possibly can," Haynesworth raved about Bill Belichick's defensive schemes and called him a "brilliant coach." He also praised the support he's received in New England.
"Everybody is here for you," Haynesworth said when a reporter noted he seemed relaxed while addressing the media for only the second time since arriving. "I really enjoy that. I know my head coach is for me. I know my owner is for me. I know my players are for me. I feel relaxed, I'm having fun again. I'm having fun playing football again."
Haynesworth showed he's a fast learner. When a reporter tried to get him to state why he hadn't been on the field for much of training camp, Haynesworth smiled and noted, "I know I haven't been here that long, but you gotta talk to coach," which elicited laughter from the media horde.
Haynesworth went as far as to suggest this would be the last stop on his football journey.
"If, God forbid, I get cut from this team, I know I can go out there and play for another team, but I feel like this is going to my last place I'm going to play," he said. "If it doesn't work out here, I'm not going to play anywhere else."
August, 30, 2011
8/30/11
5:35
PM ET
FOXBOROUGH, Mass. -- While unveiling the pristine Putnam Club before Tuesday night's
New England Patriots
Charitable Foundation Gala at Gillette Stadium, team owner Robert Kraft paused at an autographed jersey of
Chad Ochocinco
set to be auctioned off and smiled.
"I'll tell you, both [Ochocinco] and
Albert Haynesworth
are a lot different, in my opinion, than the media has portrayed them," said Kraft. "[Ochocinco is] very self-contained, he works very hard, [and] I know he wants to do well. He and Brady seem to have a great rapport.
Chris Forsberg/ESPN BostonRobert Kraft addresses the media Tuesday at the Putnam Club.
"Albert Haynesworth has been a gentleman. I don't know if you've heard him speak, he's not that image that the [media] presents. I mean I hope he is during the games, but everything I've from seen, he's a very likable fellow. I hope both of them make great contributions, but we have a lot of great young players that we've developed on this team."
Kraft singled out safety
Patrick Chung
while discussing younger players he felt could have a big impact on the team this year. And after a summer spent locked out, Kraft expressed great excitement about the upcoming season, particularly given the early returns from his football team -- even after Saturday's lopsided loss in Detroit.
"There hasn't been a season that I've been more excited about, I'm happy football is back," Kraft said. "I can tell you that I happened to be in the locker room [Tuesday] ... [the players had] just had come from practice, they are excited about the season, really excited. We think we have a great team and once the game begins, we'll really know.
"It's the preseason, so I've learned [to temper expectations]. What was it, [2008], when the
Detroit Lions
went 4-0 and looked great, then went 0-16? So I'm going to try to wait until the regular season starts. In fairness, and believe me, I can understand how people wouldn't be happy with the effort [Saturday] night [vs. Detroit], I know I wasn't with every part of the game, [but] the same kind of game planning doesn't go on to attack the other team's weaknesses. It's a more fluid situation. I think we'll know better come Sept. 12 what kind of team we'll watch, after the first three or four games, then we'll get an idea of what kind of team we have. Until then, it's all speculation, which is fine."
Kraft also talked about the power outages at Gillette Stadium that caused some uncertainty about both Tuesday's gala and Thursday's exhibition finale against the
New York Giants
, but he is hopeful things will proceed as planned after power returned at the stadium late Monday (though much of the region remains without power).
In a lighter moment, Kraft noted how he plans to serve as an advisor for his grandson's fantasy football team this season. When Putnam Investment president and CEO Robert Reynolds quipped that Kraft's team was comprised of all Patriots, Kraft smiled and said, "You're right about that."
July, 29, 2011
7/29/11
12:40
PM ET


Mike Reiss joins SportsCenter to talk about Chad Ochocinco on the field (check the 34 second mark for video of Ochocinco talking to Tom Brady) at Friday's camp and when Albert Haynesworth might be able to practice.
July, 28, 2011
7/28/11
4:30
PM ET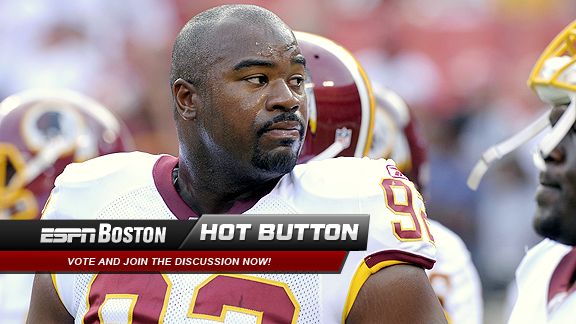 AP Photo/Susan Walsh
While there is no doubting Albert Haynesworth's talent, is he really worth the risk for the Patriots? In the
latest version of our "Hot Button
," Mike Reiss and Chris Forsberg debate the issue. Check it out and don't forget to vote in the poll.
Also,
click here to let us know what you think
about the move.
July, 28, 2011
7/28/11
3:36
PM ET
Mike Reiss joined Adam Jones today on ESPN Boston Radio to talk about the Patriots' reported acquisition of Albert Haynesworth. Click
here to listen to podcast
.
July, 28, 2011
7/28/11
12:23
PM ET
FOXBOROUGH, Mass. -- Patriots defensive lineman
Vince Wilfork
expressed excitement at getting back on the practice field, offered praise for potential teammate
Albert Haynesworth
and suggested he'd be OK with shuffling his position so long as it aids New England in winning games. Here's some highlights from his 12-minute chat with the media after Thursday's morning walkthrough outside Gillette Stadium:
On getting back to work
: "Just happy to be back. It's been a long time for us, for all of us, for myself. It's time to get to work. We have a lot in front of us right now, going into the playbook, great deal of commitment to where we want to be. That's where we're at now, starting with the meetings and the walkthrough and just start putting it together."
On Albert Haynesworth as a player and potential teammate
: "I think he's a great player, hell of a player. I had a chance to play in the Pro Bowl with him. I think he's a great athlete... One thing we try not to do is see what's going on around the league because our hands are full right now. No more two-a-days, that knocks half of your practices away. We're in that study room, watching film, getting back, and trying to move forward. Whatever that is, that's what we're going to do. If it's with certain people, it is, if it's not, oh well, this ship is moving, moving fast, moving quick. I'm just excited to be back."
On leadership in locker room without old stalwarts
: "That's the past. What we have is what we have. We've had some great players come through here. We have some pretty good players now. I've been with some good players and I've got some great, great teammates now. But all that doesn't matter right now. What matters right now: How fast we can go in this film room, get into this playbook and come out here and put it together. That's what our focus is."
On playing defensive end in the past
: "It was different, but you never know what happens. I always classify myself as a defensive lineman, so whatever I can do to help my team, I'll do. I'm just blessed [coach] Bill [Belichick] had the faith in me to do what I did. Whatever it takes to win, I'm all for it. I'd go to war with my teammates any time, we love to win. Right now, we're far away from that right now. We haven't even practiced yet. With time, if we have the commitment, there's no doubt in my mind we can get to a level that we are comfortable with."
On teaching the Patriot Way to newcomers
: "That person, he'll see how we do things around here. Point blank. We've had guys come through here with a rap sheet, [people saying] that, 'He can't be handled,' or 'This guy can't do this.' You know what, it worked out fine for us. So, I don't think it'll be a big problem for us. Like I said, that's the organization's call on who they bring in and who they don't bring in. As a teammate, when we're on the field, we're all working together, we want to be the best."
On Belichick's plan for afternoon session
: "I don' know. What does he have for us? I'm pretty sure it's something we need."