New England Patriots:

Alge Crumpler
October, 17, 2010
10/17/10
8:37
PM ET
By
David Lefort
| ESPNBoston.com
FOXBOROUGH, Mass. -- Assorted locker room quotes from Patriots players after their overtime victory over the Ravens on Sunday:
* Zoltan Mesko on his 65-yard punt in overtime that played a key role in the victory:
"It was just a great feeling to help the team win. I know in the fourth quarter in the first couple games, I was a little -- I wouldn't call it shaky, but I didn't deliver it when the teams needed to be backed up. We had some unique situations where we were either up by a lot or the Jets game where we lost. It was definitely rewarding. It was good to see that hard work paid off."
* Wes Welker, on whether this was the most physical game he's ever played in:
"It's definitely up there. [The Ravens] are definitely a very physical team and we knew it was going to be that coming into this game and we were fortunate to come away with the victory."
* Danny Woodhead, on whether he's ever been a part of a victory as big as Sunday's:
"Honestly, wins, I don't look back really on this win or that win, just because I'm a very present guy in the present time. This is a huge win for us because it was the game that we had this week. Obviously it was a great AFC opponent and it was definitely a win that we needed."
* Alge Crumpler, on being named a captain and what it means to him:
"It was an honor. Coach [Belichick] announced it to the team on Wednesday that I just conmtinue to do the things that I've set forth from the first day I stepped into this organization, that's help this team win. I've been through a lot of situations; I've been a captain before. I didn't expect this, but I embrace the opportunity to keep leading and keep helping this ballclub win games. We've lost a lot of guys due to injury, trades, whatever you want to call it. But we believe in this locker room that we can get it done. We have a core group of guys that are optimistic that, regardless of what the situations are, regardless of what happened last year, that we can continue to play together and stay together and win ballgames."
* Brandon Meriweather, on the keys to shutting down the Ravens offense late in the game:
"The biggest key was everybody doing their job. I think everybody did their job better later in the game than we did early in the game. We were doing our job, I just think we did it better at the end."
* Meriweather, on what it felt like to get defensive stops late in the game:
"We were having fun. Everybody was having fun and playing well together and we were all communicating. It was just fun for us."
* Devin McCourty on the Patriots' second-half defensive adjustments:
"We just kept fighting. You always come to the sideline and talk about some things, but it was basically just going back out there and forgetting what just happened and going out there fighting, trying to get back off the field."
* Kyle Arrington, on whether the Patriots' defense "grew up" over the course of the game:
"I would say so. We're young. We had a couple plays that we wish we could get back, me in particular. You just have to always stay positive [and] keep your head up. Good teams are going to make good plays, so you [have] to keep battling."
* Stephen Gostkowski, on his game-winning field goal:
"It's nice to get a win. The couple times that I've had a chance to be in overtime it seems like I kick off every time and haven't had an opportunity, and I was just glad to get an opportunity. As a field goal kicker you can't make your own opportunities. You just got to go with what is given to you on the offense and defense and when you get an opportunity to come through for your team it's very rewarding to be the last person to touch the ball and come off winners."
* Gostkowski, on whether he thought he was going to get an opportunity to kick a game-winning 65-yard field goal at the end of regulation:
"You take what you get, that's not my call. I am not going to be the guy tapping coach [Bill] Belichick on the shoulder saying, 'send me out there'. I just get ready to go and when my name is called I do it. I've made kicks that long before in practice and I've never gotten the opportunity to kick one of those in a game, but I would have gone out there and tried my best. The only bad thing that can happen there is that you get the kick blocked. I don't think the coaches are going to be out there yelling at me the next day so it's kind of like a freebee. We ended up winning so I could care less they didn't send me out there. I am just glad I got the opportunity to go out there at the end."
July, 22, 2010
7/22/10
11:30
AM ET
The Patriots' first public training camp practice is Thursday, July 29, and with 82 players on the roster, there is plenty to analyze. ESPNBoston.com has picked what it feels are the top eight aspects to monitor. As part of the "Countdown to Camp", they will be counted down with one each day leading up to the first practice.
No. 8: Tight end turnover and red-zone impact
Why it's a top issue
: The Patriots had 65 trips inside the red-zone last season, which was the third-highest total in the NFL. They scored 34 touchdowns on those trips, for a 52.3 percent conversion rate (13
th
in the NFL). That is too many missed opportunities. When the space gets tight on the field, it is where bigger tight ends can distinguish themselves.
[+] Enlarge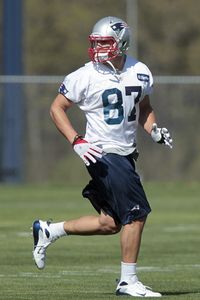 AP Photo/Elise AmendolaThe Patriots selected Rob Gronkowski in the second round of the draft.
Why it might change:
There is a complete overhaul at the tight end position, with players and coaches. The Patriots project to keep three tight ends on the roster, veteran Alge Crumpler (6-2, 275) and rookies Rob Gronkowski (6-6, 265) and Aaron Hernandez (6-1, 245), opening the possibility of having all three on the field in the red zone. Last year, the Patriots had two tight ends – Benjamin Watson (now in Cleveland) and Chris Baker (now in Seattle). The unit is now coached by Brian Ferentz, the son of Iowa head coach Kirk Ferentz.
Historical perspective
: Not since the 2002 season have the Patriots had a complete overhaul at the position. That was the third year of Bill Belichick's tenure and the team drafted Daniel Graham in the first round and signed free agents Christian Fauria and Cam Cleeland. That trio replaced Rod Rutledge and Jermaine Wiggins on the roster.
Xs and Os thought
:
When the Patriots scouted tight ends in the 2010 draft
, they split them into two categories – the "Y" and the "F". The "Y" position is one of the most challenging for a rookie to make an immediate impact because he is equally involved in both the run-blocking and pass-catching games, and that's why it wouldn't be surprising if second-round pick Gronkowski ("Y") doesn't have as immediate of an impact as fourth-round pick Hernandez ("F").
Looking to the future
: Crumpler is signed for the next two years and represents a bridge to the future as Gronkowski and Hernandez evolve as professionals. In part because Hernandez played in an offense at Florida with similar concepts to the Patriots, he figures to have the most immediate impact as a pass-catcher.
Fun fact
: Prior to this year, the Patriots had not selected a tight end in the draft since 2006 (David Thomas, third round).