New England Patriots:

Andre Johnson
May, 23, 2014
5/23/14
6:15
PM ET
Bill Belichick's
remarks to Sirius XM NFL Radio
on backup quarterback
Ryan Mallett
sparked a discussion on ESPN's "NFL Insiders" show Friday.
Host Suzy Kolber asked ESPN senior analyst Chris Mortensen and former
Carolina Panthers
general manager Marty Hurney for their analysis on the situation.
Mortensen detailed his thoughts, which he framed as "informed speculation," by saying that if second-round draft choice
Jimmy Garoppolo
"comes along and does quite well in OTAs and well into training camp, if somebody has a quarterback need or quarterback injury and they come calling and the Patriots feel good about Garoppolo, maybe Mallett is in play."
Kolber then asked Hurney how much teams really know about Mallett because he hasn't played much in the regular season from 2011-13.
"He was regarded highly enough as a quarterback coming out [in 2011], and I think the position creates interest in itself," Hurney answered. "I said this statement [from Belichick] is like if you ever go to dinner and a person says, 'I don't want dessert' so you order a chocolate cake and a big piece of chocolate cake comes out and all of a sudden you look and the other person is eating half of it. I think, if the chocolate cake looks good enough for Bill Belichick, they would be interested in trading Ryan Mallett."
Hurney then pitched his "perfect scenario" with the
Houston Texans
, while noting that any team trading for Mallett would need to extend his contract, which expires after the 2014 season.
"If I was the Texans, I would see if they were interested in
Andre Johnson
and say we would take a draft pick and throw Ryan Mallett in. So even if Ryan Mallett does not work out, you have the draft pick. [They're] rebuilding, really shooting for Year 3. Andre Johnson is 32 years old, doesn't have anyone proven throwing him the ball, so take that shot -- you get the draft pick, and if Ryan Mallett works out, you extend him and have your quarterback of the future."
November, 29, 2013
11/29/13
12:00
PM ET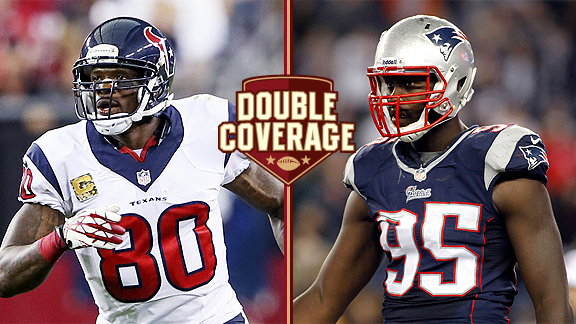 USA Today SportsAndre Johnson, left, and the Texans hope to surprise Chandler Jones and the Patriots.
HOUSTON -- The last time the
Houston Texans
faced the
New England Patriots
during the regular season, Houston was 11-1 and the hottest team in the league. To celebrate their youthful camaraderie, they ordered letterman jackets, the kind high school teams wear, and the jackets happened to come in right before the Patriots game.
That game marked a turning point for the Texans.
The timing of the jackets had nothing to do with the opponent; former Texans Connor Barwin and Shaun Cody were simply trying to create a tradition. That they lost so badly just after unveiling them turned the jackets into a punch line.
The Patriots won 42-14, and the Texans finished their season having lost three of their last four games. That meant losing the home-field advantage that seemed theirs before that game and led to another meeting with the Patriots in the divisional round of the playoffs. New England won again, 41-28.
It was a lesson for the Texans in what it takes to be a great team.
Heading into this season, many thought the Texans were positioned to be one of the top teams in the NFL. The Patriots seemed poised for a down year, by their standards, but here we are in Week 13 and they sit in their usual spot atop the AFC East.
ESPN.com Texans reporter Tania Ganguli and Patriots reporter Mike Reiss discuss the matchup.
Ganguli:
Mike, how has the loss of so many of his top targets from last season impacted Patriots quarterback
Tom Brady
?
Reiss:
We saw it impact Brady more significantly through the first eight games. But things have started to click the past two games, and it's no coincidence that it coincides with tight end
Rob Gronkowski
's reaching a new level of comfort since his return Oct. 20, and running back
Shane Vereen
's coming off the injured reserve list. With those two joining receivers
Aaron Dobson
,
Julian Edelman
,
Danny Amendola
and
Kenbrell Thompkins
, the pass-catching corps has been as stocked as we've seen all season.
I know it's been a down year for the Texans, but is
J.J. Watt
still creating havoc? Is that defense still tough?
Ganguli:
Watt is still creating havoc. He has 9.5 sacks, three forced fumbles and four passes defensed. He is someone opposing offenses must track on every play. The Texans' defense has played well, but it has holes. On Sunday, the Jaguars had success with the matchup of receiver
Cecil Shorts
against cornerback
Brandon Harris
in the slot. Injuries to middle linebacker
Brian Cushing
and strong safety
Danieal Manning
have been particularly damaging. The Texans have statistically been much better with Cushing than without him since he was drafted. Their attempt to add some mental toughness with
Ed Reed
didn't work as they had hoped, so two young players are starting at safety --
Shiloh Keo
at free safety and
D.J. Swearinger
at strong safety. Swearinger is the Texans' rookie second-round pick. He will be really good, but right now he's learning a lot about playing at this level. They haven't allowed a lot of yards, but have allowed too many points and not created enough turnovers.
Speaking of turnovers, as I watched Sunday night's Patriots game against the Broncos, it seemed every time I looked up the Patriots had either committed or forced a turnover. What did you make of that? Was it an aberration?
Reiss:
The forced turnovers were the norm, as the Patriots recently ended a streak of 36 games with at least one forced turnover (Nov. 18 vs. Carolina). The Patriots' committing turnovers was a little more out of character, although one of the pressing issues facing the club is what to do with lead running back
Stevan Ridley
(3 lost fumbles in the past three games). The Patriots are traditionally strong in turnover differential, and this season is no different, as they are plus-8 with 23 takeaways and 15 giveaways.
I know this probably comes out of left field, but how is the playing surface at Reliant Stadium? Patriots followers remember the last visit, in 2009, when
Wes Welker
tore his ACL. I saw a recent game, and it looks like there are patches of grass on the field with noticeable seams in certain parts.
Ganguli:
Not out of left field at all. If the game you saw was the Texans' Nov. 3 Sunday night game against the
Indianapolis Colts
, this was a major topic of conversation that night. The field looked pretty bad, mostly because there was a college game played on the same grass that week. They replaced the center of the field, but the outer grass was a mess. The University of Houston has played five games at Reliant Stadium this season while its stadium is being renovated. It has played most of them on field turf. The Cougars will play again on Friday morning, and none of the grass will be replaced between that game and the Texans-Patriots game Sunday. I believe the thinking is that will give it enough time to recover. Something to watch, though.
Let's talk more about defense to wrap up here. Will
Aqib Talib
be assigned to
Andre Johnson
on Sunday? How do you think he'll fare?
Reiss:
That would make a lot of sense, as Talib has often been assigned the opponent's top receiver. After a rocky game Nov. 18 against Carolina and
Steve Smith
, he was very good this past Sunday night against
Demaryius Thomas
in the 34-31 win against the Broncos. Talib has been key for the pass defense. Meanwhile, the loss of key players to season-ending injuries (defensive tackles
Vince Wilfork
and
Tommy Kelly
, and linebacker
Jerod Mayo
) has hurt the run defense at times, such as in the Broncos game. But they played a 4-2-5 nickel for most of the game, and I don't think that will be as much of a factor against the Texans. The Patriots will probably be in their base defense more often, and they played well against the Panthers' tough running attack in that package.
One thing I think Patriots followers would be interested to hear is what has happened to the Texans? How could a team go so quickly from the AFC divisional round of the playoffs and talking about "letterman" jackets to vying for the No. 1 pick in the draft?
Ganguli:
Even with some of the missteps in the offseason, it would have been difficult to foresee this. There are a lot of issues, but I'll focus on the quarterback situation. The biggest mystery is what happened to quarterback
Matt Schaub
. He was never on the level of Brady, but he gave the Texans what they needed. He was consistent and productive. He actually played really well in leading comebacks against the
San Diego Chargers
and
Tennessee Titans
this season. That seems so long ago. The Texans' turnover margin has been among the worst in the league all season, and Schaub was part of that. He became the first quarterback in NFL history to throw pick-sixes in four consecutive games. He threw one on the first pass of the game against the
San Francisco 49ers
, and that game marked the only time this season Schaub played poorly from start to finish. There were myriad other problems, but Schaub lost his starting spot when he suffered a foot and ankle injury in Week 6. First-year quarterback
Case Keenum
took over, but his play hasn't meant victories. In his first three starts, he played well in the first half and not so well in the second half. His most recent game, against Jacksonville, was his worst of the season. Keenum threw for 169 yards, no touchdowns and one interception.
.
December, 8, 2012
12/08/12
1:00
PM ET
FOXBOROUGH, Mass. -- Much attention has been turned toward standout defensive end
J.J. Watt
in advance of the Patriots' Monday night clash with the Texans.
But not to be overlooked is a player on the other side of the ball who is one of -- if not the -- best offensive player in Texans franchise history: wide receiver
Andre Johnson
. At the age of 31, Johnson continues his dominance, ranking fifth in the NFL in receiving yards with 1,114 in 2012.
Patriots head coach Bill Belichick hasn't lost track of Johnson, who recently set an NFL record for the most yards in a two-game span with 461 in Weeks 11-12.
"He's really a special player and does a lot of things well," Belichick said of Johnson. "He gets a lot of deep balls, big target, double moves, go routes, back-shoulder throws. He's a tough matchup for anybody one-on-one. It's like throwing to a tight end, there's always a place to get the ball to him.
"But he's also very good on the underneath routes, the tear screens, even plays like hitches and slants. They hit him and he breaks tackles like he did in the Jacksonville game. He does it every week, really. He can take a short pass and turn it into a long run, he can run by the defense, like he did against Denver on the post pattern.
"He's got a good route tree, he runs good routes, sometimes they put him in the slot, usually it's outside, but they do move him around, and so you've got to find him," Belichick continued. "He's good on the catch-and-run plays, he's good on the vertical routes, he's good in the red area, he can go up and get the ball. He blocks well. He's really a great player. And he's done it for a long time."
While Johnson has the obvious talents to create space on his own as a receiver, Belichick also agreed with the assertion that the Texans do a good job schematically within their offense of finding ways to get him into open space and uncovered.