New England Patriots:

Austin Collie
November, 11, 2013
Nov 11
3:00
PM ET
When the
New England Patriots
released veteran
Austin Collie
last Tuesday after he injured his knee, it created a void at the No. 4 receiver spot.
Offensive coordinator Josh McDaniels was asked Monday about the team's plans to fill it, and his answer provided insight as to how the coaching staff currently views the receiver depth chart.

McDaniels
First, McDaniels said that the idea of settling on a top three (
Aaron Dobson
,
Julian Edelman
and
Danny Amendola
) has been part of the mindset, with the idea of "being able to try to have some consistency in terms of the things we are doing with those guys."
So that puts rookies
Kenbrell Thompkins
and
Josh Boyce
as the top candidates to vie for Collie's playing time in the No. 4 spot, which averaged 22 snaps per game over the past three weeks. Both were healthy scratches last week against the Steelers.
"KT and Josh Boyce will also factor into the competition in terms of who is active and how we go about forming the game plan," McDaniels said. "You never like to have a player get hurt, and certainly Austin was helping us and doing what we asked of him, but any time you have a situation like this that comes up during the course of the season, it provides a little spark of competition, and [I] think that is healthy for any group on the team. We will look forward to the receivers going out there and having a good week of practice and then trying to let it unfold from there."
Thompkins has 23 receptions for 334 yards and four touchdowns in eight games played. Boyce has been inactive for each of the past four games, and has one catch for 24 yards this season.
November, 5, 2013
Nov 5
12:22
PM ET
FOXBOROUGH, Mass. -- Starting safety
Steve Gregory
, who broke his thumb against the Steelers in Week 9, according to ESPN's NFL Insider Adam Schefter, was one of three players not spotted at the start of practice on Tuesday, conducted in full pads on the practice fields outside Gillette Stadium.
Running back
Brandon Bolden
, who has dealt with a knee issue this season, was not spotted, nor was wide receiver
Austin Collie
, who left Sunday's game with a knee injury and did not return.
On the other end of the spectrum, defensive end
Rob Ninkovich
was on the practice field after leaving Sunday's game due to a foot injury.
Cornerback
Aqib Talib
(hip) and running back
Shane Vereen
(wrist) were once again on the practice field as well.
Two players, a wide receiver wearing number 16 and a running back wearing number 35, were also spotted on the practice field. The team had just one open roster spot -- a practice-squad opening -- as of Tuesday morning, meaning a spot would need to be created for one of those two players. More information to come as it is received.
Before practice began, the Patriots announced that wide receiver
Josh Boyce
, fullback
James Develin
, cornerback
Logan Ryan
and Gregory had been named last week's practice players of the week.
November, 3, 2013
Nov 3
7:57
PM ET
FOXBOROUGH, Mass. -- Quick thoughts from the
New England Patriots
' 55-31
win
over the
Pittsburgh Steelers
:

What it means:
The banged-up Patriots enter their bye with a 7-2 record. For much of the first half of the season, it was the defense that picked up the struggling offense. But the offense found its groove in this game, with quarterback
Tom Brady
, tight end
Rob Gronkowski
and receivers
Danny Amendola
and
Aaron Dobson
playing starring roles. This was an offensive explosion against the NFL's No. 2-ranked pass defense in terms of yards allowed per game.
Injuries continue to add up:
This was a physical game that left a mark. No. 4 receiver
Austin Collie
left with a knee injury in the second quarter and did not return. ... Starting safety
Steve Gregory
left with a right thumb/wrist injury in the third quarter and did not return. ... Starting left defensive end/outside linebacker
Rob Ninkovich
left in the third quarter with a foot injury and did not return. ... Starting cornerback
Alfonzo Dennard
came off on the final drive and was being looked at by the medical staff and didn't finish. Ninkovich seemed to dodge a bullet as he returned to the sideline and gave a thumbs-up to his teammates. It might have been a case where the Patriots just decided to play it safe by not putting him back in the game.
Ridley is the workhorse:
One week after being limited to just 20 snaps, which sparked media-based discussion on why the Patriots aren't playing their best running back more,
Stevan Ridley
was used as the workhorse and responded with his first 100-yard rushing game of the season. It almost makes one wonder if the coaching staff was out-thinking itself at times in limiting Ridley, who we charted on the field for 51 snaps (including penalties).
Gronkowski impact in full effect:
Playing in his third game since returning from five surgeries since November, tight end Gronkowski was immense. He had seven of his nine receptions in the first half and quite simply, the Patriots' offense is a much different unit when he's at full health. He's a true difference-maker.
Any more questions about Brady?
His age is showing. He can't throw the deep ball. He's not the same quarterback we've seen in the past. All those storylines that have surrounded Brady can be tossed out the window after a game like this. Same old Brady.
Defense limps to the bye:
How many more hits can the defense take? Playing without cornerback
Aqib Talib
for the third straight game, the unit hung tough, with newly-acquired nose tackle
Isaac Sopoaga
showing up with a few plays in limited work (he held his ground on a fourth-and-1 stop and nearly had an interception on a batted ball). Losing starting safety Steve Gregory would be a blow as he's been playing well and leading the defensive huddle the past two weeks.
What's next:
The Patriots enter a long bye week as they visit the
Carolina Panthers
on ESPN's "Monday Night Football" on Nov. 18.
November, 3, 2013
Nov 3
6:25
PM ET
FOXBOROUGH, Mass. -- New England Patriots wide receiver
Austin Collie
was shaken up near the end of the first half with an injury to his left knee and did not return to the sideline as the second half began. The team said he is out for the rest of the game.
The veteran wideout, who was one of the five active receivers for Sunday's game, had been playing in some of the team's three-receiver sets.
Since being signed in October, Collie has played in four games, totaling three catches and 34 yards.
Without Collie, the Patriots are down to four active receivers:
Danny Amendola
,
Julian Edelman
,
Aaron Dobson
and special-teamer
Matthew Slater
.
October, 15, 2013
Oct 15
3:30
PM ET
Every Tuesday during the regular season, Patriots coach Bill Belichick, defensive coordinator Matt Patricia and offensive coordinator Josh McDanels hold conference calls in the 12 p.m. hour.
Here are some of the things we learned today:
Armstead
1. Discussions on Armstead and Harrison coming:
Defensive tackle Armond Armstead (non-football illness list) and wide receiver Mark Harrison (non-football injury list) are eligible to begin practicing for the first time this week, and Belichick was asked if that will happen. "That's one of the things that we'll be talking about later on today," he said. "[Those are] some of the things that we do on Tuesdays, in addition to game planning for the Jets, we talk about our roster [and] find out what the expected practice availability is for the players." It's hard to imagine Belichick doesn't have a feel for whether either player will begin practicing; this is probably a case where he just doesn't prefer to reveal the information.
2. Jets as a "game-plan" team:
One week after facing Rob Ryan's Saints defense, the Patriots now get Rex Ryan's Jets defense. Asked the common threads between the twin brothers, Belichick focused on how each is a game-plan specific coach. "What they decide to do in one game could be dramatically different from what they do in another game," he said. Opposing coaches have often said the same thing about the Patriots.
3. Practicing the two-minute drill:
Belichick was asked about the team's practice sessions working on the two-minute drill, and he revealed that it usually happens once per week, and "We usually do it without timeouts so we can emphasize the hardest situation, which is the continual play and keeping the ball moving and stopping the clock either getting out of bounds or spiking the ball so that we create the type of situation that had in the New Orleans. That's really as tough as it gets, where you have to go down the field with just over a minute and no timeouts so you don't have any artificial way to stop it."
4. Collie making an impression:
Receiver
Austin Collie
came through in the clutch for the Patriots on the game-winning drive, and he's made an impression on McDaniels. "I think it is probably uncommon, and Austin is impressive," he said. "With the time we've had to spend with him so far, he's really working hard to learn our offense and our system, which is new to him. He is a player that adds veteran experience to our group. He knows how to play and handle himself during the course of the games. He knows how to handle himself during the week of practice, and really he's a guy that has an opportunity to carve out a good role for himself and he's got flexibility that allows us to move him. We maneuvered him a little bit, not on that two-minute drive because we were under the gun in terms of time, but if he goes in there on another play during the course of the game when we had a couple guys go down, we switched some things on the sideline and he showed poise and composure in a situation where certainly we were under a lot of pressure. That was really his first exposure to playing in a game for us. So I have a lot of respect for him, and he's done nothing but try to work his tail off to learn our offense and help us any way that he can. We look forward to future contributions from Austin."
5. Getting ready to stop the run:
Will this be a week in which the season-ending injury to defensive tackle
Vince Wilfork
especially hurts the Patriots? The Jets like to run the ball and the Patriots seem to be expecting it. "I definitely think that's the heart and soul of what they do," Patricia said. "They certainly provide many different attack points in the run game, whether it's the traditional run game that they can line up in two-back sets and pound the ball downhill, which they like to do, or their one-back run game, or incorporating their different packages, whether it's the running back taking the direct snap in the Wildcat formations or the quarterback in the shotgun 'triple look' being able to run from different packages there too."
October, 13, 2013
Oct 13
11:20
PM ET
FOXBOROUGH, Mass. --
New England Patriots
players involved in a dramatic eight-play, game-winning touchdown drive brought it back to life in a jubilant postgame locker room.
The situation had been dire -- 1:13 remaining, trailing 27-23, the ball on their 30-yard line, no timeouts -- which made reliving the improbable finish that much sweeter.
[+] Enlarge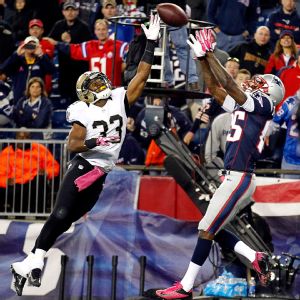 Stew Milne/USA TODAY Sports"It was just a deep ball, zone coverage, the DB [Jabari Greer] ended up letting me get behind him and I just went up there and made a play," Kenbrell Thompkins said of his winning TD catch.
"Before we went out, everyone was just focused, trying to prepare for the situation. We work on that situation on Thursdays a bunch, Coach [Bill Belichick] makes it really hard on us, so we're just focused at that point," receiver
Julian Edelman
said. "We were trying to get back from what we had dug ourselves into it. We just wanted to go out there and start it off right."
They did so with Edelman's 23-yard catch over the middle on a laser from quarterback
Tom Brady
, the team employing a four-receiver package (Edelman,
Aaron Dobson
,
Kenbrell Thompkins
and
Austin Collie
) to get more speed on the field.
"It was Tampa 2 [defense], a middle read, and Tommy put it on the line and I went up and got it," Edelman said of the drive-starting play, in which he had lined up in the right slot and got behind linebacker
David Hawthorne
and found the opening in front of safety
Rafael Bush
. "You can't think of anything else at that point. You just have to give the ball to the ref and get back to the next play."
Everyone was on the same page.
"I'm thinking, 'We have to get back to the ball and make another play. There is still a lot of field to cover, probably less than a minute now,'" Dobson said.
Indeed, the Patriots didn't snap the ball again until there were 53 seconds remaining, Brady connecting on a 15-yard pass over the middle to Collie, who had bumped up the depth chart after
Danny Amendola
had previously left the game with a head injury. Collie had played just one snap prior to the final drive.
"It was an in-route, I saw the middle of the field vacant, and kind of knew I was a viable option," Collie said of the play in which he lined up in the left slot. "The ball came my way, I caught it, got down as quick as I could, then gave the ball to the ref."
Collie's quick work was imperative as the Patriots were back at the line of scrimmage for their next play with 39 seconds remaining.
Considering Sunday was Collie's 11th day as a Patriot, his ability to come through in that critical situation, without the benefit of a huddle, was not overlooked by Belichick. The coach praised Collie, telling reporters he has spent more than two hours daily working overtime with position coach Chad O'Shea. It showed on the final march.
"That whole drive was me making sure I'm dialed in, making sure I was where I needed to be, and reminding myself 'expect the ball to be coming to you on this play,'" Collie said.
The ball now at the Saints 32, Brady then connected with Dobson on a 6-yard pass to the right side.
"Just an off-the-ball pass," Dobson explained. "The DB [
Keenan Lewis
] on me was way off and [Brady] kind of looked at me and we were on the same page. I knew I had to get out of bounds and [Lewis] helped me get out."
That stopped the clock with 35 seconds remaining, setting up back-to-back incompletions over the deep middle to Edelman from the Saints 26.
"I wish I could have had the second one back, I got banged at the end. You have to make that catch," said Edelman, who was banged up on the play and left the game as tight end
Michael Hoomanawanui
came on in his place.
Then, once again, Collie rose up in the critical situation: fourth-and-4, with 24 seconds remaining.
"Got an out-route and you just make sure you get separation and make sure you catch the ball when it comes to you," he said of the 9-yard catch in which he shook safety
Malcolm Jenkins
with authority. "It was a big down."
"

That's a very memorable moment for me, probably one of the best football games I've played in.

"

-- Patriots WR Aaron Dobson
Because Collie couldn't get out of bounds, players hustled back to the line for a spike to stop the clock, setting up the final touchdown, Brady firing a 17-yard strike to Thompkins in the back left-hand corner of the end zone. Thompkins rose up to make the catch, keeping his feet in bounds with five seconds remaining.
"We had everybody going in the end zone and he kind of snuck into the corner and I put it up there for him," Brady said. "He came down and made a great catch."
"It was just a deep ball, zone coverage, the DB [
Jabari Greer
] ended up letting me get behind him and I just went up there and made a play," said Thompkins, who pumped his right fist in the air repeatedly in celebration.
"Just awesome. Perfect textbook catch, the timing, getting his feet in," Hoomanawanui added. "He just made an unreal play but it's nothing new to us. We see that kind of stuff every day from him. It was just awesome to see it in that situation at the end of the game, and let the fans see it."
Parts of Gillette Stadium had actually emptied out by that point, those who left missing one of the most dramatic finishes in recent Patriots memory.
Those who stayed had seen this type of Brady magic before. The difference, of course, was that the supporting cast was almost entirely new.
"That's a very memorable moment for me, probably one of the best football games I've played in," said Dobson, the second-round pick from Marshall. "Going through that as a rookie, a last drive type of thing, and we all had a catch. I just felt we all contributed."
October, 13, 2013
Oct 13
9:20
PM ET
FOXBOROUGH, Mass. -- Observed in the locker room after the
New England Patriots
' 30-27
win
over the
New Orleans Saints
:
Collie
Belichick's sense of humor:
You know coach Bill Belichick is in a good mood when he arrives at his postgame news conference and says, "Well, I'm sorry we had to rewrite some of those [game] stories at the end." Indeed, it doesn't get much more thrilling than an ending like that -- a touchdown catch with five seconds remaining.
Collie soaks it all in:
Receiver
Austin Collie
didn't know if another team would give him a chance to play football again after his history of concussions, so to be part of the winning drive and play a critical role by making two catches was obviously meaningful to him. "It's amazing," he said, as he was the last player to leave the locker room, drawing a huge media crowd that came in multiple waves.
Banged-up Patriots:
The team had four starters leave the game with injuries -- right guard
Dan Connolly
(head), receiver
Danny Amendola
(head), cornerback
Aqib Talib
(hip) and linebacker
Jerod Mayo
(right shoulder) -- as the win came at a cost. Mayo left the stadium with his right arm in a sling. Belichick told players they'd get their first "Victory Monday" -- meaning they get the day off -- which was obviously welcomed by players.
October, 10, 2013
Oct 10
2:10
PM ET
Every Thursday on ESPNBoston.com, there is a Patriots chat in the late morning/early afternoon. Today's chat kicked off at 12 p.m. ET,
can be recapped here
and included some of the following topics:
1. Why the Saints could be considered the best team in football.
2. How the Patriots might approach defending running back
Darren Sproles
.
3. Addressing questions about
Tom Brady
and the idea of being in decline.
4. Running back
Stevan Ridley
and his contributions in the weeks ahead.
5. Thoughts on where receiver
Austin Collie
might fit.
6.
Leon Washington
and his future with the team.
October, 4, 2013
Oct 4
3:20
PM ET
FOXBOROUGH, Mass. -- Given wide receiver
Austin Collie
's history with concussions, the question is a simple one: Why?
Collie
Why keep playing and sign a one-year contract with the
New England Patriots
?
Why put himself at risk for another potential concussion?
"I'd rather not talk about that. I'd rather not talk about the concussions or the past injuries," Collie said in his first public remarks since joining the Patriots on Thursday. "I think I've been asked those questions a lot the past couple years. I'm ready to put all that stuff behind me and move on. I'm just worried about being here, being a part of this team, and helping any way I can."
Collie provides the Patriots an added layer of depth as four of the team's six receivers --
Danny Amendola
(groin),
Kenbrell Thompkins
(shoulder),
Aaron Dobson
(neck) and
Matthew Slater
(wrist) -- are currently on the injury report.
Collie had spent training camp and the preseason with the
San Francisco 49ers
, who released him at the final roster cutdown, and had worked out for the Patriots in June. Collie also said he had workouts with the
Tennessee Titans
,
San Diego Chargers
and
Miami Dolphins
, but it wasn't until he got the call this week from the Patriots that there was a breakthrough.
His contract is a one-year, $715,000 pact that doesn't include a signing bonus or incentives, and has a split that reduces his salary should he land on a reserve list. Collie also signed an injury waiver as part of the deal.
As for why he wants to play, he said, "It is something I feel like I'm good at. It's a gift I've been given, and I want to maximize that gift. I feel like I have a lot more left to give. If I didn't feel that way, if I didn't feel like I have more to give, if I felt like I kind of topped or maximized my potential already, then I'd walk away. ... All I want to do is play football and that's what I'm doing. So I'm a happy man."
Collie, who worked out with new teammates Amendola and
Julian Edelman
during the 2011 lockout in Los Angeles, sees an ideal fit with the Patriots and quarterback
Tom Brady
.
"This is a great system, obviously a system that has proven itself year in and year out. I love being in it," he said. "There are a lot of balls to be caught. I can't wait to learn more about it. I can't wait to get that chemistry down with No. 12 and jell with this offense and become part of this offense. ...
"There is definitely a unique feel here, definitely great guys in the locker room, great team camaraderie. So it's fun. It's a great place to be."
Collie acknowledged that any player would be behind the "8-ball" after signing a contract on Thursday, but he is still preparing to play Sunday against the
Cincinnati Bengals
.
"That's not up to me. That's a coach's call. My mindset is that there could be an opportunity, you never know, and always prepare like you are going to play," he said.
October, 4, 2013
Oct 4
1:50
PM ET
A snapshot look at the contract signed by receiver
Austin Collie
with the Patriots:
Term:
1 year (through 2013)
Signing bonus/incentives:
None
Base salary:
$715,000
The deal includes a split, so if Collie lands on a reserve list his base salary would be reduced. There is also an injury waiver as part of the deal, which is likely tied to Collie's past with concussions.
As one would expect given Collie's injury history, and the time of year on the NFL calendar, he isn't in a position with great leverage. From a team perspective, this is a deal that has as limited of a financial risk as possible for a player with Collie's experience.
October, 4, 2013
Oct 4
11:10
AM ET
FOXBOROUGH, Mass. -- Bill Belichick did not rule out the possibility that newly-signed receiver
Austin Collie
could play for the
New England Patriots
in Sunday's road game against the
Cincinnati Bengals
.
"We've had him on the field one day, so we'll see how it goes today, what kind of recall there is, and see where we're at tomorrow and make a decision," Belichick said Friday.
Belichick's answer came in the context of whether Collie's past experience in the
Indianapolis Colts
' system might make his transition to the Patriots easier.
"He seems like a pretty smart guy, so I think probably what we're doing are things he's done before, we just have different ways of calling it or terminology or that type of thing. We'll see," he said.
Belichick also pointed out that Collie has played in the slot and also on the outside, "so he has some versatility."
And while it's not ideal to sign a player on Thursday and then play him Sunday, such a scenario is not unusual. Belichick left the door open.
"I don't know. We'll just have to see how it goes," he repeated. "We've only been with him one day."
October, 3, 2013
Oct 3
11:50
AM ET
Thoughts on the Patriots' signing of receiver
Austin Collie
, first reported by colleague Field Yates:
1.
Banged up at receiver
. Four of the team's six receivers are on the injury report:
Danny Amendola
(groin), special-teams captain
Matthew Slater
(wrist), and rookies
Kenbrell Thompkins
(shoulder) and
Aaron Dobson
(neck). Collie adds depth, is considered a smart and instinctive player, and has played in a Colts offense that has similar concepts to what the Patriots run. That should help in the challenging transition of joining a new offense.
2.
Concussion history part of the story
. If not for Collie's scary history with concussions, it's hard to imagine that he'd be available. He's a talented player but durability is the big concern. In June,
Collie told USA Today
that he needed closure and was willing to sign a waiver with any team concerned about his history with concussions. He spent training camp with the 49ers but was let go as rosters were trimmed to 53. Several teams have brought him in for workouts this year, including the Patriots.
3.
More than just a slot receiver
. Sometimes it's easy to pigeonhole receivers as slot guys, which was a perception that
Wes Welker
battled at times with the Patriots (2007-12) even though he lined up on the outside. Collie (6-foot-0, 204 pounds) can be put in the same category as an inside-outside target. While he did some of his best work from the slot with the Colts, he also lined up on the outside and has deceptive speed as a threat to work the short and intermediate areas of the field. The Patriots like their receivers to play all the spots, and Collie has done so.
4.
Little connection to Amendola
. While there is a temptation to think that perhaps Collie's addition is tied to Amendola needing more time to recover from injury, that's not the sense we get. Amendola, it seems, is closing in on a return.
5.
Has played in big games
. If Collie stays healthy, and the 4-0 Patriots continue on a collision course with the AFC's top teams, it never hurts to have players on the roster who have been part of some big-time games. The Patriots have 13 rookies on their 53-man roster. That also could be part of the team's thinking with Collie. There is likely little financial risk for the club in making the move.