New England Patriots:

Bryan Stork
July, 4, 2014
Jul 4
5:00
AM ET
As part of this slow time on the NFL calendar, when we'll be taking a break to recharge for the 2014 season, we introduce the pre-produced "checking the locks" series in which we analyze the players on the Patriots' roster who are "locks" to stick. It's offensive linemen on Thursday.
Sure-fire locks:
LT
Nate Solder
, LG
Logan Mankins
, RT
Sebastian Vollmer
, OT/G
Marcus Cannon
, C
Bryan Stork
, RG
Jon Halapio
, RT
Cameron Fleming
Near lock:
G
Josh Kline
Trying to get in the door:
C
Ryan Wendell
, C/G
Dan Connolly
, C/G
Braxston Cave
, G
Chris Barker
, OT
Jordan Devey
, OT Chris Martin
Mankins
ANALYSIS:
When it comes to competitions in training camp, offensive line is near the top of the list. Unlike last year, when the Patriots were combing the waiver wire in late August in hopes of finding some developmental blockers with upside, they are well-stocked to the point that incumbent starters Wendell and Connolly could feel pressure to keep top roles. It will all come down to how quickly draft picks such as Stork (fourth round, 105th overall) and Halapio (sixth round, 179th overall) develop and injuries, as well as how many offensive linemen the team ultimately decides to keep (anywhere between eight and 10). Wendell and Connolly have played plenty of good football for the Patriots, and are top-notch locker-room guys, so they warrant respect and should not be written off. But when a team drafts three offensive linemen, it's quite possible something will have to give somewhere along the line if everyone remains healthy.
May, 23, 2014
May 23
5:00
AM ET
A few leftovers from Bill Belichick's interview on Sirius XM NFL Radio's "Movin' the Chains" program with Jim Miller and Pat Kirwan:
1. Confident in Easley's recovery.
While some view first-round pick
Dominique Easley
as a risky selection because he's torn both ACLs over a span of 22 months, Belichick spoke with assurance about his recovery.
"We're confident that he'll be able to return from the injury like almost everybody who's had an ACL has, so I don't think it's the type of injury that isn't pretty common in our league," he said. "He's working hard to rehab and hopefully he'll be OK. I think when he is, we feel like we got good value for that pick."
Belichick also touched on how the Patriots targeted Easley with the No. 29 selection.
"When you're picking 29th, you kind of don't know who's going to be there until you get into the low to mid-20s. We tried to stick to the value on our board. Dominique, when we've seen him play, he's been a productive player for Florida since his freshman year. He can be a very disruptive player. An impact player. His grade on our board reflected that."
2. Stork 'our type of guy' at center
. Belichick explained what the team liked in center
Bryan Stork
of Florida State (105th overall).
"We just felt that on film and personally, he's smart, a hard-working guy. Our type of guy. He really loves to compete and he's tough," he said. "I think he's productive in the running game and productive in the passing game. Obviously, he played in a great program and played against good competition. I think he's a solid player who will really be competitive for us."
3. White's smarts stand out
. In describing what drew the team to running back
James White
of Wisconsin in the fourth round (130th overall), Belichick pointed out that he averaged 6 yards per carry, "which is really hard to do in any league, especially in the Big Ten." Belichick also called him a versatile player who can run inside and outside, before touching on his skills in the passing game.
"He's very smart. I think he'll help us in pass protection and in pass routes," he said. "It's just another guy for the quarterback to throw to as well as a guy who can create some space and plays in the running game."
4. Patriots will bring up replay proposal again.
While owners didn't vote for Belichick's proposal to allow coaches to challenge anything in a game (with a limit of 2 challenges), Belichick said he'd probably bring up the proposal again in the future, maybe with some slight modifications in presentation. He spoke about how current instant replay rules are so detailed it is often confusing for many. "I'd like to just clean it up," he said.
5. Encouraged by offensive coaching staff
. After being asked about retired offensive line coach Dante Scarnecchia, and praising his contributions to both him and the franchise, Belichick spun things forward and said he likes what he's seen from his offensive coaching staff (Dave DeGuglielmo is the new O-line coach, with Brian Daboll at tight end). "I feel like we have a good staff offensively, those guys have worked well in the offseason. We're all excited to get on the field Tuesday and start the OTA process. I have a lot of confidence and enjoy the guys we're working with."
May, 21, 2014
May 21
10:10
AM ET
On Tuesday,
financial details of contracts
signed by four
New England Patriots
draft picks were passed along. Here are the details for one more, center
Bryan Stork
of Florida State, who was selected in the fourth round (105th overall).
Terms:
4 years, $2.697 million
Signing bonus:
$477,000
2014 base salary:
$420,000
2015 base salary:
$510,000
2016 base salary:
$600,000
2017 base salary:
$690,000
The Patriots have two unsigned draft picks -- defensive lineman
Dominique Easley
(first round, 29th overall) and quarterback
Jimmy Garoppolo
(second round, 62nd overall). There are no anticipated issues with them signing.
May, 15, 2014
May 15
10:00
AM ET
FOXBOROUGH, Mass. -- One theme that has been repeated by several members of the
New England Patriots
' rookie class is how they are far behind the team's veterans, and have been mostly separated from them since arriving at Gillette Stadium on Sunday.
This has allowed them to have a more focused introduction to the team's system, similar to past rookie minicamps. The hope is that by the time the club has its first organized team activities, the rookies will be far enough along to be productive participants in those practices.
Here is the schedule, which highlights how this is a shortened offseason like no other for rookies:
Organized team activities
Week 1:
May 27, 29, 30
Week 2:
June 2, 3, 5
Week 3:
June 9, 10, 12, 13
Mandatory full-team minicamp
June 17-19
Reporters will have access to one organized team activity per week, in addition to all three days of the full-team minicamp.
As for today, the players in the rookie class who have yet to meet with reporters are scheduled to do so. That group includes center
Bryan Stork
(4th round, 105th overall) and receiver
Jeremy Gallon
(7th round, 244th overall), among others.
May, 10, 2014
May 10
7:40
PM ET
»
NFC wrap-ups
:
East
|
West
|
North
|
South
»
AFC
:
East
|
West
|
North
|
South
FOXBOROUGH, Mass. -- A wrap-up of the
New England Patriots
' draft.
Click here
for a full list of Patriots draftees.
[+] Enlarge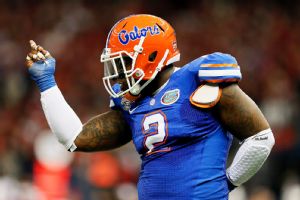 Kevin C. Cox/Getty ImagesFlorida's Dominique Easley will be an impact talent for the Patriots if he can stay healthy.
Best move:
Reinvesting in the offensive line. The Patriots hadn't drafted an offensive lineman in 2012 or 2013, but they triple-dipped with fourth-round center
Bryan Stork
(Florida State), fourth-round tackle
Cameron Fleming
(Stanford) and sixth-round right guard
Jon Halapio
(Florida). Time will tell if the picks were the right ones, but from a general standpoint, the Patriots needed to pay attention to the line both from an infusing-the-pipeline standpoint and also with salary cap integrity in mind. What stands out is the size of Stork (6-3 7/8, 315), Fleming (6-4 7/8, 323) and Halapio (6-3 1/2, 323). The Patriots added an element of offensive toughness in this draft, while also planning for the future. This is a big year for the team's offensive line as it transitions from former coach Dante Scarnecchia to Dave DeGuglielmo.
Riskiest move:
Dominique Easley
. The first-round defensive lineman is a big-time talent who wouldn't have been available at No. 29 if healthy. But he tore both ACLs at Florida and that affected his ability to work out at 100 percent in the pre-draft process. If Easley returns to full health, the Patriots' willingness to assume the risk could pay off in a big way as the team's interior pass rush could use a boost. But if problems crop up with Easley's knees, the Patriots might ultimately regret their willingness to invest such a high draft pick on an injured player.
Most surprising move:
Dominique Easley
. Wouldn't have thought the Patriots' selection of a player who tore both ACLs in a span of three years was an option in the first round. They generally don't assume that much risk with their top pick, which has contributed to their solid first-round draft record.

File it away:
All the angst that might have been expressed about the Patriots' selecting quarterback
Jimmy Garoppolo
with a late second-round pick (No. 62) will most likely be looked back upon with a chuckle. The biggest question from this perspective is if the Patriots passed on a player who might have helped them more immediately (e.g., Iowa tight end
C.J. Fiedorowicz
to the Texans three picks later), and that's going to be an interesting dynamic to follow in the years to come. But overall, there is no more important position than quarterback. The 2011 Colts are the prime example of a team that didn't address the backup spot and the bottom fell out of their season when starter Peyton Manning was lost for the season. People lost jobs because of it. The Colts were fortunate to wind up with the rare can't-miss prospect (Andrew Luck) the next year in the draft, but most teams aren't that lucky, so the Patriots were wise to be thinking ahead at a hard-to-fill position. It's just a bit jarring to hear the team acknowledge the possibility of a succession plan with Tom Brady, which is still four years away (if not longer) from this viewpoint.
May, 10, 2014
May 10
12:40
PM ET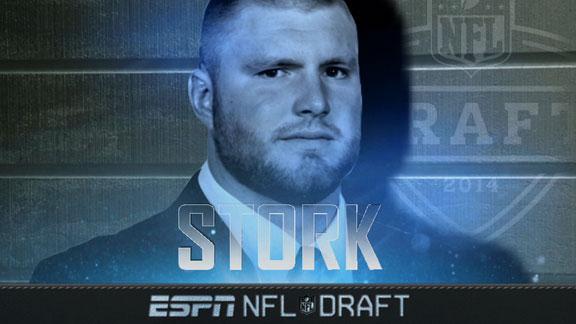 FOXBOROUGH, Mass. --
The pick:
Bryan Stork
, center, Florida State (105th)
My take:
The Patriots re-signed starting center Ryan Wendell to a two-year contract this offseason, but the sense all along was that competition was still likely to be added. It comes in the form of Stork, who at 6-foot-3 7/8 and 315 pounds brings a bigger body type to the position (Wendell is 6-2, 300). The Patriots have been vulnerable at times to inside pressure (think AFC championship game vs. Broncos), especially against bigger nose tackles, and Stork could ultimately be part of the solution. Stork's injury history caught my attention in pre-draft study, as he was graded a "4" in the
durability category by Scouts Inc.,
but the Patriots are obviously comfortable with it.
Thinking from an opponent's perspective:
What's the best way to get to Tom Brady? Straight up the middle, to move him off the spot. Attempting to upgrade the center spot potentially puts the Patriots in a better position to counter that.
Center depth chart:
Ryan Wendell (6th year), Bryan Stork (rookie),
Chris Barker
(2nd year),
Braxston Cave
(1st year)
What's next:
The Patriots have two more fourth-round picks -- 130th and 140th. The 140th pick is a compensatory selection at the end of the round that can't be traded.
April, 26, 2014
Apr 26
5:00
AM ET
Each day over the next 10 days, this space will focus on one position in the NFL draft by highlighting a prospect in Rounds 2-7 who might fit for the New England Patriots. With so much attention placed on the first round in mock drafts, "Beyond the first round" focuses on lesser-publicized options beyond the first 32 picks. Today, it's center.
[+] Enlarge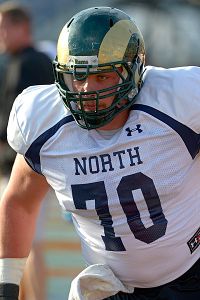 AP Photo/G.M. AndrewsCenter Weston Richburg of Colorado State competed in the Senior Bowl in January.
Second round:
Weston Richburg
(Colorado State)
A two-year captain who has played tackle, guard and center, the 6-foot-3 3/8, 298-pound Richburg has 49 career starts on his resume and would appear to fit best in a zone-based scheme like the Patriots'. One question is how he'd match up against bigger defensive tackles.
Third round:
Travis Swanson
(Arkansas)
Another two-year captain who has extensive experience (50 career starts), the 6-foot-5, 312-pound Swanson combines intelligence, unusual reach, and an edge as his physical measureables are a bit unique for the position.
Fourth round:
Gabe Ikard
(Oklahoma)
Like the majority of centers who make the cut here, the 6-foot-3 5/8, 304-pound Ikard makes the line calls, which reflects his football intelligence. He is a two-time captain, has experience at guard and center, and his 7.30 time in the 3-cone drill ranked among the best at the position.
Fifth round:
Wesley Johnson
(Vanderbilt)
With Bill Belichick in town to run the Nashville half-marathon, he worked out Johnson on Friday and had a film session with him Thursday, the Tennessean reported. Johnson (6-foot-5 7/8, 297 pounds) is known for his versatility and intelligence; his 7.40 time in the 3-cone drill was among the best at the position.
Sixth round:
James Stone
(Tennessee)
At 6-foot-3 5/8, 306 pounds, with 33 7/8-inch arm length and 10 1/8-inch hand size, Stone has some desirable physical measureables. A four-year starter in the SEC, he's faced some of the top competition in the country, with one NFL-based question coming in -- how he would handle bigger defensive tackles.
Seventh round:
Jonotthan Harrison
(Florida)
One of the Gators' captains in 2013, the 6-foot-3 1/2, 304-pound Harrison has 39 career starts on his resume and his combination of height and arm length figures to appeal to those eyeing a developmental prospect.
(Round projections aided by Scouts Inc., NFL.com and independent analysis.)
Previous entries:
1.
Defensive tackles

2.
Tight ends
3.
Defensive end
4.
Linebacker/outside linebacker
5.
Quarterback
6.
Wide receiver
7.
Safety
8.
Running back
9.
Cornerback
10.
Guard