New England Patriots:

Chad Ochocinco
December, 4, 2011
12/04/11
5:59
PM ET
AP Photo/Elise AmendolaChad Ochocinco can't haul in this first-half pass.
FOXBOROUGH, Mass. -- Another week, another failed opportunity to get on track for Patriots wide receiver Chad Ochocinco.
One week after a hamstring ailment left him inactive agains the Eagles, Ochocinco was back on the field against the Colts. With the Patriots releasing second-year wide receiver Taylor Price on Saturday, Ochocinco and the No. 3 receiver spot remained in the spotlight and the 11th-year veteran did little to grasp the latest opportunity.
The day started off on the right foot. Ochocinco earned early reps in spread formations and, after Indianapolis dominated possession early on, he drew the loudest cheers of the game to that point when he hauled in a 12-yard catch on third-and-8 from the Indianapolis 41. Six plays later, the Patriots were in the end zone and it sparked four consecutive touchdowns by New England.
After the drive, while reviewing photos from the scoring march, Brady could be seen motioning for Ochocinco to join a huddle that included Patriots offensive coordinator Bill O'Brien. Brady seemed to be showing his receivers something he noticed in the coverage.
Sure enough, on the first play of the next drive, Wes Welker, who was tearing up the Colts' zone, ran a little curl route from the slot position and the safety jumped on him. Ochocinco was running with space on the sideline next to Welker, but he couldn't haul in a catchable pass from Brady, the ball fumbling out of his hands as he crashed to the turf in front of the Patriots' bench.
The play elicited a few groans from the crowd at Gillette Stadium, seemingly still waiting for Ochocinco to build any sort of momentum. New England went to a no-huddle attack two plays later and Ochocinco spent much of the second half glued to the sideline.
Ochocinco played a mere 10 snaps, all in the first half.
Ochocinco now boasts 12 catches for 213 yards this season. He has only three catches since Week 6, the two others coming in a solid Week 10 effort against the Jets.
October, 20, 2011
10/20/11
4:30
PM ET
Patriots wide receiver
Chad Ochocinco
arrived at the bye week with a mere nine catches for 136 yards through six games, making him maybe the most underachieving player on New England's 5-1 roster. But is his season salvageable? That's the question Trey Wingo, Eric Mangini, and
Jerry Rice
batted around in this week's Hot Button topic.
Both Rice and Mangini believe there's still plenty of time for Ochocinco to make things right. Rice even went so far as to note that a solid playoff performance could make everyone forget a slow start to his New England career. Rice's worry? New England has so many weapons, it's going to be hard for Ochocinco to carve out an impact role.
Mangini noted that the recent trade of
Carson Palmer
sent him digging through his old game plans against the
Cincinnati Bengals
and said that the No. 1 focus for his teams was always taking away Ochocinco. Mangini thinks he can still be that sort of explosive player and, if nothing else, draws plenty of attention from defenses when he's on the field. Mangini noted that players develop at different rates, but once it clicks for Ochocinco, it could pay dividends for New England.
Salvageable or not, ESPN Boston's Chris Forsberg made the case on Monday that Ochocinco's
lack of production is no big deal
considering he's essentially the fifth receiver in the Patriots' offense, noting that Ochocinco's performance thus far is practically on pace with that of last year's No. 3 receiver in
Brandon Tate
(138 yards on 12 catches in his first six games). It's Ochocinco's contract status --
and status updates
-- that thrust him into a larger spotlight.
[
Your turn
: Can Ochocinco turn things around in New England? Vote in our poll above, then sound off in the comments.]
October, 17, 2011
10/17/11
9:08
PM ET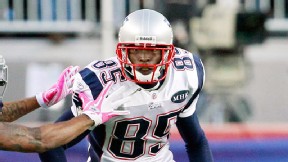 AP Photo/Elise AmendolaWide receiver Chad Ochocinco is still waiting for it all to click in Heaven... err, New England.
The Patriots biggest problem at the bye: Their fifth receiver isn't producing. Yawn:
If Chad Ochocinco or any of his 2.9 million Twitter followers went to bed concerned after Sunday's game, they woke up to hear a unified voice of confidence from teammates and staffers alike. Heck, O'Brien blamed himself for Ochocinco's route gaffe on Monday.

Whether his teammates and coaches actually believe what they are saying is certainly open to debate, but they're giving Ochocinco every chance to make this right. And why not? It's not impeding the ultimate goal of winning games (though that grab in Buffalo might have gone a long way toward making the Patriots 6-0, if you really want to fuss about it).

"Look, he's working hard at it," Brady said while offering his weekly State of Ochocinco update during an appearance on Boston sports radio WEEI on Monday. "We're all working hard at it. I'd say there's definitely a lot of improvement that we've made and that we're going to continue to make. I have a lot of trust and confidence in him. I don't lack for that at all."

Brady's initial reaction after Sunday's route confusion suggests differently. As does the snap totals for Ochocinco, who was on the field for only seven total plays against the Cowboys and has logged a mere 153 offensive snaps on the season (60 of which came in that Week 3 loss in Buffalo in which the team was short on tight ends).

"Ocho is progressing every week," O'Brien said. "He's done a really good job in practice and when he's been in certain parts of games, he's produced. We're happy where Ocho is with things right now."

Or, to be more clear, the Patriots are happy with where the team is -- 5-1 while getting virtually no production from Ochocinco.
Hop
HERE
to read the full story.
September, 28, 2011
9/28/11
2:22
PM ET
Kirby Lee/US PresswireRaiders coach Hue Jackson.
FOXBOROUGH, Mass. -- Maybe the most intriguing nugget to emerge from Raiders coach Hue Jackson's entertaining conference call with the New England media on Wednesday was his insight into wide receiver
Chad Ochocinco
. Jackson spent three seasons as wide receivers coach in Cincinnati from 2004-2006 and offered his take on the mercurial receiver's struggles to acclimate with the Patriots.
The most revealing line from Jackson: "You have to allow him to be him to get the most out of him."
For Ochocinco, it was another day of silence in the Patriots' locker room, this after turning down group interview requests both following Sunday's loss in Buffalo and again on Monday in Foxborough (the players were off on Tuesday). Ochocinco dropped a surefire fourth-quarter touchdown pass in Sunday's loss and watched another second-half offering for him get intercepted. He finished with two catches on the day and has only five catches for 87 yards for the 2011 season.
Was Ochocinco the type to get down on himself?
"I think a lot of players [get down on themselves when they struggle]," said Jackson. "When you are used to having success and things have gone the way they've gone for his career up to this point, it's hard when yo don't see the light at the end of the tunnel. But one thing I know about him, he's going to continue to work, he'll do everything that's asked of him. He's a tremendous pro. I'm sure he's working at it and eventually it'll come off right for him.
"I just don't want it to happen this week."
Jackson dubbed Ochocinco his "son" based on their time together in Cincinnati and said the two still share a bond.
"When I came to Cincinnati, he was real early in career, maybe second or third year, but he was right on the cusp of becoming a great player," said Jackson. "What I tried to do was push him, take him to where he truly wanted to go. He wanted to be one of best in the league and, in my mind, there's no question that he was. He really worked at it. The way he studied video tape, the way he prepared.
"I let him have his own personality, because that's Chad. You have to allow him to be him to get the most out of him. And that's what we were able to do. We forged a bond that's been the same since our time in Cincinnati. I always check on him -- I just haven't checked on him much this year because we've been so busy, but i do have a lot of respect for the player."
It's worth noting that Ochocinco caught 279 passes for 4,075 yards and 25 touchdowns in 48 games from 2004-2006, earning half of his six Pro Bowl nods those three seasons, and was also voted a first-team All-Pro in both 2005 and 2006. Jackson was pat of maybe Ochocinco's best NFL days.
And it all goes back to his comment about having to allow Ochocinco to be himself, which makes you wonder if his acclimation to the Patriot Way is part of what's prevented him from being the player we've seen over an 11-year NFL career.
September, 25, 2011
9/25/11
6:15
PM ET
CBS ScreenshotChad Ochocinco drops a long pass from Tom Brady in the fourth quarter.
ORCHARD PARK, N.Y. -- Patriots wide receiver
Chad Ochocinco
engaged in his most heightened action of the season Sunday, catching two passes for 28 yards. But it was the two passes in his direction that he didn't catch that might have defined his day.
Ochocinco dropped what would have almost assuredly been a 41-yard touchdown pass from quarterback
Tom Brady
with 8:18 to play in the game. The Patriots were trailing by a touchdown at the time and, while it didn't hinder the drive, New England needed nearly five additional minutes before
Wes Welker
caught a 6-yard touchdown pass on fourth-and-goal to knot the game at 31.
That's five extra minutes the Patriots were desperate for late in the game when Buffalo kneeled out the clock before
Rian Lindell
booted a 28-yard field goal as time expired for a 34-31 triumph at Ralph Wilson Stadium.
Ochocinco declined to talk to a group of reporters after the game.
Brady was intercepted by Bills corner
Leodis McKelvin
trying to connect with Ochocinco on New England's first drive of the second half. Buffalo cashed in on the short field, covering 39 yards in seven plays before
Scott Chandler
caught a 3-yard touchdown pass to make it a four-point game, aiding their comeback effort.
For the season, Ochocinco now boasts five catches for 87 yards through three games. On Sunday, he might have made more of an impact than
Deion Branch
(three targets, no catches), but his four targets were less than that of running back
Danny Woodhead
(five targets, three catches).
August, 30, 2011
8/30/11
5:35
PM ET
FOXBOROUGH, Mass. -- While unveiling the pristine Putnam Club before Tuesday night's
New England Patriots
Charitable Foundation Gala at Gillette Stadium, team owner Robert Kraft paused at an autographed jersey of
Chad Ochocinco
set to be auctioned off and smiled.
"I'll tell you, both [Ochocinco] and
Albert Haynesworth
are a lot different, in my opinion, than the media has portrayed them," said Kraft. "[Ochocinco is] very self-contained, he works very hard, [and] I know he wants to do well. He and Brady seem to have a great rapport.
Chris Forsberg/ESPN BostonRobert Kraft addresses the media Tuesday at the Putnam Club.
"Albert Haynesworth has been a gentleman. I don't know if you've heard him speak, he's not that image that the [media] presents. I mean I hope he is during the games, but everything I've from seen, he's a very likable fellow. I hope both of them make great contributions, but we have a lot of great young players that we've developed on this team."
Kraft singled out safety
Patrick Chung
while discussing younger players he felt could have a big impact on the team this year. And after a summer spent locked out, Kraft expressed great excitement about the upcoming season, particularly given the early returns from his football team -- even after Saturday's lopsided loss in Detroit.
"There hasn't been a season that I've been more excited about, I'm happy football is back," Kraft said. "I can tell you that I happened to be in the locker room [Tuesday] ... [the players had] just had come from practice, they are excited about the season, really excited. We think we have a great team and once the game begins, we'll really know.
"It's the preseason, so I've learned [to temper expectations]. What was it, [2008], when the
Detroit Lions
went 4-0 and looked great, then went 0-16? So I'm going to try to wait until the regular season starts. In fairness, and believe me, I can understand how people wouldn't be happy with the effort [Saturday] night [vs. Detroit], I know I wasn't with every part of the game, [but] the same kind of game planning doesn't go on to attack the other team's weaknesses. It's a more fluid situation. I think we'll know better come Sept. 12 what kind of team we'll watch, after the first three or four games, then we'll get an idea of what kind of team we have. Until then, it's all speculation, which is fine."
Kraft also talked about the power outages at Gillette Stadium that caused some uncertainty about both Tuesday's gala and Thursday's exhibition finale against the
New York Giants
, but he is hopeful things will proceed as planned after power returned at the stadium late Monday (though much of the region remains without power).
In a lighter moment, Kraft noted how he plans to serve as an advisor for his grandson's fantasy football team this season. When Putnam Investment president and CEO Robert Reynolds quipped that Kraft's team was comprised of all Patriots, Kraft smiled and said, "You're right about that."
July, 30, 2011
7/30/11
11:47
AM ET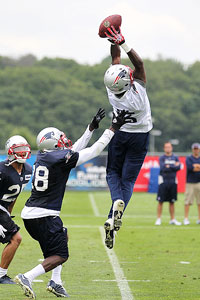 Jim Rogash/Getty ImagesChad Ochocinco at work with the Patriots on Friday.
FOXBOROUGH, Mass. -- Newly acquired Patriots wide receiver
Chad Ochocinco
closed his first confab with area reporters Saturday by asking for a group hug. Along the way, he talked about getting his "angel wings" from owner Bob Kraft and coach Bill Belichick, suggested he'd be a "chameleon" while buying into the Patriot Way, and joked about lending tight end
Aaron Hernandez
his Toyota Prius on weekends in exchange for giving up jersey No. 85. Here are some highlights from Ochocinco's introduction:
On coming to New England
: "The first meeting, as soon as I got here, with Mr. Kraft was unbelievable. Unbelievable. He welcomed me with open arms and I spoke with coach Belichick, he did the same. We had our normal talk, normal chat when I've had a chance to play against him, it sorta went the same way. Other than that, I'm ready to rock n' roll."
On embracing the Patriot Way
: "I'll always be me, it's been a part of my game. But there's a certain way that the Patriots do it. For me, I've always been a chameleon, so I'm going to stand in and do it the Patriot Way... I'm happy to be here. I'm going to be a little quiet, you won't get the same Chad you're used to and I probably won't be talking to the media much, probably not at all, really. I'm going to play ball and ride the wave, man."
On securing jersey No. 85 from Hernandez
: "Nothing [exchanged]. It was Mr. Hernandez's way of greeting me here. He gave me the number, I didn't have to pay anything. I just shook his hand and said, 'Thank you.' I was probably going to give Mr. Hernandez -- I drive a Toyota Prius -- so I was going to let him use the Prius on the weekend. That's the best I can do right now, and I have some leftover McDonald's coupons."
On his relationship with quarterback Tom Brady
: "Me and Tom are cool, we are really cool. It's been a joy. I don't get to talk to him much, except when we did play them. We have conversations off the field, on the field. I respect him, he's the best at his craft. I've always called him, 'The Surgeon.' It's going to be fun."
July, 29, 2011
7/29/11
1:48
PM ET
AP Photo/Charles KrupaChad Ochocinco and Tom Brady chat at practice Friday.
FOXBOROUGH, Mass. -- With his trade not officially complete, at least according to Patriots coach Bill Belichick during the morning media session, wide receiver
Chad Ochocinco
didn't address the assembled media Friday at Gillette Stadium, but he offered some thoughts via social media (and already boasted an updated, New England-centric profile picture on his Twitter account):
July, 29, 2011
7/29/11
12:40
PM ET


Mike Reiss joins SportsCenter to talk about Chad Ochocinco on the field (check the 34 second mark for video of Ochocinco talking to Tom Brady) at Friday's camp and when Albert Haynesworth might be able to practice.
July, 29, 2011
7/29/11
11:09
AM ET
While the trade might not be officially done yet,
Chad Ochocinco
was present on the Patriots practice field Friday morning. He can't practice, but he can watch practice. Ochocinco was seen spending time with
Tom Brady
and offensive coordinator Bill O'Brien prior to practice.