New England Patriots:

Cleveland Browns
December, 8, 2013
12/08/13
10:00
AM ET
Join our ESPN.com NFL experts as they break down the Cleveland Browns' visit to the New England Patriots. Contribute your thoughts and questions beginning at 1 p.m. ET. And, be sure to visit our
NFL Nation Blitz page
for commentary from every game, as well as fan photos and the latest buzz from Twitter. See you there.
December, 5, 2013
12/05/13
10:00
AM ET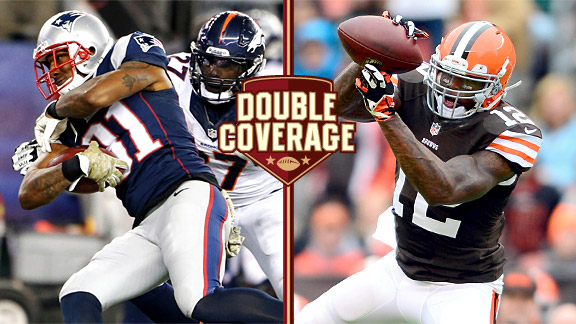 USA TODAY SportsJosh Gordon is one player Aqib Talib and the New England defense need to keep an eye on.
FOXBOROUGH, Mass. -- The last time the
New England Patriots
faced the
Cleveland Browns
, it wasn't pretty. The Browns posted a resounding 34-14 win.
Eric Mangini was the Browns' coach at the time, Mike Holmgren was the president and Patriots tight end
Rob Gronkowski
was a still-learning-the-ropes rookie whose miscue in attempting to field a kickoff contributed to a forgettable on-the-road disaster for New England.
The year was 2010, and that game turned out to be a high point for Mangini before he ultimately was fired at the end of the season. The Browns later hired Pat Shurmur as coach, but he was let go after two seasons, in part because of a change in ownership and front-office structure.
The new Browns regime, led by CEO Joe Banner and general manager Mike Lombardi, has since talked about building a sustainable team with the long haul in mind. One model it'd be happy to emulate is that of the Patriots, who just clinched their 13th straight winning season, three shy of the post-NFL-merger record set by the Cowboys and 49ers.
Here to break down the matchup are ESPN.com NFL Nation reporters Mike Reiss (Patriots) and Pat McManamon (Browns):
Reiss:
Pat, let's open it up with a big-picture look at the Browns. Lombardi worked under Bill Belichick with the Browns in the early-to-mid 1990s, and that connection has been well documented. I often enjoyed reading and listening to Lombardi's media-based analysis, and now he's back in the team-building business. How would you describe his first year on the job and how the Browns are positioning themselves for sustainability?
McManamon:
Well, Mike, the short term is pretty gruesome. Last weekend's loss to Jacksonville was as bad as any since 1999, and the team is an emotional mess. Cleveland actually believed it could and would take a step forward this season, but in all likelihood the Browns are headed for their sixth season in a row with four or five wins. How's that for consistency and sustainability? The only thing the Browns confirmed this season is they'd rather not have
Brandon Weeden
at quarterback next season. Other than that, they're as muddled today as they were when training camp started. The drafted players have not helped, there is no run game, there is no second receiver and the defense let
Chad Henne
go 80 yards for a game-winning drive on Sunday. Other than that, Mrs. Lincoln ...
Mike, as you say, the Patriots are a model of sustainability. Part of that reason is they hit on
Tom Brady
in the sixth round of the 2000 draft. How much of their sustained success is due to Brady and how much is due to other factors? And can you say what those factors are that the Browns might be lacking?
Reiss:
Brady is a huge factor in what the Patriots have accomplished, as his excellence helps mask other deficiencies. At the same time, it was no fluke that in the one year he tore his ACL on the 15th offensive play of the season (2008), the Patriots finished with an 11-5 record. That accomplishment continues to look better as the years go by, especially when looking at a team like the 2013 Packers and how they are struggling without injured starter
Aaron Rodgers
in recent weeks.
Belichick has built a strong program from top to bottom, and one of the key parts of it is depth. Many teams talk about building a roster that is strong from 1 to 61 (53-man roster plus eight-man practice squad), but it takes discipline to follow through on it. Some unpopular decisions have to be made at times for clubs that take that approach. This year is a good example, as the Patriots have lost some big-time players on defense (
Vince Wilfork
,
Jerod Mayo
) to season-ending injuries, but it hasn't sunk their season. This is an exceptionally well-coached team, and the players, for the most part, buy in to the team concept.
So, no doubt, it's huge to have someone like Brady to build around. And that's a position that I'd expect, from this faraway view, the Browns to target in 2014. That said, quarterback
Brian Hoyer
was the backup in New England from 2009 to 2011, and it looked like he created a spark for the Browns before tearing his ACL. What do you think his future looks like in Cleveland?
McManamon:
He did create a spark, and at this moment he probably heads into 2014 as the Browns' starter. Hoyer is recovering and rehabbing aggressively from his surgery, to the point that no limp or sign of the injury is visible when he walks. Hoyer played with smarts and savvy, and played well. But the problem is that he played only two games, which is hardly a fair sample size. So Hoyer should expect competition, whether it's another veteran free agent, whether it's
Jason Campbell
returning or whether it's a drafted player. Hoyer will be back, but he'll have to prove himself again.
Mike,
Josh Gordon
is the Browns' lone bright spot. His 498 receiving yards over the past two games is an NFL record. He's also the first to have more than 200 yards in a season. Am I correct in assuming that
Aqib Talib
will cover him, and what do you think Belichick will do to disrupt Gordon's route running? The guy is so big and strong that it's extremely hard to rough him up at the line the way Belichick likes to do.
Reiss:
One thing Belichick often says is that if a defense decides it's going to take away something from an offense, it usually can. It's just a matter of how many resources the defense wants to devote to do so because it will weaken itself in other areas. Several times this season, we've seen Talib match up against the opponent's top receiver, and outside of one game, Nov. 18 at Carolina against
Steve Smith
, he has been excellent. So it makes sense to think that would be a matchup the Patriots consider, in addition to devoting safety help to Gordon's side of the field, if they feel that strongly about Gordon's big-play ability. It doesn't look like the Browns have many other top weapons that could make that type of plan hurt.
Pat,
if we go back to our early-season predictions
, which show that the term "expert" should be taken lightly in my case, I picked the Browns as a surprise playoff team in part because I thought their defense would carry them. Call it my mistake by the Lake. Even as they are building with 2014 in mind, which seemed to be the plan from the get-go, I thought they'd be further along this year. So why the struggles?
McManamon:
Pretty simple -- they were overrated. The Browns have some decent players, and one guy pushing to be great (
Joe Haden
), but they don't have a great player yet. Combine that with learning a new system and an offense that has turned the ball over 11 times the past three games, and struggles will follow. Defensive coordinator Ray Horton has backed up his claims about his guys with numbers, but at some point the old adage "stats are for losers" comes into play. No defense that gives up an 80-yard touchdown drive to the 32nd-ranked offense can call itself great, or even good.
Mike, on paper, this is a huge mismatch. Do you see any way Brady or Belichick kicks this away and lets the Browns steal this game?
Reiss:
I don't, Pat, but let's toss out a scenario that could give the Browns their best chance. They would have to possess the ball, playing keep-away from Brady, and somehow come up with a "bonus" score on either defense or special teams. The Patriots' defense has looked vulnerable the past two games, so it's not like this is an invincible unit that can't be exploited in certain areas. But given the quarterback questions the Browns have entering this one, and their general struggles overall, it's just hard for me to see how they can escape Gillette Stadium -- traditionally one of the toughest places to win at this time of year -- with a victory unless Belichick decided to give his pal Lombardi an early holiday gift to take some of the pressure off him.
November, 8, 2010
11/08/10
9:32
AM ET
During his weekly interview on Boston sports radio station WEEI on Monday morning,
New England Patriots
quarterback
Tom Brady
said his team's poor play Sunday in a 34-14 drubbing wasn't a result of taking the underdog
Cleveland Browns
lightly but rather just being flat outperformed in every phase of the game.
"I feel like we're a much better team than the way we played yesterday, but we've got to go out there and prove it on a week to week basis," Brady said. "... I'd love to think that you could have 22 minutes time of possession, lose the turnover battle and think you can go out there and win but you can't. You can't play poorly and expect to win and we played poorly yesterday."
Brady thought that if the team had played as poorly as it did Sunday every week, the Patriots would be 0-8 instead of 6-2.
"We were prepared. We were forewarned 50 times last week," Brady said. "We've got to take the coaching a lot better and get back to playing the way we need to play. If we don't, then that's the outcome. ... We don't suck. If we play like we played yesterday we suck, but we know we're capable of playing better than that."
Brady also doesn't think the Patriots, who undoubtedly played their worst game of the season Sunday, have not played a great "60-minute" game this season.
"We're 6-2. We're at the midpoint of the season and we know that we still haven't played a great 60-minute game yet," Brady said. "I look forward to us when we do that, to see what kind of team we can put together. We can't keep sputtering in quarters or halves or in this case the whole game."
Brady said he has already started watching film on the team's next opponent, the 5-2
Pittsburgh Steelers
, who face the
Cincinnati Bengals
on Monday Night Football tonight.
"We've got to go back to work this week," Brady said. "We have an equally challenging game, if not more challenging, in going up against the Steelers, who are a damn good football team. We've got to focus on ourselves and what it takes for us to get better, because we certainly need to get better and play better than we played this weekend. Play more like the team that we have been playing like this year, which is tough, smart and physical. I wouldn't say we played tough, smart or physical yesterday. Those are our strengths, and we didn't play to those."
November, 5, 2010
11/05/10
11:53
AM ET
A roundup of how ESPN's analysts see Sunday's Patriots-Browns game playing out:
* ESPNBoston.com's Mike Reiss: Patriots 20, Browns 17.
I think this is going to be a dogfight. Or maybe I should say "Dawg fight," given that the game is in Cleveland. I see Eric Mangini throwing everything he can at the Patriots -- from fake field goals to onside kicks to one-man rushes -- but in the end, I just think New England has too much talent. The discrepancy at quarterback tilts it in the Patriots' favor.
* ESPNBoston.com's Tedy Bruschi: Patriots 35, Browns 14.
Joshua Cribbs will make an exciting play for the Browns on special teams, but it won't be enough. Eric Mangini and the Browns are trying to rebuild that organization with many of the lessons he learned in New England. They're getting better, but the Patriots are the "big boy" version.
* Adam Schefter, ESPN NFL Insider: Browns over Patriots.
Cleveland seems to play its best football against good teams, evidenced by the fact that they've beaten the defending Super Bowl champion each of the last three years, including the New Orleans Saints on the road two weeks ago. I think they're coming back home. I think that they're coming off a bye week. I think the Patriots are coming off a game that took some things out of them, a great win over the Minnesota Vikings, where everybody thought a game like that could go either way. I just think that Cleveland is this tough, crafty football team. New England's the best team in football right now. You're not going to get an argument from me on that. I just think on one Sunday, I think it's going to be a tough game for them.
* Bill Simmons: Patriots (-4.5) over BROWNS:
It's time to answer for Santino, Carlo.
* ESPN experts:
Seven of the eight experts pick the Patriots to beat the Browns (only Schefter picks Cleveland).
* Sunday Countdown:
Keyshawn Johnson, Mike Ditka, Cris Carter and Tom Jackson all pick the Patriots.
* AccuScore simulations: Patriots 26.7, Browns 18.7 (on average).
You can simulate the game yourself here (Insider)
.
* Madden simulation: Patriots 28, Browns 13.
Are the Patriots the best team in the NFL right now? It sure looks that way as they continue to play excellent football, beating the Browns 28-13 thanks to three touchdown passes from Tom Brady. Wes Welker adds seven catches for 74 yards and a score to help New England extend its winning streak to six games.
* Ken Moll, Scouts, Inc.: Patriots 24, Browns 20.
(Insider)
* NFL Live:
Mark Schlereth and Herm Edwards both pick the Patriots.
* Make your Week 9 picks with our Pigskin Pick'Em contest.
* What's your prediction for Patriots-Browns? Leave it in the comments section of this blog post.
November, 5, 2010
11/05/10
11:05
AM ET


In the NFL Live clip above, ESPN analysts Mark Schlereth and Herm Edwards make their picks for Sunday's Patriots-Browns game:

* Schlereth: "The way [the Patriots are] running that spread offense right now, they're finally starting to get some of their rhythm back. I think they beat Cleveland, but I think it's going to be a close game."

* Edwards: "I think New England wins this game, but [Browns defensive coordinator] Rob Ryan, he's gong to have something for those New England Patriots, no different than what he did when they went to New Orleans. He found a way to rattle the quarterback. They will get after Tom Brady."



November, 5, 2010
11/05/10
10:38
AM ET
Not many pundits are picking the 2-5 Browns to upset the 6-1 Patriots on Sunday, but count ESPN NFL Insider Adam Schefter among the few going against the grain. In an interview on Boston sports radio WEEI this morning, Schefter explained why he likes Cleveland in Sunday's game.
"Cleveland seems to play its best football against good teams, evidenced by the fact that they've beaten the defending Super Bowl champion each of the last three years, including the
New Orleans Saints
on the road two weeks ago," Schefter said. "I think they're coming back home. I think that they're coming off a bye week. I think the Patriots are coming off a game that took some things out of them, a great win over the
Minnesota Vikings
, where everybody thought a game like that could go either way.
"I just think that Cleveland is this tough, crafty football team. New England's the best team in football right now. You're not going to get an argument from me on that. I just think on one Sunday, I think it's going to be a tough game for them."
So how are they going to win, Schefter was asked?
"In Cleveland's last seven wins, dating back to last October, they have averaged in those seven wins, 91.4 passing yards," Schefter explained. "So how are they going to win? However the hell they've won the last seven times. By throwing for 91.4 yards, forcing 2-3 turnovers, by getting a
Josh Cribbs
special teams play ... that's how they win."
On the other hand, Schefter said in his weekly
"10 Spot" column
that it's time to pay the 6-1 Patriots their due. He wrote that "no NFL team has done a better job of winning despite losing players."
Here's some of his column:
Week after week, the spotlight seems to go everywhere except the New England Patriots.

Last week, the spotlight focused on the questions about Brett Favre, whom the Patriots managed to beat.

This week, it shined back on Randy Moss, whom the Patriots traded for a third-round pick before he could implode again.

But at some point, New England must be cited for what it has done. As impressive as the Indianapolis Colts and Green Bay Packers have been this season in overcoming adversity, no NFL team has done a better job of winning despite losing players.

New England Pro Bowl guard Logan Mankins stayed away from the team until this week in a contract dispute, and the Patriots still have allowed only 12 sacks.

New England's top defensive end, Ty Warren, suffered a season-ending hip injury in training camp, but the Patriots still have not allowed a 100-yard rusher this season.

New England's top cornerback, Leigh Bodden, suffered a season-ending shoulder injury before the season kicked off, and the Patriots still have nine interceptions.

New England's third-down specialist, Kevin Faulk, suffered a season-ending knee injury in the second game; Moss was traded after the fourth game; and Mankins' potential replacement, Nick Kaczur, was lost to a season-ending back injury. But nothing has slowed New England. Good teams like the Patriots don't stress the importance of a single player. They stress the importance of a unit.

Indianapolis is winning without safeties Bob Sanders and Melvin Bullitt as well as tight end Dallas Clark. Green Bay is winning without running back Ryan Grant, linebacker Nick Barnett, tight end Jermichael Finley and defensive backs Al Harris, Atari Bigby and Morgan Burnett.

But at this point in the season, no team has won as often as the Patriots (6-1). New England doesn't have some of its best players, but it has football's best record.
November, 4, 2010
11/04/10
1:57
PM ET


In the video above, ESPNBoston.com's Mike Reiss identifies the Patriots' front seven against Browns running back Peyton Hillis as a key matchup in Sunday's game.

Hillis leads the Browns with 460 rushing yards and is second on the team with 27 receptions. This will be a big challenge for the Patriots' defensive front seven, both against the run and with Hillis coming out of the backfield as a pass catcher in the Browns' West Coast offense.

The Patriots pride themselves in taking away one thing their opponent does best. If they can take away Hillis, it would be crippling for the offensively challenged Browns.
November, 4, 2010
11/04/10
10:14
AM ET


In the video clip above, ESPNBoston.com's Mike Reiss gives his three keys for the Patriots against the Browns on Sunday.

* Expect the unexpected. Former Pats assistant Eric Mangini knows his Browns are overmatched, so expect him to throw everything he can at the Patriots, just as he did when shocking the Saints. Fake punts, fake field goals, unconventional plays, etc. ... the Patriots will have to be ready for anything.

* Joshua Cribbs. The Browns struggle to score (their 16.9 point-per-game average is second-to-worst in the NFL), but Cribbs is their most explosive weapon. The Patriots will have to be disciplined about making sure he's accounted for at all times, both on offense and special teams.

* Recognition in pass protection. The Browns throw many different looks at teams on defense; the Patriots will have to be ready for them all.
November, 12, 2009
11/12/09
9:40
AM ET
When the Patriots promoted cornerback Kyle Arrington from the practice squad to the 53-man active roster last Friday, it was a result of another team attempting to sign him.
The Patriots didn't want to lose Arrington so they bumped him up to the active roster. In turn, they released veteran Kendall Simmons in a move that coach Bill Belichick said the team wasn't planning on making.
Some bloggers projected that perhaps it was the Colts, who had experienced a run of injuries in the secondary, making a run at Arrington. But it was a different team in the Midwest: Eric Mangini's Cleveland Browns.
When asked about it on Thursday, Arrington explained how the process unfolded.
He said his primary motivation was simply getting a chance to play, and that's why he strongly considered the offer to join the Browns' 53-man active roster. At the same time, he described himself as being loyal, which explains why he told the Patriots about the offer in hopes he would remain with them.
So it became a situation where he was balancing his desire to play and loyalty to New England.
In the end, he got the best of both worlds: the chance to play and to do so here in New England.
"I appreciate them making the bid to move me up," Arrington said.