New England Patriots:

Dan Koppen
November, 22, 2013
Nov 22
5:00
AM ET
Each week we use this space to highlight players, coaches and staff members from the Patriots' upcoming opponent with a previous connection to the team.
While his status for Sunday night remains unknown, wide receiver
Wes Welker
, who spent six seasons with the Patriots, leads our list of current Broncos with ties to New England.
Welker
Wide receiver Wes Welker.
Few receivers have ever had a six-year stretch like the one Welker produced from 2007 to 2012 in New England, surpassing 110 catches in five of those six seasons and setting the bar among NFL slot receivers. He signed as a free agent with Denver in the offseason and already has tied a career-high with nine touchdowns this season. A concussion suffered Sunday night has kept Welker off the practice field thus far this week.
Center Dan Koppen.
The Patriots' longtime starter at center, Koppen signed with the Broncos after being released by New England last preseason. He stepped into a starting role in the absence of
J.D. Walton
and played well for the Broncos. An injury has landed Koppen on the injured reserve list, meaning he is out for the rest of the season. He was one of the Patriots' best draft choices under Bill Belichick (a fifth-rounder) and a key member of the offensive line during their back-to-back Super Bowl winning seasons.
Secondary coach Cory Undlin.
Undlin is in his second season with the Broncos and his first as the secondary coach. He was a member of the Patriots' coaching staff in 2004 as a defensive coaching assistant before taking a quality-control job with Romeo Crennel when he left to become the Browns head coach.
Director of player personnel Matt Russell.
Russell, a Butkus Award winner during his college playing career at Colorado, got his NFL scouting career started with the Patriots from 2001-05. He began as a pro scout before hitting the road as an area scout for three seasons. He is now in his second season as the director of player personnel for Denver.
National scout Adam Peters.
Peters cut his teeth as a member of the Patriots personnel department from 2003-08, starting out as a player personnel assistant and working his way into an area scout job. He joined the Broncos in 2009, spending two seasons serving as the team's Western area scout. He shifted to a national scout role in 2011, the role he maintains today.
October, 7, 2012
10/07/12
9:04
PM ET
By
David Lefort
| ESPNBoston.com
FOXBOROUGH, Mass. -- We caught up briefly with
Denver Broncos
offensive lineman
Dan Koppen
after Sunday's game, but the long-time Patriot wasn't in the mood to reflect on playing at Gillette Stadium for the first time as a visiting player after his team's loss.
"We lost. All that matters is wins and losses," Koppen said when asked if it felt surreal to be in the visitor's locker room of the place he called home for nine seasons. "It's different, but in the end it's just a game. We lost."
Koppen was one of the final cuts the Patriots made before the season began and he caught on with the Broncos. He was thrust into the starting center role Sunday against the Patriots due to an injury to
J.D. Walton
.
The theme in the Patriots' locker room after the game was the extensive use of the no-huddle offense and the increased reliance on the ground attack to control the game. These aren't exactly the same Patriots from Koppen's heyday, but he wasn't interested in breaking down the differences in the New England attack.
"They ran their offense and they did it well," Koppen said.
October, 3, 2012
10/03/12
12:35
PM ET
FOXBOROUGH, Mass. -- Some quick hits from Patriots quarterback
Tom Brady
's news conference on Wednesday morning:
On another contest against Peyton Manning:
"He's a friend of mine, so we don't talk much during the season, but I think he's someone that I've always looked up to and admired, and I respect the way he plays the position, and the way he works, the way he leads. He's been a phenomenal player. We played against him for a long time against the Colts, it seemed like every year. You see a lot of those games, and obviously I've learned a lot from him."
On former Patriots center Dan Koppen likely starting for the Broncos on Sunday:
"He's one my best pals. I'm happy he has the opportunity. He's a great friend of mine. We've had a lot of battles together. I miss having him around here. But that's part of this business. He moved on, and he has an opportunity. Hopefully we play well against him."
On his post-football life:
"It's a great sport. I love coming to work every day. I love the challenge that the weeks bring, the mental challenge, the physical challenge. I love the training. I love being around my teammates. It's just not much else out there, other than my family. I think that's like the abyss. There's nothing else."
October, 1, 2012
10/01/12
2:00
PM ET
Former Patriots center
Dan Koppen
, released at the end of training camp after nine-plus seasons with New England, is in line to start for the
Denver Broncos
this Sunday when they travel to Gillette Stadium for a Week 5 matchup.
Koppen was part of a competition during training camp that ultimately ended with 26-year-old
Ryan Wendell
earning the job at center, and Koppen looking for work as a free agent.
A day after the Broncos' season-opening win against the Steelers, Koppen was added, bringing a wealth of experience and depth behind starter
J.D. Walton
, a developing young player.
Walton suffered a broken ankle late in the first half of Denver's Week 4 win over the
Oakland Raiders
, and will miss the rest of the season, according to Mike Klis of the Denver Post. The injury to Walton put Koppen on the field on Sunday, and, according to Klis, will vault him into the starting role this Sunday as Koppen returns to Gillette Stadium, this time as a visitor.
Koppen had some issues holding up against interior power rushers during training camp, and a lack of positional versatility likely played a factor in the Patriots' decision to part ways with him.
After starting 120 games for the franchise between 2003 and the season opener in 2011, Koppen was shelved with an ankle fracture for the remainder of last season. That opened the door for
Dan Connolly
to assume the starting role, and he has now shifted to right guard with Wendell anchoring the middle of the line.
August, 9, 2012
8/09/12
11:29
AM ET
FOXBOROUGH, Mass. -- You would think there was a playoff game at Gillette Stadium this week.

In front of a packed house, the
New England Patriots
hosted the
New Orleans Saints
for a pair of high-quality joint practices. Even famous musician Jon Bon Jovi and supermodel (and
Tom Brady's
wife) Gisele Bundchen showed up for a glimpse of the action.
The talent on the practice field was immense. You had future Hall of Famers Brady and
Drew Brees
at quarterback, Pro Bowl tight ends
Rob Gronkowski
and
Jimmy Graham
and two hungry defenses eager to improve. The tempo was fast and intense.
The Patriots could have easily practiced against themselves this week like the rest of the league. But there is a method to Bill Belichick's madness. It's Super Bowl or bust for New England. And even in August, the Patriots want to test themselves as much as possible against another playoff contender.
"We know that there are a lot of other great organizations and teams and players and coaches out there," Belichick explained. "It's a good challenge every week, and certainly the Saints are one of the top teams in professional football. As I said, they're well-coached, they have great talent, good players, good scheme [and] they win a lot of games. We played against them two years ago, practiced against them two years ago in their championship season. There isn't any team we have more respect for than the Saints from top to bottom."
The reigning AFC champions are loaded. Their roster is deeper and more talented than last year's team that finished 13-3. With the easiest strength of schedule in the NFL, the Patriots are expected to match or surpass last season's win total. Some pundits even believe a 16-0 regular season is within reach. But let's not get too ahead of ourselves.
THREE HOT ISSUES
1. How much better is the defense?
The Patriots' defense has improved. New England was ranked 31st in total defense and 31st against the pass in 2011. So the Patriots cannot get much worse.
The Patriots invested all their draft picks except a seventh-rounder in defense. The biggest coups were first-round picks
Dont'a Hightower
at linebacker and defensive end
Chandler Jones
. Both rookies received a lot of reps with the first team this week and appear to be learning fast. They also provide athleticism and aggressiveness to New England's front seven.
Second-round pick and defensive back
Tavon Wilson
also has looked better than advertised. Belichick received a lot of criticism for drafting Wilson that high when most projected him to be a fifth- or sixth-round pick. Free agent
Steve Gregory
also is New England's starting safety and is an upgrade over the rotating door New England had at the position last year.
With a high-powered offense, the Patriots don't need a top-10 defense. But if the defensive-minded Belichick can get this group in the top 20, New England will be very hard to beat.
"We're just trying to be aggressive and be competitive in everything out there," Patriots cornerback
Devin McCourty
said of improving. "From the front all the way throughout the secondary, guys are just trying to develop an attitude. Defense has a lot to do with attitude and how you approach the game, so we're trying to keep attitude and trying to do it day in and day out."
[+] Enlarge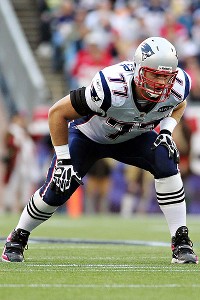 Stew Milne/US PresswireSecond-year left tackle Nate Solder has shined early in Patriots training camp.
2. Who will man the offensive line?
It is difficult to gauge the performance of the offensive line in training camp. About half of training camp practices are in shorts, and that significantly reduces contact in the trenches. But replacements need to be ready because four of New England's starters from last year are injured, retired or contemplating retirement.
New England's offensive line is a M.A.S.H. unit. Starting guards
Logan Mankins
(knee) and
Brian Waters
(personal reasons) have yet to practice with the team, and starting right tackle
Sebastian Vollmer
has a back injury. Longtime starting left tackle
Matt Light
retired, and so did free-agent signee
Robert Gallery
.
The Patriots are trying to find the right combination up front in training camp in preparation for Week 1 of the regular season. So far, the
best lineman in camp
has been second-year left tackle
Nate Solder
, who gained some starting experience last year in his rookie season.
Holdovers such as guard
Dan Koppen
,
Dan Connolly
,
Ryan Wendell
and
Marcus Cannon
are all trying to carve out roles -- at least until starters Mankins, Vollmer and (maybe) Waters return. Brady and the Patriots will pass the football a lot this year, so development of the offensive line is important.
"We're going to play whoever is here, and whatever happens, we're going to be here working hard," Solder said this week.
3. Who will run the football?
Dependable tailback
BenJarvus Green-Ellis
bolted to the
Cincinnati Bengals
in free agency. That leaves second-year tailbacks
Stevan Ridley
and
Shane Vereen
trying to pick up the slack in 2012. Neither player has much experience. Ridley did pretty well in limited playing time his rookie year, amassing 441 yards and a touchdown. Vereen was injured most of his rookie season and wasn't a factor.
Ridley
has the inside track
and has looked impressive. He has good vision and burst. Ball security has been the only question. But Ridley believes he made rookie mistakes that he will fix in Year 2.
"This year I'm going to go and do the best that I can to keep the ball high and tight," Ridley said. "I know that if I can keep the ball in my hands, I'm going to be on the field. So my work is cut out for me."
Backup running back
Danny Woodhead
also will assist Ridley and Vereen, particularly on third downs.
Reason for optimism
This is the best collection of talented skill players Brady has ever had. If everyone stays healthy, I do not see any reason the Patriots cannot be near the top of the league in scoring and passing offense. New England should average at least 30 points per game.
Brady has a Pro Bowl tight end in Gronkowski, a Pro Bowl receiver in
Wes Welker
, a top-five tight end in
Aaron Hernandez
and a much-needed deep threat in
Brandon Lloyd
. The Patriots' passing game should be able to do it all. Brady can go underneath to Welker and Gronkowski or deep to Lloyd and Hernandez. It will be very difficult for opponents to game plan.
"We're not taking anything for granted," Brady said. "We're trying to come out and string practices together."
Reason for pessimism
I'm still not confident in New England's secondary. This was the weakest part of the Patriots last year, and 2012 could be a repeat.
Cornerbacks McCourty,
Kyle Arrington
,
Sterling Moore
and
Ras-I Dowling
all have question marks. The Saints' offense had their way with New England's corners during this week's joint practices. No one among the Patriots' corners made enough plays to really stand out.
Perhaps the biggest problem is New England's corners are not shutdown, man-to-man defenders. That forces New England to play a lot of zone to try to get stops. That leads to a bend-but-don't-break mentality we saw last year.
Expect many opponents to attack New England's cornerbacks until this group proves it can cover and shut down receivers consistently.
OBSERVATION DECK
[+] Enlarge

AP Photo/Robert E. KleinNot many tight ends have the athletic ability to be a punt returner. The Patriots' Aaron Hernandez does.

Speaking of McCourty, he is playing exclusively at corner in training camp. It shows the coaching staff is comfortable that McCourty will bounce back from a shoulder injury and poor play that led to a position change to safety late last season. McCourty is competing hard and trying to get back to his rookie form, when he made the Pro Bowl in 2010.

How athletic is Hernandez? New England is experimenting with its No. 2 tight end at punt return and running back. Hernandez did a good job running the football in the Patriots' playoff win over the Denver Broncos. It was a nice wrinkle added by Belichick. Hernandez is elusive in the open field and has good hands, so returning punts could make sense as another way to get the ball into Hernandez's hands.

I'm not sure why more teams do not have joint practices in training camp. Both the Patriots and Saints gave rave reviews of how well things went this week. It was well organized; both teams got a lot of work done; and there were no injuries. Most importantly, it is a change of pace from hitting your teammates the entire summer. In talking with players, they got a kick out of practicing against an unfamiliar opponent.

The Brady-to-Lloyd combination is still a work in progress. Brady missed Lloyd on several opportunities this week, as the first-time teammates continue to work on their chemistry. Lloyd is the best deep threat Brady has had since Randy Moss. Brady and Moss got on the same page quickly in their first season together. Brady hopes for the same results with Lloyd.

Keep an eye out for undrafted rookie defensive end Justin Francis. I wasn't familiar with the Rutgers product before my training camp visit, but after a few practices, I noticed Francis stood out. Francis has a good motor and athleticism for a defensive end. Francis is a sleeper pick to make New England's 53-man roster, but he must show that he can translate his play on the practice field to the preseason games.

The No. 2 quarterback race between Brian Hoyer and Ryan Mallett favors Hoyer at this stage of camp. Hoyer had a solid week of practice leading into Thursday's preseason opener. Hoyer was more accurate and made some nice throws. Mallett has a lot of physical ability but has a lot to work on. He had trouble with taking some of the velocity off his passes when needed. The preseason games will matter most, but Hoyer has the lead so far.

Linebacker Bobby Carpenter has been a pleasant surprise for New England. The former first-round pick has underachieved at his previous stops in Dallas, Miami and Detroit. But Carpenter has fit in well as a backup linebacker for the Patriots in training camp and is in good shape to make the team. Carpenter even got a little work with the first team this week because of injuries.
September, 21, 2011
9/21/11
1:15
PM ET
Robert Mayer/US PresswireDan Koppen is carted off on opening night.
FOXBOROUGH, Mass. -- The Patriots placed center
Dan Koppen
(leg) and defensive tackle
Myron Pryor
(shoulder) on injured reserve Wednesday and signed cornerback
Phillip Adams
and defensive lineman
Landon Cohen
to take their spots on the 53-man roster.
The 32-year-old Koppen fractured his left ankle late in the first half of New England's season-opening win in Miami. The 25-year-old Pryor, who missed the final seven games of last season due to injury, suffered a shoulder injury in the first half of Sunday's win over the
San Diego Chargers
.
Initial reports suggested Koppen might be able to return later in the season, but with injuries already mounting and
Dan Connolly
appearing steady in Koppen's place in Week 2, the team might not have been able to wait to see if Koppen could get back on the field.
Adams adds depth in a secondary where cornerbacks
Ras-I Dowling
(thigh) and
Kyle Arrington
(head) were both shaken up in Sunday's win over San Diego. Cohen has potential to fill Pryor's shoes as a rusher in sub packages.
September, 13, 2011
9/13/11
5:52
PM ET
Stew Milne/US PresswireWith Dan Koppen sidelined with an ankle injury, the spotlight shifts to Dan Connolly.
Patriots coach Bill Belichick and personnel director Nick Caserio suggested during conference calls with the media Tuesday that their process of evaluating potential additions to the offensive line won't change this week even as the team deals with the likelihood that center
Dan Koppen
will be sidelined for an extended stretch.
Koppen suffered a fracture in his left ankle during Monday night's 38-24 win over the Dolphins at Miami, according to a league source. He was expected to undergo an MRI on Tuesday to determine the full extent of the damage before a timetable for his return can be established.
But it's safe to say the Patriots likely will need to add an interior lineman moving forward.
Whether that comes from within the organization or with the acquisition of a veteran, a la
Brian Waters
, remains to be seen. As for filling Koppen's starting role, Patriots offensive coordinator Bill O'Brien heaped praise on the job
Dan Connolly
did in shuffling into that center role during Monday's Week 1 win over the Dolphins.
"Well, [Koppen is] a guy that's played a lot of football for us at a very important position," O'Brien said. "That's not something that's an easy thing to adjust to, but I do think that Dan Connolly went in there last night and performed pretty darn well for the situation he was put into. I'm confident in what he's been able to do for us."
Connolly, who stepped in last season at right guard when
Stephen Neal
was injured, had been rotating at that spot on Monday night with Waters (an 11-year veteran signed last week to add depth on the interior line). Now Connolly likely will find himself back in the starting lineup in place of Koppen, especially after O'Brien noted the team made no offensive adjustments when Connolly took Koppen's place.
"With [Connolly], we didn't adjust the game plan at all, we did the same things we did during the whole game," O'Brien said. "Like I said before, I thought he came in and did a good job ... the whole line played a very solid football game for us, and he was part of it."
Belichick noted that Caserio and the personnel staff are constantly evaluating the roster against what's available, especially early in the season when there are more bodies on the free-agent heap. The Patriots promoted Thomas Welch from the practice squad Monday for emergency depth (
he was released on Tuesday
, according to a source) with right tackle
Sebastian Vollmer
sidelined with a back injury (rookie
Nate Solder
started in his place).
"It's a continuous evaluation of personnel options," Belichick said. "If you feel there's a way to improve your team, I think you consider it."
Added Caserio: "I would say that today is no different than any other day. We do research throughout the year, whether it's in the spring through training camp or the regular season. Our approach today is no different than any other week. We're going through business as normal."
September, 12, 2011
9/12/11
8:36
PM ET
ESPN ScreenshotPatriots center Dan Koppen is carted off the field late in the first half.
MIAMI GARDENS, Fla. -- Patriots center
Dan Koppen
suffered a left ankle injury late in the first half and was carted off the field.
With the Patriots facing 3rd-and-1 at their own 19, quarterback
Tom Brady
sneaked the ball for short yardage to move the chains. But Koppen got tangled at the line and teammates immediately motioned for the training staff. He was lifted onto a cart and wheeled off the field with New England's medical staff holding his left ankle steady.
The Patriots initially classified his return as questionable, but soon ruled him out.
Dan Connolly
took Koppen's place at center. The Patriots were already thin on offensive linemen with starting right tackle
Sebastian Vollmer
sidelined by a back injury (rookie
Nate Solder
made his pro debut in his place). New England added
Thomas Welch
to the active 53-man roster from its practice squad before the game to add depth along the line.
Earlier in the game, Connolly and newly acquired
Brian Waters
rotated at the right guard position.
December, 8, 2010
12/08/10
1:33
PM ET
FOXBOROUGH, Mass. -- The Patriots held a walkthrough practice on Wednesday afternoon inside the Dana Farber Fieldhouse. Players were not in pads for the slower-paced session.
Not present at the walkthrough was center
Dan Koppen
, who completed Monday night's game and talked to reporters in the locker room after the game. Fox Sports reported on Wednesday that the Patriots worked out veteran center
Jake Grove
this week, who was released in September by the Dolphins.
Wednesday's injury report, which will be released at 4 p.m., will shed more light on any possible injury to Koppen.
Also not present were defensive lineman
Mike Wright
and cornerback
Jonathan Wilhite
, who did not play in Monday night's game. Meanwhile, defensive lineman
Myron Pryor
returned to practice after missing all of last week's practices and Monday night's game.
November, 19, 2009
11/19/09
4:10
PM ET
November, 9, 2009
11/09/09
1:46
PM ET
FOXBOROUGH, Mass. -- Sights and sounds from the Patriots' locker room Monday:
Injured center Dan Koppen walks through: It appears that Koppen, who left Sunday's win over Miami in the second quarter after hurting his knee, avoided a serious injury, as he walked through the locker room Monday without crutches or a noticeable limp. Koppen declined an interview request. Earlier in the day, coach Bill Belichick did not provide an update but said, "He's a pretty fast healer. Hopefully he'll be back out there soon."
Colts talk picking up: Plenty of chatter about the upcoming game against the Colts. Cornerback Leigh Bodden, safety Brandon McGowan and linebacker Adalius Thomas drew media crowds. "It's going to be fun, a lot of excitement," Bodden said. Added McGowan, "It's pretty cool to be playing in a Colts-Patriots game." Both Bodden and McGowan will be playing their first game in the rivalry.
Sammy Morris looks closer to return: Running back Sammy Morris, who injured his knee in the Oct. 18 win over the Titans, looks closer to a return. Morris walked through the locker room en route to the weight room just as reporters were arriving.
November, 9, 2009
11/09/09
10:48
AM ET
FOXBOROUGH -- Bits from Bill Belichick's follow-up press conference Monday at Gillette Stadium:
Dan Koppen's knee injury: Belichick did not provide an update on center Dan Koppen, who injured his knee in the second quarter and did not return. He said the next update would come Wednesday after practice when the team must submit its first participation report (4 p.m.). "He's a pretty fast healer," Belichick said, perhaps hinting that Koppen dodged a bullet. "Hopefully he'll be back out there soon."
Laurence Maroney consistently running hard: Asked if he's seen improvement from Maroney (82 yards, 20 carries, 4.1 avg., 1 TD), Belichick said that Maroney has been consistent from the start of the year. "The bottom line, I think Laurence has run the ball pretty well all year," he said. "When he's had space, he's been able to make yards. When he hasn't, he's run hard and kind of gotten what's there. He's taking care of the ball pretty well."
Wilfork at defensive end: The selflessness of nose tackle Vince Wilfork was noted, as Wilfork had switched from nose tackle to defensive end to match up against the Dolphins' best lineman, left tackle Jake Long. "He's the type of player who will do whatever he can to help the team," Belichick said, noting that Wilfork controls the front, making line calls. Belichick called Wilfork a smart player with good instincts, pointing out a play in which the Dolphins tried to trap him on a Wildcat counter, which the Patriots hadn't practiced. But Wilfork made the play anyway.
Extra points: Belichick pointed out all the defensive changes the Dolphins made, changing personnel regularly and sometimes walking different players up to the line, and seemed pleased with the overall pass protection. ... Belichick noted how all three AFC East games have come down to the wire for the Patriots this season. ... Belichick liked how the kickoff coverage and pass protection responded. ... Concerns remain in the red zone, which Belichick called "an area we need to keep working on".
November, 8, 2009
11/08/09
2:54
PM ET
FOXBOROUGH, Mass. -- New England Patriots coach Bill Belichick answered with a big grin but did not provide details when asked about the severity of the knee injury that knocked starting center Dan Koppen out of Sunday's game in the second quarter.
Belichick, who seldom discusses injuries, seemed amused when a reporter asked if he knew how seriously Koppen was injured.
"I just got off the field after the game. All that stuff, it's 24-48 hours anyway before you really know," Belichick said, smiling. "He's a quick healer. He's pretty tough."
Koppen was replaced by four-year veteran Dan Connolly, a versatile player who had previously seen time at center, guard, tight end and fullback in spot duty.
"Connolly has really done a good job for us," Belichick said. "He missed the first couple games of the year, but he's really been a solid guy who has taken a big jump this year in the offseason, training camp and preseason games. He's probably one of our most improved players, and it seems like every time he has a chance to play he does a good job. I think he's getting close to battling for some playing time."
In addition to Koppen, rookie receiver Brandon Tate left the game in the second quarter with what appeared to be a left leg injury. Tate, who did not return, was in the locker room after the game but declined comment.