New England Patriots:

Donte Stallworth
September, 13, 2013
9/13/13
8:30
PM ET
FOXBOROUGH, Mass. – Where do the
New England Patriots
go from here at wide receiver?
[+] Enlarge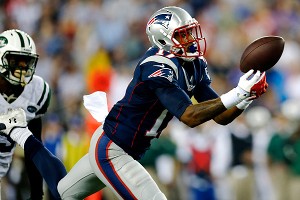 AP Photo/Elise AmendolaAaron Dobson was targeted 10 times Thursday night but finished with only three catches.
That has been a popular question after Thursday night's win over the Jets -- one of the more inept performances for the team's passing game since
Tom Brady
became the starting quarterback in 2001.
Too many drops. Too much miscommunication and too many fundamental breakdowns. Too much frustration for Brady.
So now, many who panned veteran receiver
Brandon Lloyd
during the 2012 season are wondering if a comeback might be possible. Others are asking if
Deion Branch
might be an upgrade. Or
Donte' Stallworth
.
Maybe Bill Belichick ultimately decides that's the way to go. Maybe he saw how uncomfortable Brady looked early on Thursday, considers that
Danny Amendola
is currently sidelined with a groin injury and determines there is value in bringing back a veteran with knowledge of the system, even if the initial intention was to move on from them.
Still, I'd be surprised if he does that at this point.
As ugly as it was on Thursday night, and no one is saying otherwise, the feeling here is that this is no time to abort the team's "re-do" with youthful receivers. Instead, the smarter play is to invest further in youth and realize that almost all of the mistakes made Thursday are correctable – the numerous drops, the failure of
Aaron Dobson
to get his head around at the top of his route and
Kenbrell Thompkins
not getting enough depth on his routes among them.

No one said this would be seamless. We all knew there would be growing pains, even if the ones we've seen the first two games have been a bit more extreme than anticipated. Brady previously said he's had to be more of a teacher this year, which requires more patience because this might be the greatest challenge of his career, breaking in the young guys.
As for the topic that lit up some parts of Boston sports radio on Friday -- whether the Patriots have done enough to surround a once-in-a-lifetime quarterback with potent weapons -- it seems fair to ask the question.
But here's another thought: Perhaps those who are thinking along those lines have lost some perspective of how the Patriots used to win games in their championship days. Those days weren't always filled with offensive fireworks, as former Patriot and current ESPN analyst
Tedy Bruschi
brought up on "NFL Live" Friday.
"Tom Brady is holding them to a standard that they can't maintain, and that's Tom Brady's standard. He expects them to be perfect because at times he rarely makes mistakes," Bruschi said. "He has to lower his standards for these receivers right now. The defense is good and will buy him some time.
"I remember back in 2001, we had a quality defense and we had to pick up our weight a little bit more, pick up the slack, because we had a young quarterback by the name of Tom Brady. We had to wait for him. Now he has to wait for them."
[+] Enlarge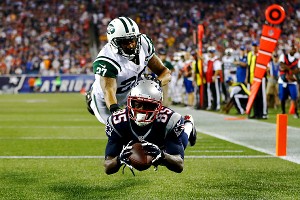 Jared Wickerham/Getty ImagesKenbrell Thompkins couldn't hold on to a pass in the end zone just before halftime.
Belichick does, too.
Part of grooming and cultivating young talent is enduring some early struggles. It's a different sport, but I often wonder how the course of Dustin Pedroia's Boston Red Sox career might be different had manager Terry Francona not stuck with him in 2007 when Pedroia was batting .172 with no home runs and two RBIs after a month in his first full season in the big leagues. It's laughable to think back now and remember that some were calling for Pedroia to be sent down to Pawtucket in favor of Alex Cora.
There is a fine line here, and as Patriots captain
Logan Mankins
said Thursday night, "This is the NFL, you can't be too patient for too long. You have to produce. You can't wait forever."
Two games in five days isn't forever.
If the 2-0 Patriots are in the same spot two weeks from now, a quarter of the way into the season, maybe then it'll be time to start thinking about reinforcements at wide receiver.
December, 11, 2012
12/11/12
1:09
AM ET
FOXBOROUGH, Mass. -- It may have been a night when the
New England Patriots
showed a national audience that they are still the class of the AFC, but for one player, the game meant just a little bit more than that.
The past five years for Patriots wide receiver
Donte' Stallworth
, who first arrived in New England in 2007, have been far from ordinary. Just over a year after losing Super Bowl XLII and leaving the Patriots through free agency, Stallworth pleaded guilty to DUI manslaughter, spent 24 days in jail and served a full-season suspension imposed by the NFL.
[+] Enlarge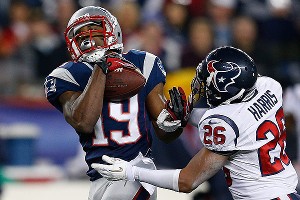 Jim Rogash/Getty ImagesIt didn't take long for Donte Stallworth to get comfortable as he snared a 63-yard touchdown catch.
Returning to the NFL in 2010, Stallworth's journey took him back to New England this past spring, but he was unable to make it past final cuts following the preseason. He spent the first 13 weeks of this season out of football before the Patriots re-signed him last Monday.
"It was really good just being back around the guys, with the fellas," Stallworth said after Monday night's game. "It's been a good week. I wanted to come in and make sure that I was prepared. I've been studying hard all week."
More than five years after catching his last touchdown pass from quarterback
Tom Brady
, the 32-year-old Stallworth hauled in a 63-yard touchdown reception in the Patriots' 42-17 rout of the
Houston Texans
on Monday night.
The third-quarter play was one that Stallworth said the Patriots had worked on in the spring, taking advantage of the Texans lacking a deep safety on the play.
"It looked like they were Cover-0 or Cover-1. We got to the line so fast and snapped the ball," Stallworth said. "It was just an opportunity where they were kind of flat-footed."
It wasn't the only big play for the Patriots in their win, with fellow receiver
Brandon Lloyd
scoring on a 37-yard strike from Brady in the first quarter.
"I thought our play-action game helped us," coach Bill Belichick said. "We hit a couple deep balls against them and that's always good when you can get a lot of yards in one play, you don't have to drive it 12, 14 plays."
Stallworth made an impressive over-the-shoulder catch, but also had to win a footrace to the end zone, which he just barely did.
"(The coverage) gave me an opportunity just to run by the guy and Tommy (Brady) made a great throw, put it up for me to catch it, and that's what I did," he said.
December, 5, 2012
12/05/12
1:30
PM ET
FOXBOROUGH, Mass. -- Veteran wide receiver
Donte' Stallworth
has been re-added to the fold in Foxborough, and will wear the same number 19 that he was issued when he signed with the Patriots this offseason (and wore until he was released at the conclusion of training camp).
With
Julian Edelman
(foot) now on injured reserve, Stallworth looks primed to absorb a third wide receiver role, and could even be used on special teams as a return player, something we saw him do at times during the preseason.
For now, Stallworth's role remains a work in progress, according to head coach Bill Belichick.
"I don't know," he said on Wednesday. "We'll see how it goes this week, we'll see what his role ends up being this week. We haven't seen him for three months, so we'll put him out there in practice, go through some things and see how it goes. We'll do what we think is best for the team this week."
Meanwhile, quarterback
Tom Brady
is happy to see the familiar face back in the locker room.
"Donte' has an opportunity to come back and it's always nice to see a familiar face and some people that have played within our system and kind of understand the expectations for that position," he told the media during his weekly press conference at Gillette Stadium. "Donte' is really a professional, so it was great to see him."
In 2007, Stallworth's first stint with the Patriots, he finished with 46 catches for 697 yards and three scores.
December, 4, 2012
12/04/12
5:05
PM ET
Patriots fourth-year wide receiver
Julian Edelman
(foot) has been placed on injured reserve, the team announced on Tuesday.
Edelman left the team's Week 13 win over the
Miami Dolphins
in the fourth quarter, and was spotted after the game on crutches and in a walking boot.
He had carved a role as the team's third wide receiver, and was playing his best football of the season prior to the injury. Edelman scored a special-teams touchdown in consecutive games in November, including a Week 12 punt return for a touchdown against the Colts.
To beef up the wide-receiving corps, the team officially signed wide receiver
Donte' Stallworth
to the active roster. This marks the third time Stallworth has been signed by the Patriots and second time in 2012, as he was released at the conclusion of training camp after being added this past offseason in free agency.
In addition, the Patriots announced that veteran offensive lineman
Mitch Petrus
has been released, and that the team added offensive linemen Tommie Draheim and Colin Miller to the practice squad.
Petrus played in two games for the Patriots as a reserve lineman after being signed on Nov. 13.
Draheim was originally signed by the
Green Bay Packers
as an undrafted free agent in 2012 out of San Diego State. He was released following training camp and later spent time as a member of the
Seattle Seahawks
practice squad.
Miller, a fellow undrafted free agent, originally entered the league in 2011 with the
Pittsburgh Steelers
out of Central Michigan. He was most recently a member of the Raiders practice squad.
November, 28, 2012
11/28/12
8:30
PM ET
The Patriots brought in a familiar face for a workout on Wednesday: free agent wide receiver Donte' Stallworth, according to a league source. Stallworth was signed by the team this offseason but released near the conclusion of training camp.

Stallworth, a 10-year NFL veteran who spent the 2007 season with the Patriots, also has worked out with the Bills since his release. He showed strong speed during training camp, but the team ultimately decided to keep just five receivers on its opening day roster.

The Patriots are carrying just four receivers on their active roster, and all four were limited during Wednesday's practice due to injuries. The team signed 2012 seventh-round pick Jeremy Ebert to its practice squad on Wednesday and could be looking for additional bodies in the event that any of the injuries to their active-roster wideouts linger.

Mike Giardi of Comcast Sports Net previously reported the Stallworth workout.