New England Patriots:

Drew Bledsoe
January, 19, 2015
Jan 19
3:10
PM ET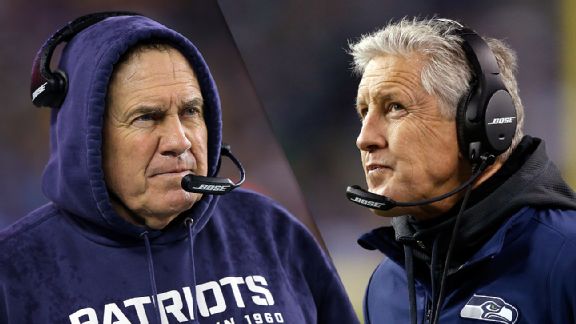 Getty ImagesDrew Bledsoe says Bill Belichick and Pete Carroll create similar cultures around their teams.
Former Patriots quarterback Drew Bledsoe played for both head coaches involved in Super Bowl XLIX -- Pete Carroll (1997-99) and Bill Belichick (2000-01) -- while in New England, and insists they are more alike than it might appear on the facade.
"There are a lot more similarities between the two guys than there are differences," Bledsoe told ESPN Radio's Colin Cowherd on Monday. "The differences are purely stylistic, but the substance is very, very similar.
"Pete, you watch his press conferences and hear the way he talks and I think people could have the impression that he's this happy-go-lucky, kind of crazy guy. But Pete's got an edge to him. I played for him, I've seen it.
"The thing that the two coaches do is they create a culture of intense competition on the field in practice. They both make sure their players know there's no free lunch. There are guys looking for your position at all times.
"You look at Belichick, I was out there for the Dolphins game here recently. I think he's enjoying the ride a little bit more now than maybe he has in the past. I was on the sideline, he came running over with a big smile and gave me a hug. We talked for a minute, I think he's enjoying this ride quite a bit."
September, 18, 2011
9/18/11
8:30
AM ET
FOXBOROUGH, Mass. -- A handful of leftovers after
Drew Bledsoe
and Jon Morris were
inducted into the Patriots Hall of Fame
Saturday night at Patriot Place:
Courtesy of New England PatriotsDrew Bledsoe (center) and (from left) Tedy Bruschi, Troy Brown, Todd Rucci, and Scott Zolak.
* After three action-packed days of activities in conjunction with the Hall of Fame induction (and a halftime ceremony looming during the Patriots' home-opener on Sunday), Bledsoe said the most rewarding part of the experience has been bringing his four children -- Stuart, John, Henry, and Healy -- back to the region. Bledsoe noted earlier in the week that he lives a "normal" life now back in Washington, where his only gridiron activity is coaching multiple flag football teams. This was a chance to show his children what a rock star Daddy used to be in the region. Only trouble, he got upstaged -- again -- by a certain quarterback.
"[The children] were so young when I was here, they don't remember all this stuff, so it's been really cool to take them up to Fenway for a game and we brought them down here to tour the stadium," explained Bledsoe. "Unfortunately, I used to be a big deal. Now, to them, I'm just the guy that can introduce them to
Tom Brady
. But they thought that was pretty cool, and Tommy was awfully gracious."
* There might never be a member of the Hall as appreciative for the gesture as Morris, who after several years of falling short in the fan vote, was voted in by a senior committee. He might have been the warm-up act to Bledsoe, but he certainly won over the overflow crowd with an entertaining speech that mixed gridiron anecdotes with genuine appreciation for those that helped him during his career -- particularly his wife, Gail -- and some fantastic humor. Looking out at the crowd as he started his speech, Morris deadpanned, "If we had gotten a crowd this size in my day, we'd have played a doubleheader for you."
September, 17, 2011
9/17/11
7:55
PM ET
FOXBOROUGH, Mass. -- Bridging together what owner Robert Kraft suggested was three generations of New England football, the Patriots inducted center Jon Morris and quarterback
Drew Bledsoe
into the team's Hall of Fame Saturday evening before an overflow crowd at Patriot Place.
Morris, the Patriots' first-ever Pro Bowler, represented an era that laid the foundation for football in the region, while Kraft suggested in his introduction of Bledsoe that the quarterback might have been the key to keeping the team in New England two decades ago. With some of the franchise's most influential players in attendance, the pair entered the pristine Hall at a stadium where the team has raised three championship banners over the last 10 years.
Courtesy of New England PatriotsDrew Bledsoe and Robert Kraft at Saturday's Patriots Hall of Fame induction.
"Thinking back to a dirt parking lot and a racetrack, we feel pretty good about this," Kraft said following the evening ceremony. "This is terrific. To go from Jon to Drew -- see the cross-generation -- and see the fans turn out ... It's really super."
Bledsoe described growing up in New England, arriving as a fresh-faced, single 21-year-old with no idea about the expectations of playing for a Boston sports team, then departing as a married 30-year-old with three kids and a Super Bowl ring. He singled out many of his former teammates -- drawing raucous applause when names like
Troy Brown
and
Tedy Bruschi
, on hand for the ceremony, and brought on stage to discuss Bledsoe's career afterwards -- were mentioned. Bledsoe said that he takes great pride in helping turn the franchise around, but made sure to stress that he was simply a part of that process.
Bledsoe even playfully acknowledged passing the torch to
Tom Brady
during the 2002 Super Bowl season.
"I had a a horrible backup, that No. 12 guy," quipped Bledsoe, talking about Brady after thanking many of his former teammates. "He didn't really understand the backup part."
After the event, Bledsoe noted that, despite the humor, his biggest fear was breaking down emotionally during a speech in which he heaped praise on his family, including his wife, Maura, and their four kids -- Stuart, John, Henry, and Healy. Before he even began his speech, he clipped on a "MHK" pin dedicated to Kraft's wife, Myra, and talked about what she meant to him during his early days in the league.
"It was a little overwhelming how many people showed up, that was really cool," Bledsoe said after the ceremony. "My big concern was whether I could make it through without getting too emotional. I knew if I looked over at my mother, I'd break down, so I didn't look at Mom."
While the crowd was filled with Bledsoe replica jerseys of all colors and in various states of tatter, Morris basked in being the somewhat obscure opening act. Maybe no inductee into the Patriots Hall of Fame has been as genuinely honored to be there as Morris, who was passed over numerous times in the fan's vote, but was selected this year by a senior committee.
Morris mixed plenty of humor into a eloquent speech that culminated with him heaping praise on his wife, Gail. From the opening line, in which he quipped about Kraft's hug with Colts offensive lineman
Jeff Saturday
that has become the iconic image of the end of the lockout, "I never thought I'd see an NFL owner go around hugging centers," to punctuating the speech by noting, "This is the most exciting day of my life," Morris couldn't have been happier to be part of the experience.
After the event he noted, "It's the crowning achievement for me in football."
[Hop
HERE
to read the full story.]
September, 16, 2011
9/16/11
7:05
PM ET
Quarterback Drew Bledsoe and center Jon Morris will be enshrined into the Patriots Hall of Fame Saturday night in Patriot Place Plaza. The event is free and fans are encouraged to attend. ESPN Boston's Scott Barboza's looks back at Bledsoe's legacy in New England...
September, 15, 2011
9/15/11
4:04
PM ET
FOXBOROUGH, Mass. -- Truth be told,
Drew Bledsoe
didn't even know he still held the Patriots' single-game record for passing yards until
Tom Brady
's 517-yard effort Monday night in Miami wrestled it away. That didn't stop him from feigning some mock incredulousness at his former teammate.
"I thought it was extremely selfish of him; I'm coming out here for the Hall of Fame and you can't leave my name in the records book in
one
place," joked Bledsoe. "No, actually, I was quite surprised, honestly, to hear that I still had one of those records, to be perfectly honest. But Tom's never been a guy that worries or thinks about numbers other than wins and losses; It's truly not a big deal to him."
Bledsoe is back in Foxborough this week as both he and center Jon Morris will be enshrined in the Patriots Hall of Fame on Saturday. Visiting the Hall on Thursday as part of a speaker series, Bledsoe talked about the "normal" life he lives back in Oregon where he makes wine and coaches his son's flag football teams; his part in turning the franchise around; and his favorite memories of New England.
Chris Forsberg/ESPN BostonFormer quarterback Drew Bledsoe tries on his red Patriots Hall of Fame jacket Thursday.
He also gushed about Brady, the man that essentially ended his reign as the Patriots' franchise quarterback.
"We exchange text messages from time to time," said Bledsoe. "I'm so proud of that guy and what he's done -- and the way that he's done it. He's not only been one of the very best players in the league now for a long time, but he's continued to handle himself with class, on and off the field. I'm really just proud of what he's done and the way he's led this team."
November, 25, 2009
11/25/09
12:07
PM ET
FOXBOROUGH, Mass. -- During his weekly press conference, Patriots quarterback
Tom Brady
touched on what owner Robert Kraft told players at a Wednesday morning meeting, and also mentioned how he keeps in touch with
Drew Bledsoe
.
On Kraft's message, Brady said: "He is a very reflective person and he wanted to just convey a message to the team. He really respects what we do, and guys last night at the Morgan Memorial, giving away turkeys. It's a great organization and the way guys handle themselves in the community.
Randy [Moss
] went home and gave away a lot of food to a lot of people in his hometown. [Kraft] just wanted to express his thanks to the guys."
As for Bledsoe, the topic came up when Brady was reminded that he needs just 163 passing yards to pass Bledsoe for the all-time mark in franchise history. Brady said Bledsoe has "always been a great friend of mine" and noted that "he was one of the guys who taught me how to play this game."
"We e-mail, talk from time to time," he said. "We've always had a great relationship. He's worked extremely hard over the course of his career and I think he's really enjoying what he's doing now."