New England Patriots:

Gary Guyton
October, 4, 2011
10/04/11
7:30
AM ET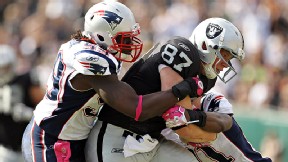 Ezra Shaw/Getty ImagesPatriots linebacker Gary Guyton helps out on a tackle Sunday in Oakland.
Filling in for
Jerod Mayo
will be no easy task, but
Gary Guyton
has solid qualifications -- and past experience -- for the job:
GUYTON KEY WITH LOSS OF MAYO
For Guyton, it's a chance to earn back some of the playing time that's eroded since 2009, when he started all 16 games and played a whopping 874 snaps (82.6 percent of New England's total defensive snaps, according to analytical stats site Pro Football Focus).

That number dipped to 675 snaps last year (57.6 percent of total snaps), with rookie Brandon Spikes earning some of Guyton's early-down action as a run-stopper.

Now it's likely that Guyton will not only step in for Mayo, but could also assume an every-down role that might land him responsibilities as the team's chief play-caller.

"Gary basically replaced Jerod in our regular defense and then we had some other guys in sub defenses," Patriots coach Bill Belichick said Monday when asked about how the Patriots divided Mayo's snaps on Sunday. "So we had some different packages in there, it wasn't a Ferris wheel of guys. There was actually a plan there, believe it or not."
Hop
HERE
to read the full story.
July, 23, 2010
7/23/10
11:30
AM ET
The Patriots' first public training camp practice is Thursday, July 29, and with 82 players on the roster, there is plenty to analyze. ESPNBoston.com has picked what it feels are the top eight aspects to monitor. As part of the "Countdown to Camp", they will be counted down with one each day leading up to the first practice.
No. 7: Young linebackers and their development
Why it's a top issue
: One of the Patriots' main weaknesses in 2009 was a lack of a pass rush: The team blitzed more than 40 percent of the time, ranking them seventh in the NFL, which was a sign that there wasn't enough pressure out of the standard four-man rush. The fourth rusher most often comes from the outside linebacker spot. Furthermore, the heart of the defense is the inside linebacker spot and former undrafted free agent Gary Guyton played 84 percent of the snaps there in 2009, the second highest total of any defender.
Why it might change:
From a personnel standpoint, the selection of second-round draft choices Jermaine Cunningham (outside linebacker) and Brandon Spikes (inside linebacker), the return to health of 2009 third-round draft choice Tyrone McKenzie (inside linebacker), and, to a lesser degree, 2008 third-round draft choice Shawn Crable (third round).
Historical perspective
: The inside linebackers are the youngest in Bill Belichick's 11-year tenure. No longer can Belichick count on veterans like Tedy Bruschi, Roman Phifer, Ted Johnson and Junior Seau, which highlights the importance of development. Cunningham is the highest outside linebacker (53rd overall) the Patriots have drafted in Belichick's tenure.
Xs and Os thought
: When the Patriots set their initial 53-man roster in 2009, they kept 3 inside linebackers (Jerod Mayo, Guyton, Eric Alexander) and 5 outside linebackers (Tully Banta-Cain, Derrick Burgess, Rob Ninkovich, Adalius Thomas, Pierre Woods). Special teams contributions are often a factor in that decision-making process.
Looking to the future
: How realistic is it to expect immediate pass-rush contributions from Cunningham at outside linebacker?
Pat Kirwan of NFL.com
examined the topic earlier this year, pointing out that teams relying on rookie pass-rushers should be careful in doing so.
Fun fact
: Mayo lives five minutes from Gillette Stadium. "I feel I can get so much better as a football player living near work," he explained.
Camp Countdown:
No. 8 --
Tight ends & the red zone
December, 9, 2009
12/09/09
1:28
PM ET
FOXBOROUGH, Mass. -- Quarterback
Tom Brady
was one of eight players not present for the media-access portion of Wednesday's practice. The four players reportedly sent home for being late for Wednesday's 8 a.m. meeting --
Randy Moss
,
Adalius Thomas
,
Derrick Burgess
and
Gary Guyton
-- were also among those absent.
Brady's wife delivered the couple's son Tuesday. Brady was present at Gillette Stadium on Wednesday morning, holding his regularly scheduled press conference.
The other players not spotted at the start of practice were running back
Fred Taylor
, defensive lineman
Myron Pryor
and defensive lineman
Ty Warren
.
Media members were present for stretching and agility drills before departing. With snow and rain in the region, the practice was held inside the Dana-Farber Fieldhouse.
December, 3, 2009
12/03/09
12:08
PM ET
FOXBOROUGH, Mass., -- How does a University of Georgia car flag make its way on the back of a chair in the Patriots' locker room?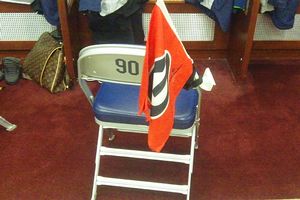 Chris Forsberg/ESPNBoston.com A Georgia flag was flying in the Patriots' locker room.
That was the question posed to tight end Benjamin Watson, a Georgia alum, on Thursday.
It turns out Watson was on the winning end of a friendly game with Georgia Tech alums Gary Guyton (linebacker) and Darryl Richard (practice squad defensive lineman) after Georgia beat Georgia Tech, 30-24, on Nov. 28.
"Georgia pulled the win out, so they had to wear some Georgia apparel," Watson said. "A little bragging rights for the week."
November, 23, 2009
11/23/09
3:36
PM ET
A look at snaps played by Patriots defenders in the team's 31-14 win over the Jets (as charted in the press box, small margin for error):

ILB Gary Guyton – 51 of 51 snaps
ILB Jerod Mayo – 51 of 51
S Brandon Meriweather – 51 of 51
CB Jonathan Wilhite – 51 of 51
CB Leigh Bodden – 50 of 51
S Brandon McGowan – 50 of 51
OLB/DE Adalius Thomas – 40 of 51
NT Vince Wilfork – 39 of 51
DE Mike Wright – 37 of 51
DE Ty Warren -- 34 of 52
OLB Tully Banta-Cain – 26 of 51
OLB Pierre Woods – 19 of 51
DE Derrick Burgess – 17 of 51
DT Myron Pryor – 17 of 51
CB Darius Butler – 12 of 51
S James Sanders – 9 of 51
S Pat Chung – 5 of 51
DT Ron Brace – 1 of 51
S Randy Moss – 1 of 51

(Two false start penalties included in snaps)

ANALYSIS: The base alignment was a 3-4, with the Patriots using a 3-2-6 dime (6 defensive backs) in most passing situations and occasionally a 4-2-5 nickel (5 defensive backs). … Butler and Chung were the fifth and sixth defensive backs in the sub package. … When Chung left the game with a head injury, he was replaced by Sanders. … Mayo and Guyton played every snap at inside linebacker, keeping Junior Seau on the sidelines for the third game in a row. … Including penalties, the 51 snaps were the third fewest the defense has played in a game this season (46, vs. Falcons, 49 vs. Titans). … Banta-Cain made the most of his playing time, finishing with five tackles and two sacks in just 26 snaps. … After seeing action solely on early downs, Thomas is playing again in sub packages as he's had more of a chance to rush the passer in recent weeks. … Woods played on defense for the first time since Oct. 18 against Tennessee, starting at outside linebacker and working in a rotation. … This was the second time this season that Moss has been called upon as a safety in a Hail Mary situation.
November, 19, 2009
11/19/09
4:10
PM ET