New England Patriots:

James Sanders
August, 25, 2011
8/25/11
4:00
PM ET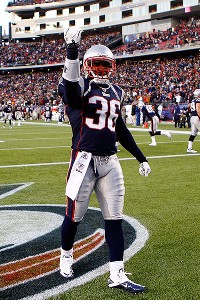 Jim Rogash/Getty ImagesJames Sanders is back on the practice field for New England.
FOXBOROUGH, Mass. -- The Patriots have had some moving parts at safety over the last two weeks, most recently adopting a three-man rotation with
Patrick Chung
,
Brandon Meriweather
and
Sergio Brown
.
Now seven-year veteran
James Sanders
enters the mix.
Sanders, who missed the first two preseason games, returned to practice earlier this week from an undisclosed injury. On Thursday, he spoke with reporters as a group for the first time since his return.
As the most experienced safety on the roster, his presence is viewed as a key because of his knowledge of the defense and ability to settle things down on the back end of the field. Communication among safeties has been a bit up and down through training camp.
Sanders talked Thursday about making up for lost time.
"I've missed a lot, but the thing that's helped me, I've been in the system for a while. Mentally, I know a lot of the defense and plays. I'm just trying to go out there and get my football legs underneath me," he said. "I still have a ways to go.
"I'm just looking forward to the opportunity to be out there with the guys, to play a game. I haven't had the opportunity to play, so I'm excited, ready to go."
November, 21, 2010
11/21/10
9:59
PM ET
In the video above, ESPNBoston.com's Mike Reiss breaks down what
James Sanders
was thinking on his game-saving interception at the 6 yard line with 31 seconds to go. After initially planning to double team tight end
Jacob Tamme
, Sanders instead peeled off and helped on coverage on
Pierre Garcon
. The rest, as they say, is history.
April, 27, 2010
4/27/10
11:49
AM ET
FOXBOROUGH, Mass. -- How will the safety position shake out for the Patriots in 2010?
That was the question posed to six-year veteran
James Sanders
this morning at Gillette Stadium after he finished a workout in the team's offseason program.
The personnel is deep, with
Brandon Meriweather
(2007 first-round draft choice), Patrick Chung (2009 second-round draft choice), Sanders and
Brandon McGowan
(2009 veteran free agent signing) headlining the depth chart.
"It's going to be interesting," said Sanders, who called the safety spot the deepest the Patriots have had since he arrived as a fourth-round draft choice in 2005.
"One thing about the four of us is that we all get along well. We're all good friends. But at the same time, it's competition. We're all competing for spots on this team. No one is going to be bitter. Whoever is going to be on the field, it's ultimately going to be the coaches' decision, but we're going to support whoever it is and help them as much as possible to help the team be successful."
In a gesture that reflects that friendly competition, Sanders was a guest of Meriweather at this year's Pro Bowl, with Meriweather flying him to South Florida on a first-class ticket.
Sanders, who had signed a three-year contract extension last season, had an up and down year for the Patriots in 2009 in terms of playing time.
He opened the year as a starter, was supplanted by Brandon McGowan, then earned his starting role back and was credited as a steadying presence down the season's homestretch.
Asked if he was surprised that he is still with the club based on the way things unfolded, Sanders said: "To be honest, I don't know what to think. I'm here and being here, I'm going to give it all I got each and every day, and prepare myself as much as possible for the upcoming year. I'm just going to try to go out and compete to the best of my abilities and try to win a spot on the team.
"Obviously, I'm not the type of guy who wants to sit on the sideline and watch the team. But at the same time, I'm not going to do anything to hurt the team. The only thing I can do now is continue to work as hard as possible and hopefully get that opportunity to go back on the field and produce like I know I can produce."
January, 10, 2010
1/10/10
7:45
PM ET
Passing along a few of the more interesting quotes from the Patriots' postgame locker room.
Offensive lineman Stephen Neal on whether he will play next season:
"I'm not sure. I'm not sure how my body is going to feel. I'm not sure if I'll keep playing, keep getting in them car accidents each week. I don't know. We'll have to find out, talk to the family, see what options are available."
Running back Fred Taylor on the season ending:
"You have to give them all the credit. They came out and played an outstanding game. But I guess we picked the wrong day because there is no tomorrow as far as games are concerned. We just have to come in tomorrow, say our goodbyes until the offseason program cranks back up and see what we can do going forward."
Defensive back James Sanders on a 'frustrating game':
"All we did was we kept fighting. They scored maybe 21 points in five minutes. Once you get in a situation like that, it's tough to recover and all we could do was keep fighting. It seemed like the harder we fought, the bigger hole we dug ourselves. It was a very frustrating game for us today. Of course we were disappointed, but we weren't lacking confidence. We were just telling ourselves keep fighting one play at a time, and until the end we thought we still had a chance to get back in the game. It just didn't happen like that."
Receiver Julian Edelman on Tom Brady's message to the team during the game:
"Tom Brady told us not to quit. That's what we tried not to do and we didn't do that."
November, 29, 2009
11/29/09
9:03
AM ET
Quick-hit thoughts around the NFL and from inside Patriots headquarters at Gillette Stadium:
1. Writing on
Drew Brees
this week reminded me of a decision that has helped shape the direction of the Saints and Dolphins. In 2006, the Dolphins signed
Daunte Culpepper
over Brees in free agency.
2. Glad to see Josh McDaniels
set the record straight on two recent incidents
that have drawn more attention than what should be the focus: The terrific job he's done with the 7-4 Broncos through 11 games.
3. Teams that have the fewest turnovers in the NFL through 10 games: Packers (8), Patriots (10), Vikings (10).
4. In the NFL stats, there should be a notation next to Wes Welker's league-high 79 receptions that reflects he missed two games, which adds more impressive context to the production.
5. The
Arizona Cardinals
(7-3) shouldn't have problems winning the weak NFC West, but the next two weeks -- at Tennessee and home versus Minnesota -- should provide a good gauge as to whether they can make another Super Bowl run.
6. Jeff Fisher's Titans have turned it around from 0-6 to 4-6. If they came back to Gillette Stadium this weekend to face the Patriots, safe to say it wouldn't be the 59-0 result from Oct. 18, which shows that sometimes
when
you play a team is most important.
7. One Patriots stat that jumps off the page: They own a 34:26-25:34 time of possession advantage over their opponents this season, best in the NFL.
8. His playing time dwindling with the emergence of
Brandon McGowan
and
Pat Chung
, Patriots safety
James Sanders
has remained the consummate professional behind the scenes.
9. Didn't think the Cowboys would be 8-3 at this point. The next three games are huge: at the Giants, versus the Chargers, at the Saints.
10.
Brett Favre
has proven me wrong. He's completing nearly 70 percent of his passes, has 21 touchdowns and just three interceptions. No wonder Brad Childress was so willing to pick him up from the airport.
November, 23, 2009
11/23/09
3:36
PM ET
A look at snaps played by Patriots defenders in the team's 31-14 win over the Jets (as charted in the press box, small margin for error):

ILB Gary Guyton – 51 of 51 snaps
ILB Jerod Mayo – 51 of 51
S Brandon Meriweather – 51 of 51
CB Jonathan Wilhite – 51 of 51
CB Leigh Bodden – 50 of 51
S Brandon McGowan – 50 of 51
OLB/DE Adalius Thomas – 40 of 51
NT Vince Wilfork – 39 of 51
DE Mike Wright – 37 of 51
DE Ty Warren -- 34 of 52
OLB Tully Banta-Cain – 26 of 51
OLB Pierre Woods – 19 of 51
DE Derrick Burgess – 17 of 51
DT Myron Pryor – 17 of 51
CB Darius Butler – 12 of 51
S James Sanders – 9 of 51
S Pat Chung – 5 of 51
DT Ron Brace – 1 of 51
S Randy Moss – 1 of 51

(Two false start penalties included in snaps)

ANALYSIS: The base alignment was a 3-4, with the Patriots using a 3-2-6 dime (6 defensive backs) in most passing situations and occasionally a 4-2-5 nickel (5 defensive backs). … Butler and Chung were the fifth and sixth defensive backs in the sub package. … When Chung left the game with a head injury, he was replaced by Sanders. … Mayo and Guyton played every snap at inside linebacker, keeping Junior Seau on the sidelines for the third game in a row. … Including penalties, the 51 snaps were the third fewest the defense has played in a game this season (46, vs. Falcons, 49 vs. Titans). … Banta-Cain made the most of his playing time, finishing with five tackles and two sacks in just 26 snaps. … After seeing action solely on early downs, Thomas is playing again in sub packages as he's had more of a chance to rush the passer in recent weeks. … Woods played on defense for the first time since Oct. 18 against Tennessee, starting at outside linebacker and working in a rotation. … This was the second time this season that Moss has been called upon as a safety in a Hail Mary situation.
October, 10, 2009
10/10/09
7:56
PM ET
Safety James Sanders was the lone Patriot downgraded to out on the team's Saturday injury report.
That means linebacker Jerod Mayo is, at the least, a game-time decision. That is good news for Mayo, who has been out since spraining his MCL in the season opener.
At safety, Sanders has been part of a three-man rotation with Brandon Meriweather and Brandon McGowan, with McGowan starting.
Sanders' absence could create more opportunities for rookie Pat Chung.