New England Patriots:

James White
June, 22, 2014
6/22/14
5:00
AM ET
Quick-hit thoughts around the NFL and with the Patriots:
Brady
1. Of the things that quarterback
Tom Brady
said last week, his comments about the importance of being ready on the first day of training camp were among the most notable from this viewpoint. "When you get behind in training camp, it's hard to make up. I think things are moving so fast at that point, and improvements are so dramatic every day with installation, and correcting all the errors, you just have to go through it," he said. This is particularly the case for younger players and that's why I thought seeing defensive tackle
Dominique Easley
on the field for the final day of mandatory minicamp, his first appearance in spring camps, was a good sign for the team. The first-round draft choice tore both ACLs over two college seasons (2011 and 2013), but the Patriots are counting on him to provide an interior pass rush and it looks like he has a good chance to be ready to go the first day of training camp.
1b. Being on the field for the first day of training camp will also be crucial for Patriots seventh-round pick
Jeremy Gallon
in his hopes to earn a roster spot at a crowded receiver position. The slot receiver with top traits and production from the University of Michigan was limited for most of spring camps, missing out on potentially valuable time in team drills with quarterback Tom Brady. At this point, Gallon is far behind second-year receivers
Kenbrell Thompkins
and
Josh Boyce
, and that gap would only increase if he's not on the field for the start of training camp.
2. With so much attention focused on Patriots top picks Dominique Easley and quarterback
Jimmy Garoppolo
(second round), I think running back
James White
(fourth round, Wisconsin, 130th overall) has slipped under the radar a bit. Everything I've heard is that the 5-foot-9, 204-pound White has made a strong first impression, both from a skills and approach standpoint, and even though it's early I don't think it's a stretch to say he will contribute in 2014. Bill Belichick has compared his style of play to fourth-year Patriots running back
Shane Vereen
.
3. First-year Texans coach Bill O'Brien ended the final day of minicamp with something straight out of the Bill Belichick coaching playbook, with offensive guard
Ben Jones
attempting to catch a punt
. Players cheered wildly when Jones did, and that earned them all a start to "summer vacation." Patriots followers have seen this for years in training camp -- from offensive tackle
Matt Light
to defensive lineman
Vince Wilfork
catching punts, with Wilfork having to do with a football already in his grasp. Belichick has cited it as a good team-building exercise, bringing everyone together from the punt returners to the offensive linemen.
McCourty
4. I thought Patriots safety
Devin McCourty
's comments on Bill Belichick during a late-week radio interview with the NBC Sports Network were among the most flattering I've heard for the coach. After talking about how Belichick's sense of humor produces team-wide laughter in closed-door meetings, McCourty added, "When you get him off the media and doing all that stuff, and he gets more into his comfort zone where it's him up there teaching football and teaching guys life lessons, you get to see a different side of him. I think that's the joy of playing for him -- you learn things football-wise and he does a good job for each one of us of just trying to give us some lessons that will help you in life."
4b. We don't get to see that side of Belichick often, if at all. For example, on the final day of mandatory minicamp Thursday, Belichick seemed less than enthused to answer questions from reporters and said he'd take just three. It was a page out of the
Randy Moss
playbook, as Moss was known for starting his interviews with, "Y'all got three." True to form, an edgy Belichick cut things off when a reporter tried to sneak a fourth question into the mix.
5. The Dolphins are 2-1 at home in September under third-year head coach Joe Philbin, a 23-20 overtime loss to the Jets in 2012 the only blemish. They beat the Raiders handily that year (35-13) and came back to top the Falcons last year, 27-23. Part of the Dolphins' competitive advantage playing at home in early September is being able to practice in the heat and humidity, and along those lines, Philbin passed along last week that the club had 99 percent participation in its voluntary offseason program this year, noting he's never been a part of something like that in his 11 prior years in the NFL. We bring this up because the Patriots visit the Dolphins in the season opener Sept. 7, and unlike the 2011 Patriots-Dolphins opener on Monday Night Football when the late-night start helped cool things down a bit, this year's game kicks off at 1 p.m. I think it's a tougher opener for the Patriots than maybe has been advertised.
6. The Patriots' 13 spring practices (10 organized team activities, three minicamp sessions) weren't just important for players, but for the team's coaches to fine-tune some things as well. "I haven't called a play in five months. I have to rebuild all that myself. We all do," Bill Belichick said last week. That explains why we saw offensive coordinator Josh McDaniels and defensive coordinator Matt Patricia wearing headsets during several practices as they were calling in plays as if it was a game-type situation. So Belichick wasn't just coaching the players, he was also coaching the coaches in a sense.
7. One of the areas I'm most interested to watch in Patriots training camp is the competition along the interior offensive line, where I'd say the only roster lock is at left guard with
Logan Mankins
. I watched incumbent center
Ryan Wendell
and right guard
Dan Connolly
get praised by first-year o-line coach Dave DeGuglielmo for their textbook footwork and teamwork in one drill Thursday, but they face competition from a deep group of young linemen including rookies
Bryan Stork
(fourth round) and
Jon Halapio
(sixth round), as well as second-year players
Josh Kline
,
Braxston Cave
and
Chris Barker
. Stork and Halapio are likely locks to make the roster based on their draft status, and one could make a case for Kline to be included in that mix as well. The competition should be intense as the Patriots, unlike last year at this time when they were a bit thinner up front and combed the waiver wire in late August for help, have a nice influx of young talent that could pressure established veterans for roster spots.
8. I'm also interested in learning how the role of "assistant to the coaching staff" Michael Lombardi evolves over the course of the season. Lombardi, the former Browns general manager, watched each Patriots offseason practice and was often seen speaking with Bill Belichick before and after practice as they walked on and off the field. Early in Thursday's minicamp practice, I watched as Lombardi intently kept his eyes on offensive line drills, chatting with Logan Mankins (who wasn't participating) as he did so. Belichick has long had a right-hand man in football research director Ernie Adams. Maybe that makes Lombardi, who was also in the team's smaller-than-the-norm draft room, his left-hand man.
9. While this is the post-minicamp time of year for coaches to take vacation, all 2014 draft picks across the NFL will be busy this week at the NFL's Rookie Symposium, a four-day orientation held in Aurora, Ohio. The symposium begins today and the idea is to introduce them to life in the NFL, with the following four core teaching principles: NFL history, total wellness, professional experience, and workplace conduct. Rookies can expect to hear presentations, videos, workshops on player health and safety, decision-making, mental health, substance abuse, workplace respect and maintaining positive relationships. Former Patriots vice president of player personnel Scott Pioli, now serving as an assistant general manager with the Falcons, is one of the presenters. Kudos to the NFL for putting it on.
10. The Pro Football Writers Association handed out its annual awards last week and here were the results:
George Halas Award
(NFL player, coach or staff member who overcomes the most adversity to succeed): Ravens senior advisor to player development
O.J. Brigance
.
Wilson
Good Guy Award
(NFL player for his qualities and professional style): Seahawks quarterback
Russell Wilson
Dick McCann Award
(reporter who has made a long and distinguished contribution through coverage): Ed Bouchette, Pittsburgh Post-Gazette
Jack Horrigan Award
(league or club official for qualities and professional style): Seahawks coach Pete Carroll
Pete Rozelle Award
(NFL club public relations staff consistently striving for excellence in media dealings): Broncos.
I was thrilled for Bouchette, the longtime Steelers beat reporter who spent his early years in Lynn, Massachusetts, and has covered the Steelers for the Post-Gazette since 1985. As Patriots rookie quarterback Jimmy Garoppolo said last week, the goal is to be consistently good, not occasionally great. Ed has obviously been just that or he wouldn't have been on the beat for 30 years.
May, 23, 2014
5/23/14
5:00
AM ET
A few leftovers from Bill Belichick's interview on Sirius XM NFL Radio's "Movin' the Chains" program with Jim Miller and Pat Kirwan:
1. Confident in Easley's recovery.
While some view first-round pick
Dominique Easley
as a risky selection because he's torn both ACLs over a span of 22 months, Belichick spoke with assurance about his recovery.
"We're confident that he'll be able to return from the injury like almost everybody who's had an ACL has, so I don't think it's the type of injury that isn't pretty common in our league," he said. "He's working hard to rehab and hopefully he'll be OK. I think when he is, we feel like we got good value for that pick."
Belichick also touched on how the Patriots targeted Easley with the No. 29 selection.
"When you're picking 29th, you kind of don't know who's going to be there until you get into the low to mid-20s. We tried to stick to the value on our board. Dominique, when we've seen him play, he's been a productive player for Florida since his freshman year. He can be a very disruptive player. An impact player. His grade on our board reflected that."
2. Stork 'our type of guy' at center
. Belichick explained what the team liked in center
Bryan Stork
of Florida State (105th overall).
"We just felt that on film and personally, he's smart, a hard-working guy. Our type of guy. He really loves to compete and he's tough," he said. "I think he's productive in the running game and productive in the passing game. Obviously, he played in a great program and played against good competition. I think he's a solid player who will really be competitive for us."
3. White's smarts stand out
. In describing what drew the team to running back
James White
of Wisconsin in the fourth round (130th overall), Belichick pointed out that he averaged 6 yards per carry, "which is really hard to do in any league, especially in the Big Ten." Belichick also called him a versatile player who can run inside and outside, before touching on his skills in the passing game.
"He's very smart. I think he'll help us in pass protection and in pass routes," he said. "It's just another guy for the quarterback to throw to as well as a guy who can create some space and plays in the running game."
4. Patriots will bring up replay proposal again.
While owners didn't vote for Belichick's proposal to allow coaches to challenge anything in a game (with a limit of 2 challenges), Belichick said he'd probably bring up the proposal again in the future, maybe with some slight modifications in presentation. He spoke about how current instant replay rules are so detailed it is often confusing for many. "I'd like to just clean it up," he said.
5. Encouraged by offensive coaching staff
. After being asked about retired offensive line coach Dante Scarnecchia, and praising his contributions to both him and the franchise, Belichick spun things forward and said he likes what he's seen from his offensive coaching staff (Dave DeGuglielmo is the new O-line coach, with Brian Daboll at tight end). "I feel like we have a good staff offensively, those guys have worked well in the offseason. We're all excited to get on the field Tuesday and start the OTA process. I have a lot of confidence and enjoy the guys we're working with."
May, 22, 2014
5/22/14
2:30
PM ET
May, 20, 2014
5/20/14
12:20
PM ET
FOXBOROUGH, Mass. -- One of the things the
New England Patriots
have proved over the years is that smaller players can measure up in a big way. Receiver
Wes Welker
and running backs
Kevin Faulk
and
Danny Woodhead
are a few who immediately come to mind.
[+] Enlarge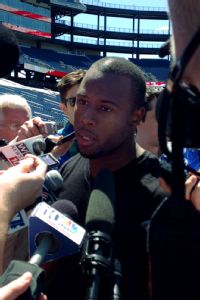 Mike Reiss/ESPN
With that, we introduce you to fourth-round draft choice
James White
, the 5-foot-9½, 204-pound running back from Wisconsin.
"As most small guys, you use it as a chip on your shoulder," White said Tuesday during a break in the team's ongoing offseason work. "You let it push you every single day."
White arrived in town a couple of days ago; he was delayed because his class at Wisconsin didn't graduate until Saturday. NFL rules prohibit recently drafted players from joining their NFL teams until their class has graduated, and now that White is here, Tuesday marked his first on-site appearance with the local media.
One topic that came up was the responsibility he feels to carry on a tradition of successful Wisconsin running backs.
"A lot of great running backs went through the Wisconsin system, and it's an honor to be in the same sentence as guys like
Ron Dayne
," White said before rattling off other Badgers backs such as Anthony Davis,
Michael Bennett
,
Montee Ball
and
Brian Calhoun
. "They're just guys that work hard and will do anything to help the team win. You're going to get their best effort every day."
A few other sound bites from White:
Delay not a major factor
. White said the delay in joining the Patriots wasn't too bad and he's since been buried in his playbook.
Pass protection considered a strength
. White was asked about his reputation of being strong in pass protection, and he explained that he was Wisconsin's primary running back to fill that role. "Attack the defender, move your feet and use your hands," White said when asked the keys for any running back in pass protection.
Return visit to Gillette
. White took a pre-draft visit to the facility, so this is his second time at Gillette Stadium. "I took a visit here, got to meet the coaching staff, kind of learned about their place compared to Wisconsin. So I had a great visit getting to know the coaches," he said. "It's a great place and I know it's going to be a great atmosphere on game day. I'm just going to come out here, compete, work hard and hopefully make the team."
Ball security in focus.
White was asked about his ball security, which is considered a strength. He summed it up this way: "Ball security is job security."
May, 20, 2014
5/20/14
11:00
AM ET
Below is a breakdown of the contracts signed by
New England Patriots
draft choices
James White
,
Cameron Fleming
,
Zach Moore
and
Jeremy Gallon
:
RB James White (fourth round, 130th)
Terms:
4 years, $2,617,088 (guaranteed value of $397,088)
Signing bonus:
$397,088
2014 base salary:
$420,000
2015 base salary:
$510,000
2016 base salary:
$600,000
2017 base salary:
$690,000
OT Cameron Fleming (fourth round, 140th)
Terms:
4 years, $2,520,584 (guaranteed value of $300,584)
Signing bonus:
$300,584
2014 base salary:
$420,000
2015 base salary:
$510,000
2016 base salary:
$600,000
2017 base salary:
$690,000
DE Zach Moore (sixth round, 198th)
Terms:
4 years, $2,322,200 (guaranteed value of $102,200)
Signing bonus:
$102,200
2014 base salary:
$420,000
2015 base salary:
$510,000
2016 base salary:
$600,000
2017 base salary:
$690,000
WR Jeremy Gallon (seventh round, 244th)
Terms:
4 years, $2,267,592 (guaranteed value of $47,592)
Signing bonus:
$47,592
2014 base salary:
$420,000
2015 base salary:
$510,000
2016 base salary:
$600,000
2017 base salary:
$690,000
QUICK-HIT THOUGHTS:
As can be seen above, each of these rookies will have identical base salaries during their four contracted seasons. The guarantees stem strictly from signing bonuses right now. The Patriots have just two rookies unsigned at this juncture: defensive tackle
Dominique Easley
and quarterback
Jimmy Garoppolo
.
May, 16, 2014
5/16/14
5:49
PM ET
The
New England Patriots
have signed two more draft picks, inking deals with fourth-round running back
James White
and seventh-round wide receiver
Jeremy Gallon
.
White, who played at Wisconsin, is projected to compete for snaps right away in a Patriots backfield that also includes
Shane Vereen
,
Stevan Ridley
and
Brandon Bolden
.
Gallon, meanwhile, was a standout at Michigan during his college career. He is expected to compete for a spot amongst a crowded wide receiver group.
Both players signed four-year deals, as is standard per the collective bargaining agreement.
The Patriots have now signed four of nine picks.
May, 10, 2014
5/10/14
1:55
PM ET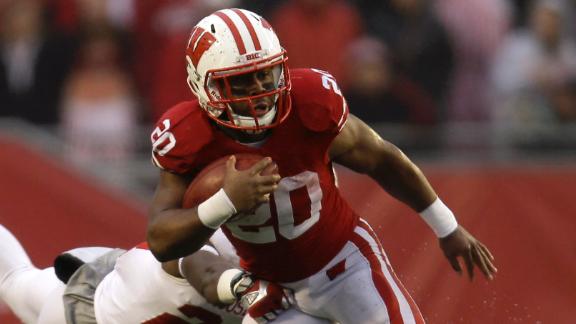 FOXBOROUGH, Mass. --
The pick:
James White
, RB, Wisconsin (130th)
My take:
The Patriots lost
LeGarrette Blount
in free agency and figured to come out of this draft with at least one running back. A key consideration is that the top three running backs on the depth chart --
Stevan Ridley
,
Shane Vereen
and
Brandon Bolden
-- all enter the final year of their contracts. White is 5-foot-9 1/8 and 204 pounds and was one of the most sure-handed prospects at the position. He is short for the position, but as we've seen with
Kevin Faulk
,
Danny Woodhead
and others in New England, that's not always a bad thing. His running style ("violent cuts") looks like a nice fit for the Patriots' zone-blocking scheme.
Added value on special teams:
White has 39 career kickoff returns on his resume and could be a consideration in the role in New England.
Running back depth chart:
Vereen, Ridley, Bolden, White,
Jonas Gray
.
What's next:
The Patriots have the final pick of the fourth round, 140th overall. It's a compensatory pick that can't be traded.