New England Patriots:

Joe Andruzzi
September, 1, 2011
9/01/11
9:48
PM ET
Twitter.com/RealPatriotsFormer Patriots offensive lineman Joe Andruzzi with his brothers, father, and Robert Kraft.
FOXBOROUGH, Mass. -- While admitting it was a bittersweet moment given the approaching 10-year anniversary of September 11, former Patriots offensive lineman Joe Andruzzi and his family returned to the field at Gillette Stadium Thursday night in a tribute commemorating the decade that has past since the terrorist attacks.
Flanked by brothers Billy Jr., Jimmy, and Marc, all New York City firefighters, and his father, Bill, a former New York City police officer, Andruzzi participated in the game's opening coin flip. The quintet, all sporting Andruzzi's No. 63 jersey, did the same on Sept. 23, 2001, marking the return of football after the 9/11 attacks and it's an image that many relate to the start of the healing process for a nation rattled by the events 12 days earlier.
"[Thursday's tribute was] an honor for my entire family, for what they stand for, and for what they represent," said Andruzzi, who appeared in 72 games for the Patriots over five seasons and retired in 2006 after two years with the Cleveland Browns. "What happened 10 years ago was a tragedy in this country. We don't ever want that to happen again and, 10 years now, we don't want to forget."
Andruzzi and his family drew national attention in the days following 9/11. The image of Andruzzi, too choked up to talk as he addressed the media in the aftermath of the attacks, is still vivid a decade later and he admits it remains hard to talk about the frightening hours that day waiting to hear if his brothers and father were safe.
"I have that image in my head, that was played on TV, where I couldn't speak... I broke down a little bit," said Andruzzi. "But, thankfully enough, my brothers are still in my life. I'm fortunate, but there are others that weren't so fortunate. And that's why we are here today, to remember them."
August, 31, 2011
8/31/11
8:32
PM ET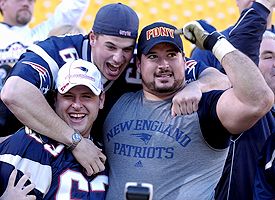 AP Photo/Amy SancettaJoe Andruzzi, right, celebrates with family in the stands after the Patriots' AFC title win over the Steelers in 2002.
With the New England Patriots on the road in Miami to open the regular season next month, the team will commemorate the 10-year anniversary of September 11 with a pregame ceremony before Thursday's exhibition finale against the New York Giants at Gillette Stadium.
From the Patriots:
As part of the remembrance, the Patriots will host former guard Joe Andruzzi, his three New York City firefighter brothers and his father, a former New York City police officer. It was an iconic moment in franchise history, when the four Andruzzi boys and their father were recognized on the field at Foxboro Stadium on Sept. 23, 2001, just 12 days after the events of 9/11 as the NFL returned to play and the country began its long healing process. The Andruzzi family will serve as honorary game captains and participate in the coin toss.

Also as part of the tribute, members of all five branches of the military will participate in pregame ceremonies, as well as local police, state police and local firefighters. The Army, Navy, Air Force, Marines and Coast Guard will present five separate color guards for the national anthem while dozens of police officers and firefighters line the field from end zone to end zone. Approximately 200 armed service members, police and firefighters will take part in the ceremonies Thursday night.
Hop
HERE
to read more on Andruzzi and his 9/11 memories from a 2006 article on ESPN.com.