New England Patriots:

Joe Flacco
December, 20, 2013
12/20/13
10:00
AM ET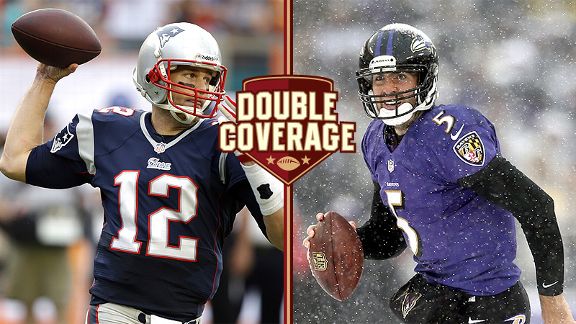 AP PhotoSunday's matchup between the Patriots and Ravens has playoff implications for both teams.
Whenever the
New England Patriots
and the
Baltimore Ravens
meet, there is always something at stake. Sunday's clash at Baltimore's M&T Bank Stadium, a rematch of the past two AFC Championship Games, is no different.
The Patriots (10-4), winners of three of their past four games, can clinch their fifth straight AFC East title with a win or a tie. The Ravens (8-6) can move one step closer to earning their sixth straight playoff berth with a victory, or they could watch their postseason hopes take a severe hit with a loss.
New England is the NFL's best team in December, winning 17 of its past 19 games in that month. The Ravens, however, are one of the best teams at home, posting a 39-8 record (.830) at M&T Bank Stadium since 2008.
ESPN.com NFL reporters Mike Reiss (Patriots) and Jamison Hensley (Ravens) break down the showdown between these AFC powers:
Jamison Hensley
: Mike, everyone knows the impact the loss of
Rob Gronkowski
has had on the Patriots' red zone offense. How will
Tom Brady
and the Patriots turn it around inside the 20-yard line?
Mike Reiss
: Jamison, they were 1-for-4 in the red zone against the Dolphins, and now they go up against one of the NFL's best red zone defenses. That's not a great formula. One way to look at it is that if rookie receiver
Josh Boyce
holds on to one makeable catch in the end zone on third down in the first quarter, and the Patriots cap off the comeback like they had in prior weeks with
Danny Amendola
making a tough catch in the end zone on the final drive, we wouldn't even be talking about this. Instead, we'd be talking about their late-game magic. Then again, if tight end
Michael Hoomanawanui
didn't make a remarkable one-handed grab in the end zone for a 13-yard score, they might have been 0-for-4. So it's just a reminder that the margin for error is thin, which is also what the red zone is all about.
As for the Ravens, how are they doing it? To go from possibly out of the playoffs to a chance to win the AFC North with two wins to close out the season? Give us a feel for how this has happened.
Hensley
: The Ravens have been riding a strong defense, kicker
Justin Tucker
and
Joe Flacco
's late-game heroics to get back into the playoff race. To be honest, I had written off the Ravens after they lost at Cleveland in the beginning of November. But this team has fought back to win four straight and are playing with more confidence than at any point this season. There has been a lot of criticism that Flacco hasn't lived up to his $120.6 million contract. While he'll never put up the elite quarterback numbers, he finds ways to win. His four game-winning drives in the fourth quarter or overtime this season is second only to Brady. And Flacco has led a game-winning drive the past two games. He is banged up right now after taking a hit to his knee in Detroit on "Monday Night Football."
This could lead the Ravens to run the ball more with
Ray Rice
. He has struggled all season but has shown some signs of being more productive over the past two games. The Ravens might want to try to attack the NFL's 31st-ranked run defense as well. What's been the biggest problem for the Patriots in stopping the run this year?
Reiss
: A strong run defense is usually a staple of a Bill Belichick-coached team, but this year is different. A significant factor has been season-ending injuries to starting defensive tackles
Vince Wilfork
(Sept. 29, Achilles) and
Tommy Kelly
(Oct. 6, knee) and every-down linebacker
Jerod Mayo
(Oct. 13, pectoral muscle). That's a direct hit at the heart of a run defense, right up the middle, sort of like a baseball team losing its top pitcher, catcher and shortstop. Since that point, they've had to scheme around things; this staff has been coaching its tails off and the players have been doing their best while sometimes being asked to do things outside of their comfort zone. The other part of it is situational. For example, against
Peyton Manning
and the Broncos on Nov. 24, they played a sub defense the entire game and Denver was content to run against it and put up big numbers. That was a case where the Patriots gave up something (run defense) to gain something (better pass defense), which is what they've had to do this year because of the key losses.
Let's get back to Tucker a little bit, because I think it's a fascinating story. Patriots fans obviously remember
Billy Cundiff
from the AFC Championship in the 2011 season. Tell us more about Tucker and what he's done to become such an integral part of the team in replacing Cundiff the last two years. His postgame interview on "Monday Night Football" was one of the classics.
Hensley
: Tucker has been the Ravens' Most Valuable Player. When you're saying a kicker is the MVP, you're usually not talking about a team contending for the playoffs. And the Ravens wouldn't have the hottest kicker in the NFL right now if not for that memorable -- or is that forgettable? -- miss by Cundiff in the AFC Championship Game. That led the Ravens to have a open competition at training camp the following year. Tucker clearly won the battle and hasn't tailed off since. What separates Tucker from other young kickers is his ability to convert in the clutch. He has six game-winning kicks in 30 career games. His confidence borders on being cocky, and he isn't afraid to show off swagger. Not too many kickers dance after making field goals. But that confidence has been big for the Ravens. Before that 61-yarder on "Monday Night Football," he went up to coach John Harbaugh and said: "I got this."
Speaking of confidence, what's the state of mind for these Patriots compared to past Pats teams at this time of the year? The Patriots are still fighting for a top seed, but there seems to be a lot of doubt nationally because of the close calls with Houston and Cleveland in addition to the loss at Miami.
Reiss
: This Patriots team isn't short on confidence, but as Brady said, it's a club that doesn't have a lot of margin for error. They can beat anyone in the NFL, but also lose to any team in the NFL. To sum it up, this is a resilient team that has been hit hard by injuries to key players, and they fight and claw for 60 minutes, so if a team is going to beat them it's going to have to be a knockout. With two weeks remaining in the season, the Patriots are still in play for a first-round bye but also could face a Week 17 scenario where they need to win to even qualify for the playoffs. That's reflective of how this season has unfolded for them -- a lot of close calls that could have gone either way.
With the amount of turnover on defense, how have the Ravens been able to sustain on that side of the ball?
Hensley
: The defense has been very good this season, ranking in the top 10 in yards allowed (ninth), points given up (seventh), third downs (third) and red zone (fourth). Without
Ray Lewis
and
Ed Reed
, this is a different defense but not an inexperienced one.
Daryl Smith
has played better than Lewis did last season, making an impact against the pass as well as the run. Outside linebacker
Elvis Dumervil
has been an upgrade over
Paul Kruger
. Cornerback
Jimmy Smith
has gone from a first-round disappointment to the team's best defensive back. If this defense wants to be great, it has to find a way to finish better. Over the past three games, the Ravens have allowed four touchdowns in the final three minutes. That challenge is heightened when going against Brady, one of the NFL's best comeback kings.
March, 3, 2013
3/03/13
5:00
AM ET
Quick-hit thoughts around the NFL and with the Patriots:
1.
After reading this well-done Indianapolis Star piece
on the Colts' challenging transition from
Peyton Manning
to
Andrew Luck
, I wondered what it will be like here in New England whenever the transition is made from
Tom Brady
to his replacement. Those situations can be tricky (as evidenced in Indianapolis), and I think that's part of the reason there was a feeling of pride around Gillette Stadium about last week's news of Brady's contract extension through 2017. By the sides working together, the final chapter is set up and a more tangible end point created, which, in theory, should help all involved prepare in advance for that transition.
[+] Enlarge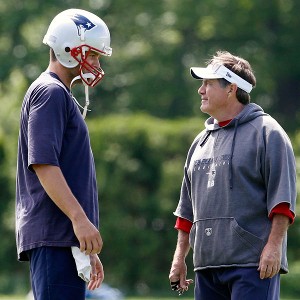 David Butler II/US PresswireTom Brady and Bill Belichick can look forward to quite a few more spring practices together.
2. If Brady is with the Patriots through at least 2017, the feeling here is that
Bill Belichick
will be as well. Retirement can wait.
3. Been thinking a lot about the possibility of a
Ryan Mallett
trade, and to this point, my viewpoint has been that it would be hard for an opposing general manager to give up valuable chips based on Mallett's limited work over his first two seasons in the NFL. There just isn't any definitive tape to say, "This is a quarterback we can decisively build around." But say, a team like the Browns decides it is ultimately interested -- and we know how much first-year vice president of player personnel
Michael Lombardi
lauded Mallett when he was coming out in the 2011 draft -- a case could be made for shipping a late-round 2013 pick and conditional 2014 early-to-mid-round selection to New England for Mallett. I could see the Patriots doing that, and in turn, signing
Matt Cassel
once he's released by the Chiefs. Meanwhile, when you think of the type of offense that first-year Browns coordinator
Norv Turner
runs, Mallett's skill set -- powerful arm, good downfield throwing -- could be a nice fit. This is a thought to file away, perhaps on draft day.
4. The first round of the draft annually produces the highest percentage of starters, but it was notable that four of the first five players to receive the franchise tag this offseason were not first-round picks -- Bills safety
Jairus Byrd
(second round, Oregon), Bengals defensive end
Michael Johnson
(third round, Georgia Tech), Bears defensive tackle
Henry Melton
(fourth round, Texas) and Colts punter
Pat McAfee
(seventh round, West Virginia). As for the Bengals, Johnson and defensive tackle
Geno Atkins
(fourth round, Georgia, 2010) reflect how the club has made some impressive midround picks in recent years.
5. Patriots reserve guard
Donald Thomas
is hitting free agency at the right time. The market is considered thin at guard with Buffalo's
Andy Levitre
and San Diego's
Louis Vasquez
the top players and Thomas among those in the next tier. The 27-year-old Thomas is coming off a solid season (48 percent of the offensive snaps as the club's top reserve guard), and in reviving his career over the past two years in New England, he has avoided injuries that affected some of his early development. Thomas never received a big payday after entering the league as a sixth-round draft choice of the Dolphins in 2008 out of UConn, but he's in position to cash in now.
[+] Enlarge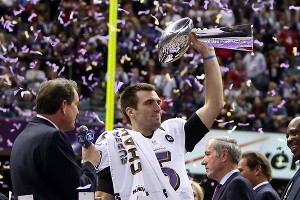 AP Photo/Ben LiebenbergTom Brady wasn't the only Super Bowl MVP QB to sign a long-term extension this week.
6. Speaking of good timing, no one had it better than Ravens quarterback
Joe Flacco
. I am assuming the difference in contract numbers between what the Ravens were proposing at this time last year and what the deal ended up being was quite wide. Good for Flacco, and also good for Connecticut-based agent
Joe Linta
, who is a bit different from many others in his profession in that he prides himself on being a scout as much as a contract numbers-cruncher. Linta liked what he saw from Flacco when watching him at Delaware, landed him as a client and the rest is history. And even though he's representing Flacco, it hasn't seemed to have changed his approach one bit. When I caught up with Linta at the NFL combine recently, he was raving about having just arrived from a recruiting trip to Southern Illinois where he was touting a sleeper prospect who hadn't been invited to the combine.
7. The Ravens struck it rich with Flacco out of Delaware, and now the only center on their roster is Delaware's
Gino Gradkowski
. So when considering who will fill the void created by
Matt Birk's
retirement, start there. Gradkowski, the brother of six-year veteran quarterback
Bruce Gradkowski
, was a 2012 fourth-round draft choice of the Ravens. A Fighting Blue Hens center/quarterback tandem on the Super Bowl defending champs? There is something unique about that.
8a. With former Boston College offensive tackle
Gosder Cherilus
scheduled for unrestricted free agency, the Lions protected themselves by re-signing top reserve
Corey Hilliard
to a two-year contract extension this past week. Cherilus, the team's first-round draft choice in 2008, had probably his best season in 2012, putting himself in position to potentially receive an offer that the tight-to-the-salary-cap Lions might not be able to match. As for Hilliard, you're a die-hard Patriots draftnik if you remember that he actually got his start in New England as a sixth-round draft choice in 2007. The former Oklahoma State product never played for the Patriots, and after spending 2007 and 2008 with the Colts, found a more permanent home in Detroit (2009-present). The Lions like his athleticism and view him as a swing tackle. Of the nine players the Patriots drafted in 2007, only safety
Brandon Meriweather
and Hilliard are still in the NFL.
8b. Did You Know: The Lions haven't drafted a cornerback in the first or second round since 1998. That was the year they took
Terry Fair
with a first-round pick. For a team in need of secondary help, maybe the streak will be snapped this year if Alabama cornerback
Dee Milliner
is available at No. 5. Lions coach
Jim Schwartz
needs immediate impact, plug-and-play prospects, and Milliner appears to be one of them at a position of need the Lions haven't addressed early in the draft for the past 14 years.
9. Thoroughly enjoyed listening to
San Francisco 49ers
chief operating officer
Paraag Marathe
at the MIT Sloan Sports Analytics Conference over the past two days. One point he made that resonated here was on technology in the NFL, when he pointed out that coaches aren't allowed to have a calculator or any computer devices in the coaches' booth, which apparently is to preserve competitive advantage. "They still have to write on a pad with pencil," Marathe said, before opining that the rules don't seem to fit the times based on technological advancements. Marathe said the 49ers are building to be ready for when those rules might change.
10.
As noted on Feb. 3
, the feeling here was that receiver
Brandon Lloyd's
return to the Patriots in 2013 wasn't a slam dunk, mostly because of economics. That viewpoint hasn't changed. As for any behind-the-scenes/locker-room issues, I believe they would be a small part, if any at all, in the Patriots' decision-making. Lloyd is wired a bit differently, and there was some turbulence at times, but I've seen and heard of a lot worse in the locker room over the past 12 years. My feeling is that if Lloyd was making the veteran minimum in 2013, he'd be a roster lock.
January, 19, 2013
1/19/13
5:46
PM ET
ESPN analyst and former Patriots linebacker Tedy Bruschi has been all over ESPNBoston.com week discussing Sunday's AFC Championship Game (
Bruschi's Breakdown
...
Patriots Podcast
...
Bruschi On Tap
), and we're going to leave you with one last dose of Tedy: an interview with ESPN Radio's SVP and Rusillo show Friday in which he talks about what fires up Tom Brady the most and why he respects Joe Flacco.
"Is there any quarterback better than Joe Flacco that doesn't have a world championship?," asks Tedy, who elaborates on why he feels that way. Do you agree with him?
Listen to the podcast HERE.
January, 17, 2013
1/17/13
10:35
AM ET
In a pair of stories on ESPNBoston.com, we examine the
impact that Aqib Talib has had
on the Patriots' defense and look at
why Joe Flacco and Tom Brady aren't as different than you'd think
.
* Mike Reiss:
Talib's positive impact in New England, which comes after he wore out his welcome in Tampa Bay following a string of off-field missteps, is drawing attention as the Patriots prepare for Sunday's AFC Championship Game against a Baltimore Ravens team known for, among other things, its potent deep passing game.
The Ravens, led by strong-armed quarterback Joe Flacco and speedy receiver Torrey Smith, thrive off the big play. Talib's job is to limit them, and his presence since first suiting up Nov. 18 against the Indianapolis Colts has been a big reason for the Patriots' success in doing so.
Since Talib's first game with the Patriots, only the Tennessee Titans allowed fewer 30-yard pass plays than New England, according to ESPN Stats & Information.
* Field Yates:
Brady has more playoff wins as a starter than any other quarterback in NFL history, while Flacco made history of his own this postseason by becoming the first quarterback to start and win a playoff game in each of his first five seasons.
Their styles might be different, but since Flacco entered the league in 2008, their postseason results are comparable.
Flacco actually holds an edge on Brady in wins (5-3), while Brady has appeared in a Super Bowl during that stretch, a career milestone Flacco has not yet reached.
Their teams have faced off five times total -- Brady's teams have bested Flacco's on three of those occasions (although they've split two postseason matchups) -- but the Ravens signal-caller has stood toe to toe, throwing more touchdowns than Brady (9-5) and fewer interceptions (4-7).
January, 16, 2013
1/16/13
12:50
PM ET
FOXBOROUGH, Mass. –
Joe Flacco
isn't viewed by many as a top-tier NFL quarterback, but don't tell that to Patriots defensive lineman
Vince Wilfork
.
[+] Enlarge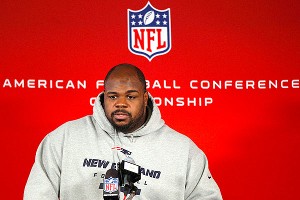 AP Photo/Stephan Savoia
"He's a great quarterback, I don't care what nobody says about him. He seems to always have a good game against us," Wilfork said Tuesday of Flacco, who has a 2-3 career record against the Patriots, having completed 108 of 167 passes for 1,271 yards, 9 touchdowns and four interceptions.
What impresses Wilfork the most is how unflappable Flacco can be in the face of pressure.
"One thing he does is stay poised, no matter how bad things get or how good things are," he said. "He's a tough quarterback. He's a competitor and it shows. He's putting his team in some good situations, not turning the ball over much [and] when they ask him to make the plays, he makes them.
"He is a very, very tough -- physically and mentally -- football player. No matter how bad it gets, he seems to block everything out and plays football. It showed last week against Denver. Big arm. Throughout the course of the game, it wasn't perfect, but he made the throw and they made the catch for him. It says a lot about that football team. He's definitely one of the tougher quarterbacks in this league. He has a big heart and he plays to win."
In the Sept. 23 game in which the Patriots lost to the Ravens 31-30, Flacco was 28 of 39 for 382 yards (third most of his career), with three touchdowns and one interception.
January, 8, 2010
1/08/10
7:50
AM ET


AccuScore predicts that Baltimore quarterback Joe Flacco will play a determining role in whether Baltimore stands a chance against New England on Sunday.

Jenny Dell breaks it down in the video clip above:

If Flacco can throw for at least one touchdown and no more than one interception while getting an average of 4.5 yards per carry from the running game, the Ravens are a 56 percent favorite.

But if Flacco is sacked more than three times and turns the ball over two or more times, the Patriots are 77 percent favorites.

January, 6, 2010
1/06/10
11:49
AM ET
FOXBOROUGH, Mass. -- Three nuggets from Bill Belichick's near 23-minute chat with an overflow media crowd at Gillette Stadium Wednesday:
Roster moves
: The Patriots
signed rookie wide receiver Nick Moore
to their practice squad (he
Tweeted
the news Tuesday night, along with the fact that he'd
wear jersey No. 17
), but Belichick indicated the formal announcement of a roster move won't come until later today. "As soon as we get it all straightened out, we'll have it for you," said Belichick. It would seem the easiest move might include moving wide receiver Wes Welker to season-ending injured reserve, with a current practice squad player elevating to the active roster.
Flacco and playoff experience
: Quarterback Joe Flacco led the the Ravens to the AFC championship game last season as a rookie, but Belichick was asked Wednesday if playoff experience could be a factor when Baltimore visits New England Sunday in a wild card matchup. "It didn't in 2001," Belichick noted, a nod to Tom Brady leading the Patriots to a Super Bowl despite limited game experience to that point.
Praise for Burgess
: Belichick heaped praise on the play of outside linebacker Derrick Burgess, who seems to be playing some of his finest football since being chastised for arriving late to a team practice last month. Burgess registered two sacks over the first 13 weeks of the season, but has logged three in the past four weeks, and totaled 18 of his 35 tackles during that span. "He's definitely what we needed as an edge player," Belichick said when asked if Burgess had met expectations since New England traded a pair of draft picks to Oakland for him. "He's done a good job for us. He's different than [outside linebacker] Tully [Banta-Cain], but both Tully and Derrick have given us very good play on our perimeter defense."