New England Patriots:

Jonathan Fanene
March, 14, 2013
3/14/13
3:09
PM ET
The Patriots have won an appeal that entitles them to the right to challenge the $2.5 million signing bonus paid in 2012 to defensive lineman
Jonathan Fanene
, which can be fully recovered if they win a separate appeal, according to a league source.
Ian Rapoport of NFL.com and NFL Network was the first to report the news.
In essence, the Patriots have cleared one hurdle in an attempt to get back the $2.5 million paid up front to Fanene when he signed a three-year free-agent deal last offseason. Fanene was released during training camp under the recently instituted "failure to disclose a physical condition" designation and sat out the entire 2012 regular season.
Rapoport alleged that
Fanene lied during a physical
before signing his deal in failing to disclose the need to regularly use painkilling medications to play.
Now, the Patriots have the right to a separate appeal, at which point a ruling will be made on whether they can get the $2.5 million back. It is unclear how the $2.5 million would be applied back to the team if they win the appeal, and whether it would turn into additional cap space.
We'll keep our eyes on this one going forward.
November, 1, 2012
11/01/12
7:30
AM ET
Former Patriots defensive lineman
Jonathan Fanene
, who was released prior to the season under the failure to report a physical condition clause, worked out for the
Miami Dolphins
on Wednesday, a league source confirmed.
The workout comes on the heels of a recent workout with the Titans, as was reported by ESPN NFL Insider Adam Schefter.
Fanene signed a lucrative three-year deal with the Patriots as a free agent this past offseason, but a knee issue sidelined him for much of training camp. He was ultimately released under the new clause (instituted prior to this season), and questions have arisen as to whether or not the team would attempt to retrieve Fanene's signing bonus.
The total value of Fanene's bonus was $3.85 million, which, if recovered, would be re-credited to the team's salary cap. Of that $3.85 million, $1.35 million was deferred until March 31, 2013, which would mean the team would be looking at $2.5 million if it attempts to retrieve the bonus that has already been paid out.
Because the failure to report a physical condition is a new rule this season, there is no precedent in terms of a team retrieving money from the player. Contract situations of this nature can grow complicated, and it's possible that the book is not yet closed between Fanene and the team.
May, 1, 2012
5/01/12
3:00
PM ET
By
Field Yates & Mike Rodak
| ESPNBoston.com
FOXBOROUGH, Mass. – Long before he was making his living sacking opposing quarterbacks as an NFL player, New England Patriots defensive end Jonathan Fanene was a 225-pound high school quarterback and wide receiver in his native America Samoa.
Few can question that the 30-year-old Fanene made the right choice to ultimately switch to the other side of the football, but his versatility dating back to his teenage years remains a key to his success as a pro.
[+] Enlarge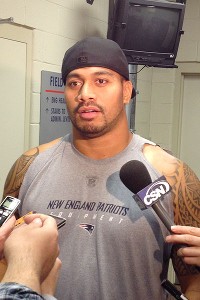 Field Yates for ESPN.comPatriots DE takes pride in "being an example to the kids back home" in his native America Samoa.
Fanene talked about his willingness to play wherever the team wants him to, and also addressed other topics during a question-and-answer session with local media at Gillette Stadium on Tuesday afternoon.
One thing that's clear about Fanene is his pride for his native land of Samoa, a small island that has a prolific history of NFL players. He offered his take on why that is the case.
"Because they want it more." Fanene proclaimed. "Plus (people think that since) it is a small island that we don't know football. When I was in high school I really didn't think I was going to be in the NFL until I graduated, and I just had the chance to come out here and continue on and to be blessed to play football. It was a blessing."
Fanene had the opportunity to showcase his country and the home that he built for his family (using his rookie signing bonus), where three or four of his siblings still reside with his parents, on a
60 Minutes
special about American Samoa.
"It was a blessing. I didn't expect
60 minutes
but my dad called me and told me about the program. And he told me to be ready, 'they're going to be out here next week to talk about the NFL players from American Samoa,' so I was surprised and I've always been blessed to do everything right and go back home and help my family, my parents. Not just that, it's just being an example to the kids back home."
Being an example is something that Fanene is used to, as he was charged with an extensive list of daily chores growing up as the second-oldest of 12 children, and the discipline required to complete those tasks is something that has helped him become successful in the NFL.
"The lifestyle that we had back home was pretty much like a workout force," he said. "You know, it just happened, you wake up and do a lot of chores before you go to school. You know, our parents aren't gonna do the chores for us so we have to get up and do it for them. And I believe that's why we are, how can I say this, more strong on the outside; compared to playing in the NFL, it's a hard job."
A few more soundbites from Fanene:
What impressed him most about the Patriots
(the only team that he visited during the free agency period this offseason): "There's a lot of good things up here. It's a winning franchise, first of all. It's a blessing to be here and be part of the Patriots. I told myself that I want to do the best I can do out here to help the team win."
On the cultural differences between the Bengals and the Patriots:
"There's a lot, but I'm just going to pick out one thing. I see guys focus more. Not just the workouts but everything we do out here is more like a team effort. So guys really welcome me inside the locker room. It's not about all the talking and the media stuff, it's more like hardworking and just do your job."
New England veterans that he has already established relationships with:
"My first week out here, they really welcomed me. I love Vince [Wilfork], [Jermaine] Cunningham, and just a lot of guys. They're so friendly and more like a teamwork thing, they just took me in and accepted [me] and the fact I'm here and starting to work."
On surprise that former Bengals teammate Chad Ochocinco had a quiet 2011 with Patriots:
"I'll be honest, yeah. I really didn't hear a lot of his name last year on any of the games. I believe there's a reason why. He came into practice the middle of training camp and tried to learn the system and tried to get used to the culture here. But I believe he's going to come back hard this year and do his job and do the best he can do to help the team."
On expectations of Bill Belichick:
"Just do my job."