New England Patriots:

Josh Kline
May, 31, 2014
5/31/14
5:00
AM ET
FOXBOROUGH, Mass. -- Emptying out the notebook from the Patriots' organized team activities Friday:
Something that stood out to me late in practice was second-year linebacker Steve Beauharnais leading the defensive huddle with authority in 11-on-11 drills. I watched him put his hands on a teammate after barking out the play-call in a take-charge type of manner. Beaurharnais, the seventh-round pick from Rutgers, is a candidate to elevate into a Dane Fletcher-type reserve role in 2014.


The Patriots were light at tight end, with only Michael Hoomanawanui and undrafted rookie Justin Jones on the field. Rob Gronkowski and D.J. Williams were present but not taking part in practice, while undrafted rookie Asa Watson was at the required Rookie Premeire event. Energetic assistant coach Brian Daboll was working the tight ends hard. Jones stands out with his height (6-8, 277) and he seems to have reliable hands. Because he's so big, fluidity with footwork in tight spaces (e.g. sharp cuts in cone drills) looks like it can be a challenge for him.


With the light tight end crew, fullback James Develin broke down with the group and went through pass-catching and blocking drills with them.


There was a quick tempo to the early part of practice, with coaches urging players to get lined up quickly as the offense went through some of its plays. Things eventually slowed down, but it was a good example of how the Patriots want to have the ability to play fast and the coaches created mental stress for the players. Along those lines, there was also plenty of signaling by defensive players, and the use of headsets by the coaching staff.


Linebacker Jerod Mayo (torn pectoral muscle, Oct. 13) was on the field for most of the practice, a sign that his recovery has progressed well, as was expected after he met with reporters earlier this month.


Just as we saw in the AFC-East clinching victory in Baltimore in December, second-year player Josh Kline lined up at left guard. In this case, it was because Logan Mankins wasn't present.


Receivers Danny Amendola, Reggie Dunn and Kenbrell Thompkins, and running back Roy Finch, were a few players taking reps as punt returners. There were several parts of practice devoted to special teams, as is often the case.


While more of the practice was about teaching, receiver Julian Edelman seemed to have a productive session with several catches. At one point, after a missed connection with Tom Brady along the right sideline, he was upset with himself and showed his frustration outwardly. With Edelman and Amendola paired together at times, the Patriots still seemed to be lacking that taller outside presence on sideline and downfield throws.


Practice finished with players called over to a hill behind the second practice field, which they had to run multiple times. As Tom Brady noted later Friday night, it's an uphill climb for the team to get where it wants to go.


The next organized team activity open to reporters is Thursday.
April, 21, 2014
4/21/14
5:00
AM ET
When the Patriots were forced to shuffle their offensive line in a critical late December game against the
Baltimore Ravens
in 2013, unheralded rookie
Josh Kline
was inserted into the mix at left guard for his first career NFL start.
Kline
That vote of confidence, coupled with Kline delivering a solid performance as the Patriots clinched the AFC East title in convincing fashion, reflects how Kline (6-foot-3, 310 pounds) could be a vital player for the team in years to come.
He went
undrafted out of Kent State in 2013
, but quickly won over his teammates.
"I think the thing that stands out about Josh the most is that you can't rattle the guy," center
Ryan Wendell
said Sunday on 98.5 The Sports Hub.
"He's a flat-liner emotionally, which goes a long way as an offensive lineman. Nothing is too big for him and he never gets too low. He just keeps trucking. He'll make a mistake or something like that in practice, and he doesn't mind getting [yelled at]. He just comes back the next play and works harder at it. Some guys don't have that kind of mental toughness, but Josh really does. I think that's what stands out the most about him."
Wendell's remarks were delivered as part of
Bob Socci's NFL draft preview show
.
A few other soundbites from Wendell, who in late March inked a two-year deal to return to New England:
On his free-agent experience
. "It was definitely something different, but it was such a blessing. Just to have the career that I've been able to have here at the Patriots, to even have the opportunity to become a free agent, and to market my skills out there and things like that, it was a blessing to have that opportunity. And then to be able to sign back with the Patriots, to be where I want to be, to stay here, to stay home, it was great. I'm very thankful for that."
Reflecting on joining the team as a rookie free agent in 2008
. "Once the draft ends, you start getting phone calls from various teams that are looking for free agents, and these different teams will call with different personnel. I think the importance of who they're trying to get is who they send to come and call you, and when Bill Belichick calls you and spends 20 minutes on the phone with you trying to convince you to come to New England, it's hard to turn down."
Having all offensive linemen return from 2013
. "It's great any time you can get an entire offensive line back. Being able to have those same guys next to you, over time, it goes a long way. I would also say, the guys that are our backups, that have rotated in, have all done a great job – guys like
Marcus Cannon
,
Will Svitek
and rookies like Josh Kline. Our guys all do a great job and I think no matter who comes in the room, we'll all work hard to make a solid unit that can perform every Sunday."
April, 4, 2014
4/04/14
5:00
AM ET
A few leftovers from our
weekly New England Patriots chat
:
Evan (NJ)
:
Hi Mike, in the AFC Championship Game last year, our pass rush was nearly nonexistent. I think we definitely need to sign a strong pass rusher to give Chandler Jones and Rob Ninkovich some relief. Do you see the draft or free agency as being the better option?
Evan, I do think we'll see an addition at defensive end behind Jones and Ninkovich, as the team has explored veteran
Will Smith
as one possibility. But another point to consider is how a pass rush comes from more places than just the defensive end spot. A better interior push will also be a factor and the team should upgrade in that area if
Armond Armstead
emerges as a contributor. I could also see
Jamie Collins
being more of a factor in this area. Better coverage also helps the rush and the Patriots look pretty solid in the secondary right now.
James (England)
:
If, as you suggested, linebacker Ryan Shazier is an option in the first round, do you project him as playing inside or outside?
James, I think Shazier is best suited off the line, so it would depend on what defense the team is in. Part of my thinking with Shazier is that 70 percent of defense is played in sub anyway and he could ultimately be a big part of that. Also, there is a pretty notable dropoff after the top three linebackers of
Jerod Mayo
,
Dont'a Hightower
and Jamie Collins and more quality depth is needed.
Joe (Waltham)
:
Mike, do you think the Patriots draft a QB in this draft? Obviously the visits of Johnny Manziel and Teddy Bridgewater were nothing more than educating themselves more on the draft board, but if someone like AJ McCarron falls to the bottom of the 2nd or even the 3rd, do you think they consider it?
Yes, Joe, I think that is a distinct possibility. A late second-round pick seems a bit rich to me for a quarterback but I think anything after that is in play. Just as
Ryan Mallett
was a third-round pick in 2011, it wouldn't surprise me if the team picked a quarterback that early this year if the right prospect is there (e.g. Pittsburgh's
Tom Savage
).
Earl (Marlborough, Mass.)
:
I thought that Will Svitek filled in pretty admirably for injuries early on in the season, and he has versatility. What is his likelihood of return as depth on OL?
Earl, Svitek helped the Patriots through an early stretch of injuries in the preseason but by the end of the season, it was notable to me that rookie
Josh Kline
was thrust into action over him. Part of that could have been due to Svitek battling an injury. My sense is that the plan would be to turn that guard position over to a younger (less expensive) player like Kline or
Chris Barker
, knowing that the team goes three deep at tackle with
Nate Solder
,
Sebastian Vollmer
and
Marcus Cannon
.
Carlos (Maine):
Mike, why is it just assumed that Ryan Mallett is gone next year?
Carlos, Mallett enters the final year of his contract in 2014 and thus is scheduled to be an unrestricted free agent at this time next year. With
Tom Brady
entrenched as the starter here, and signed through 2017, it makes sense to think that Mallett will likely want to pursue a better chance to start elsewhere. The door should never be slammed shut on Mallett's return, but I'd think the odds wouldn't favor it at this point.
January, 29, 2014
1/29/14
5:00
AM ET
Continuing our positional review/offseason preview, here's a look at the New England Patriots offensive linemen.
Guard Logan Mankins
Age:
31
2013 status:
Played and started every game this season, including one at left tackle when
Nate Solder
suffered a concussion.
2013 highlights:
The tone-setter. Mankins flexed his toughness throughout the year and showed his versatility in kicking out to tackle as well. A road grader in the running game who was named to the Pro Bowl. After nine seasons, Mankins remains one of the top interior linemen in the league.
Current contract runs through:
2016 season
Left tackle Nate Solder
Age:
25
2013 status:
Played and started 15 games at left tackle. Also logged 22 snaps as a tight end during the regular season.
2013 highlights:
Solder continues to blossom into one of the top young left tackles in the league. Has a compelling mix of length and power, but can continue to grow sturdier in his base. Was at-times dominant. Missed his first career game with a concussion.
Current contract runs through:
2014 season (team can exercise option through 2015)
Center Ryan Wendell
Age:
27
2013 status:
Played and started every game at center.
2013 highlights:
After an exceptional 2012, Wendell wasn't quite as solid in 2013. He can be outmanned in the middle sometimes with his light frame, but he remains a solid technician. Smart, involved in the line calls and an accurate shotgun snapper, he's a center you can certainly win with.
Current contract runs through:
Free agent
Right guard Dan Connolly
Age:
31
2013 status:
Played and started every game at right guard.
2013 highlights:
After a down 2012, Connolly bounced back for a steady 2013. Offers unique versatility to play both guard spots and center. Not an overwhelm-er at the point of attack, but has good short area quickness and athleticism. If Wendell departs in free agency, Connolly could return to center.
Current contract runs through:
2014 season
Right tackle Sebastian Vollmer
Age:
29
2013 status:
Played and started eight games before being placed on injured reserve after suffering a broken leg.
2013 highlights:
Dominant when on the field. The towering right tackle was among the best at his position before the injury. Powerful and athletic, his loss was felt along the line.
Current contract runs through:
2016 season
Guard/tackle Marcus Cannon
Age:
25
2013 status:
Played in 14 games, starting six in place of Vollmer.
2013 highlights:
The Patriots' utility man along the line, Cannon took snaps at both tackle spots. He has experience at guard as well. As a starter, he was sufficient. Had some struggles against elite defensive ends but has continued to progress. Gives the Patriots insurance along the line.
Current contract runs through:
2014 season
Guard/tackle Will Svitek
Age:
32
2013 status:
Played in 13 games, starting two at right tackle when Cannon was out due to injury.
2013 Highlights:
Another utility lineman who returned from injury after missing the entire 2012 season. Held up in spot duty at both guard and tackle. A veteran with positional versatility.
Current contract runs through:
Free agent.
Guard Josh Kline
Age:
24
2013 status:
Played in seven games, starting against Baltimore when Mankins played left tackle.
2013 highlights:
Emerged as a young, developmental prospect. Went undrafted out of Kent State but could stick around as a player the Patriots can count on. Performed at a high level in start against the Ravens.
Current contract runs through:
2015 season
Guard Chris Barker
Age:
23
2013 status:
Played in four games.
2013 highlights
: A reserve who was active sporadically, seeing some time on the field goal/extra point team.
Current contract runs through:
2015 season
Others on the roster:
C/G Braxton Cave, T Jordan Devey, OL R.J. Mattes, OT
Markus Zusevics
POSITIONAL NEED:
Contractually, the Patriots have four of their five starters from 2013 in place for next season, as Wendell is the lone free agent. If the team brings him back, the 2014 starters may well mirror this year's starting group. If Wendell doesn't return, the team could shift Connolly back to center, use Cannon at right guard and form an altered starting five. Kline showed promise as a developmental prospect, while Barker, Cave, Devey, Zusevics and Mattes are lesser-known prospects. Given that Cave was claimed off of waivers from Cleveland at the start of the season, he could be a player the team has a preferred level of interest in. All told, the Patriots have options along the offensive line. The angle worth watching closely is the transition from longtime coach Dante Scarnecchia to Dave DeGuglielmo. Scarnecchia was simply phenomenal, both as an X's and O's coach and talent developer. This group had some struggles on the whole in pass protection this season, but can be a strength of the roster with a bounce-back season.
December, 23, 2013
12/23/13
12:00
PM ET
As reporters arrived in the locker room after the
New England Patriots
'
41-7 victory
over the
Baltimore Ravens
, center
Ryan Wendell
turned to one and said, "Go interview
Josh Kline
." It was a case where a veteran player wanted to make sure a rookie making his first career start received his just due.
[+] Enlarge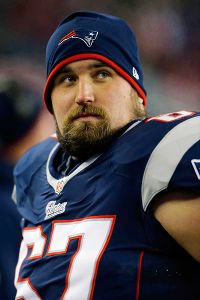 David Butler II/USA TODAY SportsRookie offensive lineman Josh Kline made his first NFL career start on Sunday at Baltimore.
Kline, who went undrafted out of Kent State and has been on and off the team's practice squad this season, had just put on his AFC East Championship hat and T-shirt when approached by reporters.
"It's great to win the AFC East and have a shot to be a 2-seed next week. It's unreal for me, my first start. Personally it means a lot," Kline said, struggling to come up with the words for how he was pressed into action in a critical spot.
Kline said he treated the week like any other, preparing as if he would start.
How he arrived at this point is, first and foremost, a credit to his approach and improvement. Patriots coach Bill Belichick also noted the work of assistant coach Brian Daboll when it comes to Kline.
"Brian Daboll worked him out in the spring and I think that [was] part of the impetus in our interest in him," Belichick said. "He wasn't drafted -- we were able to recruit and then sign him as a college free agent."
With
Nate Solder
out with a concussion,
Logan Mankins
was asked to move out to his college position of left tackle, thrusting Kline into a starting role for the first time in his young NFL career.
The results were positive for the Patriots on Sunday, as they mustered 142 rushing yards against what had previously been the NFL's seventh-best run defense.
Should Solder be forced to miss any more games, it seems likely Kline will continue to start alongside Mankins and Wendell.
Based off of remarks from offensive coordinator Josh McDaniels on Monday, it appears Daboll not only helped in the process to bring Kline to New England, but also in his development throughout the season.
"He's spent a lot of time with our young linemen to give them extra teaching and extra classroom work when we have our meetings and are able to split those up like that," McDaniels said. "I think he's really done a nice job of teaching those guys the foundation of our system and trying to help them move along because eventually during the course of the season you know you're going to need some of those young players to step in and play potentially significant roles, as Josh did yesterday."
Aiding in the development of young linemen is just one of the hats Daboll -- who is officially listed as an offensive assistant -- has worn this season.
McDaniels added that he's provided substantial value in a multitude of ways during his first full season back in New England after stops in New York, Cleveland, Miami and Kansas City.
"Whether it's game plan thoughts and ideas or in-game adjustments or teaching some of the other players or helping us out in any way, shape or form that he could with his volume of experience as a coordinator, as a position coach in our system, I think it's just been an incredible benefit to have him here and he's really contributed a ton to our success," he said.
December, 22, 2013
12/22/13
5:20
PM ET
After 15 minutes of play, the
New England Patriots
lead the
Baltimore Ravens
14-0
. Passing along quick-hit notes and observations from the first quarter:
1. Mankins at LT, Kline at LG.
As expected, it was veteran guard
Logan Mankins
taking over for
Nate Solder
at left tackle, with rookie guard
Josh Kline
playing in Mankins' normal spot. Veteran
Will Svitek
's play time is limited as he's dealing with an ankle issue. Mankins is making his second career start at left tackle.
2. Blount barrels in.
LeGarrette Blount
earned his third straight start at running back, absorbing the role
Stevan Ridley
held before his fumbling issues. He paid dividends early, scoring from 1 yard after receiver
Julian Edelman
drew a pass-interference call in the end zone on a long throw from
Tom Brady
.
3. Ryan picks Flacco.
Rookie
Logan Ryan
, who has been playing in base defense personnel groupings, registered his fourth pick of the season, grabbing a
Joe Flacco
pass off of a deflection by
Dont'a Hightower
. Ryan is tied for the team lead with
Aqib Talib
and shares the lead with Bills linebacker
Kiko Alonso
among all rookies.
4. Vereen scores, Pats up 14.
The Patriots have had struggles in the red zone without tight end
Rob Gronkowski
this season, but not so far in this one. In two trips, they've scored twice, with running back
Shane Vereen
scoring on a 4-yard catch with just less than five minutes to go in the first quarter to give the Patriots a 14-point lead.
Danny Amendola
had a key 34-yard third-down catch on the drive to put the Patriots in scoring territory.
5. Penalty box.
The following Patriots were flagged for penalties in the first quarter: Amendola (illegal shift; declined).
December, 21, 2013
12/21/13
3:30
PM ET
When
Nate Solder
left the Patriots' Week 15 game, one may have thought that the team would turn to veteran
Will Svitek
in his place. Svitek has experience at the position, filling in for
Sam Baker
during the 2011 season while with the Falcons.

Instead, it was
Logan Mankins
who kicked to left tackle, with rookie
Josh Kline
-- not Svitek -- taking over at left guard.
There's no definitive word on Solder's status for this Sunday, but if he does sit due to a concussion, it'll be interesting to see how the Patriots handle his absence.
The most likely scenario is perhaps picking up where they left off last week, with Mankins at left tackle and Kline at left guard.
One reason that Svitek may not have been inserted in the game last week is that he may not have had reps playing left guard during practice this season. We saw him work extensively at right guard during training camp, but Mankins held down the fort on the left side.
With a week of practice to prepare for the possibility of playing without Solder, one may wonder if the Patriots will consider shuffling the deck along the line to get their five best healthy linemen on the field.
If they believe Svitek is a superior option to Kline, the Patriots may be able to keep Mankins at left tackle, use
Dan Connolly
at left guard, and place Svitek at either right guard or right tackle, with
Marcus Cannon
at the leftover spot.
To be clear: We have no knowledge that the team prefers Svitek to Kline with all things being equal, as it could be that they believe Kline is their best option as a reserve guard.
But, considering it was Svitek taking so many reps with the top unit in training camp, it seems plausible that he could be inserted into the lineup if Solder sits this Sunday.
October, 28, 2013
10/28/13
2:48
PM ET
When starting right tackle
Sebastian Vollmer
remained down on the ground in the second quarter of Sunday's win against the
Miami Dolphins
, and could be heard screaming in pain on the television broadcast and was later carted to the locker room, it had all the makings of a season-ending situation.
Thus, it was little surprise that the Boston Herald is reporting Vollmer was set to undergo surgery Monday to repair a broken bone in his right leg.
Let's focus on the trickle-down effect this has on the offensive line depth chart:
Marcus Cannon:
The third-year player from Texas Christian has been the team's swing tackle this season and also has flexibility to play right guard. He replaced Vollmer in Sunday's game at right tackle and is now the projected starter going forward. Line coach Dante Scarnecchia was complimentary of Cannon in spring camps. "Love his physicality. Love his passion for the game," Scarnecchia said. "He's a smart kid, a great kid to coach, he's driven to be very good. I think he's a really good tackle. ... He's a special kid, a starting quality player. I love the kid."
Will Svitek:
An eight-year veteran in his first season with the Patriots, Svitek now bumps up from No. 7 to No. 6 on the offensive line depth chart, meaning he will be the swing tackle. He also has flexibility to play right guard. Svitek represents good depth for the Patriots, having proven to be a capable fill-in in recent years with the Falcons (10 starts in 2011) and before that the Chiefs (4 starts in 2007). The Patriots signed Svitek to a one-year, $1 million contract in the offseason and that looks like a sound insurance policy right now.
Chris Barker:
The undrafted rookie from Nevada is on the developmental track, having been inactive for the past five games. But the Patriots obviously see enough from him to want to keep him on the roster, as he's also cross-trained a bit at center. Because the Patriots generally go into games with seven offensive linemen, Barker would now likely become a candidate to be on the 46-man game-day roster as the seventh lineman if the team doesn't add another player at the position.
Braxston Cave/Jordan Devey/Josh Kline:
The three offensive linemen create added layers of depth on the practice squad, and could be promoted to the active roster if the Patriots decide they want more insurance for game day. Cave and Kline are interior linemen, while Devey is a tackle.
September, 7, 2013
9/07/13
5:25
PM ET
ORCHARD PARK, N.Y. -- Rookie guard Josh Kline was promoted from the practice squad to the active roster,
as projected earlier in the day
, the Patriots announced on Saturday.
With Kline promoted to the 53-man roster, expect him to dress in Sunday's season-opener against the
Buffalo Bills
and serve in a backup role and potentially on the field-goal protection unit. That likely pushes rookie center/guard
Chris Barker
, who was claimed on waivers from the
Miami Dolphins
last Sunday, to the inactive list.
To make room for Kline, the Patriots waived defensive tackle
A.J. Francis
, who had been claimed on waivers from the Dolphins last Sunday. Francis is a candidate to return to the practice squad should he clear waivers and have a desire to remain in New England.
This leaves the Patriots with just a three-man rotation in terms of pure defensive tackles, with starters
Vince Wilfork
and
Tommy Kelly
along with undrafted free agent
Joe Vellano
.
In addition, the Patriots announced the signing of center Braxston Cave to the practice squad. Cave had been claimed on waivers from the Browns last Sunday. After spending five days on the 53-man roster was waived by the Patriots on Thursday.
The team also confirmed the previously reported signing of running back
Leon Washington
, and reached an injury settlement with defensive ensd
Jermaine Cunningham
and
Justin Francis
(meaning they are now off the injured reserve list).
September, 2, 2013
9/02/13
10:10
AM ET
The
New England Patriots
continue to tweak their 53-man roster, announcing today that veteran cornerback
Marquice Cole
has been re-signed and undrafted rookie guard
Josh Kline
has been waived.
If Kline clears waivers, he would be a top candidate to fill one of the team's remaining two open spots on the practice squad. With the Patriots claiming rookie interior offensive linemen
Chris Barker
and
Braxston Cave
on waivers Sunday, that likely sparked the move with Kline.
Cole provides important depth in the secondary, primarily at cornerback, but he's also worked at safety at times. He's also a top special teams player.
August, 31, 2013
8/31/13
5:00
AM ET
August, 29, 2013
8/29/13
10:55
PM ET
FOXBOROUGH, Mass. -- At an initial glance, here's a look at players whose performance stood out in the
New England Patriots'
preseason finale against the New York Giants, and others at the opposite end of the spectrum:
UP
Josh Boyce
: Rookie receiver shows his speed on 40-yard touchdown catch on a nice throw from quarterback
Ryan Mallett
, as the Patriots also work him into the running game a bit.
Michael Buchanan
: Rookie defensive end shows up with a few nice rushes and reaches up to bat down a pass.
Zoltan Mesko
/
Ryan Allen
: Both punters are on top of their games, which highlights what has been a good competition throughout training camp.
DOWN
Aaron Dobson
: Rookie receiver doesn't seem to fight hard enough for an underthrown Mallett pass in the end zone that is intercepted and then overturned on replay when it is determined
Prince Amukamara
didn't stay in bounds.
Josh Kline
/interior O-line: Some spotty protection for
Tim Tebow
in the third quarter.
Leon Washington
: Fumbles punt that is recovered by the Giants in the third quarter. Although a 43-yard return in the second quarter is solid.
August, 29, 2013
8/29/13
7:48
PM ET