New England Patriots:

Junior Seau
May, 2, 2013
5/02/13
2:28
PM ET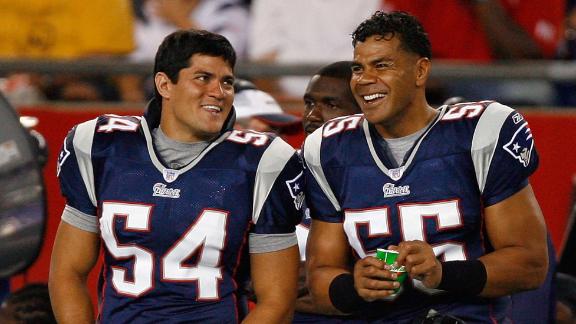 One the one-year anniversary of Junior Seau's death, former teammate Tedy Bruschi joined SportsCenter to share a couple of stories about him (video above).
"I miss my friend," Bruschi said. "I miss Junior. ...
"Becoming a teammate of his I was so excited and learned so much from him. Probably one of my favorite teammates of all time. I smile when I think about knowing Junior and playing with Junior, because that's all he ever wanted to do is go out there and do what they loved. You should have a love for the game and love for what you're doing.
"So many stories. Even today, I get emails and texts from all my friends because we know what today is."
January, 7, 2010
1/07/10
3:30
PM ET
FOXBOROUGH, Mass. -- Leave it to Junior Seau to compare playoff experience to surfing.

"Can you forecast what a playoff game is going to bring?" said Seau, pondering the question he had just been asked Thursday inside the Patriots' locker room. "You can never anticipate nor assimilate what's going to happen on Sunday. It's like a wave that you ride on the ocean, and every wave is different."

Seau, he of 19 NFL seasons, will be the elder playoff statesman when the Patriots battle the Ravens in a wild card matchup Sunday at Gillette Stadium. He admits that playoff experience is a luxury, but certainly not a necessity.

"[Experience] is nice to have, we're not going to turn it down, but as far as that goes, it comes down to performance," said Seau. "You have to go out there and perform. There's no ifs or buts. There' no gray area -- it's just black and white. Either you win or you lose and, obviously, we know what happens to losers."

The lasting image from Seau's last playoff game is him walking off the field in a stream of red, white, and blue confetti as the Giants celebrating an improbable victory in Super Bowl XLII.

November, 18, 2009
11/18/09
11:17
AM ET
FOXBOROUGH -- Quarterback Tom Brady is the unquestioned leader of the Patriots' offense, and, as he showed Wednesday, he is the team's tone-setter in the locker room as well.
In the wake of Sunday's heartbreaking loss to the Colts, players returned to work as a team for the first time Wednesday and it was only natural to wonder what type of hangover might linger in the locker room.
More than ever, Brady seems willing to step up in trying times like these. Speaking with a been-here-before perspective, Brady addressed reporters in front of his locker and said he and his teammates have moved on from the Colts loss. The Jets, he said, are the Patriots' focus now.
And as far as coach Bill Belichick's role in the team's fourth-quarter collapse, Brady won't point fingers.

"When you lose, people place the blame in certain areas," he said. "We all know in here that it's not one thing to blame; we all could do things better. It's unfair in a group of 53 players and however many coaches we have that one person gets the blame. The reality is it's everybody."

Read more about Brady's comments, as well as those of locker room leader Junior Seau, in Mike Reiss' full article.
October, 18, 2009
10/18/09
7:02
PM ET
FOXBOROUGH, Mass. -- Veteran linebacker Junior Seau was on the field for approximately 23 snaps in his first game back with the Patriots, with most of his playing time coming in the second half.
Smiling in the locker room after the Patriots' 59-0 victory over the Titans, the 40-year-old Seau was asked if returning to the football field was like riding a bicycle.
"More like a beach cruiser," he chuckled.
Seau finished with two tackles and a fumble recovery, with the Gillette Stadium crowd roaring the first time his name was announced. He called it a "great home welcome."
Seau's presence allowed the Patriots to run more 3-4 alignments. He was the top backup to Jerod Mayo and Gary Guyton at inside linebacker, helping hold the Titans to minus-7 gross passing yards, which marked the first time since the AFL-NFL merger than an offense was held to negative gross passing yards.
Coach Bill Belichick said Seau gave the Patriots a spark immediately after signing his one-year contract Wednesday.
"He came out to practice this week and he's running around, making calls, chasing after the ball, flying around like a rookie," Belichick said. "That's just Junior. He's got great passion for the game and a lot of energy when he steps out there. He's a football player. It doesn't matter if it's first down, second down, third down, practice, regular-season game, snow, 90 degrees. He just tears around out there and he loves the game. I think he brought a good level of energy and enthusiasm to our team this week."
Seau hopes to build on his performance as he's playing catch-up with his teammates.
"This was my training camp," he said. "What I did the last eight months was basically training for the chance, and the chance was if Bill [Belichick] ever called. You're never going to be able to be in football shape, but what you can do is get to a point where you're conditioned mentally and physically. Emotionally, you know, it's going to come. Today was a good start."
October, 14, 2009
10/14/09
1:47
PM ET
FOXBOROUGH, Mass. -- New England Patriots defensive end Ty Warren is nursing a calf injury that kept him out of practice Wednesday afternoon, and wide receiver Randy Moss missed the session as well (not injury related), according to the team's practice participation/injury report.
Warren, Moss, Matt Light (knee) and Fred Taylor (ankle) were the four players absent from practice for the Patriots on Wednesday. Eight others engaged in limited participation, including defensive lineman Jarvis Green (knee), offensive lineman Nick Kaczur (ankle), linebacker Jerod Mayo (knee), safety James Sanders (shoulder), defensive back Shawn Springs (knee), tight end Benjamin Watson (head), wide receiver Wes Welker (knee) and defensive lineman Vince Wilfork (ankle).
For the Oilers (as Sunday's game is one of the AFL legacy games this season, the Titans are officially using their throwback name this week), three defensive backs did not practice: cornerbacks Cortland Finnegan (hamstring) and Nick Harper (forearm), and safety Michael Griffin (neck). Also not practicing today were offensive linemen Leroy Harris (concussion) and Jake Scott (illness) and tight end Craig Stevens (concussion).
Linebackers Colin Allred (shoulder) and Stanford Keglar (hamstring) and safety Vincent Fuller (forearm) had limited participation.
October, 14, 2009
10/14/09
11:15
AM ET
FOXBOROUGH, Mass. -- Give me a helmet.
That was the popular refrain from 40-year-old linebacker Junior Seau as he met with the media Wednesday morning after officially re-signing with the New England Patriots.
Seau didn't know his role or what exactly he can offer the team. All he knows is Bill Belichick made a call and Seau promised he'd answer.
"On and off the field, the best thing I can do is lean on Bill Belichick," Seau said. "The reason why I say that is, he doesn't sit around grabbing a 40-year-old guy off a surfboard unless he has a plan. Whatever it may be. He knows who I am. He knows what I have to offer. I trust him. What am I going to do? How will I help the team? I can't forecast that. If I could, I wouldn't be a football player. I wouldn't. Just give me a helmet. I'm going to be the best player that I can be today. I promise."
Wearing his familiar No. 55, Seau participated in position drills viewed by the media during Wednesday afternoon's practice session outside Gillette Stadium. He worked up a sweat early and, despite temperatures in the mid-40s, doused himself with a water bottle just minutes into the session.
Could Seau be ready for action Sunday versus the Titans?
"Whatever Bill needs," Seau said.
Seau was then asked if he was excited about rejoining the Patriots and returning to the game of football.
"Are you excited? I'm too old to be excited," Seau said to laughter. "Can I say that? I am. I'm too old. The only way this can all be exciting for everyone is if it works. The challenge is what we do from here on out. I'm not going to jump out of the cake and jump around. It's time to go to work. Give me a helmet, let's go to work."
October, 14, 2009
10/14/09
9:38
AM ET
FOXBOROUGH -- Patriots players were all smiles when asked about the return of linebacker Junior Seau Wednesday.

"Any time you have 'Buddy Buddy' back, it's definitely a morale booster," receiver Wes Welker said, referring to Seau's nickname in the locker room.

As Seau walked through the locker room Wednesday afternoon, receiver Randy Moss turned in his direction and said "Hey, Buddy Buddy!"

Seau earned the nickname because he calls most players Buddy. He joked in the locker room Wednesday that because he's been around the NFL for so long, and been around so many players, it's easier to just call them Buddy.

"I'm so old, and so many players change in the league, it's so hard for me to keep up with names," Seau said. "So everyone is 'Buddy'. If you get 'Buddy, Buddy,' you're really close to me."

Quarterback Tom Brady said he arrived at the stadium at 6:45 a.m., and Seau was already in the weight room in a full sweat.

"He hasn't changed at all. He brings a lot of energy to the team, a lot of excitement," Brady said. "Attitude is everything with Junior. He's a great professional and shows great leadership. He's a playmaker. I'm glad he's back on the team."
October, 14, 2009
10/14/09
7:51
AM ET
ANALYSIS
With the signing of linebacker Junior Seau becoming official Wednesday, and the New England Patriots releasing defensive lineman Terdell Sands to make room on the roster, the defense is now better equipped to run more 3-4 alignments.
Those X's and O's, along with Seau's leadership and intangibles, seem to be the primary reasons to make the move now.
Seau should be the third inside linebacker behind Jerod Mayo and Gary Guyton in the base 3-4, providing important depth the team did not have otherwise. He also could factor into a sub package, easing some of the load on Guyton, who has played all but one snap this season.
The Patriots have been limited in what they can do schemewise because of their shortage at linebacker. They opened the season in a 3-4 alignment, but since Mayo sprained his MCL in the season opener, they've played just three snaps in the 3-4, instead favoring a 4-3.
Because of that shift to the 4-3, linebacker Adalius Thomas has not been utilized as much as a rusher, as the linebackers haven't pressured unless a blitz has been called.
A move to the 3-4 should create more opportunities for Thomas to be disruptive, while also putting Pierre Woods back to his more natural spot of 3-4 outside linebacker.
October, 14, 2009
10/14/09
7:45
AM ET
FOXBOROUGH -- The Patriots confirmed the signing of Junior Seau this morning, releasing defensive lineman Terdell Sands to make room on the active roster for the 40-year-old linebacker.
The Versus network, which will begin airing a series called, "Sports Jobs with Junior Seau" later this year, announced the signing on their website Tuesday, but the Patriots did not immediately confirm. Patriots coach Bill Belichick said Tuesday during a conference call, "We don't have anything to say about it."
Sands signed with the Patriots on Sept. 28 and appeared in one game against the Ravens, playing 14 snaps and making one tackle. He did not dress for Sunday's game vs. the Broncos in Denver.
October, 13, 2009
10/13/09
9:07
AM ET
Linebacker Junior Seau signed with the New England Patriots on Tuesday, the network that will air his television show announced. Seau is quoted on Versus' website confirming that the deal is finalized.

Seau's return has been anticipated since last week.
Patriots coach Bill Belichick did not confirm the signing Tuesday, saying only "We don't have anything to say about it."
The Patriots will have to make a roster move to accommodate Seau on their 53-man roster. Seau will provide depth and leadership at linebacker, where the Patriots have had a run of injuries.
October, 5, 2009
10/05/09
7:39
AM ET
Quick hits from quarterback Tom Brady's weekly appearance this morning on WEEI's "Dennis & Callahan" show:
Why he briefly headed to the locker room in the first half: "It was an equipment change. I had my knee brace and on that play I slid, on the run to about the 2-yard line, my knee brace broke in half."
On the imminent signing of Junior Seau: "There is nobody like Junior. His attitude is everything. What he brings in terms of his enthusiasm, his style, his commitment. It's a great presence for everybody -- for all the players, all the coaches. There is nobody that approaches the game like he does. He's a huge asset to our team. He's an incredible player and leader. I think everybody's excited to have him."
On roughing-the-passer penalties: "It's a tough call. I never think those guys are being malicious out there. They are trying to make a play, make the tackle, and it's tough for a defensive player to [pull off] a quarterback. You're trying to get to the quarterback, that's what your job is, what the team is relying on you to do. It's a tough call for the ref. They can't judge intent, so they just judge on what happens. It really goes both ways. We've had plenty of roughing-the-quarterbacks that go against our team. I think in the end, they all pretty much even out."
On the Terrell Suggs penalty and how the Patriots anticipated a flag-filled game: "There are rules that are in place, not only for quarterbacks, but on defenseless receivers, or punters or kickers or chop blocks on defenders, that are for everyone's benefit. I know the quarterbacks are the ones that are singled out. You're in a defenseless position, you're standing there in the pocket and there are a lot of guys around you. It goes for the receivers too. They're defenseless at times, they're looking at the ball and some guy comes and cleans their clock. They're trying to eliminate some of that stuff. Did I think it was malicious? Certainly not. Was it a bad hit? No way. He barely even touched me. The refs were calling it pretty tight yesterday. That crew has been known to call it tight. Coach Belichick told us before the game [that crew] called the most penalties in 2007, they had called the most penalties in 2008, and they were on pace for second this season. So we knew they were calling it tight."