New England Patriots:

Kamar Aiken
August, 26, 2013
8/26/13
1:45
PM ET
FOXBOROUGH, Mass. -- A few thoughts on
today's roster moves
by the Patriots:
1. The team now has 77 players on the roster. Two more moves must be made by Tuesday at 4 p.m. ET.
2.
Tim Tebow
survives ... for now. This is one of the notable storylines of the week, as it appears that Tebow is fighting for a job. Bill Belichick told 98.5 The Sports Hub before last Thursday's preseason game that he had about 80 percent of the 53-man roster set. Tebow, based on his performance in the preseason, would seemingly be part of the other 20 percent, which means Thursday night's preseason finale against the Giants could be big for him.
3. None of the moves are a surprise. A player like veteran linebacker
Niko Koutouvides
, whose primary contributions come as a core special teamer, could always return during the season if the need arises (similar to last year).
4. With defensive tackle
Armond Armstead
landing on the reserve/non-football illness list, he isn't eligible to start practicing until after the sixth week of the season. So this adds a little more context as to where things stand with his health after he had surgery for an infection at some point before training camp. He remains under contract to the Patriots but won't count against the roster by landing on the reserve/NFI list. The Patriots had been counting on Armstead to be a big part of their plans and depth remains thin behind starters
Vince Wilfork
and
Tommy Kelly
.
5. Rookie defensive tackle
Cory Grissom
(South Florida) was a strong practice squad candidate, but with him landing on injured reserve, it opens the door for another rookie tackle to stick on the practice squad (
Joe Vellano
,
Anthony Rashad White
the top candidates). It also led to the re-signing of defensive tackle Scott Vallone to the roster to address a depth shorage.
6. At receiver, third-year player
Kamar Aiken
was competitive early in camp but an injury derailed him. Also, rookies
Kenbrell Thompkins
,
Aaron Dobson
and
Josh Boyce
seemed to generate more momentum and were a bit more consistent over the course of camp.
7. We didn't have offensive tackle/guard
Markus Zusevics
making the final roster, but others did, which reflected his standing as a bubble blocker around No. 8 on the depth chart. There seems to be a pretty big dropoff after the top 6 or 7 offensive linemen so this remains an area the Patriots figure to explore on the waiver wire and free agency.
August, 24, 2013
8/24/13
5:00
AM ET
By Tuesday, the Patriots must trim their roster down from 84 to 75 players, the first of two major cut-downs that will take place in the next week (they'll need to be at 53 players by next Saturday).
There are many factors that go into roster decisions, and the cut-down to 75 players may not be reflective of those players that the team feels have the least amount of talent or value. Rather, there could be some players released on Tuesday (or even before) that the Patriots feel they have fully evaluated and don't project to land on their active roster or practice squad. Others, meanwhile, remain a work in progress from an evaluation standpoint.
With all that in mind, here's our guess at nine players who could be released on or before Tuesday's mandated deadline.
Wide receiver Kamar Aiken.
Limited in recent days due to an undisclosed injury, Aiken has fallen behind the trio of rookie receivers on the depth chart. He's an intriguing mix of size and speed, but he couldn't consistently get on the field for reps when healthy.
Punter Ryan Allen.
Perhaps a surprising name to appear on this list, but our feeling is that
Zoltan Mesko
has separated himself in the punting competition. Allen has a strong leg and a decorated college resume, which could land him work with another team.
Wide receiver Johnathan Haggerty.
Haggerty has seen limited action in preseason games and has worked largely with the opportunity group during practices. The former Bears and Browns receiver is the kind of player who the team can keep on its list of street free agents if it ever needed to bring a body in quickly.
Cornerback Brandon Jones.
Jones has been dealing with an undisclosed injury in recent days, so he could be waived/injured if the team parts ways with him. The Rutgers product is near the bottom of the cornerback depth chart.
Tight end Evan Landi.
Recently signed, Landi may not last long with the Patriots. Though
Rob Gronkowski
remains on PUP, the Patriots have been able to get by with four tight ends, and if
Daniel Fells
returns soon, Landi could be the odd man out.
Cornerback LeQuan Lewis.
Lewis was brought aboard when the Patriots' cornerback depth decreased due to injuries to both
Ras-I Dowling
and
Alfonzo Dennard
. If either returns soon, Lewis seems like a candidate to go.
Offensive lineman Brice Schwab.
The Patriots have a group of young linemen that could be vying for a practice squad spot, but given the thin interior line depth, Schwab, a tackle prospect, could be squeezed out of a roster spot.
Running back George Winn.
The Patriots are deep and talented in the backfield, though Winn could end up on a practice squad somewhere else around the league.
Long snapper Mike Zupancic.
With
Danny Aiken
already on the roster, there's little need for the Patriots to carry a second snapper.
August, 22, 2013
8/22/13
7:04
PM ET
August, 22, 2013
8/22/13
5:00
AM ET
Tonight marks the third preseason game for the Patriots, which almost always represents the closest thing to regular-season action, as teams typically play their starters for substantially longer than other preseason games.
It would come as no surprise to see
Tom Brady
and
Vince Wilfork
on the field into the third quarter, while there are other players whom we aren't expecting to see at all, highlighted below.
Non-football Injury List/Physical Unable to Perform Players
TE Rob Gronkowski (PUP)
WR
Mark Harrison
(NFI)
DT
Armond Armstead
(NFI)
Players who were absent from practice this week
WR
Danny Amendola
DE
Jermaine Cunningham
CB
Brandon Jones
Players who were limited during Tuesday's practice
DE
Justin Francis
OT/G Marcus Cannon
TE
Daniel Fells
CB
Ras-I Dowling
WR
Kamar Aiken
A trio of others to keep an eye on includes defensive backs
Devin McCourty
and
Alfonzo Dennard
, as well as offensive lineman
Dan Connolly
. McCourty and Connolly have yet to play in a preseason game (both are recovering from offseason shoulder surgery), but they were on the field for practice this week.
Additionally, McCourty shed the red non-contact jersey he had worn throughout much of camp. Dennard, meanwhile, has been limited of late, but could return to action after missing the team's second preseason game.
If the 11 players who we expect not to play in the game do in fact sit out, the Patriots will have 73 players in uniform for the contest. That total could shrink if McCourty, Dennard or Connolly is once again unable to suit up.
July, 20, 2013
7/20/13
6:00
PM ET
(Continuing a month-long series analyzing players who are on the roster bubble and where they may potentially fit in 2013.)
NAME:
Kamar Aiken
[+] Enlarge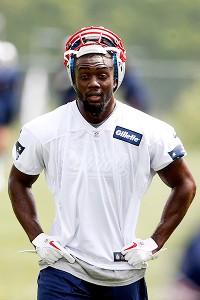 David Butler II/USA TODAY SportsWill Kamar Aiken prove to be a keeper in the Patriots' crowded WR competition?
POSITION:
Wide receiver
AGE:
24
2012 STATS:
1 game, no statistics
INJURY STATUS:
No known injuries.
CHANCE OF MAKING 53-MAN ROSTER:
20%
WHY HE SHOULD MAKE IT:
At 6-foot-2, Aiken's size could be his best asset in his attempt to secure a roster spot this preseason. The Patriots have two veteran inside receivers in
Danny Amendola
and
Julian Edelman
, but they have been in search of an outside threat since the departure of
Randy Moss
in 2010. Aiken doesn't have the skill set of rookie
Aaron Dobson
or even veteran
Michael Jenkins
, but he saw reps with the top offensive unit at one point this spring. If he proves to be durable and reliable, then there may be room for him.
WHY HE SHOULD NOT MAKE IT:
With so few sure bets at wide receiver, it's unlikely that the Patriots will have room to keep another special-teams-oriented player, like Aiken, outside of captain
Matthew Slater
. And while it's too early in his career to write off Aiken's value as an offensive player, the Patriots invested two high draft picks in April on receivers, and have another promising undrafted rookie in
Kenbrell Thompkins
. Ultimately, Aiken may prove to be too much of a niche player to earn a spot on the 53-man roster.
CLOSEST COMPETITION: WR Kenbrell Thompkins, WR
Lavelle Hawkins
, WR Michael Jenkins
January, 12, 2013
1/12/13
5:00
AM ET
FOXBOROUGH, Mass. -- This is how fast a player's fortunes can turn: Two months ago, receiver
Kamar Aiken
was looking for a job after being released from the
Chicago Bears
' practice squad.
For two long weeks, he waited for a breakthrough. Then the Patriots called and offered him a tryout.
"I was out of it, and it didn't look good," 6-foot-2, 213-pound Aiken said, recalling how he invested a lot into his workout with the team. "I just kept pushing through it. This is somewhere I really wanted to be."
Soon enough, Aiken was playing the role of Texans receiver
Andre Johnson
in practice before the Patriots' 42-14 victory on Dec. 10. Now he's on the active roster, having been promoted before each of the final two regular-season games.
[+] Enlarge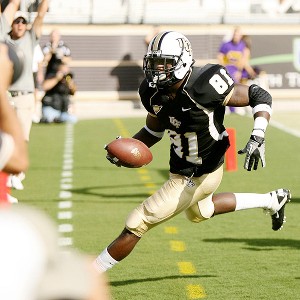 Stephen M. Dowell/Orlando Sentinel/Getty ImagesKamar Aiken is one of four UCF alums currently active in the NFL.
Aiken, who played at UCF, joins 49ers fullback
Bruce Miller
, Ravens offensive lineman
Jah Reid
and Chiefs receiver
Jamar Newsome
as Knights alums currently in the NFL.
He shared his football journey with ESPNBoston.com this week:
When he first started playing football:
"When I was 6. In little league. My uncle took me out there, and it took off from there."
First positions:
"Everything. In Miami, you have to learn them all -- O-line to running back. The only thing I didn't play was quarterback."
Favorite team/players growing up:
"I was a fan of the Rams, with
Isaac Bruce
,
Torry Holt
and all those guys. I was a Florida State fan and liked the Lakers, actually Kobe [Bryant], growing up."
Role models in his life:
"My mom [Juliet]. She's been through a lot, and to see where she came from and for her to still be on her feet right now and take care of two boys and put all of us through school -- everyone graduated with a college degree -- that was big. To see where she came from, and how she pushed through -- we never had a time when we wanted something; [she always] found a way to get it for us -- she's my biggest role model. She was basically our father figure at the same time."
Top memories of Chaminade-Madonna High School (Hollywood, Fla.):
"Winning the state championship and just being able to play all the different sports -- track, basketball and everything like that. In the state championship, we broke the record for most points put up in the game. That was big."
Enrolling at UCF:
"It really came down to who wanted me to play receiver. A lot of people wanted me to play safety, but I didn't want to. It came down to a couple schools -- North Carolina and Central Florida -- and I never took my visit to North Carolina. That's one thing I'd say I would do over again. I would have taken that visit. I had committed a couple weeks before."
Top memories at UCF:
"There are a lot. Just enjoying the roommates that I had. There are a good group of guys that I'm still cool with now. And to win the first conference championship in our school history, and the first bowl game in our school history -- just to be a part of all that. There was a game against Texas my freshman year. That was our first game opening up our stadium, and they were the No. 2 team [in the country] coming in. That was a big game for me, starting as a freshman."
Expectations entering the 2011 NFL draft:
"I felt like I had a chance [to get drafted]. My thing was just to prepare myself so that, when I did get the chance, I could take advantage of it. Everything else you can't control, so I just made sure I was on top of my game in terms of being in shape."
Going undrafted and signing a free-agent deal with the Bills:
"They had a whole bunch of young guys that were trying to make a name for themselves, so I felt like I could have broken in and had a better chance to play with them."
Spending most of 2011 on the Bills' practice squad before playing in two games later in the season after being activated:
"My thing was to always be prepared because you never know when they are going to call your name. That's one thing I took from being there -- take every week like you're going to play that week. Stevie [Johnson], the way he practices, he really goes at it. He's a competitor and wants to win every time, and I took that away from him."
Landing back on the Bills' practice squad after 2012 training camp before being let go Oct. 3:
"It was kind of bitter because I didn't feel like I did anything that led to that. It just came down to a numbers thing. That's just the business we're in. I took it for what it was. It had me down for a little bit, but I was able to bounce back and keep my head straight. I have a good corner behind me as far as my parents and my support system. They kept me in it and kept me going."
Hooking on with the Bears' practice squad for a month:
"Chicago was pretty relaxed. It was a different atmosphere as far as teamwise. They did a lot of stuff teamwise, bonding type stuff. That was something I took out of it."
Joining the Patriots' practice squad and being promoted to the active roster Dec. 22:
"I just have to stay prepared. This is my first playoffs. I'm just excited. … It's great right now."
What he loves about football:
"A lot of stuff. I get to come out here and run around. I like to play, period, whatever it is -- basketball, football -- I just like to be active. I'd rather do this than sit in an office. That's how I take it every day. There are a lot of people who would like to be in my shoes."
Describing his play:
"Versatile. I feel like I could do anything -- from slot, to outside, to whatever it is. I'm one of those people that, if you give me a task, I'm going to try my best to accomplish it."
Summing up his football journey
: "Growing up, it was all athleticism. I felt like, the older you got, the more it came to your knowledge of the game and just knowing it more."
December, 29, 2012
12/29/12
4:30
PM ET
The Patriots have waived defensive lineman
Ron Brace
and promoted two players, wide receiver
Kamar Aiken
and defensive back
Malcolm Williams
, from the practice squad, according to a league source. In addition, defensive end
Jermaine Cunningham
, who finished serving a four-game suspension in Week 16, was activated to the 53-man roster.
Brace, a 2009 second-round pick, had four tackles in 10 games played this season. He has been inactive in recent weeks, and was primarily a reserve defensive lineman throughout his tenure with the team.
Aiken was promoted from the practice squad in advance of last week's game, but was subsequently waived on Monday and re-added to the practice squad. He gives the Patriots depth at the receiver spot, where they previously had just four wideouts.
Williams has also spent time on the active roster this season, and adds depth to the secondary and on special teams. Key special teamer and reserve cornerback
Marquice Cole
is doubtful for Sunday's regular-season finale, and Williams could be called upon to fill his role.
The move to activate Cunningham comes as no surprise, as his suspension had been lifted and he was the team's top reserve defensive end and a key interior rusher in sub-defense packages before it.
The Patriots now have a full 53-man active roster and two open practice squad slots.
December, 22, 2012
12/22/12
4:58
PM ET
The Patriots have promoted wide receiver
Kamar Aiken
from the practice squad to the active roster.
The Patriots had just 52 players on the active roster, so no corresponding roster move was needed.
Aiken, out of Central Florida, adds wide receiver depth, where the Patriots have been playing with just four wideouts for much of the season.
With defensive end
Jermaine Cunningham
set to return from suspension as soon as Monday, the Patriots will have to make a corresponding roster move to activate him to the roster (the timing could depend on a possible exemption).
Earlier this week, head coach Bill Belichick discussed the possibilities of how the team could utilize its 53rd roster spot (link
HERE
).