New England Patriots:

Kanorris Davis
January, 4, 2014
Jan 4
5:00
AM ET
The Patriots have had success in identifying core special teams players in Bill Belichick's 14-year coaching tenure, in some cases drafting them solely with that in mind.
Matthew Slater
(fifth round, 2008) and
Nate Ebner
(sixth round, 2012) are the two most notable players in recent years.
Rookie
Kanorris Davis
, a college linebacker turned NFL safety, could be the next.
Davis
After going undrafted out of Troy in 2013, Davis was surprised when the Patriots reached out with a contract offer because he hadn't heard much from them up to that point.
"When I was doing my training, I never spoke to the Patriots. They came off the radar," Davis said this week at Gillette Stadium during the Patriots' playoff bye week. "They told me they loved my special teams abilities and told me I could make a living on special teams. I'm here today."
The 5-foot-10, 207-pound Davis, who has a chiseled muscle-cut physique, was sold.
He opened the year on the Patriots' practice squad, then was promoted to the roster for two games -- against the Falcons (Sept. 29) and Bengals (Oct. 6) -- before returning to the practice squad until the regular-season finale against the Bills (Dec. 29). Davis got the most recent call-up when cornerback
Marquice Cole
was injured in practice, and he's filled his special teams role in games, which includes playing the role of "gunner" on the punt coverage team.
He shares his "football journey":
What got him started playing football:
"We used to go outside and play tackle football without pads when we were younger. I hit one of my cousins one day and he threw up. That's when people said to me, 'You ought to go out for football. You'll be good.' So I tried out. Ever since then I've been playing."
Positions he first played:
"I was a nose tackle. I was 5-7, 5-8 and 167 pounds. When I got to Perry (Ga.) High School, the first three years I played nose tackle and defensive end. My senior year, I played linebacker."
Favorite memories of Perry (Ga.) High School:
"My senior year, the playoffs, we were on a roll and making school history. Everybody was treating us like celebrities. We received great respect. The football program came from very little and was built up, and my senior year, everything started to click. We had an awesome team, with guys who ran hard and respected the game. When we went to school, you could sense the higher spirit because we had something going. That feeling was amazing."
[+] Enlarge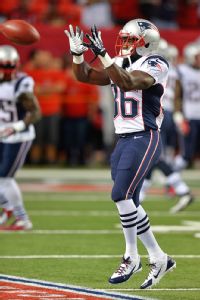 AP Photo / Jim MahoneyKanorris Davis' first appearance on the Patriots' game-day roster came St. 29 in Atlanta.
Why attending Troy was the right decision:
"I had a couple of schools, like Purdue, which offered me a scholarship. It came to a situation where I was going to be short some credits and they didn't know how that was going to go, in terms of me being eligible. So they went ahead with guys who were ready to play. A lot of schools ended up backing out on me at the last minute, but Troy stuck with me throughout the whole thing. The recruiter came to games and stayed on top of me and was telling me, 'You're going to do this and surprise a lot of people.' They had belief in me and I knew that if I got there and got into a tough situation, they would still take care of me."
Top football memories at Troy:
"When I first got there, they pulled me off the field and told me that I wasn't going to be eligible, so I had to end up staying with a teammate, Bear Woods. He was an [All-Conference] linebacker, a great guy and a great personality, and he took me in like a little brother. I slept at his apartment, rent-free, because he said he knew how hard it was being away from home and not knowing anybody. That was the first time I had been away from family. Just getting to know people that way, it made me feel comfortable and gave me the courage to just keep on driving and never give up. Also, my first start, I was on special teams and running down and ended up making a big play. From there, everything built up and I started getting more playing time. Then I ended up on billboards and people started loving me like back home. I felt like I had two homes -- in Georgia and also one in Alabama."
Playing linebacker at Troy and switching to safety:
"[The switch] happened in my training [for the draft]. When we did my Pro Day at school, I worked out with the linebackers and also worked out with the safeties on the same day. I went from one drill to another drill, and also played a little safety in the bowl game I got invited to [Raycom College Football All-Star Classic in Montgomery, Alabama]. But it was only like two or three coverages. I ended up leading the team in tackles and had two pass deflections. I actually went into that game playing linebacker, but I also asked to play safety, to give the scouts another perspective of what I could do."
Expectations to play in the NFL:
"Basically, I just worked hard and kept my head up, did what I needed to do, and made myself available for anyone that would give me a chance. I got closer with family and friends, kept myself in a stable place, and made sure that no matter what happened I would keep my head up. I had graduated college [majoring in criminal justice] and that was one of my dreams, to graduate with a degree. Once I got that degree, everyone was like, 'I'm really proud of you.' My feeling was, 'I'm not stopping there.' I still wanted to live my dream and every opportunity I got, I went hard. If I made mistakes, I made them going full speed. I kept in mind that if I worked hard, it could take me where I wanted to go. Keeping that faith, keeping that belief, keeping that inside your heart, helped get me here today. Now I need to capitalize on it."
What he loves about football:
"I love the contact and speed. It separates the boys from the men. You can go out there and hit someone hard. You can fly around and have fun. When you're dominating, the game is more exciting. You might get tired of the waking up early and being sore, lifting weights when you're sore, but when it's all said and done, you don't want to have any regrets. You keep your mind on the ultimate goal and that's having fun and living for the game."
Role models growing up:
"My older sister [Demetrish Harris]. She used to get upset at things, but all of a sudden, she changed and it was like nothing could bother her. She never let anything get under her skin. She stayed calm and she always talked to me about Bible verses, keeping me in her mind and heart at all times. Even though I'm a grown man and I should be making great decisions on my own, she makes sure I stay on the right path. I also have a brother [Dec Davis], and now he's a man of God, and that change alone just made me want to strive to be a better man."
Teams and players he followed as a youngster:
"I never really had any favorite teams, but I had a couple of favorite players.
Peyton Manning
, watching him when he played with the Colts.
Troy Polamalu
. Still is. And
Ray Lewis
, I just like his drive for the game. And now one of my favorites is
Tom Brady
. He's an awesome guy, being in the same locker room with him and how physically he's able to come out in any situation, that really inspires me. It makes me drive to want to keep going."
Summing up his football journey:
"When I first started playing, I was just playing to play, just having a lot of fun to stay out of the streets and to stay out of trouble. Now it's to make a living. All the things kind of connect with each other. When you're living the dream, you're living the dream. It's not like you're sleeping and wake up and it's gone. You can live it every day and I'm just going full speed."
December, 28, 2013
12/28/13
5:11
PM ET
The Patriots have promoted defensive back
Kanorris Davis
and cornerback
Justin Green
from the practice squad to the active roster on Saturday.
The team created two roster spots by releasing veteran defensive back
Marquice Cole
and wide receiver
Austin Collie
late this week.
For Davis, it's the third time he has been promoted to the practice squad, as he's expected to fill the special-teams role created by Cole's release. It's possible that Cole was released for health reasons, as was the case when he was waived earlier this season.
Green has also spent time on the active roster this season, playing in one game. He provides insurance in the secondary as well, adding depth to the cornerback spot. Each of the Patriots' top three cornerbacks has dealt with injuries of late.
December, 28, 2013
12/28/13
11:00
AM ET
Before the New England Patriots play a game, we'll attempt to predict the team's inactive players.

Our best guess on the list for Sunday's game against the Bills:
Devin McCourty:
Starting safety has missed all week of practice with a concussion. Rookie
Duron Harmon
is the top candidate to take his place.
Nate Solder:
Starting left tackle has been on the injury report the past three weeks with a concussion. He's been limited in practice this week and more visible in the locker room, but we'll play a hunch that the team sits him out for a second straight week.
Dane Fletcher:
Linebacker was a game-time decision last Sunday because of a groin injury, and didn't pass the pre-game test. If he is inactive again, it could potentially give him another two weeks to heal if the Patriots earn a first-round bye.
Shane Vereen:
Running back was held out of last Sunday's win after leaving with a groin injury, and if this was the playoffs, he'd be ready to go. But the possibility of the team holding him back as a precaution makes some sense from this viewpoint.
D.J. Williams:
Tight end adds a third layer of depth, and while it would be helpful to have it on the 46-man game-day roster, needs at other positions trump the luxury of a No. 3 tight end.
Jake Bequette:
Second-year defensive end is fifth on the depth chart and has been inactive the past eight games.
Josh Boyce:
Rookie receiver and primary kickoff returner has already been ruled for the second straight week with an ankle injury.
(Last week: 4 of 7 projections correct.)
EXTRA POINT:
The Patriots have two open spots on their 53-man roster and those will likely be filled today with promotions from the practice squad (our best guesses are safety
Kanorris Davis
and offensive tackle Jordan Devey). Thus, a full complement of seven inactives is projected.
October, 8, 2013
10/08/13
5:50
PM ET
After being waived by the
New England Patriots
on Monday, both defensive back
Kanorris Davis
and linebacker
Ja'Gared Davis
cleared waivers on Tuesday, according to a league source.
That means both players are now free agents, and if the Patriots so choose, they can sign one or both back to their practice squad.
Each player was called up from the practice squad a day in advance of the Bengals game, with Kanorris Davis playing 21 special teams snaps and Ja'Gared Davis logging six snaps.
The Patriots have one active roster spot open after re-signing veteran defensive back
Marquice Cole
on Monday.
Below is a snapshot of their current practice squad:
Offensive lineman Braxton Cave
Offensive tackle Jordan Devey
Defensive lineman
Marcus Forston
Defensive lineman A.J. Francis
Defensive back
Justin Green
Offensive lineman Josh Kline
September, 30, 2013
9/30/13
5:00
PM ET
The
New England Patriots
announced the release of defensive back
Kanorris Davis
on Monday afternoon, bringing their active roster down to 52 players.
Davis was promoted from the practice squad on Saturday afternoon to play a core special-teams role, logging 16 snaps on Sunday night and appearing on all four core special-teams units.
The undrafted rookie out of Troy is now subject to the league's waiver system. If he goes unclaimed on waivers Tuesday, he seems like a strong candidate to be re-signed to the practice squad.
September, 27, 2013
9/27/13
7:30
PM ET
The
New England Patriots
will promote rookie safety
Kanorris Davis
from the practice squad for Sunday night's game against the Falcons, a source confirms.

The move is not yet official, and there is always a chance the Patriots could reverse course, but Davis caught the team's eye with strong special-teams play in the preseason.
With top gunners
Matthew Slater
(wrist) and
Marquice Cole
(released Friday) not suiting up, Davis could be tapped to fill that role, and more, on special teams.
Davis was signed by the Patriots after going undrafted out of Troy.
Ben Volin of The Boston Globe first reported Davis' promotion.
September, 21, 2013
9/21/13
11:00
AM ET
Before the New England Patriots play a game, we'll attempt to predict the team's inactive players.

Our best guess on the list for Sunday's home game against the
Tampa Bay Buccaneers
:
Danny Amendola
-- Receiver was listed as doubtful on the injury report (groin) and doesn't look like he's ready to play at this point.
Steve Beauharnais
-- Linebacker was a healthy scratch last week, as his primary contributions would come on special teams at this point.
Brandon Bolden
-- Running back has missed the first two games and is questionable with a knee injury. The Patriots could use his special-teams presence with
Matthew Slater
out, but he might need a little more time. He said Friday that he was unsure of his status.
Dan Connolly
-- Starting right guard has been limited all week with a finger injury, which raises questions about his availability. Could mean
Marcus Cannon
steps in.
Rob Gronkowski
-- If this was a playoff game, or even the Super Bowl, the feeling is that the tight end would be ready to play. But no need to rush things in Week 3 of the regular season.
Chris Jones
-- Defensive tackle was claimed on waivers last week from the Buccaneers and is still being integrated into the system.
Matthew Slater -- Special-teams captain has already been declared out with a wrist injury.
Extra point:
With Slater out, safety Kanorris Davis could be in line for a promotion from the practice squad. If that happens, tight end
Matthew Mulligan
and defensive tackle Chris Jones would be candidates to potentially create a spot for Davis.
September, 1, 2013
9/01/13
8:10
PM ET
The
New England Patriots
announced the following five players have been signed to the practice squad: LB Ja'Gared Davis, S Kanorris Davis, CB Justin Green, DL Marcus Forston and LB Jeff Tarpinian.
The Patriots claimed Ja'Gared Davis off waivers last week from the Texans. The other four players were with the team in training camp.
The team has three open spots on the eight-man practice squad.
August, 29, 2013
8/29/13
9:59
PM ET
Entering the final 15 of the 2013 preseason, the Patriots trail the Giants 20-14. Passing along some quick-hit notes and observations following the third quarter.

1. Tebow time.
Tim Tebow
was under center for the Patriots to start the third quarter, relieving
Ryan Mallett
after a productive first half. We suspect Tebow will play the balance of the game. He needed just two throws to surpass his completion total from last week, while also taking two sacks on his first drive (his offensive line did him no favors). He finished the quarter with those three completions and four sacks taken.
2. Notable veterans still in.
It's tough to say with conviction what veterans playing into the third quarter of the final preseason game means, but we nonetheless made note of a couple who remained in the game. On offense, tight end
Daniel Fells
received reps, while safety
Adrian Wilson
was a noticeable defender still on the field. This could be an indication that they're on the roster bubble.
3. Punting competition over?
As a sign that the punting competition may have concluded, it was veteran
Zoltan Mesko
who took all of the first third quarter punt for the Patriots, and he's taken all five of six thus far tonight. Mesko has been the more consistent performer over undrafted rookie
Ryan Allen
throughout the preseason.
4. Washington muffs return.
Veteran
Leon Washington
had an explosive 43-yard punt return earlier in the game, but his fortunes turned late in the third quarter when he muffed a bouncing punt in his own territory. The normally sure-handed Washington likely regrets trying to handle the punt, as he could have allowed it to roll to safety.
5. Penalty box.
The following Patriots were flagged for penalties in the third quarter: Cornerback
Justin Green
(illegal hands to the face, declined) and safety
Kanorris Davis
(illegal participation).
July, 23, 2013
7/23/13
5:23
PM ET
Tight end
Jake Ballard
and defensive back
Kanorris Davis
both passed physicals on Tuesday and were removed from the active/physically unable to perform list and non-football injury list, respectively, according to a league source.
The move means that each is eligible to practice when training camp opens. Ballard is coming off of a major knee injury back in February 2012, while it is unclear why Davis was originally placed on the non-football injury list.
Ballard is a candidate to earn playing time as the Patriots await the return of
Rob Gronkowski
, who was placed on the PUP list on Monday.