New England Patriots:

Kellen Winslow
September, 27, 2012
9/27/12
1:47
PM ET
FOXBOROUGH, Mass. -- Patriots tight end
Kellen Winslow
was not spotted at the start of Thursday's practice. His status is unclear. He was not listed on Wednesday's injury report. (
Update: Mike Reiss and Adam Schefter have reported that Winslow asked for and was granted his release by the Patriots
)
Meanwhile, guard
Logan Mankins
(hip) remained out of practice for a second straight day. His absence at Thursday's full pads session puts his availability in doubt for Sunday's game in Buffalo.
Defensive lineman
Brandon Deaderick
, who was inactive on Sunday night with an ankle injury, returned to practice on Thursday.
Receiver
Julian Edelman
(hand), defensive lineman
Justin Francis
(ankle), and tight end
Aaron Hernandez
(ankle) also were not spotted at the start of practice.
September, 23, 2012
9/23/12
7:54
AM ET
Newly acquired Patriots tight end
Kellen Winslow
will be active for tonight's game against the Ravens, a league source told ESPN NFL Insider Adam Schefter.
Winslow has been with the team for just two practices, but coach Bill Belichick said Friday he wasn't ruling out him contributing with tight end
Aaron Hernandez
out with an ankle injury.
"He's a pretty experienced guy, he's smart, he's [played] a lot of football," Belichick said. "We'll see how it goes, but I think there's a chance that he could help us."
Belichick said the Patriots have thrown a lot at Winslow since signing him to a one-year deal on Tuesday. He called Friday a key day because that's when the team ties together what it has worked on and a player's retention is tested.
In a situation like this, Belichick said the main thing is to ensure the player is ready for the game-plan, more so than focusing on the complete playbook.
"There may be things in the playbook that you need to go over and all that, but they may not apply to this game, so how much time do you want to spend on those?" he said. "Even though they are important, fundamental and building blocks, but it's not something that's really going to be used in this particular game, then it's maybe something you want to catch up on later on.
"So we try to prioritize what the person needs as a foundation, and what the person needs to go out and be able to play in the game in the role that we would ask him to play in. Next week, we'd probably go back and add in some other things, and whatever the new game-plan is make sure we cover that, and accumulate it that way rather than try to teach the entire book in one sitting."
When considering how long it would take for a player to get up to speed, Belichick said it varies.
He used veteran offensive lineman
Brian Waters
as an example. Waters was signed Sept. 4 last year and started in the season opener Sept. 12.
Information from ESPNBoston.com's Mike Reiss was used in this report.
September, 20, 2012
9/20/12
12:18
PM ET
FOXBOROUGH, Mass. -- Tight end Kellen Winslow answered questions from reporters Thursday at Gillette Stadium and one part of the Q&A that stood out was when he talked about having a similar playing style to Aaron Hernandez.
[+] Enlarge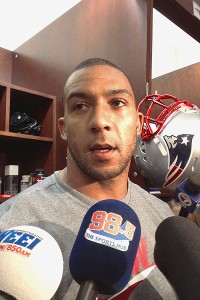 Mike Reiss/ESPNBoston.comKellen Winslow said Thursday pain won't keep him off the field.
What's it been like, even though it hasn't been very long, to be a Patriot?
"There is a lot of work to be done, just a lot of work. Just trying to get the offense down, trying to find my way in the offense."
Think enough time to be a participant in Sunday night's game?
"We'll see. It's just my job to make plays when it comes to me and I have to get the offense down, so I have a lot of work to do."
Why the Patriots?
"It was a good fit. I've never been in this kind of situation. But a situation arose where Aaron got hurt, and we're kind of similar, so I'm going to come in here and help out."
When you saw how they used tight ends here last year, what did you think?
"It's how tight ends should be used. They do a good job, a real good job."
Have you had a chance to meet with Tom Brady yet?
"Oh yeah, I've been in the playbook non-stop. A little bit, but he's Tom Brady. I have a lot of work to catch up and get on the same page as these guys."
What did you think of the Patriots from an outside perspective?
"With Coach [Belichick], he's one of the best of all-time. I'm not surprised by anything that's going on here. They do things and they practice and obviously play the games like you're supposed to. Teams model themselves after the Patriots."
You mentioned similarities to Aaron Hernandez in your game, what would be some examples?
"You just have to watch tape, but yeah, there's some similarities there. He's probably one of the most versatile tight ends in the game, if not the most. He goes all around the field. He can play any position. He's very versatile in what he does and he's smart. He's a very good player."
How much do you pride yourself on being a versatile tight end?
"I do. But it's going to take me a while to catch up to where he's at."
At this point in your career, is there anything you need to prove to yourself or others?
"I think every day, you have to prove yourself. With what happened in Seattle, I can't say much about what happened. It is what it is and I have to move on."
There were reports about the health of your right knee. Do you feel good about where you are?
"There is a question every year. The thing I concentrate on is not missing games, because then there is nothing held against me."
How does that work – people say the knee is a major mess but you never miss any games. How do those two things tie together?
"I would say will, man. Overcome. This is my dream to play. Like is said, if I was missing games every year or something like that, it would be true."
Do you play in a lot of pain?
"Yeah, but it doesn't matter."
Do you feel like you have something to prove to all the doubters that say you can't stay healthy?
"Yeah."
You came here and worked out before but they didn't sign you. Then Coach Belichick called you a few days ago, what did he say this time?
"I didn't work out. I just came in here and met with them. Just a meeting."
What did he say when he called you to say he wanted you on board?
"Get your butt on a plane [media laughs]."
What did they tell you in Seattle when letting you go? That was a surprise.
"I don't know. It doesn't matter. I'm moving on. It doesn't really matter."
Since that time, I know you met with the Patriots. Did you meet with anyone else?
"There were a couple teams. When I got released, it was probably the worst time to get released. Just basically waiting, and a situation arose, and I'm here."
How did you feel the practice went yesterday as you try to get integrated into the mix?

"I did OK. I have a long way to go, though. I have a bunch of work to do."
Do you feel like there is a benefit coming in the same week as Deion Branch, someone who knows the offense very well?
"Obviously, he's a great player, but I have so much to do, I can't even focus on other people."
What are your expectations? This team has like 3,000 tight ends. How do you separate yourself?
"Just make plays. Just make plays and they'll find a way."
From what you've seen of the playbook, does it have any similarities to what you've done in the past, in Cleveland, Tampa or even Seattle?
"At the end of the day, football is football. What they're doing here, the volume of the playbook is a lot. It's going to take some time to get used to. It's verbiage and getting used to the calls and getting used to Tom's cadence, and knowing not just what I have, but what everybody has, because people switch positions here."
When new players come into this team, mid-season, they often say they notice a big difference – expectations, leadership – what do you notice?
"I'm not shocked by anything. That's why they win Super Bowls around here. I expected it, the way these guys prepare, I already knew."
Any background with Coach Belichick?
"Just going against him. Not really, though, just knowing he's a great coach."
How much do you rely on your dad for advice football-wise?
"He's my dad. He's not the overbearing type of football dad guy. He's just my dad."
September, 20, 2012
9/20/12
10:12
AM ET
New England's offense became focused on tight ends with the arrival of
Rob Gronkowski
and
Aaron Hernandez
in 2010. Back in 2009,
Tom Brady
attempted 120 passes with multiple tight ends. Last year, that jumped to 475 attempts.
In other words, the reliance on tight ends had much more to do with personnel than philosophy.
So with Hernandez injured, are the Patriots still a two-tight-end offense?
Before Hernandez injured his ankle, the Patriots had used multiple tight ends on every offensive play. After he went down, it fell to 23 percent.
The addition of
Kellen Winslow
might change that.
On the surface, Winslow and Hernandez had very similar seasons in 2011. Winslow was targeted 114 times, while the ball was thrown to Hernandez 108 times. Winslow finished with 75 receptions, while Hernandez had 79.
Based on that, there's no on better tight end to replace Hernandez. Of course, there's more to the numbers.
Winslow is no longer the same player after the catch. Despite a similar number of receptions, Winslow's 254 yards after catch were nearly half of Hernandez's total of 503.
Hernandez missed 23 tackles last season, according to Pro Football Focus. Winslow missed three.
Just because they had similar reception totals, don't mistake them for equivalent threats.
Interesting to note (though not necessarily meaningful), Winslow was the intended target for nine interceptions last season, according to Pro Football Focus. That tied for NFL lead with
Vincent Jackson
and
Larry Fitzgerald
.
Winslow will have Brady throwing to him, which certainly impacts expectations. However, there's also a reason he was available two weeks into the season.
A healthy Winslow is more than just a stopgap. Yet, for the next month, the Patriots would settle for just that.
September, 19, 2012
9/19/12
9:46
AM ET


ESPN NFL Insider Adam Schefter was on SportsCenter this morning to discuss the moving parts of the Patriots' offense. Here's his take on what the loss of Aaron Hernandez (ankle) and the addition of tight end Kellen Winslow and Deion Branch might mean for the team (video above):

"Aaron Hernandez was the Patriots' best receiver, so now they have to make do without their best receiver for at least one month in this particular case. That may mean more three-wide-receiver sets, which is why they bring back Deion Branch to give Tom Brady a security blanket, an added receiver. We've seen increased playing time for Julian Edelman. As soon as Aaron Hernandez went out of the game last week Wes Welker was back into the game plan taking his normal reps. But losing Hernandez is an enormous loss, one of the biggest early season injuries so far with an enormous impact on that Patriots offense. He was out there every play, they used him in various roles. And now, by bringing in Winslow, by bringing in Branch the Patriots are trying to compensate for the loss of a player who was even more valuable than people realize."
September, 18, 2012
9/18/12
5:36
PM ET
We can expect tight end
Kellen Winslow
to be in Foxborough tomorrow as the New England Patriots continue to prepare for Sunday night. But can we expect to see him on the field in Baltimore against the Ravens?

By all indications, the Patriots are bringing Winslow in to fill the shoes of
Aaron Hernandez
, who will miss a few weeks with an ankle injury. But how will the loss of Hernandez and addition of Winslow affect the offensive formations the Patriots run on Sunday night?
In other words, will they go back to their preferred two-tight-end set with
Rob Gronkowski
and Winslow on the field for most of the game? Or will their offense look more like it did Sunday after Hernandez went down, with primarily three-receiver sets (and a bigger role for
Wes Welker
)?
Will Winslow be ready to contribute right away? That likely depends on two factors: (1) Is he healthy? The Patriots passed on signing him earlier this month and there were reports he failed his physical (questions about his knees), but sources told ESPN that the 29-year-old passed the physical. (2) Can he get up to speed with the playbook in time to be able to contribute Sunday?
That, in large part, depends on Winslow, who has been one of the better pass-catching tight ends in the league in recent seasons. He has 437 receptions for 4,836 yards and 23 touchdowns in seven seasons and made the Pro Bowl while with the Browns in 2007. He caught 75 passes for 763 yards and two scores last season.
"Whoever knows Kellen Winslow well enough and how smart he is can answer that question" about whether he can contribute right away, ESPN NFL analyst and former Patriots linebacker
Tedy Bruschi
said on this week's ESPNBoston.com Patriots Podcast. "I know Kellen. We've spoken and met. I don't know about his football aptitude, but this is a guy, from the impressions that I have, that wants to win so bad. He wants to be successful in a bad way. He wants it really, really bad. That's great.
"To have that emotion and desire is one thing, but to play for the
New England Patriots
you have to be cerebral, especially offensively. You've got to be able to pick up the system, you've got to be able to adjust on the fly, and you've got to be able to absorb a lot in a short amount of time if you come on board in this capacity. You've seen players in the past, players that haven't been able to do it, that just aren't there anymore because it didn't work because they weren't smart enough. Let's see if Winslow picks up the system and starts to contribute to this team. I think he's got a good chance."
Patriots coach Bill Belichick was asked during a Tuesday teleconference with reporters whether you can rely on a player acquired during the week to be an immediate contributor on the field that same week. He recalled a time when he was coach of the
Cleveland Browns
, when after losing his first two quarterbacks to injury early in the 1992 season he signed
Mike Tomczak
mid-week and had to start him that Sunday.
How did he do? The Browns were shut out by the
Denver Broncos
, 12-0, in Tomczak's first game. The quarterback was 9-for-19 with 75 yards passing and two interceptions. The Browns, however, won four of the next five games. Over that span, Tomczak threw five touchdowns and no interceptions.
"Mike did a good job," Belichick said. "He came in and worked hard, learned a lot through the week and actually played pretty competitively and I thought he had a pretty decent year for us that year. Obviously, it's not an ideal situation but we did that last year too. We brought guys in, played them in the nickel or started them; played them for 30 or 40 plays in the game. [We] signed guys and didn't play them at all. It depends on all the circumstances that surround the player, the game, the situation and so forth. I don't think there's any real book on that."