New England Patriots:

Kyle Williams
December, 27, 2013
12/27/13
10:00
AM ET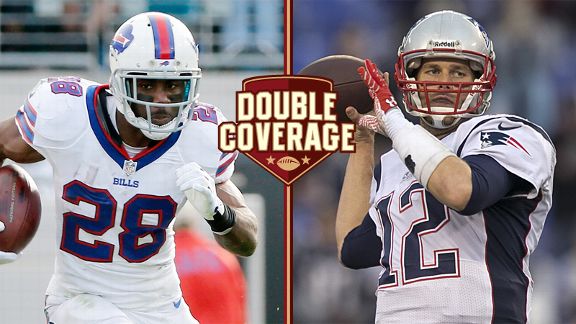 Getty ImagesTom Brady, right, and the Patriots hope to secure a postseason bye with a win vs. C.J. Spiller's Bills.
FOXBOROUGH, Mass. -- The
New England Patriots
and
Buffalo Bills
will end the regular season the way they started it, by facing each other.
The Patriots needed a late drive to beat the Bills 23-21 in the opener, but the teams went in mostly opposite directions over the next 15 weeks.
Unfortunately for the Bills, the script is a familiar one. They haven't qualified for the playoffs since 1999, the longest active drought, so now the focus turns to next season.
Meanwhile, the Patriots enter another finale with playoff positioning in mind after having clinched the AFC East title for the 10th time in the past 11 seasons. The Patriots could actually thank the Bills for that, because Buffalo's 19-0 victory against Miami last Sunday handed the division crown to New England.
Here to preview the matchup are ESPN.com NFL Nation reporters Mike Rodak (Bills) and Mike Reiss (Patriots).
Reiss:
Mike, this seems pretty obvious, but coach Doug Marrone is finishing his first season, and a win against the Patriots could go a long way toward the foundation he's attempting to establish. What signs, if any, have you seen from Marrone that the Bills are on the right track?
Rodak:
Mike, I think the past two games have said something about this team. After their 27-6 loss to Tampa on Dec. 8, the season was essentially over for Buffalo. They could have packed it in and waited until next season to make improvement. Instead, they have strung together their first back-to-back wins of the season. Does that matter in the long run? Probably not, but Marrone often talks about establishing a sense of accountability and resiliency in his team, and there have been some signs of that over the past two weeks.
Mike, the Patriots have shown plenty of resiliency this season too. Is this the best coaching job you've seen from Bill Belichick?
Reiss:
Belichick and his staff have been coaching their tails off, no doubt about that. I have always rated 2008 at the top of the mountain, because when you lose
Tom Brady
on the 15th offensive play of a season and still manage to go 11-5, that's pretty remarkable from this viewpoint. I think we've seen in recent years what often happens when a superstar quarterback is lost for the season -- the 2011 Colts with
Peyton Manning
as one example, which cost team president Bill Polian his job. We also see how the Packers are struggling this season without
Aaron Rodgers
. The Patriots have been hit hard by injuries this season too and also have quite a few young players who have been asked to take on significant roles. So it's been impressive.
As for young players being asked to carry the load for the Bills, the big question from here is if
EJ Manuel
is a franchise quarterback to build around. What is your opinion on Manuel in that regard?
Rodak:
That is a tough call, and it's going to be the biggest question Marrone and general manager Doug Whaley will need to address this offseason. From a leadership standpoint, Manuel has a presence and a poise that any successful quarterback needs. But it hasn't translated to consistency on the field. Since returning from his second knee injury, Manuel has thrown six interceptions and shown wild swings in accuracy as a passer. The Bills seem content with pressing forward with Manuel and allowing him to develop with live action each Sunday. That is the approach most teams take with young quarterbacks; it doesn't always work out. In most cases, deciding when to make a change is difficult. However Manuel's career unfolds, the Bills would be smart to have a Plan B, even as soon as next season. With J.P. Losman, that Plan B was Kelly Holcomb. With Trent Edwards, it was
Ryan Fitzpatrick
. Ultimately, neither of those veteran backups put the Bills in the right spot to win, which is why I think the organization must aim higher when hedging their bets with Manuel. Drafting another quarterback in the first round isn't an option that should be immediately dismissed.
This week, Marrone mentioned how the Patriots have several rookies playing roles on both sides of the ball. Watching undrafted defensive tackle
Joe Vellano
back in spring camps, I never would have thought he would be contributing as much as he has this season. But can the Patriots rely on Vellano and their other younger players in the playoffs? It doesn't seem that long ago when safety
Patrick Chung
, then in his second season, botched a fake punt that cost the Patriots in a divisional playoff loss to the Jets.
Reiss:
Mike, I'd be shocked if the Bills take another quarterback in the first round. If they do in 2014, Buffalo wings on me from Duff's for the next five years every time the Patriots come to western New York.
As for the Patriots, the rookies playing the largest roles are now [receiver]
Aaron Dobson
, [defensive tackle]
Chris Jones
, [cornerback]
Logan Ryan
and [punter]
Ryan Allen
. The others are sprinkled in from more of a complementary standpoint or as a short-term fill-in (e.g.,
Josh Kline
at left guard vs. Baltimore). Vellano, for one, has seen his snaps decrease in recent weeks in favor of second-year defensive tackle
Sealver Siliga
. Anytime a team has rookies and youngsters playing front-line roles, it comes with some added risk. But I'd say this about the Patriots this season: As young as they are in certain spots, no moment seems too big for most of the players on the roster.
Defensively, the Bills look strong up front. What do you see from them on that side of the ball?
Rodak:
They certainly are, Mike. At this point, it's safe to call it the best defensive line in the league. The Bills have benefited from career seasons from both
Kyle Williams
and
Marcell Dareus
, who are both serious candidates for the Pro Bowl. Same with
Mario Williams
, who is enjoying his best season since signing his monster deal with Buffalo. But there have also been some under-the-radar contributors. Whaley's offseason swap of linebacker
Kelvin Sheppard
for defensive end
Jerry Hughes
has paid dividends. You can add Hughes to the list of players having career seasons under first-year defensive coordinator Mike Pettine. In the secondary, that theme continues with
Leodis McKelvin
, who had four shaky years before finding his groove this season. The Bills have also gotten big things from their smallest player -- 5-foot-7 slot cornerback
Nickell Robey
, who went undrafted in the spring but has played like an early-round pick. There have been bad moments for the defense, but in general, they came mostly earlier in the season. Right now, it looks like a unit on the rise.
Mike, one area where the Bills have been vulnerable at points this season has been their run defense. They rank 20th in the NFL, allowing 4.2 yards per rush. Is the Patriots' running game capable of exploiting that weakness? And perhaps more importantly, will the Patriots need their ground attack to advance in the playoffs?
Reiss:
They are certainly capable of doing it, and last Sunday's win against the Ravens is the evidence. The Patriots entered the game with a mindset of being physical, and they won the battle of the line of scrimmage, churning out 142 yards on the ground against a sturdy Ravens front that struggled against some zone runs. The Patriots ran it 34 times and had 28 dropbacks in the game. I don't think they necessarily have to have that type of split in the playoffs to win, but like most offenses, this attack is at its best when it's most balanced. Ball security was a big issue the first few months of the season, mostly with running backs
Stevan Ridley
, and to a lesser degree with
LeGarrette Blount
(fumble in Oct. 6 loss to the Bengals), but that has subsided. One of the big keys with the running game last Sunday is it helped the Patriots in the red zone, where they are still recalibrating after losing tight end
Rob Gronkowski
to a season-ending knee injury on Dec. 8.
.
September, 3, 2013
9/03/13
5:00
AM ET
Regular-season football almost is back. The long-anticipated wait is nearly over and the Patriots are just days away from the quick flight to Buffalo to take on the Bills in their season opener, a division contest that pits last year's champion against a team starting fresh with a new general manager and head coach.

It's been a whirlwind couple of weeks for the Bills at the quarterback position, as presumptive starter
EJ Manuel
-- the team's top pick in April's draft -- underwent a knee procedure that has his status for Sunday in doubt. Veteran
Kevin Kolb
was placed on injured reserve, and the team recently added former Heisman Trophy winner
Matt Leinart
, only to release him shortly thereafter.
The Bills have a new coaching staff led by Doug Marrone, who patrolled the Syracuse sidelines before his arrival in Buffalo. He added a familiar face to oversee his defense, as he hired former Jets defensive coordinator Mike Pettine to the same position.
Doug Whaley takes over as the general manager in Buffalo, replacing Buddy Nix, who remains with the team in a special assistant role.
Below is a primer on more names of note for the Bills:
Record:
6-10 (2012)
Head coach:
Doug Marrone (0-0, first season)
Offensive coordinator:
Nathaniel Hackett
Defensive coordinator:
Mike Pettine
THREE PLAYERS TO KNOW, OFFENSE
1. QB EJ Manuel/QB Jeff Tuel.
The Bills look likely to start Tuel, an undrafted free agent out of Washington State, though Manuel, the impressive prospect out of Florida State, returned to practice on Sunday. If the team does go with Tuel, he'd be the first undrafted rookie since at least 1967 to start at quarterback in Week 1 of the regular season. Manuel was the 16th pick in this year's draft and the first quarterback taken. Prior to Kolb's injury, many were projecting that Manuel would win the job. Now it's a matter of his health.
2. RB C.J. Spiller.
Few players are as electric as Spiller, a sprinter who averaged 6 yards a carry last season. He can get the job done as a runner and receiver, with sensational open-field agility and the presence to make defenders miss. He's not a power runner, per se, but defenders must wrap up to bring the Clemson product down. No doubt that Spiller will be a focus for the Patriots this week.
3. C Eric Wood.
The Bills spent big to ink Wood, a tri-captain for 2013, to a contract extension, cementing his status as a pillar of this line and standing as one of the best centers in football. A former first-round pick out of Louisville, Wood anchors the middle for Buffalo and can hold up as both a pass protector and run blocker. He draws a tough assignment this week against
Vince Wilfork
.
THREE PLAYERS TO KNOW, DEFENSE
1. DE Mario Williams.
The Bills emptied the checkbook to land Williams as a free agent last offseason, and Pettine's defensive scheme should lend itself to helping Williams have a productive 2013. Williams has unique length and the ability to bend the edge as a rusher, which should provide a stiff test for the Patriots' top tackles. He came on at the end of last season, finishing with six sacks, two forced fumbles and three passes defensed in the final eight games of 2012.
2. FS
Jairus Byrd
. Another Bill who is banged up, Byrd is one of the best safeties in football when healthy, which is why the Bills made him their franchise tag player this offseason. He's currently working through a plantar fasciitis issue, which has put his status for Sunday in jeopardy. The ball-hawking safety has 18 interceptions in just four pro seasons, including five last year.
3. DT Kyle Williams/DT Marcell Dareus.
The Lions likely set the bar for best defensive tackle tandems in the NFL, but the Bills have an impressive duo who have the raw talent to be exceptional. Williams, a captain for 2013, is a rock in the middle who is tough to move off of his spot. He's been perpetually underrated during the course of his career. Dareus has an abundance of talent and is looking to make strides under Pettine. He was a star at Alabama and the third pick in the draft in 2011. He stands at 6-3 and 330 pounds, but, much like Wilfork, has terrific movement skills for a player of his stature.
Also of note:
The Bills will be without their best defensive player in cornerback
Stephon Gilmore
, as he recently fractured a wrist that has him out for 6-8 weeks. The team is likely to start
Leodis McKelvin
and, perhaps,
Justin Rogers
at cornerback. ...
Robert Woods
and
Marquise Goodwin
, two of the team's top four picks in this year's draft, may work into the wide receiver rotation, while second-round linebacker
Kiko Alonso
is expected to be an every-down player from the outset.