New England Patriots:

LeGarette Blount
March, 7, 2014
3/07/14
11:00
AM ET
»
AFC Free-Agency Primer
:
East
|
West
|
North
|
South
»
NFC
:
East
|
West
|
North
|
South
Key free agents:
CB
Aqib Talib
, WR
Julian Edelman
, RB
LeGarrette Blount
, LB
Brandon Spikes
, C
Ryan Wendell

Where they stand:
The Patriots would like Talib back, and
Brent Grimes
' four-year, $32 million contract with $16 million guaranteed in Miami provides a ballpark for the marketplace. Is that too rich for the Patriots? The club would also like Edelman back, but after investing in a receiver with a similar skill set last offseason (
Danny Amendola
), it will be interesting to see how far the Patriots are willing to extend to do so. Talib is the key piece, and similar to
Wes Welker
last year, it makes sense to think the team will quickly move to Plan B if a deal isn't struck by the start of free agency.
What to expect:
The Patriots aren't flush with cap space, and Bill Belichick often says that free agency is one slice of the team-building process, along with the draft and trades. A focus on retaining their own, with a few complementary pieces from other teams added in free agency, would be our best guess as to how the Patriots approach things in 2014. Key spots in addition to retaining Talib and Edelman are adding a more dynamic presence at tight end, more pass-rush help and depth at defensive tackle.
January, 17, 2014
1/17/14
6:00
PM ET
It was a safe bet that the buildup to this Sunday's AFC Championship Game was going to include substantial talk about
Tom Brady
vs.
Peyton Manning
, the two quarterbacks involved.
But this week has involved so much more, as the two best teams in the AFC have provided no shortage of storylines this season in distancing themselves from the rest of the conference.

Talk has ensued about how the previous matchup between the teams will play into Sunday, how the game will impact the legacy of Brady and Manning, and how much of a factor familiarity between the two teams will be.
In the end, however, Sunday will dictate only one thing for sure, and that is which team will represent the AFC in Super Bowl XLVIII.
A win would make Brady the first quarterback in NFL history to start six Super Bowls, and would also tie Bill Belichick for the most postseason victories of all-time.
The
Denver Broncos
enter the game as a favorite according to the point spread, but the
New England Patriots
are looking to carry their strong play over the past three games into a triumphant effort on Sunday.
Here's what we'll be watching for.
1. Patriots' offensive approach:
If the Patriots want to stick with what has worked over the past three games, then hammering the Broncos on the ground seems like a strong bet.
LeGarrette Blount
and the stable of backs have been dominant behind an overwhelming offensive line. The Patriots are a game plan offense, however, always aiming to attack a defense's weakness, and with recent injuries factored in, the Broncos are a better defense against the run than the pass. Will the Patriots try to pick apart a secondary playing without its best cornerback? Or, perhaps, will the ground game set the tone?
2. Slowing Denver's passing attack:
Back in Week 12, the Patriots' defense was able to limit Manning to a mortal effort, holding him to 150 passing yards on 19-of-36 attempts. Some of that might be attributed to the wind, but the secondary also showed it has what it takes to go toe-to-toe with the best offense in football. A key player who was not on the field during that matchup, tight end
Julius Thomas
, will be available this Sunday, giving the Patriots one more player to account for. He joins the trio of
Demaryius Thomas
,
Eric Decker
and, of course,
Wes Welker
to form a unique set of weapons for Manning.
[+] Enlarge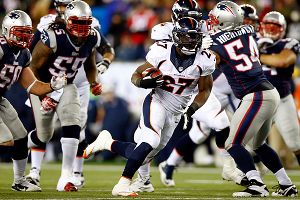 Jared Wickerham/Getty ImagesKnowshon Moreno rushed for 1,038 yards this season.
3. Building the run D wall:
In the last meeting, Denver rushed for 280 yards, with
Knowshon Moreno
accounting for 224 of those yards. The Patriots were likely happy with keeping the Broncos' passing offense under wraps in Week 12, but they have repeatedly said this week that they can't afford to let Denver run the ball the same way again. From a personnel standpoint, the insertion of
Sealver Siliga
as a starter at defensive tackle has appeared to pay off, as the Patriots have held two of their past five opponents under 100 yards rushing.
4. Allen and Dobson's health and status:
They have flown under the radar a bit after Brady missed Wednesday's practice, but both punter
Ryan Allen
and wide receive
Aaron Dobson
have practiced on a limited basis this week. Allen left last Saturday's game with a shoulder injury, and while that won't likely impact his punting, it could be a factor in him handling snaps, both as the holder and punter, as we saw what a high snap can do on a given play last week. For Dobson, who hasn't played since Week 17, a return would give the Patriots their biggest receiver in the lineup and a potential red-zone target. Should the Patriots aim to test a beaten up Denver secondary, Dobson could give them a vertical presence on the perimeter.
5. Altitude, crowd noise, "Omaha!", etc.
It's hard to gauge just how much the thin air of Denver impacts players' stamina on the field, but one area where it does often have an impact is in the kicking game. Don't expect many kickoff returns on Sunday, though it does shorten the field for offenses, who can attempt field goals from greater distances. Denver is a loud venue, and the Patriots' offense will be tested by the crowd noise. As we saw in the Broncos-Chargers game, Manning is a master at drawing opponents offside (he used the cadence "Omaha!" 44 times during the game), and the Patriots must be disciplined in their pre-snap movement. Especially against this offense, giving away free yards (which can potentially extend a drive) is something a defense must avoid.
January, 11, 2014
1/11/14
11:45
PM ET
FOXBOROUGH, Mass. -- At an initial glance, a look at who is "up" and who is at the opposite end of the spectrum in the
New England Patriots
' divisional-round
playoff win
against the Colts:
Blount
Up

LeGarrette Blount
-- Running back totals four touchdowns, including a 73-yard scoring jaunt in the fourth quarter. The four rushing touchdowns sets a franchise record as the offensive line, tight ends and fullback
James Develin
also get a tip of the cap for opening the holes.
Jamie Collins
-- Rookie linebacker rises up to the challenge with extended opportunity after
Brandon Spikes
is placed on season-ending injured reserve, as Collins is all over the field.
Alfonzo Dennard
/
Aqib Talib
-- Starting cornerbacks don't win every one-on-one challenge, but are generally up to the task as Talib lines up across from
T.Y. Hilton
consistently and Dennard opens the game with a big interception and ends the game with one as well.
Stephen Gostkowski
-- Kicker does an admirable job filling in for injured punter
Ryan Allen
.
Down

Danny Aiken
-- Snapper fires a delivery over the head of punter Ryan Allen in the second quarter that results in a safety.
Kyle Arrington
-- Nickel cornerback is replaced by rookie
Logan Ryan
near the end of the second quarter after having some struggles in the slot.
Devin McCourty
-- As the last line of defense, second-team All-Pro safety lets
LaVon Brazill
get behind him for a 35-yard touchdown.
January, 11, 2014
1/11/14
8:59
PM ET
FOXBOROUGH, Mass. -- After 15 minutes of play, the New England Patriots lead the Colts 14-7. Passing along quick-hit notes and observations from the first quarter.
1. Dennard picks off Luck early, Blount cashes in.
From the idyllic start playbook: Patriots cornerback
Alfonzo Dennard
intercepted Colts quarterback
Andrew Luck
on Indianapolis' first third down of the game, returning it to the Colts' 2 yard line. The Patriots needed just one offensive play to make Luck pay, as
LeGarrette Blount
dove in for a score, giving the team a 7-0 lead.
2. Blount dashes into end zone, again.
On the Patriots' second offensive drive, Blount once again found the end zone. Following a methodical, 10-play, 74-yard drive down the field, which including a key 25-yard completion to
Julian Edelman
, Blount sprinted in from two yards away, his second two-yard score of the game.
3. Colts respond.
As the Colts showed last week, there is no such thing as knocking them out early. Luck hooked up with wide receiver
LaVon Brazill
on a 38-yard touchdown to cut the Patriots' lead in half. Brazill beat Dennard in man coverage down the sideline.
4. Talib shadowing Hilton.
We talked this week about how the Patriots would plan to cover Colts wide receiver
T.Y. Hilton
. As it turns out, it's been a steady dose of cornerback
Aqib Talib
, who has shadowed Hilton as he has bounced around the formation. It's a sign of the Patriots' continued confidence in Talib as a lockdown cornerback.
5. Penalty box.
The following Patriots were flagged for penalties during the first quarter: linebacker
Ja'Gared Davis
(illegal block in the back) and wide receiver
Matthew Slater
(illegal block in the back).
December, 31, 2013
12/31/13
5:00
AM ET
After watching one of the most impressive performances by a running back in Patriots history on Sunday, with
LeGarrette Blount
breaking a 51-year-old franchise record for all-purpose yards, it led us to hit the rewind button to the day the Patriots acquired Blount.
In a draft-day deal this past April, the Patriots traded running back
Jeff Demps
and a seventh-round pick for Blount.
Blount
In terms of value, it obviously ranks as one of the best deals in Bill Belichick's 14 years running the Patriots' football operation. As for how close to the top, here's one viewpoint of Belichick's top 10 trades from what is often tough to assess from a black-and-white perspective:
1. Acquiring a 2008 first-round draft choice (eventually turned into
Jerod Mayo
) and 2007 fourth-round draft choice (traded for
Randy Moss
) in exchange for a 2007 first-round draft choice (28th) which the 49ers used on offensive tackle
Joe Staley
(April 28, 2007).
2. Acquiring receiver
Wes Welker
from Miami for second- and seventh-round draft choices (March 5, 2007).
3. Acquiring running back
Corey Dillon
from Cincinnati for a second-round pick (April 19, 2004).
4. Acquiring Baltimore's 2004 first-round pick (turned into
Vince Wilfork
) and 2003 second-rounder in exchange for a 2003 first-round pick (19th) used on QB Kyle Boller (April 26, 2003).
5. Acquiring nose tackle
Ted Washington
from Chicago for a fourth-round pick (Aug. 19, 2003).
6. Acquiring cornerback
Aqib Talib
and a seventh-round pick from Tampa Bay in exchange for a fourth-round pick (Nov. 1, 2012).
7. Acquiring Blount from Tampa Bay for Demps and a seventh-round pick (April 27, 2013).
8. Acquiring the Lions' second-round pick to select offensive lineman
Matt Light
as the Jets were ready to pounce on the next selection and giving up a second-rounder and sixth-rounder to do so (April 21, 2001).
9. Acquiring a 2003 first-round draft choice from Buffalo for
Drew Bledsoe
(April, 21, 2002).
10. Acquiring a 2012 first-round draft choice (used as a chip to trade up for
Chandler Jones
) and a 2011 second-round pick (RB
Shane Vereen
) from New Orleans in exchange for a 2011 first-round draft choice (28th) used on running back
Mark Ingram
(April 28, 2011).
December, 29, 2013
12/29/13
11:00
PM ET
FOXBOROUGH, Mass. -- It has seldom come easy for the
New England Patriots
in the 2013 season, so it was fitting Sunday's finale against the visiting
Buffalo Bills
was played in a steady downpour from start to finish. Just another obstacle to overcome in a season full of them.
"I haven't played in one like this," quarterback
Tom Brady
, now in his 14th season, said after the soggy, closer-than-it-looked 34-20 victory. "The water on the field at the end, it was just puddles. I've never seen that on our field before."
That's because the Patriots haven't played in such waterlogged conditions since the Gillette Stadium surface was changed from natural grass to FieldTurf in 2006. The ball was slick, the footing far from secure, and it turned into a running game.

Thankfully for the Patriots, they had 6-foot, 250-pound bulldozer
LeGarrette Blount
on their side, as he broke a 51-year-old franchise record with 334 all-purpose yards (189 rushing, 145 on kickoff returns). Blount, as smiling coach Bill Belichick said afterward, "was clearly the best player on the field" and "carried the team on his back most of the day."
This is what the good teams do, finding different ways to win and new players to rise up when adverse conditions and injuries strike. After 16 regular-season games, we can now decisively declare that the banged-up 12-4 Patriots are in that category.
Where it takes them, even after they secured the AFC's No. 2 seed and a first-round playoff bye, no one knows.
But there's a feeling from seemingly all corners of the locker room that this group is one players feel good about taking their best shot with in the every-play-is-magnified postseason. At this point, that's really all they can ask for, with their first game in the divisional round scheduled for Saturday, Jan. 11, at 8:15 p.m. ET.
"This team has been through a lot this year, a lot of adversity, a lot has not gone our way. But we've found a way to put ourselves in a good position," said special teams captain
Matthew Slater
, who has been handed the responsibility of delivering an inspirational message to players after each victory before breaking the team down.
"I can't guarantee us winning a game, I can't guarantee us making a run, but I can guarantee that we're going to come out, give great effort and compete."
That, in many ways, defines a 2013 Patriots squad whose resilience is its most admirable quality.
[+] Enlarge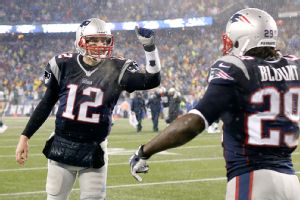 Winslow Townson/USA TODAY SportsTom Brady congratulates LeGarrette Blount, the latest member of the Patriots to carry the load.
As Slater knows from his six years in the NFL, there are few guarantees at this time of year. In 2010, the Patriots went 14-2, earned a first-round bye, then were bounced by the
New York Jets
at home in the divisional round. The year before, they limped into the playoffs when receiver
Wes Welker
tore his ACL in the season finale at Houston and were blown out by the
Baltimore Ravens
in the wild-card round.
While that seemed bad at the time, it actually pales in comparison to what the Patriots have endured injury-wise this season, with top players
Vince Wilfork
,
Jerod Mayo
,
Rob Gronkowski
and
Sebastian Vollmer
among those placed on season-ending injured reserve.
It looked like Pro Bowl left guard
Logan Mankins
, who once played parts of a season on a torn ACL, might join the group when he needed help coming off the field in the second quarter Sunday after injuring his ankle. At that point, most Patriots fans had to be asking, "Can this team really absorb the loss of another top player?"
But Mankins came back after retreating to the locker room, his toughness reflective of what observers have seen from the Patriots' all season.
"There's nobody I've ever played with as tough as him," Brady marveled. "Logan is second to none."
These Patriots, on the whole, are pretty tough, too, a result of weathering a 16-game season that has delivered them some haymakers -- either by injury or pressure-cooker on-field situations.
"This is one of the most mentally tough teams I've been on, through the close games that we've played," said defensive end
Rob Ninkovich
, now in his eighth NFL season. "The games that you win by three, one, those are the games that take a lot out of you, and we just keep coming back every week."
"As you've seen from the 16-game season, despite the injuries, there definitely was a youth movement with younger guys having to step up, and we hung in there," veteran defensive end
Andre Carter
added. "We constantly fought. We showed a lot of poise through adversity. We showed a lot of character through adversity."
It's a quality that Belichick himself seemed to admire as he allowed himself a moment to step outside of his one-game-at-a-time focus and view the 16-game big picture.
"I'm happy for them. They definitely earned it," he said. "Nobody gave them anything, they had to go out and earn it -- won 12 games, and a lot of them were very tough and competitive and came down to the wire. This team earned it."
Then Belichick said, "At the same time, this isn't our only goal for the season."
So the short-handed but resilient team will take its best shot after a well-deserved playoff bye, with more obstacles surely ahead for a club that keeps finding new ways to overcome them.
December, 29, 2013
12/29/13
5:44
PM ET
FOXBOROUGH, Mass. -- Sharing thoughts at halftime of the
New England Patriots
' regular-season finale against the Bills (New England leads
16-3
):

Mankins' toughness is evident:
When starting left guard
Logan Mankins
was helped off the field in the second quarter, it was natural to assume it was serious. Mankins is one of the toughest Patriots players, once playing on a torn ACL. But after going to the locker room, Mankins soon returned to action. It very well might be serious, but they don't come much tougher than Mankins.
Dobson foot injury could lead to Collie call:
With rookie receiver
Aaron Dobson
limping off the field in the first quarter (and not returning), it moved
Kenbrell Thompkins
up the depth chart into some two-receiver packages. Also,
Danny Amendola
played in some two-receiver packages along with
Julian Edelman
after opening the game exclusively as the No. 3. One thought: If Dobson's injury is serious enough to keep him out, it could lead to a quick call back for
Austin Collie
.
Edelman's milestone:
Edelman has arguably been the Patriots' most consistent offensive player this season, and he hit both the 100-catch and 1,000-yard receiving marks today. The spark he is providing the offense is
Wes Welker
-like.
Wet ball a factor:
With the game being played under heavy rain, ballhandling has been shaky on both sides. New England's
Shane Vereen
and
LeGarrette Blount
had fumbles, both of which were recovered by the Patriots. Amendola dropped a pass. It looked like one long throw might have slipped out of
Tom Brady
's hand.
Style of play reminds of 2004 season:
When the Patriots run the ball like they have today, and also last Sunday against Baltimore, it brings back memories of the 2004 season when
Corey Dillon
was rumbling through opposing defenses. Dillon was a big back, and while Blount is not in that class, his size stands out.
Credit to the defense:
The Patriots are piecing things together on defense, but credit to the unit for coming up with the stops in the critical situations (e.g. fourth-and-1). It doesn't always look pretty, and the Bills have helped in some areas with sloppy play, but the New England defense has done its part so far today.
Bills get the ball:
The Bills won the opening toss and elected to defer, so they will get the ball at the start of the second half.
December, 27, 2013
12/27/13
10:00
AM ET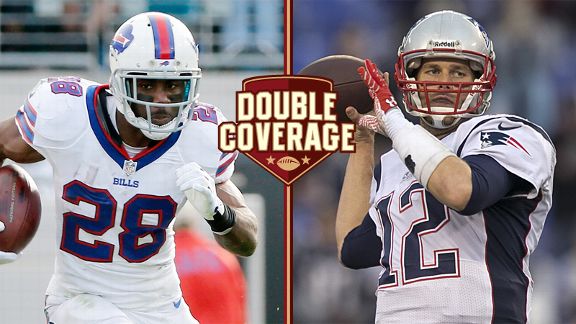 Getty ImagesTom Brady, right, and the Patriots hope to secure a postseason bye with a win vs. C.J. Spiller's Bills.
FOXBOROUGH, Mass. -- The
New England Patriots
and
Buffalo Bills
will end the regular season the way they started it, by facing each other.
The Patriots needed a late drive to beat the Bills 23-21 in the opener, but the teams went in mostly opposite directions over the next 15 weeks.
Unfortunately for the Bills, the script is a familiar one. They haven't qualified for the playoffs since 1999, the longest active drought, so now the focus turns to next season.
Meanwhile, the Patriots enter another finale with playoff positioning in mind after having clinched the AFC East title for the 10th time in the past 11 seasons. The Patriots could actually thank the Bills for that, because Buffalo's 19-0 victory against Miami last Sunday handed the division crown to New England.
Here to preview the matchup are ESPN.com NFL Nation reporters Mike Rodak (Bills) and Mike Reiss (Patriots).
Reiss:
Mike, this seems pretty obvious, but coach Doug Marrone is finishing his first season, and a win against the Patriots could go a long way toward the foundation he's attempting to establish. What signs, if any, have you seen from Marrone that the Bills are on the right track?
Rodak:
Mike, I think the past two games have said something about this team. After their 27-6 loss to Tampa on Dec. 8, the season was essentially over for Buffalo. They could have packed it in and waited until next season to make improvement. Instead, they have strung together their first back-to-back wins of the season. Does that matter in the long run? Probably not, but Marrone often talks about establishing a sense of accountability and resiliency in his team, and there have been some signs of that over the past two weeks.
Mike, the Patriots have shown plenty of resiliency this season too. Is this the best coaching job you've seen from Bill Belichick?
Reiss:
Belichick and his staff have been coaching their tails off, no doubt about that. I have always rated 2008 at the top of the mountain, because when you lose
Tom Brady
on the 15th offensive play of a season and still manage to go 11-5, that's pretty remarkable from this viewpoint. I think we've seen in recent years what often happens when a superstar quarterback is lost for the season -- the 2011 Colts with
Peyton Manning
as one example, which cost team president Bill Polian his job. We also see how the Packers are struggling this season without
Aaron Rodgers
. The Patriots have been hit hard by injuries this season too and also have quite a few young players who have been asked to take on significant roles. So it's been impressive.
As for young players being asked to carry the load for the Bills, the big question from here is if
EJ Manuel
is a franchise quarterback to build around. What is your opinion on Manuel in that regard?
Rodak:
That is a tough call, and it's going to be the biggest question Marrone and general manager Doug Whaley will need to address this offseason. From a leadership standpoint, Manuel has a presence and a poise that any successful quarterback needs. But it hasn't translated to consistency on the field. Since returning from his second knee injury, Manuel has thrown six interceptions and shown wild swings in accuracy as a passer. The Bills seem content with pressing forward with Manuel and allowing him to develop with live action each Sunday. That is the approach most teams take with young quarterbacks; it doesn't always work out. In most cases, deciding when to make a change is difficult. However Manuel's career unfolds, the Bills would be smart to have a Plan B, even as soon as next season. With J.P. Losman, that Plan B was Kelly Holcomb. With Trent Edwards, it was
Ryan Fitzpatrick
. Ultimately, neither of those veteran backups put the Bills in the right spot to win, which is why I think the organization must aim higher when hedging their bets with Manuel. Drafting another quarterback in the first round isn't an option that should be immediately dismissed.
This week, Marrone mentioned how the Patriots have several rookies playing roles on both sides of the ball. Watching undrafted defensive tackle
Joe Vellano
back in spring camps, I never would have thought he would be contributing as much as he has this season. But can the Patriots rely on Vellano and their other younger players in the playoffs? It doesn't seem that long ago when safety
Patrick Chung
, then in his second season, botched a fake punt that cost the Patriots in a divisional playoff loss to the Jets.
Reiss:
Mike, I'd be shocked if the Bills take another quarterback in the first round. If they do in 2014, Buffalo wings on me from Duff's for the next five years every time the Patriots come to western New York.
As for the Patriots, the rookies playing the largest roles are now [receiver]
Aaron Dobson
, [defensive tackle]
Chris Jones
, [cornerback]
Logan Ryan
and [punter]
Ryan Allen
. The others are sprinkled in from more of a complementary standpoint or as a short-term fill-in (e.g.,
Josh Kline
at left guard vs. Baltimore). Vellano, for one, has seen his snaps decrease in recent weeks in favor of second-year defensive tackle
Sealver Siliga
. Anytime a team has rookies and youngsters playing front-line roles, it comes with some added risk. But I'd say this about the Patriots this season: As young as they are in certain spots, no moment seems too big for most of the players on the roster.
Defensively, the Bills look strong up front. What do you see from them on that side of the ball?
Rodak:
They certainly are, Mike. At this point, it's safe to call it the best defensive line in the league. The Bills have benefited from career seasons from both
Kyle Williams
and
Marcell Dareus
, who are both serious candidates for the Pro Bowl. Same with
Mario Williams
, who is enjoying his best season since signing his monster deal with Buffalo. But there have also been some under-the-radar contributors. Whaley's offseason swap of linebacker
Kelvin Sheppard
for defensive end
Jerry Hughes
has paid dividends. You can add Hughes to the list of players having career seasons under first-year defensive coordinator Mike Pettine. In the secondary, that theme continues with
Leodis McKelvin
, who had four shaky years before finding his groove this season. The Bills have also gotten big things from their smallest player -- 5-foot-7 slot cornerback
Nickell Robey
, who went undrafted in the spring but has played like an early-round pick. There have been bad moments for the defense, but in general, they came mostly earlier in the season. Right now, it looks like a unit on the rise.
Mike, one area where the Bills have been vulnerable at points this season has been their run defense. They rank 20th in the NFL, allowing 4.2 yards per rush. Is the Patriots' running game capable of exploiting that weakness? And perhaps more importantly, will the Patriots need their ground attack to advance in the playoffs?
Reiss:
They are certainly capable of doing it, and last Sunday's win against the Ravens is the evidence. The Patriots entered the game with a mindset of being physical, and they won the battle of the line of scrimmage, churning out 142 yards on the ground against a sturdy Ravens front that struggled against some zone runs. The Patriots ran it 34 times and had 28 dropbacks in the game. I don't think they necessarily have to have that type of split in the playoffs to win, but like most offenses, this attack is at its best when it's most balanced. Ball security was a big issue the first few months of the season, mostly with running backs
Stevan Ridley
, and to a lesser degree with
LeGarrette Blount
(fumble in Oct. 6 loss to the Bengals), but that has subsided. One of the big keys with the running game last Sunday is it helped the Patriots in the red zone, where they are still recalibrating after losing tight end
Rob Gronkowski
to a season-ending knee injury on Dec. 8.
.
August, 23, 2013
8/23/13
5:00
AM ET
DETROIT -- In tabulating the snaps played by skill-position players with the first-unit offense, one aspect stood out -- after losing fumbles,
Brandon Bolden
and
Shane Vereen
didn't play again for the rest of the half.
Here is the breakdown of snaps played (includes penalties, not half-ending kneel-down):
QB
Tom Brady
-- 46 of 46
WR
Julian Edelman
-- 45 of 46
WR
Aaron Dobson
-- 31 of 46
WR
Kenbrell Thompkins
-- 31 of 46
TE
Jake Ballard
-- 27 of 46
RB
Stevan Ridley
-- 21 of 46
TE
Zach Sudfeld
-- 19 of 46
TE
Michael Hoomanawanui
-- 16 of 46
RB
Shane Vereen
-- 10 of 46
FB
James Develin
-- 9 of 46
RB
Leon Washington
-- 8 of 46
WR
Josh Boyce
-- 6 of 46
RB
LeGarrette Blount
-- 4 of 46
RB Brandon Bolden -- 3 of 46
QUICK-HIT THOUGHTS:
Julian Edelman filled in for the hobbled
Danny Amendola
, playing every snap but the short-yardage fourth-and-1 run in the second quarter when the Patriots called on three tight ends and a fullback and running back. ... Edelman and Kenbrell Thompkins opened the game in the two-receiver package, with Aaron Dobson coming on as the third receiver. The Patriots utilized the three-receiver package quite a bit, even turning to a four-wide look at times. ... At tight end, Jake Ballard and Zach Sudfeld opened as the top combination. Ballard has gradually upped his workload this preseason, with his 27 snaps a high. ... At running back, Stevan Ridley was the clear No. 1 option.