New England Patriots:

Manti Te'o
February, 24, 2013
2/24/13
5:00
AM ET
[+] Enlarge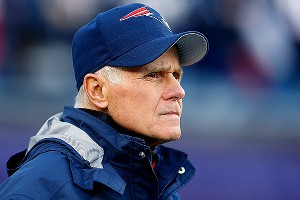 Jim Rogash/Getty ImagesOffensive line coach Dante Scarnecchia is one of Bill Belichick's most trusted assistant coaches.
INDIANAPOLIS -- Quick-hit thoughts from around the NFL and the Patriots:
1.
Bill Belichick
has yet to officially announce his 2013 coaching staff, but from what we saw at the NFL combine, there shouldn't be any major changes. It looks like the entire offensive staff returns intact, which means Belichick would have one additional offensive assistant over the course of 2013, with
Brian Daboll
having been added in the playoffs. As for where Daboll lands on the offensive staff, it could be in a roving capacity with perhaps a little added emphasis along the offensive line. The reason: Belichick knows every year that highly regarded offensive line coach
Dante Scarnecchia
returns, it's a bonus because he's closer to retirement than the start of his career. Belichick is usually thinking a few steps ahead, and whenever the time comes to replace Scarnecchia -- which would be a major blow based on his excellence -- he has to be prepared.
2. When it comes to a potential landing spot for free-agent defensive end
Dwight Freeney
, I wouldn't be surprised if it's Denver, with quarterback
Peyton Manning
attempting to lure his former Colts teammate. On the surface, it wouldn't seem to make much sense because the Broncos already have two disruptive ends in
Von Miller
and
Elvis Dumervil
, but the sales pitch to Freeney could be that he'd be part of all passing downs (imagine Miller, Dumervil and Freeney playing at the same time) and could be the third man in a rotation at a time when cutting back his snaps might prolong his career by a year or two. Furthermore, the Broncos have a short-term window to win a championship with Manning, and Freeney fits in that sense, too. These are the types of things you hear at the local establishments late at night at the NFL combine and wonder if there might be fire where there is smoke.
3. Two years removed from the 2011 lockout, a clearer picture is starting to come into focus, and this is what it looks like: The teams that planned accordingly for a flat salary cap in consecutive years -- as Patriots owner
Robert Kraft
and team president
Jonathan Kraft
had warned at the time -- are putting themselves in position to capitalize on what looks like a flooded market that is flush with solid players who can be signed at reasonable prices. Those who didn't plan accordingly are over/tight to the cap and will have to cut some good players, which we've already seen happen with various teams, with more to follow in the coming weeks. Because of this, the majority of player agents I spoke with at the combine aren't expecting a lucrative free-agent period and have braced themselves for a depressed financial market -- both this year and next. As more time passes since the 10-year extension of the collective bargaining agreement in July 2011, it seems the chorus is growing louder among agents that it's not as good of a deal as the players thought they were getting.
[+] Enlarge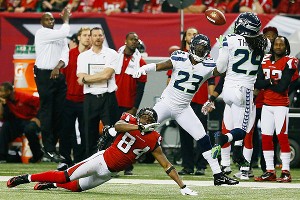 Kevin C. Cox/Getty ImagesThe Seahawks' innovative D is keyed by single-high safety Earl Thomas, who picked off this Matt Ryan pass, intended for Roddy White, in the divisional playoffs.
4. Along those financial lines, I'd still be surprised if the Patriots use the franchise tag on any of their free agents, most notably cornerback
Aqib Talib
($10.6 million), right tackle
Sebastian Vollmer
($9.6 million) and receiver
Wes Welker
($11.4 million). I think the team wants all three players to return, but if the projection is that it's going to be a down market leaguewide, my assumption is that the team's strategy will be to let the market ultimately determine the value of the contracts. There is risk with that approach -- the player could simply walk away if another team steps up with a big offer -- but the Patriots have always been comfortable with going that route if a compromise couldn't be reached beforehand. The financial dynamics in play this year, from this view, would seem to strengthen the club's resolve.
5a. Some of the best X's and O's chatter I heard over the past three days revolved around the Seahawks' defense, mainly because it's unique when compared to what most other clubs play. In a "copycat" league, it makes sense that other teams are studying it closely and considering implementing parts of it in their own schemes. With former Seahawks defensive coordinator
Gus Bradley
now in his first year as Jaguars coach, expect parts of it to spread there. A few things about the Seahawks' style of defense: They play mostly with a single-high safety (rangy, athletic
Earl Thomas
), which allows them to bring a second safety into the box (
Kam Chancellor
); they have the two big press corners (
Brandon Browner
,
Richard Sherman
); the key player up front is the "Leo" pass-rushing end (
Chris Clemons, Bruce Irvin
), who might be considered a linebacker in other schemes. With those crucial pieces in place, Bradley explained that it allows the defensive front to mix between 4-3 and 3-4 principles at any time, which helps simplify things against opponents' run games. Head coach
Pete Carroll
and personnel chief
John Schneider
deserve the bulk of the credit for putting together such a unique unit/scheme, which one opposing coach said was keyed by the length of the corners. With
Russell Wilson
at quarterback and this type of defensive approach, Seattle currently is viewed as one of the most exciting teams in the NFL.
5b. When I consider how an offense has to beat a Seahawks-type defense, the ability to get open against press coverage is at the top of the list. That's an area I think the Patriots could use some help, perhaps both in the draft and free agency. Cal receiver
Keenan Allen
, who is projected as a possible first-round talent, is the type of prospect who might help. Allen isn't running at the combine (knee), but plans to do so at his pro day on March 14. The plan here is to keep an eye on him.
6. I spoke with one scout who felt Harvard fullback
Kyle Juszczyk
(6-foot-3, 245 pounds) helped himself with a strong Senior Bowl, specifically with how well he caught the ball. The Patriots loaded up at the position in 2012 training camp, but things never panned out with
Spencer Larsen, Tony Fiammetta
and
Eric Kettani
. If there is the same commitment to adding a fullback this year, one of the best options could be with a prospect who played his college football 30 miles north of Gillette Stadium.
[+] Enlarge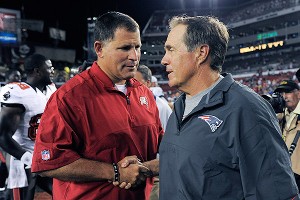 AP Photo/Brian BlancoIt remains to be seen whether Greg Schiano can convince Bill Belichick that contesting a kneel-down is sound strategy.
7. Random thoughts from the NFL combine: Eagles coach
Chip Kelly
has a presence about him that draws your attention even when he's just walking down the hallway … I think Kelly appreciates the time he's spent with Bill Belichick, but my sense is that the perception of a strong bond between them might not be as accurate as has been portrayed in the press … If we're talking about a strong bond, Belichick and Buccaneers
Greg Schiano
is probably the right place to start. They were joined at the hip in Indianapolis … Falcons general manager
Thomas Dimitroff
is dynamic, and his ability to clearly articulate complex issues is impressive. People talk about coaching trees, but how about Dimitroff's executive tree? In consecutive years, he's had assistants go on to become general managers in
Les Snead
(Rams) and
Dave Caldwell
(Jaguars) … From a first-impression standpoint, Jaguars coach Gus Bradley's passion and energy could be just the spark that the Jacksonville market needs. Bradley spoke for 15 minutes Saturday. I could have listened for 45. The defense he coordinated in Seattle in 2012 has piqued plenty of interest … In the area of new ideas, it was interesting to hear from prospects about how they were given a new type of "test" to measure flexibility and knee bend. Just another piece of information for teams to consider … A lot of questions were asked about the growing role of analytics in evaluations, and my biggest takeaway was that most teams use it in some form, mostly as a supplement to traditional, old-school scouting.
8. Packers coach
Mike McCarthy
knows that if his team is to win the NFC, the 49ers and Seahawks are two of the primary competitors, and they both use elements of the read option. Perhaps with this in mind, he revealed that his coaching staff has arranged a trip to Texas A&M to work with Aggies head coach
Kevin Sumlin
, who McCarthy feels can help his staff get a better handle and understanding on the unique approach. Just as players are always working to fine-tune their craft, so too are the coaches.
9. After Notre Dame linebacker
Manti Te'o
held a news conference Saturday, one thought was to write about the possibility of him still being on the board at No. 29 when the Patriots pick and pondering how the team might view the possibility. But to be honest, it seemed a bit forced. If the Patriots are looking to get faster and more athletic at linebacker, Te'o wouldn't appear to be a fit.
10. On Friday morning at the NFL combine when coaches, scouts, general managers and other team officials made their way through the halls of the Indianapolis Convention Center after the morning workout, Bill Belichick was spotted walking alongside his son Steven and assistant strength coach
Moses Cabrera
, and it led to this thought: It has to be pretty neat for Belichick to have Steven on staff as the next generation in the family coaching tree. I got the sense that the father was tutoring the son on what he looks for in players, just as Belichick's father used to do with him. If you're Belichick as you get toward the back end of your coaching career, who better could there be to share such a wealth of football knowledge with?
February, 23, 2013
2/23/13
3:15
PM ET
INDIANAPOLIS -- A swarm of media crowded "Podium C" inside of Lucas Oil Stadium as Notre Dame linebacker
Manti Te'o
fielded questions relating to the recent fake girlfriend hoax he was involved in, as well as how it impacts his NFL future.
Passing along quick hits from the 15-minute question and answer session.
[+] Enlarge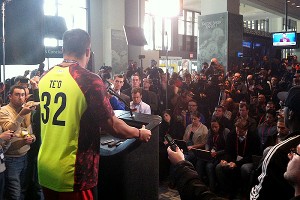 Mike Rodak/ESPNBoston.com Manti Te'o addresses the media Saturday.
Regarding the hoax:
"About the incident, I said all I needed to say about that. How I'm handling it going forward is doing what I'm doing right now, focusing on the moment, focusing on football and the combine. Not everybody gets this opportunity to be here. I'm sure there's thousands and thousands of people that would like to be here in Indianapolis, so I'm just trying to enjoy the moment."
How much has he been asked about it?
"Quite a few teams asked me about it. Some go to certain lengths, some just ask me, 'Give me the brief overview of how it was' and then they just get straight to business about football."
What have they asked?
"'Just tell me the facts.' They want to hear from me, and I just tell them basically what happened."
Have you gotten the sense that what happened will affect your draft status?
"No, not really. They told me, they've all just wanted to hear from me what the truth was, and they haven't really said anything about it affecting me."
Do you worry about how you'll be treated in the locker room?
"No, I've learned the difference between the things I can control and the things I can't control. Hopefully by doing the things I can control, I'll have more favor in the other category. Whatever team I go to, I'm just going to be me, I'm going to work hard and just do my best to help the team win. Whatever happens happens."
On the media coverage nationally of the incident:
"It got overwhelming at times. The hardest part, as I've said, was just to see not necessarily my first name but just my last name. Everybody here, you treasure your last name, that's what you hold dear, that's something that when you pass on, the only thing that stays here is your last name."
How many teams have you met with?