New England Patriots:

Markus Zusevics
March, 12, 2014
Mar 12
6:00
PM ET
The
New England Patriots
announced the release of second-year offensive lineman
Markus Zusevics
, who was a longshot to make the roster. Zusevics spent the 2013 season on injured reserve.
Zusevics, who played in college at Iowa, had originally signed with the team as an undrafted free agent in May of 2012. After tearing his pectoral muscle at the NFL combine, he opened the 2012 season on the reserve/non-football injury list before he was added to the team's 53-man roster (in place of receiver
Greg Salas
) to add depth to a banged-up offensive line. He never appeared in a regular-season game with the team.
In addition to the roster move with Zusevics, the Patriots officially announced the release of veteran defensive tackle
Isaac Sopoaga
.
August, 31, 2013
8/31/13
5:00
AM ET
August, 26, 2013
8/26/13
1:45
PM ET
FOXBOROUGH, Mass. -- A few thoughts on
today's roster moves
by the Patriots:
1. The team now has 77 players on the roster. Two more moves must be made by Tuesday at 4 p.m. ET.
2.
Tim Tebow
survives ... for now. This is one of the notable storylines of the week, as it appears that Tebow is fighting for a job. Bill Belichick told 98.5 The Sports Hub before last Thursday's preseason game that he had about 80 percent of the 53-man roster set. Tebow, based on his performance in the preseason, would seemingly be part of the other 20 percent, which means Thursday night's preseason finale against the Giants could be big for him.
3. None of the moves are a surprise. A player like veteran linebacker
Niko Koutouvides
, whose primary contributions come as a core special teamer, could always return during the season if the need arises (similar to last year).
4. With defensive tackle
Armond Armstead
landing on the reserve/non-football illness list, he isn't eligible to start practicing until after the sixth week of the season. So this adds a little more context as to where things stand with his health after he had surgery for an infection at some point before training camp. He remains under contract to the Patriots but won't count against the roster by landing on the reserve/NFI list. The Patriots had been counting on Armstead to be a big part of their plans and depth remains thin behind starters
Vince Wilfork
and
Tommy Kelly
.
5. Rookie defensive tackle
Cory Grissom
(South Florida) was a strong practice squad candidate, but with him landing on injured reserve, it opens the door for another rookie tackle to stick on the practice squad (
Joe Vellano
,
Anthony Rashad White
the top candidates). It also led to the re-signing of defensive tackle Scott Vallone to the roster to address a depth shorage.
6. At receiver, third-year player
Kamar Aiken
was competitive early in camp but an injury derailed him. Also, rookies
Kenbrell Thompkins
,
Aaron Dobson
and
Josh Boyce
seemed to generate more momentum and were a bit more consistent over the course of camp.
7. We didn't have offensive tackle/guard
Markus Zusevics
making the final roster, but others did, which reflected his standing as a bubble blocker around No. 8 on the depth chart. There seems to be a pretty big dropoff after the top 6 or 7 offensive linemen so this remains an area the Patriots figure to explore on the waiver wire and free agency.
August, 20, 2013
8/20/13
9:30
AM ET
If there is a silver lining for dealing with an injury to a player, it's that his absence creates an opportunity for one of his teammates.
In the case of Patriots right guard
Dan Connolly
, who is currently recovering from offseason shoulder surgery, it was
Marcus Cannon
who was called upon to fill in. A subsequent injury to Cannon opened the door for
Markus Zusevics
to earn guard reps, and then missed time for Zusevics led to veteran
Will Svitek
playing on the interior part of the line, rather than his customary tackle spot.
Head coach Bill Belichick recently highlighted Svitek's versatile skill set, noting that he can play either tackle position, a desirable skill set for teams looking to build their line depth.
The Patriots have long valued versatility among their offensive linemen, as there can be several moving parts along the line that force a team to shuffle the deck.
Focusing on the Patriots projected top seven linemen, position versatility is among the common denominators.
Guard Logan Mankins:
Belichick said during the 2012 season that he believed Mankins was probably capable of playing any of the five line positions if needed, though Mankins is entrenched at the left guard spot, where he's among the best in the game. He was also a standout left tackle in college at Fresno State.
Center Ryan Wendell:
Wendell took over starting center duties for the 2012 season, though he can flex to either guard spot as well. His modest size (6-2, 300) is offset by his technician-like approach and ability to leverage defenders. He's developed into one of the better centers in football.
Tackle Sebastian Vollmer:
Another player who has been entrenched in his current spot at right tackle, Vollmer has the requisite skills to swing to left tackle as well. In fact, he was likely the Patriots back-up left tackle last season, though
Nate Solder
was on the field for virtually every offensive snap.
Tackle Nate Solder:
Solder was a chess piece on the line as a rookie, playing at both tackle spots, as an extra lineman, and even getting preseason guards snaps. With his uncommon length and movement skills, playing multiple positions is well within his capabilities.
Guard Dan Connolly:
Like Wendell, Connolly has interior line flex. He started at center in 2011 before kicking out to guard last season. As things currently stand, he'd likely be called upon to take over at center if Wendell were to ever suffer an injury.
Guard Marcus Cannon:
A college tackle prospect, Cannon seems to be working more at guard these days. That being said, he can still serve as a reserve right tackle, and might be able to play left tackle in a pinch, too.
Tackle Will Svitek:
As we said off the top, Svitek has four position versatility, with the tools to swing to either tackle spot and play each guard post as well.
Among the remaining linemen on the roster, we have the best feel for Zusevics, who we've seen at both tackle and guard. The book is still out on
Josh Kline
,
Luke Patterson
,
Brice Schwab
and
Chris McDonald
, who we've seen in small doses this camp.
The Patriots could keep one or more of these five on the practice squad, or one could also emerge as a surprise keep on the 53-man roster. One has to figure that if any of them stick around, he'll have the versatility to play multiple line spots.
June, 28, 2013
6/28/13
5:00
AM ET
(Continuing a month-long series analyzing players who are on the roster bubble and where they may potentially fit in 2013.)
NAME:
Markus Zusevics
[+] Enlarge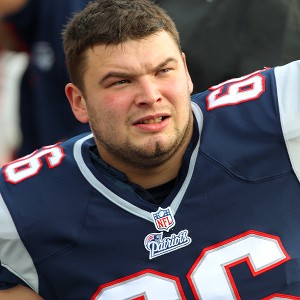 AP Photo/Kevin TerrellWill Markus Zusevics earn a role on the offensive line?
POSITION:
Offensive tackle
AGE:
24
2012 STATS:
Did not appear in a game.
INJURY STATUS:
No known injuries
CHANCE OF MAKING 53-MAN ROSTER:
35%
WHY HE SHOULD MAKE IT:
The injury that landed Zusevics on the non-football injury list to begin last season may have benefited him, as he was able to stay with the Patriots when he otherwise would have had a tough road to the 53-man roster as an undrafted free agent. He remains an intriguing prospect and it would hardly be a shock if he found his way back onto the roster in a reserve role.
WHY HE SHOULD NOT MAKE IT:
The wild card for Zusevics' chances of making it is
Marcus Cannon
. It appears that Cannon, in his third training camp with the team, may see more time at guard, a position thinned by the loss of
Donald Thomas
through free agency. But if Cannon, who has game experience at tackle, secures a role, he and veteran newcomer
Will Svitek
may provide the Patriots enough options at tackle for Zusevics to become expendable.
CLOSEST COMPETITION:
T/G Marcus Cannon, OT Will Svitek, OT
Kevin Haslam
May, 31, 2013
5/31/13
5:00
AM ET
A few "extra points" from Thursday's weekly Patriots chat:
Matt (Boston)
:
How has Dane Fletcher looked so far; health-wise, is he moving and turning at full speed?
Matt, I don't see any restrictions for Fletcher in terms of how he's moving. He had a notable pass breakup in Wednesday's practice, as he's been the top option at middle linebacker with starter
Brandon Spikes
choosing to work out on his own.
Eric (Enfield CT)
:
Mike, I think too much is being made of Brandon Spikes' absence at OTAs. As you keep saying, his attendance is not required. Spikes has provided an infusion of intensity and emotion that is often absent from, what can be, an emotionally dry defense. Spikes brings it every time he is on the field, and the man requires a little extra personal time to reset before diving back into the grind of the season.
Eric, Spikes is one of the Patriots' best contact players (if not the best) and he does bring an emotional fire that can be infectious. The bottom line to me is that it's within a player's rights to stay away, so Spikes hasn't broken any rules or anything like that. He's planning to be present at mandatory minicamp June 11-13. At the same time, when 89 of 90 players show up for OTAs, it does shine a little bit of a brighter spotlight on the one player who doesn't. It does make me wonder if the Patriots might hesitate to strike a contract extension with him -- the thinking being that it's difficult to commit long-term to a player who could be perceived to not be fully committed to the team -- but I think that's a story for another day/year.
Drew (Riverview, NB)
:
Mike, if you could target one position where a trade would be considered, would it be DT? We seem a little light on the depth chart.
Drew, the Patriots had veteran defensive tackle
Spencer Johnson
in for a tryout this week, which could be an indication they see things the same way you do. I don't think there would be a trade as much as a free-agent signing. The DT depth chart was thinned by the team's own doing, letting go co-starters
Kyle Love
and
Brandon Deaderick
. Right now, it's a
Vince Wilfork
/
Tommy Kelly
tandem, and we'd probably see
Armond Armstead
and
Marcus Forston
as the next options.
Luke J (CMAFS)
:
I know it might be a strange question but can you explain how added height would be more beneficial to the secondary. I ask because I notice you mention Adrian Wilson bringing size and length to the secondary a lot. Isn't it normal for the average height to be around 5-foot-10/6-foot-0? How does more translate to success?
Luke, I think linebacker
Jerod Mayo
said it best in his interview with SiriusXM NFL Radio on Thursday. It's an intimidating presence back there that can make receivers think twice about coming across the middle. It's not just the height, but also the weight (230 pounds) and hard-hitting edge of the player with that size.
Shamarko (Boston, MA)
:
Hi Mike, do you see Markus Zusevics making the final roster? Practice squad?
In Wednesday's organized team activity, Zusevics was lined up opposite
Nate Solder
at the right tackle position. This was due to the Patriots not having starter
Sebastian Vollmer
(recovering from knee surgery) and top backup
Will Svitek
. I think a lot is going to depend on what type of development Zusevics shows in training camp and preseason games. He was considered a later-round prospect in 2012 before a pectoral injury sustained at the combine led to his going undrafted. Now healthy, he's probably in that 50-60 range on the roster, which puts him closer to the bubble at this time.
May, 25, 2013
5/25/13
5:00
AM ET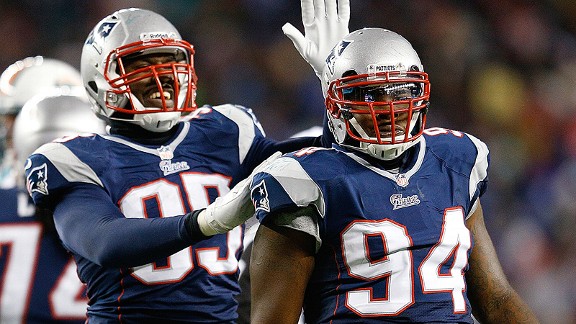 Jim Rogash/Getty ImagesFirst-rounder Chandler Jones impressed as a rookie, as did Justin Francis, who went undrafted.
While there has been no shortage of instant impact rookies in the NFL in recent seasons, there are others who take time to transition into the pro game from the college level. To that point,
New England Patriots
head coach Bill Belichick has said in the past that many players experience the greatest development during their NFL careers between their rookie and sophomore seasons.
In 2012, the Patriots drafted seven rookies in total, six of whom remain on the active roster (
Jeremy Ebert
, a seventh-round receiver from Northwestern, recently signed with the
Jacksonville Jaguars
).
Chandler Jones
and
Dont'a Hightower
, the team's pair of first-rounders in 2012, highlighted the class, as they each became immediate starters and debuted in style by combining for a strip sack and fumble return for a touchdown in a Week 1 win in Tennessee. Overall, the class provided strong results, as those two appear to be defensive cornerstones for the future with other promising members of the class, as well.
Here's an overview of each of the 2012 drafted rookies, with a look at what 2013 could hold for each.
Defensive end Chandler Jones
2012 stats:
45 tackles, six sacks, three forced fumbles
2013 outlook:
Pencil in Jones as a starter on the defensive line, and a good one at that. The question will be how much progress Jones can make to build off of what early in the season looked to be a defensive rookie of the year quality season. After starting the season off with six sacks in eight games, Jones failed to register a sack in his final eight contests (playoffs included). He was billed by some as a draft prospect who would need time to develop into an NFL standout, but it was easy to see why the Patriots targeted Jones in the first round. If he can emerge as a consistent pass-rusher, he'll add a new dynamic to the front seven.
[+] Enlarge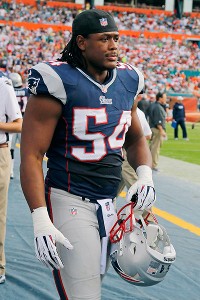 AP Photo/Tom DiPaceDont'a Hightower seems primed to play a key defensive role for seasons to come.
Linebacker Dont'a Hightower
2012 stats:
60 tackles, four sacks
2013 outlook:
Like Jones, it seems like a fair bet to pencil Hightower in as a starter in the Patriots' base defense. He was a consistent presence as a strongside linebacker as a rookie, and he should provide more of the same this season. Hightower was a ready-made prospect coming out of Alabama and showed himself capable of taking on a number of assignments. By all accounts, the staff is high on him, and he could be a starter alongside
Jerod Mayo
for a long time. What will be most interesting regarding Hightower is what role -- if any -- he plays on sub defense. He was removed from the unit late in the 2012 season in favor of
Brandon Spikes
.
Safety Tavon Wilson
2012 stats:
41 tackles, four interceptions
2013 outlook:
Which Wilson will the Patriots see in 2013? The one who was a virtual starter early in his rookie season and produced in the back end of the secondary, or the one who had coverage breakdowns and later was relegated to a sub defensive back role? The team's hope is the former, and Wilson has a terrific set of mentors at his position to learn from in
Adrian Wilson
,
Steve Gregory
and
Devin McCourty
. With McCourty entrenched as a starter on one side, Wilson might have to fight for reps at strong safety. He projects to play extensively on special teams again in 2013.
Defensive end Jake Bequette
No stats accumulated
2013 outlook:
Seems a little crazy to suggest a guy who hardly saw the field in 2012 could be a factor in 2013, right? Well, don't be entirely surprised if Bequette does earn time as a player who can be utilized in a role comparable to
Rob Ninkovich
's in the Patriots' defense. We saw the two working together during the individual drill portion of Tuesday's OTA, and the reality of life in the NFL is some rookies need a "redshirt" season to develop. Bequette might not develop into a starter this season, but he should have a chance to compete for reps at defensive end and might fall into the category of players that Belichick alluded to who undergo substantial growth in between seasons one and two.
Safety Nate Ebner
2012 stats:
14 tackles
2013 outlook:
The unheralded Ohio State product was believed to be a player who could impact the special teams immediately, and that's what Ebner proved to be. He's the kind of guy who can both cover kicks and hold up as a blocker. He flashed ball skills throughout training camp as a safety, but the position is deep again in 2013. Even if Ebner continues to carve out a niche on special teams (akin to the defensive player version of
Matthew Slater
), that's a worthy investment in the sixth round.
Cornerback Alfonzo Dennard
2012 stats:
35 tackles, three interceptions
2013 outlook:
Dennard avoided in-season jail time following a 2012 incident prior to the draft, opening the door for him to pick up where he left off at the conclusion of his rookie season. Dennard helped to stabilize the secondary as a starter opposite of
Aqib Talib
and figures to compete with
Kyle Arrington
for a starting job in 2013. Arrington is more explosive and adds special-teams value, but Dennard is an instinctive zone cornerback who can be physical at the line of scrimmage.
Notable Undrafted Free Agents
Running back Brandon Bolden
2012 stats:
56 carries, 274 yards, two touchdowns
2013 outlook:
Prior to a four-game suspension for a violation of the NFL's performance-enhancing drug policy, Bolden emerged as a backup running back with good between-the-tackles ability. When he returned from an injury/suspension, he became mostly a special-teams player. The feeling here is Bolden will have a chance to earn those carries again in 2013, as he has very good contact strength as a runner and can earn tough yards near the goal line. He'll contribute on special teams, too.
Defensive end Justin Francis
2012 stats:
10 tackles, three sacks
2013 outlook:
Defensive end is a position at which the Patriots have a stable of young bodies in the fold for 2013. Francis leapfrogged Bequette and
Jermaine Cunningham
by season's end in 2012 and should compete for a top reserve job this season. With good natural pass-rushing skills, Francis is a player who can contribute in nickel and dime fronts. His work ethic as a rookie was notable.
Offensive lineman Markus Zusevics
No stats accumulated
2013 outlook:
We don't know much about Zusevics, as he started the season on the Non-Football Injury list. He tore a pectoral muscle at the combine in 2012 after a solid career at Iowa and should compete for a reserve tackle spot in 2013.
Defensive lineman Marcus Forston
No stats accumulated
2013 outlook:
The Patriots recently released both
Kyle Love
and
Brandon Deaderick
, the co-starters opposite of
Vince Wilfork
in 2012. Veteran
Tommy Kelly
and highly touted CFL prospect
Armond Armstead
were added this offseason, but Forston should also have a shot to compete for work. He's a big body who can defend the run in short-yardage situations and adds some interior quickness. A spot on the 53-man roster seems in play again for Forston.