New England Patriots:

Mike Rivera
August, 30, 2013
8/30/13
2:42
PM ET
June, 27, 2013
6/27/13
5:00
AM ET
(Continuing a month-long series analyzing players who are on the roster bubble and where they may potentially fit in 2013.)

NAME: Mike Rivera

POSITION:Linebacker

AGE: 27

2012 STATS: 10 games (1 start), 9 tackles

INJURY STATUS: No known injuries

CHANCE OF MAKING 53-MAN ROSTER: 45%

WHY HE SHOULD MAKE IT: Rivera surprised many when he made the final cut for the Patriots last September, and even started a game late in the season against the 49ers. While he has limited upside as a defensive player, he provides value as a special teams contributor. Even if Dane Fletcher returns to form after a season-ending injury in 2012, Rivera could still have a role on the back end of the roster.

WHY HE SHOULD NOT MAKE IT: Fletcher's injury likely had much to do with Rivera making the 53-man roster last season, and after two games, he was cut in favor of veteran Niko Koutouvides. And while he later returned to New England, making the late-season start, the Patriots invested first-round (Jamie Collins) and seventh-round (Steve Beauharnais) draft picks in linebackers. It may take an injury to convince the Patriots to keep Rivera around in favor of younger options such as Beauharnais or Jeff Tarpinian.

CLOSEST COMPETITION: LB Steve Beauharnais, LB Jeff Tarpinian, LB Niko Koutouvides
December, 8, 2012
12/08/12
5:00
AM ET
FOXBOROUGH, Mass. -- Reserve linebacker
Mike Rivera
is a first-year player who has already been with five NFL teams in a span of three years.
His breakthrough has come this season with the Patriots.
Six-foot-2, 255-pound Rivera has appeared in six games for the team (the first six regular-season games of his career), with his role to play on core special-teams units (five tackles) and provide depth on defense. He has come a long way to make it to this point, initially joining the Bears as an undrafted free agent, then manning the practice squads of the Titans and Packers before brief stints on the Dolphins' 53-man roster.
"You ride out the journey," Rivera said Friday. "It's once in a lifetime."
[+] Enlarge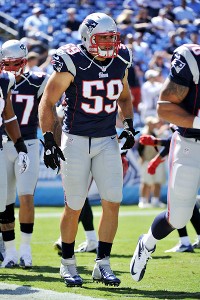 Frederick Breedon/Getty ImagesAfter bouncing between five teams in three years, Mike Rivera has seen his first regular-season action this year with the Patriots.
Even this season, when Rivera surprisingly made the Patriots' roster out of training camp after spending part of 2011 on the team's practice squad, he couldn't get too comfortable. He was released after two games, then landed with the Dolphins, but he was waived by Miami after injuring his groin. He landed back in New England on Oct. 31 and has been here since.
A native of Shawnee Mission, Kan., 26-year-old Rivera shared his "football journey" with ESPNBoston.com:
When he first started playing football:
"Back in the seventh grade. My brother-in-law got me interested in it, and I enjoyed it."
First positions:
"I played O-line and D-line, starting out on the old 'heavy' squad."
Favorite teams/players growing up
: "Being a Kansas guy, I always watched the Chiefs growing up.
Derrick Thomas
, [Joe] Montana and guys like that. I'd also see the Rams, when they were the 'Greatest Show on Turf.'"
Top memories of playing football at Shawnee Mission Northwest High School:
"Getting to play running back, tight end and fullback my senior year. Our team did well; we won nine games coming from a team my first year that won two games. We went to the game before state."
Enrolling at University of Kansas:
"The linebackers coach there had coached at my high school, so I had a tie there, and the linebackers that were there were a great group. They were really successful leaders of the team, and once I [visited], I knew that's where I wanted to play -- the way the team was, the chemistry. I knew from the beginning that I just wanted to stay in the Big 12. Once I narrowed it down, it was Missouri or Kansas. Ninety percent of my family is from Missouri, so it was kind of a tough choice."
Top football memories at Kansas:
"It will probably always be when we got to go to the Orange Bowl my junior year. We went 12-1,
Aqib Talib
was on that team, that was his last year and he went out [into the draft] early. Just being a part of that -- winning all those games and coming off a 6-6 season the year before -- and making that run and winning that big game on that big stage was probably the best memory."
Signing with the Bears as an undrafted free agent:
"There had been some talk about me getting drafted before the [2009] season, then I had sort of a disappointing senior year -- a few injuries and things like that. I ended up knowing I would pretty much be a free agent somewhere. The Bears had talked to me the whole time, and I ended up feeling good about it and going up there."
Spending the offseason/preseason with the Bears in 2009:
"Camp was a great experience, being around players I had been watching my whole life, especially like
[Brian] Urlacher
and
[Lance] Briggs
, and Lovie Smith and being under a hands-on coaching staff. I was learning a lot about the game. I went through preseason, had some good games and made some tackles, but didn't end up making the squad."
Hooking on with the Titans' practice squad for all of 2009
: "I wasn't sure what was going to happen. I went home for a day or two and then got the call. It ended up to be a really good situation. I went through the offseason, my second year, and through camp. I got injured right at the end of camp. They were coming off a 13-3 season, and it was a pretty fun ride there. The speed, I definitely learned to play faster and not think so much. I got to develop in the weight room another year."
Signing with the Packers' practice squad after being released by Titans:
"I went back home [after getting released] and did the usual thing, worked out and stayed ready to go. The Packers brought me in [Oct. 13]. Everything was really crisp and run very tight. The tempo was a lot more than other places I had been to. They definitely have a high standard there, and I learned so much from raising my level of play and being around such a great organization. [Current Patriots teammate]
Nick McDonald
was up there, and I went through that whole year -- about 12 weeks -- and the second-to-last game of the year, the Dolphins called and brought me up to their 53-man roster. I had to take that opportunity. I got activated for the last game, against the Patriots, and it was big for me. I had been on practice squad for a while. I was fighting for a role, a small chance."
Lockout comes and time with Dolphins ends:
"Going into that offseason, the lockout happened. I was signed with Miami and didn't get back until camp started. It was the quick camp/preseason, and I got released from there. They brought in some veteran guys, and it just didn't work out. I went home, worked out at the athletic department at KU and did stuff with the athletic department -- in various departments to gain more experience and buy more time."
Signing with the Patriots' practice squad in 2011:
"I had a workout with them early on in the season, went home and got called back up two weeks later [for the practice squad]."
Making the Patriots' roster out of training camp in 2012:
"It was huge. I definitely couldn't believe it. It felt like a long time had finally paid off. It was a long road to make the squad at the beginning of the year. But then I got released again, I went back to Miami, got hurt [groin], and then I came back up here and got another call. It's just like you hear -- you have to work hard here and earn your way. You never know what will happen."
What finally made it click for him:
"It was just like I heard from a lot of older guys along the way, sometimes you just have to wait for the right opportunities. It's not always going to go your way, but you keep doing your best. Here, some things happened and I got some opportunities and did my best to take advantage of them."
Role models in his career:
"My parents, especially my mom [Judy] for teaching me work ethic and how hard she worked. And my dad [Mike] for always being there at sporting events when my mom was working. He was always pushing me and guiding me in the right direction."
Summing up his football journey:
"It's been great. It's taught me a lot. Definitely perseverance and just having that camaraderie among teammates and all the guys you meet through the years and keep in touch with. That's something you can always take away from the game, even when you're done playing -- the relationships you build."
October, 31, 2012
10/31/12
7:34
PM ET
In what became a busy Halloween, the Patriots made a number of roster moves, highlighted by waiving cornerback
Sterling Moore
and adding free agent linebacker
Mike Rivera
and cornerback
Derrick Martin
, both of whom were previously with the team.
Passing along some thoughts on everything that went down:
Moore, a hero for the team in the 2012 AFC Championship Game, had evolved into a reserve secondary player who saw his most extensive action of the season against the Rams in Week 8, playing 57 of 63 snaps, according to colleague Mike Reiss. That was in the absence of cornerback
Kyle Arrington
, who left the game early due to a head issue. It's possible that Arrington could be in line for a Week 10 return to field, as may be safeties
Patrick Chung
and
Steve Gregory
.
If all three are healthy, the team may opt to push
Devin McCourty
back to his natural position at cornerback, which would slide Moore down to fourth on the depth chart at cornerback. Given his limited special teams utilization this season, the team may believe that Martin -- who is known for his special teams ability -- would add more in the back end of the secondary. Veteran
Marquice Cole
adds depth at cornerback as well.
Should Moore clear waivers on Thursday, he would be eligible to be re-signed to the Patriots' practice squad. With the recent promotion of
Malcolm Williams
to the active roster, as well as the release of practice squad tight end
Alex Silvestro
on Wednesday, the Patriots have a pair of open practice squad spots to fill.
As mentioned previously with Martin, he projects to be a player that can contribute on special teams. He was signed in the middle of training camp by the Patriots before subsequently being released as the active roster was finalized. Originally a sixth-round pick in 2006 of the
Baltimore Ravens
, Martin won a Super Bowl ring in each of the past two seasons as a member of the Packers and then the Giants.
Rivera, who made the Patriots' active roster coming out of training camp, played in two games with the team before being released. He adds depth as an inside linebacker and also on special teams. With
Jerod Mayo
banged up due to an elbow issue, Rivera provides insurance. The Patriots had him in for a workout last week.
In addition to the roster moves, the Patriots worked out nine players, including three veteran kickers, two punters and a long snapper.
That shouldn't necessarily be taken as an indication that the team is unhappy with any of its specialists, and might be a case of doing due diligence during what is a quiet week for the team as it enjoys its bye. While
Stephen Gostkowski
has missed three kicks this season, he's bounced back strong in recent weeks and remains an extremely accurate kicker. Punter
Zoltan Mesko
is among the league's best, and long snapper
Danny Aiken
is a reliable player at his position.
It's not uncommon for teams to take the time to survey available players via a workout, just to get an idea of what kind of shape and form they are in for reference. Despite the workouts, it would come as a surprise if any of the specialists' jobs are in jeopardy.
October, 31, 2012
10/31/12
5:46
PM ET
The Patriots have waived second-year cornerback
Sterling Moore
, the team announced Wednesday.
In corresponding moves, the club has signed linebacker
Mike Rivera
and veteran defensive back
Derrick Martin
. The team already had an open roster spot after releasing linebacker
Bobby Carpenter
on Tuesday.
Also, the contract of practice squad tight end
Alex Silvestro
has been terminated.
Moore, a second-year player out of Southern Methodist, played in all eight games this season for the Patriots (0 starts). His most recent role was as the team's nickel back. In 2011, he appeared in six regular-season games for the Patriots (3 starts).
According to a league source, the Patriots worked out three veteran kickers --
Billy Cundiff
,
Neil Rackers
and
Graham Gano
. The Patriots also worked out running back
Lorenzo Booker
, punters
Chas Henry
and
Ryan Donahue
, guard
Ryan Durand
, long snapper Bryce Davis and wide receiver Jarred Fayson.
October, 23, 2012
10/23/12
12:45
PM ET
FOXBOROUGH, Mass. -- Free agent linebacker
Mike Rivera
was spotted in the
New England Patriots
locker room on Tuesday morning, a sign that he could be returning to the team.
Rivera does not have practice squad eligibility remaining, so the Patriots would have to make a corresponding move on their 53-man roster.
The 26-year-old Rivera originally joined New England as a member of the practice squad in 2011. He earned a spot on the 53-man roster to begin the 2012 season, playing in two games as a reserve linebacker and special-teams player before being released.
Rivera later signed with the Dolphins, playing in one game. He was placed on injured reserve and released with an injury settlement earlier this month.
The possible re-signing of Rivera could be related to the health of linebacker
Tracy White
, who has been out with a foot injury for the last two games. The Patriots promoted
Jeff Tarpinian
from the practice squad on Saturday, and he played in Sunday's win over the
New York Jets
.
September, 18, 2012
9/18/12
5:19
PM ET
The Patriots have released wide receiver
Greg Salas
, linebacker
Mike Rivera
and fullback
Lex Hilliard
, according to a league source.
Salas, who was inactive during Week 2, was acquired via trade from the Rams on Sept. 1. In exchange, the Patriots shipped St. Louis a seventh-round pick in 2015.
Rivera, 26, was signed to the Patriots' practice squad in November 2011 and found a spot on the 53-man roster this season. He has played a special teams role in each of the team's two regular-season contests.
The team added Hilliard leading up the regular-season opener and served in a situational fullback role. Hilliard played four of the team's 82 offensive snaps in Week 2.
In addition to the roster moves, the Patriots hosted seven players for a work out on Tuesday: defensive tackle
Antonio Dixon
, offensive tackle Tommie Draheim, defensive tackle
Terrell McClain
, offensive tackle Nick Mondek, wide receiver Kashif Moore, wide receiver
Brian Robiskie
and linebacker Nathan Stupar.