New England Patriots:

Minnesota Vikings
November, 1, 2010
11/01/10
4:29
PM ET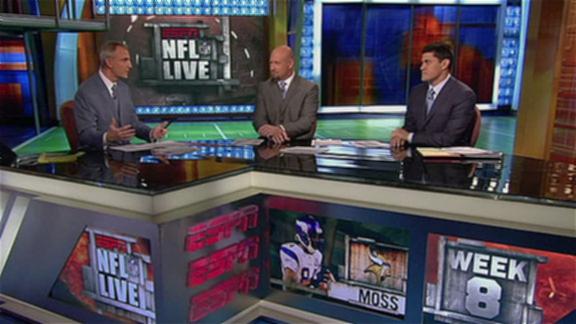 In the video above, ESPN analyst -- and former
Randy Moss
teammate -- shared his thoughts on the Vikings plans to waive Randy Moss, as coach Brad Childress told players that Moss was no longer with the team. Here is Tedy's take:
"I'm baffled. I don't understand why. You heard Adam [Schefter] talk about how they were disappointed maybe by how he was playing and also his postgame press conference [after the loss to the Patriots on Sunday]. He gave a lot of love to New England in that press conference and let me tell you why.
"He spent three-plus years with coach Belichick and then he spent three-plus weeks with Brad Childress. He sees the difference. He saw the difference between Belichick and the Patriot way of doing things and then he saw the Vikings and Childress' way off doing things. That's what he did not like.
"The way that it's being done right now is what I'm upset abut. You don't do this to Randy Moss. This is one of the best receivers ever to play football. You don't just release him on a whim like this, after some postgame press conference and one bad performance. Look at the way New England released him. They traded him, got a third-round pick. Bill Belichick called an unscheduled press conference, which is something he never does, to praise Randy Moss, called him a Hall of Fame player and thank him for all of the service that he gave.
"If Brad Childress is using this as a statement to make to his team about the right way of doing things, he lost his opportunity. That opportunity was last week when
Brett Favre
made the whole week about himself. He should have benched Brett Favre and played
Tarvaris Jackson
. That was his chance. If he's trying to send a message, this is the wrong way to do it."
October, 29, 2010
10/29/10
2:17
PM ET
By
ESPN.com news services
Minnesota Vikings quarterback Brett Favre returned to practice Friday in Eden Prairie, Minn. after sitting out Wednesday and Thursday with a pair of fractures in his foot. Vikings coach Brad Childress said late Thursday that Friday was a key day in the decision on whether Favre would start Sunday against the New England Patriots.

Childress told ESPN's Ed Werder that the plan is to have Favre, who was spotted in a walking boot on Wednesday and Thursday, attempt to demonstrate on the practice field that he has some mobility. Then the Vikings' coaches will project how much he may improve over the next two days before kickoff against the New England Patriots.

Favre was on the field for drills on Friday. He had tape on his injured ankle.

Favre threw a few easy passes in warmups, but he didn't roll out or take any deep dropbacks while reporters were allowed to watch. At one point, someone tossed a ball Favre's way as he lightly jogged up the field and he was nimble enough to make a stutter-step catch after a slight jump.

Childress is scheduled to address reporters after practice, when the team must submit the final injury report of the week and list Favre as either probable, questionable, doubtful or out against the Patriots.
October, 29, 2010
10/29/10
11:25
AM ET
FOXBOROUGH, Mass. -- A chipper Patriots coach Bill Belichick arrived at the podium for his Friday news conference and asked reporters, "Got your candy ready?"
He then reflected on his Halloween memories, which included dressing up as John F. Kennedy.
"It was during the Cuban Missile Crisis," he said, smiling. "I think I won the prize. People were impressed that the president was able to break away and attend a school Halloween party."
On more serious football-related issues, Belichick said he doesn't put any stock in media reports that Vikings coach Brad Childress is leaning toward starting
Tarvaris Jackson
at quarterback.
"The same media reports that said
Terrell Owens
wasn't going to play in the Super Bowl [in the 2004 season]?" he said, adding that the team prepares for all players.
Belichick reflected on his time coaching
Randy Moss
, reiterating his thoughts that he is the smartest receiver he's coached. He talked about some of the things he learned from coaching Moss, such as how much Moss loves football.
On the injury front, Belichick said veteran running back
Fred Taylor
, who has missed the last three games with a toe injury, is making progress.
"I think it took him a little while there to get going, but now that he is back doing things, he's making good progress," he said.
October, 29, 2010
10/29/10
11:17
AM ET
A roundup of how ESPN's analysts see Sunday's Patriots-Vikings game playing out:
* ESPNBoston.com's Mike Reiss: Patriots 33, Vikings 17.
I like the Patriots in this game because I think they will be able to throw the ball. Defensively, it all comes down to quarterback play for the Vikings and I think the Patriots will see if Brett Favre, assuming he plays, can beat them. I have my doubts he will be able to do it. If the Patriots are up late and have the ball, I wouldn't be surprised if they go for an extra touchdown instead of sitting on the ball, as a Bill Belichick-type of message to Brad Childress.
* ESPNBoston.com's Tedy Bruschi: Patriots 21, Vikings 17.
As much as I feel like the Patriots want to blow this team out, I think it's going to be close. The Vikings will come out pumping Adrian Peterson and that run game, eating up the clock and keeping Tom Brady and the offense off the field. The Patriots win, but it will be low-scoring and physical.
* ESPN experts:
All eight experts picked the Patriots to beat the Vikings.
* Sunday Countdown:
Keyshawn Johnson, Mike Ditka, Cris Carter and Tom Jackson all pick the Patriots.
* AccuScore simulations: Patriots 27.1, Vikings 21.8 (on average).
You can simulate the game yourself here (Insider)
.
* Madden simulation: Patriots 21, Vikings 20.
When Randy Moss caught a touchdown pass on the first drive of the game, it looked like he was going to light up his old team while leading the Vikings to a much-needed win. Unfortunately for the men in purple, that was the last time Moss saw the end zone all day and the Patriots were able to pull out the 21-20 game thanks to 301 yards passing from Tom Brady.
* Matt Williamson, Scouts, Inc.: Patriots 27, Vikings 20.
(Insider)
* Countdown Daily:
Mark Schlereth and Tedy Bruschi both pick the Patriots.
* Make your Week 8 picks with our Pigskin Pick'Em contest.
* What's your prediction for Patriots-Vikings? Leave it in the comments section of this blog post.
October, 29, 2010
10/29/10
10:35
AM ET
By
ESPN.com news services


Minnesota Vikings coach Brad Childress is leaning toward starting backup Tarvaris Jackson at quarterback Sunday as Brett Favre recovers from two fractures to his ankle, the Minneapolis Star-Tribune has reported, citing an NFL source.

And Favre has told acquaintances he isn't convinced Childress will let him play, according to the NFL Network.

Favre missed his second straight day of practice for the Vikings on Thursday but walked around the facility without the oversized boot that had been protecting the injury that is putting his league-record 291-straight starts streak in jeopardy. The signs of progress were small but noticeable.

The 41-year-old quarterback limped through the locker room with a heavy wrap on his ankle, which was injured in the loss to Green Bay on Sunday night.

Asked if he thought he could play at New England, Favre said, "I wouldn't put anything past me, to be honest with you."

Favre has a stress fracture in his left ankle as well as an avulsion fracture in the heel bone, where a fragment has been torn away by a tendon or ligament. He consulted with the doctors who performed surgery on his ankle this summer to get him ready for a 20th NFL season, and was told that the injury would not get any worse by playing on it.

"He's been a little better every day," Childress said Thursday. "Whether it's good enough to play in an NFL football game remains to be seen. Just have to take it a day at a time."
October, 28, 2010
10/28/10
1:55
PM ET
In the video above, ESPNBoston.com's Mike Reiss gives his three keys for the
New England Patriots
against the
Minnesota Vikings
on Sunday:
1. Passing offense.
Look for the Patriots to spread the field to soften up the Vikings' sturdy front seven. Of course, that means protection on the edges -- with left tackle
Matt Light
, right tackle
Sebastian Vollmer
against edge rushers
Jared Allen
and company -- will be key.
2. Put the ball in Brett Favre's hands.
When the Vikings get their running game going with
Adrian Peterson
, they're that much tougher. Making Minnesota one-dimensional -- especially considering the Pats will be facing either a hobbled Favre or backup
Tarvaris Jackson
-- will make life much easier on the New England defense.
3. Tackling.
When you face a hard-charging runner like Peterson and an electrifying receiver like
Percy Harvin
, bringing them down after initial contact becomes all the more important.
October, 26, 2010
10/26/10
9:46
AM ET
New England Patriots
quarterback
Tom Brady
this morning responded to comments made by
Minnesota Vikings
head coach Brad Childress, who said yesterday that the Patriots team that beat the Vikings 31-7 in 2006 was one of "the all-time great signal stealers."
"We've been called a lot worse than that," Brady said during his weekly interview with Boston sports radio station WEEI. "That game was so long ago. ... I remember us executing pretty well that night. I've heard different guys in the past say that. That's come and gone. That's been not a part of football here for a long time, and we've still won a lot of games. In '07, they changed the rule and so forth. I don't buy a whole lot into that. The team that's going to win this weekend is the team that plays better. I can promise you that."
Brady was great in that game in Minnesota, going 29 of 43 for 372 yards and four touchdowns, as the Patriots overlooked the run in favor of a spread-them-out passing attack.
"It was like a surgical procedure," Childress said of the '06 contest. "That's back when we used to signal [plays] and things like that. I remember having a conversation with [former Vikings defensive coordinator] Mike Tomlin about that. These were some of the all-time great signal stealers. In fact, that's what was going on. They were holding, holding, holding. We were signaling from the sideline. They were good at it. It's like stealing signals from a catcher."
When it comes to signal stealing, which is less prevalent now with the coach-to-defender communication device, Childress said that his teams would try to do the same thing.
"It's something that we do as well. It's good for one; it's good for the other," he said. "We didn't change it up. We didn't use wristbands. We didn't change the menu at halftime. They were good at that. Obviously you don't need to give Tom [Brady] any added advantage."
Brady also was asked about Childress criticizing quarterback Brett Favre for his decision-making during the Vikings' loss to to the Green Bay Packers on Sunday night.
"I think every head coach has different styles to motivate their players.," Brady said. "Coach [Belichick], he doesn't ever do that to anybody. It doesn't matter if I threw seven interceptions, he would never do that. But there's no doubt that he's going to bring that up to me at some point, probably right away, to say in front of the team, as well. He's going to make the point that he needs to make in order to try to get his players to play better.
"Coach Belichick does that. Tony Dungy did that. Everyone does that in different ways. We're all big boys. We can handle the criticism. If we don't do something well, we know that we didn't do something well. Often times, players are their harshest critics. When I don't play well, I know it. Sometimes it does hurt your ego a bit when somebody tells you you've got to do it better. But that's the truth. If that's what you need as a player, then in the end you'll be pretty happy that someone actually came out and said it, because maybe that will motivate you a little bit more to get it improved."