New England Patriots:

Muhammad Wilkerson
September, 11, 2013
9/11/13
12:00
PM ET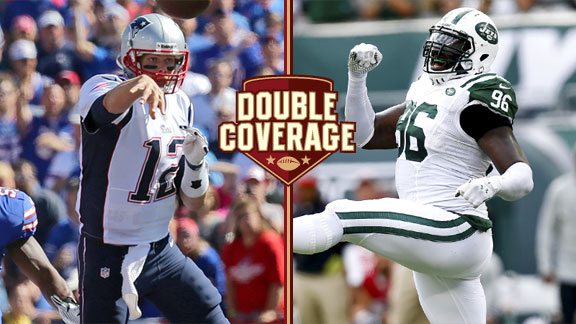 Getty ImagesMuhammad Wilkerson and the Jets defense will need to get to Patriots QB Tom Brady.
FOXBOROUGH, Mass. -- When discussing the
New England Patriots
-
New York Jets
rivalry this week, quarterback
Tom Brady
called it "awesome."
"I mean, it's Boston-New York," he said. "Any time you see them on the schedule, you just think of all the great games that you've had against them and you think of how challenging the game will be."
With Brady leading the way, the Patriots have had the upper hand; he is 17-4 against the Jets since elevating to the starting job in 2001. Rex Ryan was the Jets' head coach for three of those losses, as his defensive schemes have been some of the most challenging that Brady has seen on an annual basis.
"When you play against somebody like Brady and [Bill] Belichick, if they know 100 percent what you're in, then you're in trouble," Ryan said of his past game-planning approach. "Obviously, we can't do that. We have to be multiple in what we do."
ESPN Patriots reporter Mike Reiss and ESPN Jets reporter Rich Cimini preview the matchup:
Reiss:
It's a quick turnaround for both teams, Rich, with the Thursday night kickoff. Many probably expected the Patriots to be 1-0 entering the game, although not the way they got there. It was a big struggle for them on the road against the Bills. Then there are the Jets, who many probably didn't expect to be 1-0, but they pulled off the victory over the
Tampa Bay Buccaneers
. Start us off with some things that need to happen for them to run it to 2-0.
Cimini:
It's simple, Mike: The Jets need to play great defense, and that means putting a lot of hits on Brady. They don't beat the Patriots too often (Rex Ryan is 3-6), but when they do, it's because of the defense.
Mo Wilkerson
& Co. really need to make a statement in this game. They also need a low-mistake game out of
Geno Smith
. Look, he's a rookie quarterback, so he's bound to make a few. They just can't be mistakes that directly impact the scoreboard, a la
Mark Sanchez
. From a New York perspective, I think the big question is, "Can Brady be Brady without his old supporting cast?"
Reiss:
There are two layers to the answer, Rich. When the Patriots needed Brady to come through with the clutch drive at the end of the opener, it was vintage Brady. Sunday marked the 36th time that he's led the Patriots to victory when facing a fourth-quarter deficit or tie. The surprise was that it would take a fourth-quarter game-winning drive to beat the Bills and that's because of some of his struggles adjusting to almost a completely new receiving corps. It's clear that Brady has developed an early rapport with
Danny Amendola
, but Amendola might not play Thursday because of a groin injury. Running back
Shane Vereen
(wrist surgery) will be out too, and those are two of the team's most explosive skill-position players. It's never an easy time to play the Patriots, but from a Jets perspective, this could be a good time to catch them. I could envision the Jets' defense holding down the Patriots to give them a chance to win, but do they have enough firepower on offense themselves?
Cimini:
In a word, no. The Jets don't have a lot of firepower on offense. Their most effective weapon in Week 1 was a 30-year-old tight end with one good knee --
Kellen Winslow
.
Santonio Holmes
isn't the same player he used to be, especially not after foot surgery.
Stephen Hill
is a tease -- big and talented, but inconsistent. Remember last year's game in Foxborough, when he had that killer drop? The biggest concern might be the running game.
Bilal Powell
and
Chris Ivory
didn't show much last week, averaging 2.0 yards per carry between them. They need a better rushing attack to help Smith, who can't survive if he's in constant third-and-long situations. I'm curious to see how the Patriots attack the rookie. How did they approach Bills rookie QB
EJ Manuel
in the opener? Seems like he had a decent game.
Reiss:
I'd sum up the Patriots' defensive approach as one that made limiting running back
C.J. Spiller
the top priority (they were successful in limiting him to 2.4 yards per carry), followed by keeping Manuel in the pocket and seeing if he could beat them with his arm. Manuel was better than I expected. One thing to keep in mind is that the Patriots were almost exclusively in their nickel defense because the up-tempo Bills always had three or more receivers on the field. Overall, the Patriots didn't blitz much and there wasn't consistent pressure on Manuel out of the four-man rush. It will be interesting to see if they take the same approach with Smith, who can make some plays with his feet as well. In the chess match between Ryan and Belichick, do you anticipate Ryan introducing anything out of the norm?
Cimini:
Great question, Mike. You never know what you're going to get from Rex. In last year's Thanksgiving game, the Jets played five or more defensive backs on 56 out of 65 plays, though the Patriots didn't play a lot of three-receiver packages. They were daring the Patriots to run the ball. This time, I think the focus will be on the running game, considering Brady has lost his main weapons. I wouldn't be surprised if the Jets play more 4-3 than usual; they played it a little last week against the Bucs. Offensively, they'll keep it fairly conservative. They don't want to put the rookie QB in bad situations. Ryan will play it close to the vest, hoping to steal a win in the fourth quarter.
Reiss:
For the Patriots, one of the big storylines to watch is how running back
Stevan Ridley
responds. He was benched last week after his second-quarter fumble that was returned 74 yards for a touchdown and didn't play again the rest of the game. ESPN NFL analyst Tedy Bruschi often makes the point that when a defense watches film and sees a player vulnerable with ball-security it's like a shark ready to attack. The Patriots had three turnovers in the season opener and those are the types of things that can keep an offensively-challenged Jets team in the game. Have a safe trip into town and we'll see you at kickoff.
September, 10, 2013
9/10/13
5:00
AM ET
The Patriots and Jets made headlines this offseason for a variety of reasons, with each team happy to get back to football in Week 1.

The teams also had similar outcomes during their season-opening games, as the Patriots marched to a narrow road victory over the Bills, while the Jets squeaked past the Buccaneers at home, with each team winning with a field goal in the closing seconds.
Neither team has had much time to think about their Week 1 victory, however, as they are each preparing on a short week, with the Patriots hosting the Jets this Thursday night in a nationally televised game.
Though the Jets are perhaps the Patriots' most familiar opponent, below is an overview on names and notes for Gang Green.
Record:
1-0 (t-1st in AFC East)
Head coach:
Rex Ryan (fifth season)
Offensive coordinator:
Marty Mornhinweg
Defensive coordinator:
Dennis Thurman
THREE PLAYERS TO KNOW, OFFENSE
1. QB Geno Smith.
The player some thought could be the first man taken in this year's draft ended up sliding to the Jets at pick 39 in Round 2, and now he's the team's starting QB. Incumbent starter
Mark Sanchez
went down with an injury during the preseason, putting an end to a bizarre competition that Smith may have won by default as much as anything else. The rookie fared pretty well in his first NFL action, completing 24-of-38 attempts for 256 yards and a touchdown. He turned the ball over twice and had some uneven moments during the game, but Smith's second-half contributions were important in the dramatic win.
2. C Nick Mangold.
The Patriots got a look at a terrific center last week in
Eric Wood
for Buffalo, but Mangold may well set the standard league-wide among interior linemen. He's dependable, strong, smart, athletic and a leader for an offense that needs it. Mangold and
Vince Wilfork
have shared glowing praise for each other previously, and that's a one-on-one battle worth watching. He left the team's season opener with an elbow injury, but later returned.
3. RB Bilal Powell/RB Chris Ivory.
Ivory was acquired through a draft day trade in New Orleans, and though his poor Week 1 production (just 15 yards on 10 carries) has some wondering what to make of his prospects, he's a gifted runner who can smash through traffic. Powell, meanwhile, was the starter in Week 1 and the Jets' leading carrier with 12 rushes, though he too was held in check by the Bucs' run D.
THREE PLAYERS TO KNOW, DEFENSE
1. DL Muhammad Wilkerson.
Versatile, strong, disruptive and tough, Wilkerson is one of the best young defensive linemen in the NFL. He's been everything the Jets had hoped when they snatched him with the 30th pick in the 2011 draft. He's been productive as a pro (he had 69 tackles and 5.0 sacks last season), but the numbers don't tell the whole story on Wilkerson. He has the ability to move around the line if needed and he's the type of player the Patriots' offensive line will seek out before every snap and identify where he's aligned.
2. CB Antonio Cromartie.
When he's at his best, Cromartie is an incredibly difficult cornerback to throw at. He's long, fast and has good ball skills, something the Jets have relied on since acquiring him in a trade with the Chargers in 2010. He's never been afraid to speak his mind and has a short memory on the field -- a good thing for a defensive back. With
Darrelle Revis
now in Tampa Bay, Cromartie is the leader of the Jets secondary.
3. LB David Harris.
Our take on Harris? An underrated rock in the middle of the Jets defense. He was an All-Pro pick in 2009, but that's the extent of his individual player honors, despite the fact that he's had three seasons with 123 or more tackles and has 22.5 sacks in six years. The Jets rely heavily on Harris as a defensive quarterback, working closely with head coach Rex Ryan and new defensive coordinator Dennis Thurman.
Other notes:
The Jets had a pair of first-round picks this year, using both on defensive players. Cornerback
Dee Milliner
made a couple of tackles in Week 1, while defensive lineman
Sheldon Richardson
shined with seven stops and a half sack. ... 2012 first-round pick
Quinton Coples
, whom the team moved from defensive end to outside linebacker this offseason, remains out with a hairline fracture in his ankle. ... The Jets exchanged Landrys at safety this offseason, losing LaRon in free agency while signing his brother, Dawan. He made an interception in his Jets debut. ... Veteran receiver
Santonio Holmes
was active in Week 1 after a long recovery from a Lisfranc injury, totaling one catch on three targets.