New England Patriots:

Nick Mangold
September, 15, 2013
9/15/13
5:00
AM ET
Quick-hit thoughts around the NFL and with the
New England Patriots
:
1.
The composition of the Patriots' roster is perhaps the most unique we've seen in Bill Belichick's 14 years as coach. The club returned 18 of 22 primary starters this season, so there is what many would consider the ideal layer of continuity. But as of opening kickoff, the Patriots also had more first- and second-year players (21) than all but two teams in the NFL (the
St. Louis Rams
and
Cleveland Browns
). Makes for a different type of mix -- a contending team that from an overall perspective trends younger. The question remains: Is it the right mix?
2.
The Patriots are off to a 2-0 start, which has traditionally meant good things for a team's playoff hopes. Since the playoffs expanded to 12 teams in 1990, 63 percent of teams starting 2-0 have advanced to the postseason. And here's a key stat for those teams looking to avoid an 0-2 start on Sunday: Just 12 percent of teams that started 0-2 have reached the playoffs. The 2001 Patriots, of course, are one of the clubs that bucked the trend.
3.
For all the scrutiny the Patriots' rookie receivers have been under for the first two games, somewhat overlooked is that top draft pick
Jamie Collins
has played sparingly on defense (six of 138 snaps, including penalties). When the Patriots drafted Collins 52nd overall out of Southern Mississippi, there was some question as to how he'd fit in the team's scheme -- pure defensive end/pass-rusher or more of an off-the-line linebacker? The Patriots have worked him mostly at linebacker, and the feeling here is that once he fully starts to grasp the team's scheme, assuming there are no injuries to other linebackers, we'll begin to see him integrated into the mix a bit more. In his limited snaps Thursday night against the
New York Jets
, Collins dropped into coverage or spied quarterback
Geno Smith
as the Patriots tapped his speed and athleticism. Until he's a more regular defensive contributor, he will make his biggest contributions by playing on each of the "Big 4" special-teams units.
[+] Enlarge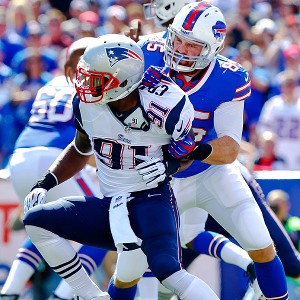 AP Photo/Bill WippertThe Patriots appear to be working top draft pick Jamie Collins slowly into the defensive mix.
4.
I thought last Sunday's Patriots-Bills season opener revealed one of the flaws behind the Bills' all-the-time up-tempo approach. At a point when the clock was their ally in the fourth quarter, quarterback
EJ Manuel
was snapping the ball with more than 20 seconds left on the play clock. The up-tempo offense is catching on across the NFL, and while the
Philadelphia Eagles
' approach in the first half of their opening victory over the
Washington Redskins
was electric, I think teams who only play in one gear are going to quickly find out there needs to be some flexibility and level of comfort to downshift when the situation dictates.
5.
There is second-guessing and then there is first-guessing. The defection of running back
Danny Woodhead
from the Patriots to the
San Diego Chargers
struck me as puzzling when it happened, and those thoughts are revisited in the wake of the Patriots losing running back
Shane Vereen
for at least eight weeks with a wrist injury. How nice would it be for the Patriots to have Woodhead as an insurance option? Assuming that Woodhead would have accepted a similar deal in New England (
contract here
), I still don't understand why he's still not with the Patriots.
6.
Also in the puzzling category: The Patriots going with
LeGarrette Blount
as their primary kickoff returner when 2012 Pro Bowl returner
Leon Washington
is on their roster.
7.
I didn't think Jets offensive lineman
Nick Mangold
took a cheap shot at Patriots cornerback
Aqib Talib
at the end of Thursday's game, even though he probably can expect a fine from the NFL. Talib, who never should have returned the interception because it wasn't a smart situational play (just stay down and the game is over), was sort of tiptoeing along the sideline, and I thought it was a bang-bang play. More so than Mangold, I'm interested to see how hard the NFL comes down on starting Jets right guard
Willie Colon
, who tossed aside referee Carl Cheffers to get into the scrum. That's one of the biggest no-nos in the game and earned Colon an ejection and
at least a $25,000 fine
.
8.
Here's one stat from each of the Patriots' AFC East rivals that caught the eye this week: Jets left tackle
D'Brickashaw Ferguson
has started every game since joining the team as a first-round draft choice in 2006. Impressive durability and dependability and a good pick by then-Jets coach Eric Mangini. …
Miami Dolphins
defensive end
Cameron Wake
is off to a strong start after notching 2.5 sacks in the opener at Cleveland. Of his 45.5 career sacks, 30.5 have come on the road. Would have thought those numbers would be flipped. … With the Bills losing to the Patriots in Doug Marrone's coaching debut last Sunday, first-year Bills head coaches are now 0-17 in their opening games (1960-present).
The Buffalo News has the forgettable breakdown
.
9.
When the
Tampa Bay Buccaneers
visit the Patriots next Sunday, would anyone be surprised if rookie
Mike Glennon
is the team's starting quarterback?
This was foreshadowed at the Patriots-Buccaneers joint practices in August
. After watching
Josh Freeman
in the regular-season opener against the Jets last Sunday, and hearing coach Greg Schiano on Thursday telling reporters about how Freeman (no longer a captain) overslept and missed a team photo, it seems like it's more a matter of when than "if" on a torch-passing from Freeman to Glennon. Maybe it happens in the Buccaneers' home opener Sunday against the Saints.
10a.
When the Patriots played the NFC West in the 2008 season, it was a division that many viewed as the worst in football. In fact, when analyzing how the Patriots went 11-5 that season with untested
Matt Cassel
replacing the injured
Tom Brady
, many pointed to an easier schedule that included four winnable games against NFC West opponents. Five years later, some might make the case that the NFC West is now the best division in football. For those who have doubts, tune in to Sunday night's
San Francisco 49ers
-
Seattle Seahawks
game. On a related note, Seattle might have the best home-field advantage in the NFL; it's a great, underrated environment for football that is now receiving more attention because of the team's emergence. But it was like that even before the Pete Carroll/
Russell Wilson
regime.
10b.
My rankings on the best divisions in football: (1) NFC West, (2) NFC East, (3) NFC North, (4) NFC South, (5) AFC North, (6) AFC South, (7) AFC East and (8) AFC West.
10c.
Random question: When did the NFC suddenly become so much deeper than the AFC? Seems like yesterday it was the other way around.
September, 11, 2013
9/11/13
3:49
PM ET
Things turned around fast for the Patriots after their season-opening win over the Bills on Sunday. The coaching staff graded the film on the plane ride home from Western New York in anticipation of fast-forwarding to this week's opponent, the Jets.


Whenever the Patriots and Jets square off there's going to be a layer of intrigue. The teams have had no shortage of dramatic moments in the recent past, both during games and in the days leading up to them.
To the surprise of many, the Jets got the job done narrowly at home over the Bucs in Week 1, sparked by a late scramble by quarterback
Geno Smith
and subsequent personal foul penalty that pushed them into game-winning field goal range.
With a chance to jump out in front of the rest of the division at stake, here are five items we'll be watching for on Thursday night.
1. Who catches passes?
With
Danny Amendola
(groin) likely to sit out Thursday's game, the Patriots must go back to the drawing board to find their top receiver. The presumptive top target this week is
Julian Edelman
, a Week 1 star who has long held the trust of
Tom Brady
. Behind Edelman,
Kenbrell Thompkins
will hold down the perimeter targets, with
Josh Boyce
as a candidate to step into a third receiver role. Fellow rookie
Aaron Dobson
(hamstring) could be active this week, but it wouldn't be a surprise if he doesn't play a major offensive role even if he suits up. He's still in the development stages. Tight end
Zach Sudfeld
(hamstring) might be out, catapulting
Michael Hoomanawanui
into a starting role.
2. Ridley the bell-cow back?
After being benched in the second quarter due to a fumble, might running back
Stevan Ridley
be put right back into his starting role in the backfield? The team needs him with
Shane Vereen
now on the short-term injured reserve list, and Ridley has bounced back from fumbling woes before. Consider this: In the four games following his fumbles in 2012, Ridley averaged 17.75 carries. In the other 12 games, he averaged 18.25. Don't be surprised if he takes on a leading role again this week. Veteran
Leon Washington
, if healthy, could be used to replace Vereen.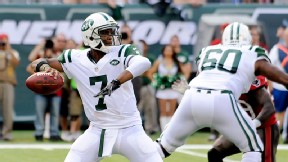 (AP Photo/Bill KostrounThe pressure will be on the Patriots' defensive line to get to Jets rookie quarterback Geno Smith.
3. Pressuring Geno.
Sacks don't always tell the story as it relates to generating pressure on opposing quarterbacks, but Thursday night would be a good time for the Patriots to register their first sack of the season after being shut out against Buffalo. They'll face another rookie quarterback. One way to knock Geno Smith off of his game is to make him uncomfortable in the pocket. The Patriots' defensive ends and edge players will be under the microscope in this department.
4. Wilfork vs. Mangold.
We don't often dig into individual matchups for our items to watch for, but this one is too good to ignore. When the Patriots play the Jets, it means two of the very best at their craft go head-to-head, as nose tackle
Vince Wilfork
will often align over Jets center
Nick Mangold
. Mangold left Week 1 with an elbow issue but later returned and should be good to go on Thursday. The Jets love to run the football, but Mangold will have his hands full in trying to generate movement against Wilfork.

5. Jets DL in focus.
In reviewing the Jets' first game of the season, it was clear that the defensive line is an explosive and disruptive group that won't make things easy on Brady.
Muhammad Wilkerson
is a star already, while first-round pick
Sheldon Richardson
had an active afternoon against both the run and pass, totaling seven tackles and a half sack. Veteran
Antwan Barnes
adds edge pressure and the Jets' front seven will be a big test even without 2012 first-round pick
Quinton Coples
. The Patriots' offensive line picked it up down the stretch against Buffalo, but it must be ready again when the Jets take the field. This defense will find ways to manufacture pressure through both schemes and individual rushers.
September, 10, 2013
9/10/13
5:00
AM ET
The Patriots and Jets made headlines this offseason for a variety of reasons, with each team happy to get back to football in Week 1.

The teams also had similar outcomes during their season-opening games, as the Patriots marched to a narrow road victory over the Bills, while the Jets squeaked past the Buccaneers at home, with each team winning with a field goal in the closing seconds.
Neither team has had much time to think about their Week 1 victory, however, as they are each preparing on a short week, with the Patriots hosting the Jets this Thursday night in a nationally televised game.
Though the Jets are perhaps the Patriots' most familiar opponent, below is an overview on names and notes for Gang Green.
Record:
1-0 (t-1st in AFC East)
Head coach:
Rex Ryan (fifth season)
Offensive coordinator:
Marty Mornhinweg
Defensive coordinator:
Dennis Thurman
THREE PLAYERS TO KNOW, OFFENSE
1. QB Geno Smith.
The player some thought could be the first man taken in this year's draft ended up sliding to the Jets at pick 39 in Round 2, and now he's the team's starting QB. Incumbent starter
Mark Sanchez
went down with an injury during the preseason, putting an end to a bizarre competition that Smith may have won by default as much as anything else. The rookie fared pretty well in his first NFL action, completing 24-of-38 attempts for 256 yards and a touchdown. He turned the ball over twice and had some uneven moments during the game, but Smith's second-half contributions were important in the dramatic win.
2. C Nick Mangold.
The Patriots got a look at a terrific center last week in
Eric Wood
for Buffalo, but Mangold may well set the standard league-wide among interior linemen. He's dependable, strong, smart, athletic and a leader for an offense that needs it. Mangold and
Vince Wilfork
have shared glowing praise for each other previously, and that's a one-on-one battle worth watching. He left the team's season opener with an elbow injury, but later returned.
3. RB Bilal Powell/RB Chris Ivory.
Ivory was acquired through a draft day trade in New Orleans, and though his poor Week 1 production (just 15 yards on 10 carries) has some wondering what to make of his prospects, he's a gifted runner who can smash through traffic. Powell, meanwhile, was the starter in Week 1 and the Jets' leading carrier with 12 rushes, though he too was held in check by the Bucs' run D.
THREE PLAYERS TO KNOW, DEFENSE
1. DL Muhammad Wilkerson.
Versatile, strong, disruptive and tough, Wilkerson is one of the best young defensive linemen in the NFL. He's been everything the Jets had hoped when they snatched him with the 30th pick in the 2011 draft. He's been productive as a pro (he had 69 tackles and 5.0 sacks last season), but the numbers don't tell the whole story on Wilkerson. He has the ability to move around the line if needed and he's the type of player the Patriots' offensive line will seek out before every snap and identify where he's aligned.
2. CB Antonio Cromartie.
When he's at his best, Cromartie is an incredibly difficult cornerback to throw at. He's long, fast and has good ball skills, something the Jets have relied on since acquiring him in a trade with the Chargers in 2010. He's never been afraid to speak his mind and has a short memory on the field -- a good thing for a defensive back. With
Darrelle Revis
now in Tampa Bay, Cromartie is the leader of the Jets secondary.
3. LB David Harris.
Our take on Harris? An underrated rock in the middle of the Jets defense. He was an All-Pro pick in 2009, but that's the extent of his individual player honors, despite the fact that he's had three seasons with 123 or more tackles and has 22.5 sacks in six years. The Jets rely heavily on Harris as a defensive quarterback, working closely with head coach Rex Ryan and new defensive coordinator Dennis Thurman.
Other notes:
The Jets had a pair of first-round picks this year, using both on defensive players. Cornerback
Dee Milliner
made a couple of tackles in Week 1, while defensive lineman
Sheldon Richardson
shined with seven stops and a half sack. ... 2012 first-round pick
Quinton Coples
, whom the team moved from defensive end to outside linebacker this offseason, remains out with a hairline fracture in his ankle. ... The Jets exchanged Landrys at safety this offseason, losing LaRon in free agency while signing his brother, Dawan. He made an interception in his Jets debut. ... Veteran receiver
Santonio Holmes
was active in Week 1 after a long recovery from a Lisfranc injury, totaling one catch on three targets.