New England Patriots:

Ray Lewis
January, 16, 2013
1/16/13
11:50
AM ET
FOXBOROUGH, Mass. -- Patriots quarterback
Tom Brady
will face Ravens linebacker
Ray Lewis
for the final time in Sunday's AFC Championship Game, and said Wednesday he always enjoys going head to head against the future Hall of Famer.
[+] Enlarge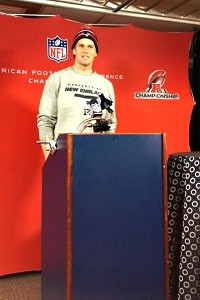 Mike Reiss/ESPN
"I said last week, it's really a pleasure to play against him," Brady said of Lewis. "He's really been so consistent over the years, and durable and tough. He's so instinctive. He doesn't take off hardly any plays, makes a ton of tackles, he's great in the pass game, he's great in the run game. He blitzes, like he did a few years ago (when he sacked Brady in a playoff game).
"Whatever they choose, he's really a playmaker for them, so they give him an opportunity to make those plays," Brady continued. "You see when he makes a play, their whole sideline gets really amped up. You always have to know where 52 is at. He's always right in the middle of the defense, but whether he's blitzing or covering or he's free in the middle of the field, you always have to take him into account."
Following the Ravens victory over the Broncos last Saturday night, a poignant moment was captured between Lewis and
Peyton Manning
, who squared off for the final time. It was perhaps a sign of an off-the-field relationship developed between the two players during their careers.
Brady's relationship with Lewis, however, is limited to the football field.
"I don't know that we've ever really done that," Brady said of spending time with Lewis at Pro Bowls or other events. "Just on the football field."
Nose tackle
Vince Wilfork
, who followed Brady at the podium, offered high praise for Lewis, with whom he shares a common bond: Both starred at the University of Miami.
"When you talk about football and especially defense, the first thing you think about is that guy," Wilfork said.
January, 15, 2013
1/15/13
5:12
PM ET
By
Ryan Feldman, ESPN Stats & Information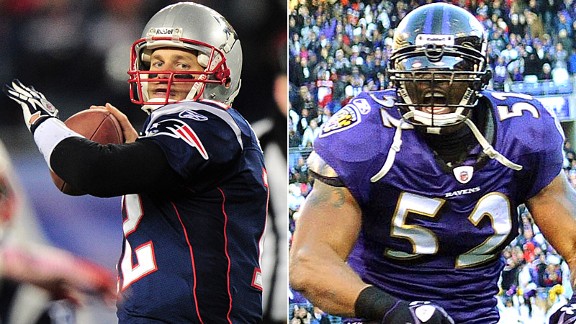 US Presswire
Future Hall of Famers Tom Brady and Ray Lewis will face off for the final time on Sunday.
Lewis is hoping to keep his NFL career alive with a win at New England. But Lewis has not had a huge impact against Brady in his career.
Of the starting quarterbacks Lewis has faced at least five times in the regular season and at least once in the postseason, Brady is the only one against whom he has zero interceptions and one or fewer sacks (according to the Elias Sports Bureau).
Lewis' lone career sack against Brady came in the 2009 wild-card playoffs, when the Ravens won 33-14.
Lewis is 2-5 in his career against Brady. His team's only other win was a 31-30 victory in Week 3 of this season.
Lewis also has no career fumbles forced or recovered against Brady and the Patriots.
* Brady vs. Ravens:
Brady has a 63.1 Total QBR against the Ravens since 2008 including the playoffs, his second-worst QBR against any opponent of the 11 teams against which he has at least 75 action plays. Only his QBR against the Jets (59.5) is worse.
Brady has thrown an interception once every 33 drop backs against the Ravens since 2008, including the playoffs. That's the highest interception percentage during that span of the seven quarterbacks with at least 100 dropbacks against the Ravens.
However, Brady's QBR is still better than most against the Ravens. Brady ranks fourth of the 26 quarterbacks with at least 50 action plays against the Ravens since 2008. Only Matt Ryan, Aaron Rodgers and Peyton Manning have been better.
Despite a 53.7 QBR in his previous four games against the Ravens, Brady had an 86.0 QBR against them in Week 3, the highest by any QB with at least 10 action plays against the Ravens this season.
* Lewis' recent impact:
Lewis is certainly still an impact player, but the Ravens' defense was actually better in some regards during the 2012 regular season without Lewis. With him on the field, the Ravens allowed 5.5 yards per play and sacked the opposing quarterback fewer than once every 20 drop backs. With Lewis off the field, they allowed 5.0 yards per play and got a sack about once every 14 drop backs.
* Brady vs. added pressure: Brady has been great against five or more pass-rushers this season. His 85.6 Total QBR against added pressure ranked second in the league behind Robert Griffin III. On those plays, Brady has thrown for 22 touchdowns and no interceptions. He's been sacked seven times on 195 action plays.
When Brady faced the Ravens in Week 3, he was 13 of 17 for 118 yards against added pressure. He was sacked twice and was hit or under duress on one other play.
Brady's 73.8 QBR against five or more Ravens pass-rushers is third-highest this season behind Matt Schaub and Peyton Manning.
Perhaps the Ravens should avoid blitzing Brady, since he has been so successful against added pressure? Not quite. Brady's 94.9 QBR against four or fewer Ravens pass-rushers is the highest by any QB against the Ravens this season.
September, 20, 2012
9/20/12
3:03
PM ET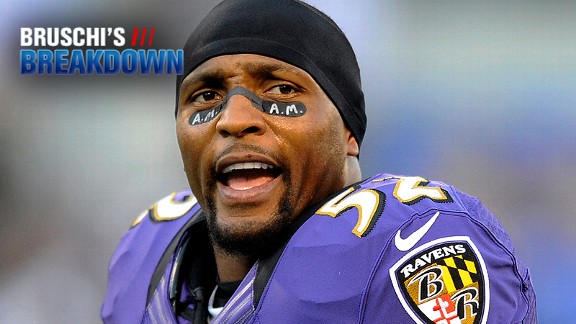 AP Photo/Nick Wass
Every week that the Patriots play a game, Tedy Bruschi and Mike Reiss team up for "Bruschi's Breakdown" to dissect the matchup.
This week's piece is now posted on ESPNBoston.com and Bruschi focuses on how the Ravens' defense looks without Terrell Suggs (Achilles injury) and reminds us that Ray Lewis is every bit the playmaker we remember him to be.
"You're talking about the Defensive Player of the Year (in Suggs), so without that playmaking ability, that's a different look. But also, there is a different look at middle linebacker with Ray Lewis, who has dropped about 25 pounds. He really looks different on film, too. The last couple years, he was pushing 260, and when watching him, the thought would be, "Ray, you're getting a little big, maybe a little slower, this could be coming to an end." But it's a sign of a player who is probably the best linebacker in the history of the game saying, "I know what this league is turning into. I no longer have to thump on a guard or thump on a fullback for four quarters of a game. For me to last, what I have to do is cover and be a space player if I want to play every down. So I have to drop 25 pounds, ride the bike 40 miles every day, and change my body to change with the times." He looks a lot quicker, too. He's going into the line of scrimmage, coming back out, making plays, spinning. I saw him make a spin move against the Bengals and come out and tackle the running back. He made a play versus tight end Jermaine Gresham in coverage. The guy looks great, like the Ray Lewis of five years ago. The Patriots are going to have to deal with him."
Meanwhile, Bruschi doesn't mince words when asked what he makes of Wes Welker's drop in playing time:
"I'm not sure what's going on, but I know this: Bill Belichick doesn't care what you've done in the past. He wants to know how you've looked in training camps, preseason, going up to that week's game. For Welker not to start, and for there to be no other issues like off-field problems or health, it has to be a performance thing. Maybe they see Edelman doing better in practice, and they want to see more of it."
To read the piece,
CLICK HERE
.
January, 6, 2010
1/06/10
1:46
PM ET
FOXBOROUGH, Mass. -- Taking umbrage with a reporter's suggestion that he was nearing the end of his career, Ravens linebacker
Ray Lewis
spent much of his conference call to the New England media defending how much he has left in the tank (highlighted by Lewis, 34, ranting about how players like
Brett Favre
and
Brian Dawkins
have excelled at advanced ages).
When focused on the task at hand, Sunday's wild card matchup in New England, Lewis got worked up again when asked if the Ravens had the potential to pounce given the Patriots' injury woes with receiver
Wes Welker
(left knee) out for Sunday's game and quarterback
Tom Brady
nursing a variety of ailments.
"I think sometimes that's the biggest set up ever," said Lewis. "You look at all the great ones, man, going back through the years, every time you say they're hurt, they come out and have their best games. Forget all that with the, 'Who's hurt, who's not?' If you have a uniform on, we understand you're playing full throttle, you're playing just like who you are.
"We don't even get caught up into that. 'Oh, Tom has this, let's try to do this, let's try to do that.' As soon as you try to do that and leave people man-on-man, then he hurts you. Then he's so heroic because he did it all with three broken ribs and a finger. Forget all that. Bottom line, if he's suited up, he's ready to play, so let's play."
Lewis noted that, while rookie receiver
Julian Edelman
doesn't have the chemistry that Welker boasts with Brady, the Patriots have long thrived off the ability to simply insert backups and not lose anything in the way of production.