New England Patriots:

Rob Gronkowksi
May, 20, 2014
May 20
9:30
PM ET
ESPN.com's fantasy football staff has unveiled its
top 200 player rankings
and here is a look at where the top Patriots fall in the list:
35. TE
Rob Gronkowski
(third at position)
58. RB
Shane Vereen
(26th at position)
61. WR
Julian Edelman
(24th at position)
66. RB
Stevan Ridley
(28th at position)
97. WR
Danny Amendola
(42nd at position)
111. QB
Tom Brady
(12th at position)
136. WR
Aaron Dobson
(51st at position)
148. Patriots defense/special teams (ninth as a unit)
152. K
Stephen Gostkowski
(second at position)
170. WR
Brandon LaFell
(57th at position)
As the piece notes, these rankings are based on a 10-team ESPN standard league with 16-player rosters, starting one quarterback, two running backs, two wide receivers, one tight end, one flex (RB/WR/TE), a team defense and a kicker.
Any objections?
March, 19, 2014
Mar 19
11:30
AM ET
A few leftover pieces of
New England Patriots
mail from
Tuesday's mailbag
...
Chris (Washington DC):
Hey Mike, the TE position has always been one that has been one of Tom Brady's favorite targets. From Christian Fauria, to Ben Watson, to Gronk and Hernandez. I know they re-signed Michael Hoomanawanui but is he enough? Do the Patriots trust that he will be reliable this season as the full time starter for most if not all of the season? Or do you think this will be something they address to get help in the draft and or free agency?
Chris, I think the Patriots are happy to have Hoomanawanui back as he's proven to be a reliable, team-first player. But I also believe they aren't done addressing the position. There are currently three tight ends on the roster --
Rob Gronkowski
, Hoomanawanui and
D.J. Williams
-- and I would anticipate at least two more added by the time training camp begins in late July. We're looking at a partial snapshot right now.
---
Tom C. (North andover ma):
Hey Mike, I was very disappointed at the loss of Dane Fletcher. His special teams efforts were significant but I always liked what I saw of him when he played. Fletcher just always seemed to show up and make plays. He only went to Tampa on a one-year deal. Why weren't the Patriots more interested in keeping him?
Tom, my educated guess would be economics, as perhaps the Patriots view Fletcher as more of a pure core special teamer, and paying a salary north of $1 million for that might not represent the best value to them when you can have a younger player at more than half the cost. Also, sometimes it's more the player's choice to seek a fresh start, which is something to keep in mind as well. I'm going to be interested to watch how that unfolds because Fletcher is going to a much different defensive system under Lovie Smith than what the Patriots play under Bill Belichick. Maybe it turns out to be a better fit for him.
---
Benjamin (Concord, MA):
Hi Mike, with the Patriots taking such an uncanny aggressive offseason approach this offseason,wouldn't it be fair to expect the team to perhaps move up in the draft for some "real" talent. If so, who could you envision them trading up for?
Benjamin, I see it a little bit differently in terms of the "aggressiveness." Obviously, the
Darrelle Revis
signing was a big one, and that is unusual, but I think it was more about capitalizing on an unexpected opportunity than a specific philosophical change in approach. With this in mind, I wouldn't expect anything different in the team's draft approach. If the right players are there and there is an opportunity to move up (e.g.
Chandler Jones
/
Dont'a Hightower
in 2012), I think they'll do it. If the better play is to trade back in a 4-picks-for-1-pick scenario (similar to last year), I think they'd do that, too. It's all about seizing the opportunities that present themselves.
---
John (Honolulu):
Hi Mike, last year the [Patriots] picked up Armond Armstead from the CFL and after missing last season, he will be back in 2014. While maybe better suited for the interior of the defense, do you think he gets a look at possibly defensive end? We know that Rob Ninkovich and Chandler Jones need a breather now and then.
John, I had specifically asked Bill Belichick that question last year, about the possibility of Armstead as an end-of-the-line player and he dismissed it by noting Armstead is 295 pounds and more suited for the interior.
---
Josh (Reading/PA):
Hi Mike, obviously things are fluid right now, but is it possible to get a sense of how much more room the Pats have under the salary cap now that they've signed/re-signed Hoomanawanui, Revis, Browner, LaFell, Edelman, and Co? I know it may be hard to say, what with pending potential releases/restructures with Vince and A. Wilson, but is it still reasonable to think that we can still keep Blount and Wendell while bringing a veteran pass-rusher aboard?
Josh, a conservative estimate is around $7 million of cap space. I still think Blount has a good chance of being back. My take on
Ryan Wendell
is that they would welcome him back at lower financial levels with the hope of adding competition at the position.
March, 10, 2014
Mar 10
11:50
AM ET
Tight end
Michael Hoomanawanui
filled his role well for the Patriots in 2013, so it is no surprise the Patriots had interest in bringing him back in 2014.
ESPN Insider Field Yates confirmed earlier reports from Yahoo! Sports and Fox Sports that Hoomanawanui is re-signing with the Patriots for two seasons.
Hoomanawanui played 57.6 percent of the offensive snaps in 2013, most among New England tight ends, as he emerged as the top replacement for
Rob Gronkowski
. With Gronkowski currently recovering from a torn ACL, and lingering questions over his durability after a string of injuries, Hoomanawanui is a dependable, team-first, lower-budget layer of insurance.
Hoomanawanui has said it himself -- he's no Gronkowski. Few are.
While not as dynamic in the passing game in terms of creating separation and pure speed, Hoomanwanui does have solid hands and can make the tough catch (12 receptions in 2013). His greatest contributions last year, when he won a training camp competition against
Jake Ballard
and
Daniel Fells
, came as a blocker.
The Patriots now have Gronkowski, Hoomanawanui and
D.J. Williams
under contract at the tight end position. The team likely isn't done addressing the position.
March, 3, 2014
Mar 3
1:00
PM ET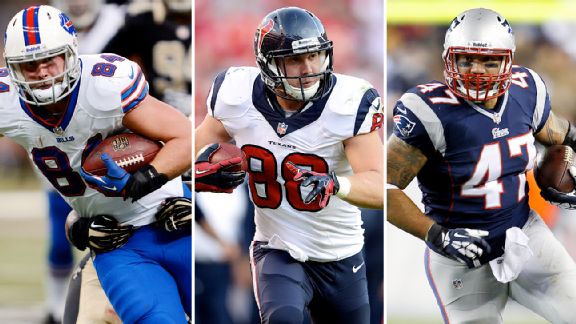 AP PhotoScott Chandler, Garrett Graham and Michael Hoomanawanui are three tight ends who could potentially help the Patriots in 2014.
First installment in a multi-part Patriots series on free-agent fits at various positions leading into the start of free agency March 11.
Position:
Tight end
Players under contract for 2014:
Rob Gronkowski
,
D.J. Williams
Level of need:
High
Projected top targets:
Scott Chandler
(Bills),
Garrett Graham
(Texans),
Michael Hoomanawanui
(Patriots)

Why Chandler fits:
The Patriots know him well from having faced the Bills twice a season, and Chandler has had some of his best games against them. At 6-foot-7 and 260 pounds, Chandler runs well and could work at both the "F" (more receiver-like) and "Y" (more in-line blocker) positions, which is valuable versatility even though he isn't dominant in either area.
Why Graham fits:
More of an H-back type, the 6-foot-3, 243-pound Graham catches the ball well and could provide another "move" option alongside D.J. Williams.
Why Hoomanawanui fits:
He played 54.3 percent of the offensive snaps for the Patriots in 2013, knows the system and proved to be dependable in maximizing his skill set. He doesn't threaten as much in the passing game but has excellent hands and has shown a knack for coming down with the football in tight windows. Competitive blocker.
Other names of note:
Jeff Cumberland
(Jets),
Ed Dickson
(Ravens),
Jermichael Finley
(Packers),
Dustin Keller
(Dolphins),
Jeron Mastrud
(Raiders),
Matthew Mulligan
(Patriots),
Brandon Myers
(Giants),
Brandon Pettigrew
(Lions)
Franchise tag:
Jimmy Graham
(Saints)
Market conditions:
The Ravens' reported five-year, $28.5 million extension with
Dennis Pitta
gives a feel for what a solid player at the position might command. Other than the Saints' Graham, who figures to be well north of that, we'd be surprised if any other free agents hit that number. The Lions' Pettigrew might not be too far behind. With the draft filled with only a few top-end prospects, teams with a need at the position could move quickly.
Questions to answer at the position:
When will Rob Gronkowski be healthy? When Gronkowski does return to the field, how long will he stay there? Can D.J. Williams develop into a potential top option as a "move" tight end? Would the Patriots draft a tight end in the first round?
December, 27, 2013
12/27/13
10:00
AM ET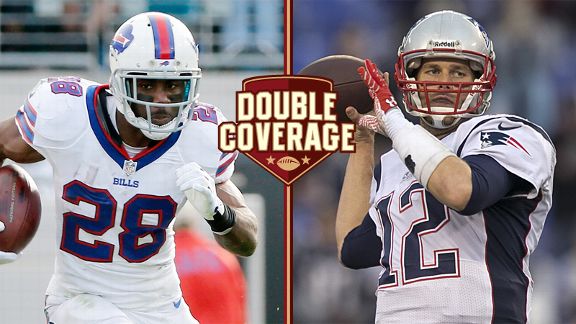 Getty ImagesTom Brady, right, and the Patriots hope to secure a postseason bye with a win vs. C.J. Spiller's Bills.
FOXBOROUGH, Mass. -- The
New England Patriots
and
Buffalo Bills
will end the regular season the way they started it, by facing each other.
The Patriots needed a late drive to beat the Bills 23-21 in the opener, but the teams went in mostly opposite directions over the next 15 weeks.
Unfortunately for the Bills, the script is a familiar one. They haven't qualified for the playoffs since 1999, the longest active drought, so now the focus turns to next season.
Meanwhile, the Patriots enter another finale with playoff positioning in mind after having clinched the AFC East title for the 10th time in the past 11 seasons. The Patriots could actually thank the Bills for that, because Buffalo's 19-0 victory against Miami last Sunday handed the division crown to New England.
Here to preview the matchup are ESPN.com NFL Nation reporters Mike Rodak (Bills) and Mike Reiss (Patriots).
Reiss:
Mike, this seems pretty obvious, but coach Doug Marrone is finishing his first season, and a win against the Patriots could go a long way toward the foundation he's attempting to establish. What signs, if any, have you seen from Marrone that the Bills are on the right track?
Rodak:
Mike, I think the past two games have said something about this team. After their 27-6 loss to Tampa on Dec. 8, the season was essentially over for Buffalo. They could have packed it in and waited until next season to make improvement. Instead, they have strung together their first back-to-back wins of the season. Does that matter in the long run? Probably not, but Marrone often talks about establishing a sense of accountability and resiliency in his team, and there have been some signs of that over the past two weeks.
Mike, the Patriots have shown plenty of resiliency this season too. Is this the best coaching job you've seen from Bill Belichick?
Reiss:
Belichick and his staff have been coaching their tails off, no doubt about that. I have always rated 2008 at the top of the mountain, because when you lose
Tom Brady
on the 15th offensive play of a season and still manage to go 11-5, that's pretty remarkable from this viewpoint. I think we've seen in recent years what often happens when a superstar quarterback is lost for the season -- the 2011 Colts with
Peyton Manning
as one example, which cost team president Bill Polian his job. We also see how the Packers are struggling this season without
Aaron Rodgers
. The Patriots have been hit hard by injuries this season too and also have quite a few young players who have been asked to take on significant roles. So it's been impressive.
As for young players being asked to carry the load for the Bills, the big question from here is if
EJ Manuel
is a franchise quarterback to build around. What is your opinion on Manuel in that regard?
Rodak:
That is a tough call, and it's going to be the biggest question Marrone and general manager Doug Whaley will need to address this offseason. From a leadership standpoint, Manuel has a presence and a poise that any successful quarterback needs. But it hasn't translated to consistency on the field. Since returning from his second knee injury, Manuel has thrown six interceptions and shown wild swings in accuracy as a passer. The Bills seem content with pressing forward with Manuel and allowing him to develop with live action each Sunday. That is the approach most teams take with young quarterbacks; it doesn't always work out. In most cases, deciding when to make a change is difficult. However Manuel's career unfolds, the Bills would be smart to have a Plan B, even as soon as next season. With J.P. Losman, that Plan B was Kelly Holcomb. With Trent Edwards, it was
Ryan Fitzpatrick
. Ultimately, neither of those veteran backups put the Bills in the right spot to win, which is why I think the organization must aim higher when hedging their bets with Manuel. Drafting another quarterback in the first round isn't an option that should be immediately dismissed.
This week, Marrone mentioned how the Patriots have several rookies playing roles on both sides of the ball. Watching undrafted defensive tackle
Joe Vellano
back in spring camps, I never would have thought he would be contributing as much as he has this season. But can the Patriots rely on Vellano and their other younger players in the playoffs? It doesn't seem that long ago when safety
Patrick Chung
, then in his second season, botched a fake punt that cost the Patriots in a divisional playoff loss to the Jets.
Reiss:
Mike, I'd be shocked if the Bills take another quarterback in the first round. If they do in 2014, Buffalo wings on me from Duff's for the next five years every time the Patriots come to western New York.
As for the Patriots, the rookies playing the largest roles are now [receiver]
Aaron Dobson
, [defensive tackle]
Chris Jones
, [cornerback]
Logan Ryan
and [punter]
Ryan Allen
. The others are sprinkled in from more of a complementary standpoint or as a short-term fill-in (e.g.,
Josh Kline
at left guard vs. Baltimore). Vellano, for one, has seen his snaps decrease in recent weeks in favor of second-year defensive tackle
Sealver Siliga
. Anytime a team has rookies and youngsters playing front-line roles, it comes with some added risk. But I'd say this about the Patriots this season: As young as they are in certain spots, no moment seems too big for most of the players on the roster.
Defensively, the Bills look strong up front. What do you see from them on that side of the ball?
Rodak:
They certainly are, Mike. At this point, it's safe to call it the best defensive line in the league. The Bills have benefited from career seasons from both
Kyle Williams
and
Marcell Dareus
, who are both serious candidates for the Pro Bowl. Same with
Mario Williams
, who is enjoying his best season since signing his monster deal with Buffalo. But there have also been some under-the-radar contributors. Whaley's offseason swap of linebacker
Kelvin Sheppard
for defensive end
Jerry Hughes
has paid dividends. You can add Hughes to the list of players having career seasons under first-year defensive coordinator Mike Pettine. In the secondary, that theme continues with
Leodis McKelvin
, who had four shaky years before finding his groove this season. The Bills have also gotten big things from their smallest player -- 5-foot-7 slot cornerback
Nickell Robey
, who went undrafted in the spring but has played like an early-round pick. There have been bad moments for the defense, but in general, they came mostly earlier in the season. Right now, it looks like a unit on the rise.
Mike, one area where the Bills have been vulnerable at points this season has been their run defense. They rank 20th in the NFL, allowing 4.2 yards per rush. Is the Patriots' running game capable of exploiting that weakness? And perhaps more importantly, will the Patriots need their ground attack to advance in the playoffs?
Reiss:
They are certainly capable of doing it, and last Sunday's win against the Ravens is the evidence. The Patriots entered the game with a mindset of being physical, and they won the battle of the line of scrimmage, churning out 142 yards on the ground against a sturdy Ravens front that struggled against some zone runs. The Patriots ran it 34 times and had 28 dropbacks in the game. I don't think they necessarily have to have that type of split in the playoffs to win, but like most offenses, this attack is at its best when it's most balanced. Ball security was a big issue the first few months of the season, mostly with running backs
Stevan Ridley
, and to a lesser degree with
LeGarrette Blount
(fumble in Oct. 6 loss to the Bengals), but that has subsided. One of the big keys with the running game last Sunday is it helped the Patriots in the red zone, where they are still recalibrating after losing tight end
Rob Gronkowski
to a season-ending knee injury on Dec. 8.
.
September, 21, 2011
9/21/11
1:25
PM ET
By
Steven Krasner
| ESPNBoston.com
AP Photo/Don HeupelPatriots tight end Rob Gronkowski celebrates a touchdown last season in Buffalo.
FOXBOROUGH, Mass. -- The Patriots' game in Buffalo on Sunday will be a homecoming for the Gronkowski brothers, a pair of tight ends on the New England roster.
But the Gronkowskis, who grew up in the Buffalo suburb of Williamsville, N.Y., insisted Wednesday that a family reunion isn't their major concern.
"Going home is exciting, but we're not thinking that this is anything but all business," said
Dan Gronkowski
, the elder brother.
"For Rob and I, we're not thinking about going home to Buffalo but about playing them. We have to stay focused on the game," said Dan, who grew up a Bills fan in general and a fan in particular of Buffalo quarterback
Jim Kelly
.
And if family members or friends want tickets, Rob volunteered his brother for that distraction.
"I'll tell them to talk to Dan," said Rob. "I'm not worried about that. I'm just worried about winning the game."
Rob Gronkowski
has been one of the focal points of the Pats' offense, having grabbed 10 passes for 172 yards, including a team-leading three touchdowns. Dan, who signed with the Pats as a free agent after being cut by Denver, has yet to catch a pass for New England, but he may have more opportunities to do so this week because tight end
Aaron Hernandez
(knee) is expected to be out.