New England Patriots:

Sealver Siliga
July, 7, 2014
Jul 7
5:00
AM ET
As part of this slow time on the NFL calendar, when we'll be taking a break to recharge for the 2014 season, we introduce the pre-produced "checking the locks" series in which we analyze the players on the Patriots' roster who are "locks" to stick. Today, it's defensive tackles.
Sure-fire locks:
Vince Wilfork
,
Dominique Easley
,
Chris Jones
Near locks:
Tommy Kelly
,
Sealver Siliga
Trying to get in the door:
Joe Vellano
,
Armond Armstead
,
Marcus Forston
,
Seali'i Epenesa
,
L.T. Tuipulotu
Wilfork
ANALYSIS:
Much like the Patriots' running backs who could be viewed through two different lenses (bigger early down backs and smaller "passing" backs), the Patriots have a similar setup at defensive tackle with some bigger-bodied run-stuffers who aren't known as much for penetrating gaps (Wilfork, Siliga) and some smaller penetrators more likely to win with quickness than pure power (Easley, Jones). One area to monitor is the health of some key players as Wilfork (ruptured Achilles), Easley (torn ACL), Kelly (torn ACL) and Armstead (missed 2013 with an infection) are all coming off serious injuries. Another factor to consider is that in some sub packages, the Patriots reduce end
Chandler Jones
to more of a defensive tackle role. Still, the Patriots felt they could have absorbed one more "lock" in pursuing veteran
Kevin Williams
before Williams signed with Seattle, which is a sign that Bill Belichick might still be concerned with the depth at this spot.
June, 18, 2014
Jun 18
11:00
AM ET
Veteran defensive tackle
Kevin Williams
told ESPN.com NFL Nation Vikings reporter Ben Goessling that he
took a little less money
to sign with the
Seattle Seahawks
than the
New England Patriots
. With the specifics of Williams' contract now known, there is some added context on how far the Patriots were willing to extend financially.
Williams
Via colleague Field Yates, Williams' deal breaks down this way:
Term/total value:
One year, $2.1 million
Signing bonus:
$250,000
Base salary:
$1.5 million ($250,000 guaranteed)
Incentives:
Up to $350,000 in per-game roster bonuses
With Williams electing to sign in Seattle, here is a snapshot look at the Patriots' defensive tackle depth chart, with a quick-hit thought on each player:
Vince Wilfork (6-2, 325):
Captain and 11-year veteran is making progress in his return from a ruptured Achilles last September. Looks to be moving well.
Tommy Kelly (6-6, 310):
Another 11-year veteran, he took another step in his return from a torn ACL by participating in 11-on-11 drills Tuesday.
Dominique Easley (6-2, 288):
First-round draft choice is coming off two torn ACLs over the past 22 months, suffered in college, and has yet to take the field this spring.
Chris Jones (6-1, 309)
Second-year player was claimed on waivers last year and led all Patriots defensive tackles in snaps played in 2013. Best when penetrating.
Sealver Siliga (6-2, 325):
After a slow start to his career, the run-stuffer looks like he has built some momentum as a developmental prospect behind Wilfork.
Armond Armstead (6-5, 305):
The former Southern Cal and Canadian Football League standout has been sidelined for most of spring camps after missing all of last season with an infection.
Joe Vellano (6-2, 300):
Hard-working second-year player from Maryland is a lunch pail type of guy who plays with top effort.
Marcus Forston (6-3, 305):
Second-year player has spent multiple seasons on the practice squad and has filled in when injuries hit.
L.T. Tuipulotu (6-1, 305):
Undrafted free agent from Utah is on the developmental track.
Seali'i Epenesa (6-1, 310):
Undrafted free agent from UCLA was signed on Tuesday.
January, 31, 2014
Jan 31
5:00
AM ET
Continuing our positional review/offseason preview, here's a look at the New England Patriots defensive tackles, ordered in percentage of defensive snaps played.
Chris Jones
Age:
23
2013 status:
Started 11 of 13 games played after being claimed on waivers during Week 2 of the regular season. Played the second most snaps among rookie defensive tackles in the NFL with 786.
2013 highlights:
There are two lenses to examine Jones through. One the one hand, he gave the Patriots much more than anyone could've reasonably expected, including 54 tackles and six sacks. Conversely, there were times when Jones was overwhelmed as an anchor. Nonetheless, he's a piece of the puzzle going forward, as he'll continue to learn from
Vince Wilfork
and grow within the Patriots' system. He deserves credit for hanging tough given the unlikely circumstances surrounding his rookie season.
Current contract runs through:
2016 season
Joe Vellano
Age:
25
2013 status:
Played in every game, starting eight in total. Played just fewer than 58 percent of the regular season defensive snaps.
2013 highlights:
An undrafted rookie who worked his way on to the roster, Vellano, like Jones, exceeded expectations. He had flashes of both pass-rush and run-stuffing ability, but his modest size also left him susceptible to being run at by the offense. A player that is better suited as a reserve than a starter, but offers developmental depth going forward.
Current contract runs through:
2015 season
Tommy Kelly
Age:
33
2013 status:
Started five of five games played, registering 2.5 sacks and playing 221 defensive snaps.
2013 highlights:
Became an immediate starter alongside Wilfork after signing as a free agent last offseason. Provided size, girth and discipline along the defensive line to bolster both the run defense and interior pass rush. A reported ACL tear shelved Kelly for the final 11 games of the season, though he should be healthy by the time training camp rolls around, if not sooner. He was a big loss.
Current contract runs through:
2014 season
Sealver Siliga
Age:
23
2013 status:
A late-season riser who ended up playing in the final five regular-season games, starting four. Also started each of the two playoff games.
2013 highlights:
Siliga played the fewest snaps among the Patriots' unheralded young defensive tackles, but by the end of the season he appeared to offer the most long-term value. He plays with a stout base and good leverage along the line of scrimmage, not getting his shoulders turned and not giving ground. Should benefit from learning behind Wilfork for a full offseason.
Current contract runs through:
2014 season
Vince Wilfork
Age:
32
2013 status:
Started all four games that he played before going down with a torn Achilles' tendon.
2013 highlights:
Wilfork's production according to the box score wasn't anything to write home about, but the consistent message to convey with his play is that it transcends statistics. He's a force at taking on double teams and clearing space for his linebackers. The injury ended his season and contributed to a run defense that struggled throughout the season. Has a big salary for the 2014 season, and the team could view him as an extension candidate.
Current contract runs through:
2014 season
Isaac Sopoaga
Age:
32
2013 status:
Acquired via trade from Philadelphia, played in six regular-season games, starting two. Became an inactive player down the stretch.
2013 highlights:
Desperate for bodies in the middle of their defense, the Patriots added Sopoaga via a trade. The maneuver didn't cost them much (essentially about 25 draft spots), but Sopoaga had a limited on-field impact. With a big contract for the next two seasons, he seems like a likely cap casualty.
Current contract runs through:
2015 season
Others on the roster:
Marcus Forston
, Armond Armstead,
Cory Grissom
POSITIONAL NEED:
During an interview this past season, Bill Belichick referenced the team's "top three" defensive tackles being on injured reserve. The first two -- Wilfork and Kelly -- were obvious, but the third was Armstead, a former Canadian Football League standout who had surgery on an infection just before training camp. If all three return next season -- each is coming off of a serious injury -- the Patriots will have very good depth and talent at the position. Wilfork and Kelly are both in their 30's and entering the final year of their contracts, so this could still be an area where the Patriots look to add a young body. But while some might perceive this to be the first area of need for the team entering 2014, getting healthy would go a long way towards resolving the woes of the run defense from last season.
January, 17, 2014
Jan 17
5:00
AM ET
Each week we use this space to highlight members of the
New England Patriots
' upcoming opponent's organization who have ties to the New England area. Given that the Patriots have previously played the Broncos, we'll switch things up and highlight current members of the Patriots' organization that have ties to Denver, led by head coach Bill Belichick.
Head coach Bill Belichick.
After starting his career with the Baltimore Colts, Belichick spent two years in Detroit. That led to a season in Denver with the Broncos, where he served as the assistant special teams coach and a defensive assistant for the 1979 season. He would wind up with the Giants a year later and spent the next decade with that franchise.
Offensive coordinator Josh McDaniels.
A meteoric rise up the coaching ladder landed McDaniels as the head coach in Denver in 2009, and he spent nearly two seasons with the team. He started out 6-0, but struggles ensued thereafter. However, McDaniels' imprint remains with the team, including drafting many prominent players who will be on the field this Sunday, led by
Demaryius Thomas
,
Eric Decker
,
Zane Beadles
,
Knowshon Moreno
and others.
Special teams coach Scott O'Brien.
A longtime special teams coach (a role he's had with the Patriots since 2009), O'Brien spent the 2007-2008 seasons in Denver in that capacity.
Assistant director of pro scouting Dave Ziegler.
Ziegler joined the Patriots this past offseason after spending three seasons in Denver in the scouting department.
Defensive tackle Sealver Siliga.
Now a starter along the Patriots' defensive line, Siliga spent parts of three seasons with the Broncos, originally being signed to the team's practice squad. Siliga has been a part of four organizations during his young NFL career: the Patriots, Broncos, 49ers and Seahawks, the final four teams in this year's playoffs.
Wide receiver Greg Orton.
Now a practice squad receiver for the Patriots, Orton had two stints with the Broncos earlier in his NFL career during parts of the 2011-2013 seasons.
Bonus connections:
A pair of former Patriots have also recently been signed by the Broncos, as defensive back
Marquice Cole
was signed on Monday, while defensive end
Jeremy Mincey
, a 2006 sixth-round pick, was added on December 17.
December, 17, 2013
12/17/13
7:15
PM ET
Every Tuesday,
New England Patriots
coach Bill Belichick, offensive coordinator Josh McDaniels and defensive coordinator Matt Patricia hold conference calls with reporters.
Some highlights:
1. Hightower, at 270 pounds, in pass coverage:
Patricia was asked about linebacker
Dont'a Hightower
, who was in coverage on the Dolphins' game-winning touchdown pass. Hightower has had some ups and downs in that area this season, but Patricia was positive in his assessment. "He's obviously a guy who's got a great skill set. He's a big guy, can move well, and is a guy that maybe behind the scenes does a lot more than sometimes shows up in a production standpoint," he said, before adding that Hightower, like all players, remains focused on improvement. Patricia noted that Hightower has also taken on more responsibility within the defense and does "a lot of things out there on the field for us from a communication standpoint and an adjustment standpoint."
2. Siliga 'quietly' showing up on the line:
Second-year defensive tackle
Sealver Siliga
has started the last two games, and Patricia was asked about what it's been like to work with him. "He's a real quiet guy, but an extremely hard worker," he answered. "He sits in the classroom and gets all the information and asks good questions. ... He's a strong guy, he's a big guy, he's got good size about him, so [he's] somebody that we try to get in the game to hold the point and be strong at the line of scrimmage and play with good technique."
3. Belichick's snapshot view of the Ravens:
All focus is on the Ravens, and Belichick opened his remarks by sharing his general view of the team. "Strong in all three areas of the game. They have real good specialists, good return game, good kicker, good punter – really solid there. Defensively, I think they've really seemed to improve a little bit each week and played particularly well the last few weeks. Offensively, it's an explosive group with a good quarterback, good running backs, tight ends are good, [Dennis] Pitta is back. The receivers are big and they're good. This is a solid football team that's playing really well. I've spent most of the time watching their more recent games. They had some setbacks early but lately they've been very impressive, and that will be a big challenge for us this week down there."
December, 14, 2013
12/14/13
5:00
AM ET
FOXBOROUGH, Mass. -- Second-year defensive tackle
Sealver Siliga
stands out for both his size (6-foot-2, 325 pounds) and unique name.
After earning his first extended opportunity to play in the NFL last Sunday against the
Cleveland Browns
, he's now hoping most to stand out for his play.
Siliga, who joined the Patriots' practice squad on Oct. 23 and was promoted to the active roster on Nov. 27, started at nose tackle and did some positive things which caught the eye of coach Bill Belichick.
"I think he's a hard-working kid. He's improved a lot since he's been here," Belichick said. "Some of the things we've asked him to do are a little bit different than what he's been doing, but he's adapted pretty quickly. He's spent a lot of extra time here, working on his technique and some conditioning in the weight room.
"I thought he hung in there and played real competitively last week against Cleveland. Obviously, he's a young guy [23] and there is a long way to go, but I thought he definitely did a lot of positive things."
[+] Enlarge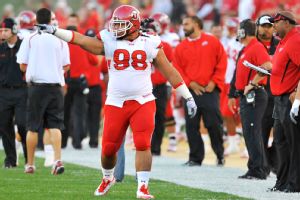 David K Purdy/Getty ImagesIncluded on Sealver Siliga's football resume -- helping Utah earn a Sugar Bowl win over Alabama.
The Patriots are Siliga's fourth NFL team in three seasons as he entered the league with the 49ers in the lockout-shortened offseason of 2011, and later landed with the Broncos and Seahawks. That naturally affected his development, but it's possible he's finally found a home in New England.
Born in West Jordan, Utah, and one of 11 children, his unique first name is part of being a Latter Day Saint. He explained that his aunt and uncle were sealed in a temple, and Sealver is a combination of "seal" and "forever."
He shares his football journey:
When he first started playing football:
"At the age of 9. I was a real active kid, a chubby kid growing up, and I had an old brother who saw my big body and was like, 'You stay home too much. I'm going to sign you up for football.'"
First positions:
"O-line and D-line."
Top memories at Cooper Hills High School:
"The school wasn't known for its football team. My freshman year, we had five [wins] and that was the best record we ever had in school history. But I grew up with all those kids and played Little League with them, so by the time you get to high school, we'd known each other our whole lives and the biggest memories are from hanging out in the offseason and before and after everything."
Enrolling at Utah to play football:
"I was a big fan of [defensive coordinator] Gary Andersen, who is now the head coach at Wisconsin. He was one of the
biggest reasons I committed to Utah
, and also for my parents and how costly it would have been for them to come watch me play [out of state]. It was either there or some of the California schools, or Oregon State."
Favorite memories at Utah:
"I had so many. Probably the biggest thing is how Coach [Kyle] Whittingham controlled our football team. The way he recruited – one-third white, one-third brown, one-third black – and he made sure we never sat by color. We got to know each other and it got to the point where everyone was involved with each other, and we were all friends with each other. You got to know a lot of different backgrounds and we were all there for one purpose."
Starting 21 of 37 games while recording 97 tackles and 2.5 sacks:
"We were real good. My first year, we went to the Sugar Bowl and smashed [
Dont'a] Hightower
's [Alabama] team [laughing].
We never went under 10 wins when I was there
."
Entering the NFL in 2011 after his junior season, a decision which surprised some, and landing with the 49ers as an undrafted free agent:
"That was a good learning experience. I was thrown right into the fire, almost like you are thrown to the wolves and you have to fight your way back out. All I knew was college, and that was the year of the lockout, so it wasn't like we had [organized team activities in the offseason]. Learning from [defensive lineman]
Isaac Sopoaga
, [fullback]
Will Tukuafu
and all them – after I got released, that really helped me. As bad as it hurt to get cut, I knew what to expect. I knew what to fight for."
Signed to the Broncos' practice squad in October of 2011 and playing one game in Denver over two seasons:
"I loved it out there. That's a great organization and that was a great experience. I met a lot of great people over there as well –
Ty Warren
, who used to be here [in New England], he was a big impact on me. I'd ask him questions all the time. In the locker room, it was
Elvis Dumervil
, Ty Warren and me, so I'm sitting there watching these two older guys and learning from them.
Kevin Vickerson
…
Justin Bannan
…
there were a lot of guys to learn from
."
Traded to the Seahawks in August of 2013:
"We had played [Seattle] two days before; that was rough. When I got traded, you're thinking, 'I'm good. I'll be playing for this team.' But then I got released and put on practice squad. Then I got released again. Then I got signed to the practice squad again, before getting released again [Oct. 4]. From that point on, it was a journey again of basically putting my nose down and working, hoping for the best but planning for the worst. I've been through it, so I knew what to expect."
Signing with the Patriots' practice squad in October of 2013:
"I had worked out other places and came here; I was privileged that they gave me the opportunity to show them what I can do. It was a great feeling. It's been great. I've been treated well. This organization speaks for itself and I'm blessed to be a part of it."
Role models in his life:
"Definitely my parents. I'm LDS [Latter Day Saint], so I'm big with my Heavenly Father. And then in football, players like Isaac Sopoaga, Ty Warren, Elvis Dumervil … guys I've always asked questions to and they've never shied away from them, always reaching out their hand to help."
Favorite teams/players growing up:
"I didn't watch that much football growing up, but I was a big Steve Young fan, being from Utah."
What he loves about football:
"The game is a brotherhood. No matter if you're playing high school, college, the NFL, it brings a bunch of men from different places together. There aren't a lot of jobs you can do, where at the end of the day it's game-time and there is one purpose and no one puts themselves in front of anyone else. That's pretty cool."
Summing up his football journey:
"In the process. I'm still not where I want to be. So it's in the process and still fighting to become what I want to be. I have a lot of work to do."
December, 9, 2013
12/09/13
2:30
PM ET
FOXBOROUGH, Mass. -- Picked-up pieces from first-quarter review of the
New England Patriots
' 27-26 win against the Browns:
1. The player I was most interested to watch was nose tackle
Sealver Siliga
, a surprise starter over
Joe Vellano
and
Isaac Sopoaga
. He has a
Kyle Love
-type build at 6-foot-2 and 325 pounds, and he two-gapped effectively, which showed up multiple times. One play, in particular, came on
Fozzy Whittaker
's 1-yard run on third-and-8 with 10:01 remaining. Siliga aligned over right guard
Shawn Lauvao
, and when Lauvao blocked down to account for blitzing linebacker Dane Fltecher, that created a one-on-one matchup between Siliga and right tackle
Mitchell Schwartz
. Siliga was initially knocked off balance before recovering with a pretty strong anchor, getting his arms outstretched to lock out Schwartz before locating the ball and shedding to make the tackle. Nice play. Siliga has us intrigued, because we haven't seen that type of effective two-gapping from a Patriots defensive tackle since
Vince Wilfork
's season-ending injury.
2. When considering the slow start for the Patriots' offense, it was more execution than anything -- and by two of their best players. The opening throw to tight end
Rob Gronkowski
looked like a solid read by
Tom Brady
against man coverage up the left side, but he just overshot it slightly. And on second down, Gronkowski simply dropped a short pass on the right side as Brady felt the blitz from his backside and got rid of it quickly. The first three plays on the opening three-and-out involved Brady, Gronkowski and
Shane Vereen
-- arguably their three best skill-position players. Just called for better execution.
3. One Patriots positive from an otherwise poor quarter of offensive football -- running back
LeGarrette Blount
had 16 of his 17 rushing yards after initial contact. He's a tough tackle.
4. Maybe a bit harsh, but we'd put the Brady long incomplete pass on a right-to-left crossing route to
Julian Edelman
(3:51 remaining) more in the category of a "tough drop" than an "overthrow."
5. On the ensuing play, it looked like Brady's decisive argument with referee Jerome Boger to pick up an intentional grounding flag, because of Blount being in the area, swayed the decision. From this perspective, it looked like the penalty should have been called, as the ball didn't get past the line of scrimmage.
6. This was a game where each offensive lineman had one or two plays that were noticeable struggles. For example, on Brady's interception (3:41 remaining), right tackle
Will Svitek
hauled down
Paul Kruger
and could have been called for holding as he got knocked out of his stance. It looked like Svitek let Kruger get his hands on him before his initial punch, and that led to the breakdown. Overall, we like the Browns' defensive front -- big and physical, sort of like the old Patriots' teams with
Ty Warren
, Vince Wilfork and Co.
7. On the 12-men-on-the-field penalty, it is unclear where the breakdown occurred, but the Browns had their three-receiver package on the field and the Patriots had been countering that with a nickel grouping. Linebacker
Brandon Spikes
was the extra playe,r and either he was sent into the game as part of a coaching breakdown or he came on to the field mistakenly.
8. One of the wrinkles in the 3-4 base defense at times had
Chandler Jones
playing more as a down lineman than at outside linebacker, with rookie
Jamie Collins
instead playing the outside linebacker role. The Patriots give up some size in that exchange, as Jones has more length but less bulk than a more traditional defensive end, but they held up well against the run regardless. In theory, Collins would give the Patriots some coverage help, although he seemed to have some challenges with tight end
Jordan Cameron
(16-yard catch, 7:12 remaining when the Patriots rushed just three).
9. Rookie defensive end
Michael Buchanan
felt like he could have played the opening kickoff better against the
Houston Texans
(50-yard return by
Keshawn Martin
), specifically doing a better job playing off
Matthew Slater
when attacking the wedge, so it caught the eye that Buchanan made the initial hit on the game's first kickoff against the Browns. That's the improvement any young player wants to achieve.
10. Seemed like a quick whistle on the short pass to Browns receiver
Greg Little
as linebacker
Dont'a Hightower
ripped Little to the ground and the ball came free (10:47 remaining). Bill Belichick was upset after the play, and that's probably why -- it easily could have been a fumble. Overall, it seemed Hightower was playing faster in this game.
December, 8, 2013
12/08/13
7:20
PM ET
Two storylines -- an improbable come-from-behind win and news that tight end
Rob Gronkowski
may have torn
his ACL
-- dominated the headlines for the Patriots on Sunday, but there was plenty more to account for after the team's 10th win.
Here's a look at the other storylines to emerge from the game:
Pats keep pace in playoff hunt.
Although the Patriots did not clinch a playoff berth on Sunday (because both the Ravens and Dolphins won), they remain three games up in the division and still hold the AFC's second-best record. They can clinch an AFC East crown with a win Sunday in Miami.
[+] Enlarge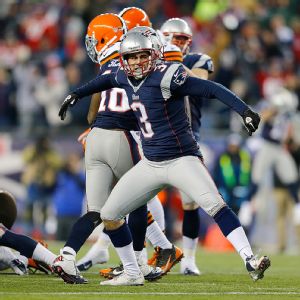 Jim Rogash/Getty ImagesStephen Gostkowski reacts after his onside kick put the Patriots in position for the winning score.
Ridley returns.
Running back
Stevan Ridley
returned to the lineup on Sunday, recording eight carries, tied with
LeGarrette Blount
for most on the team. That's a positive step for Ridley in his attempt to work back into a prominent running back role.
Vereen shines.
Running back
Shane Vereen
had a record-setting day, establishing franchise bests for running backs with 12 catches and 153 receiving yards. He's been a critical offensive cog since his return in Week 11.
Gostkowski helps out again.
Patriots kicker
Stephen Gostkowski
came through in a big way again, drilling a 50-yard field goal and executing a strong onside kick late in the game to give his team the ball back and the chance to win. Said
Danny Amendola
of the onside kick, "It was fantastic. Those specialists work so hard on their craft and kicks, and I'm sure Gost was really excited about it. It was a big play -- play of the game."
Gordon bothers secondary.
A primary concern for the Patriots' secondary coming into the game was Browns wide receiver
Josh Gordon
. Gordon shined again, besting
Aqib Talib
in man coverage for an 80-yard score and finishing with 151 receiving yards and a touchdown.
Late flag comes into focus.
Browns cornerback
Leon McFadden
was flagged for pass interference late in the game, a call that gave the Patriots the ball at Cleveland's 1-yard line. McFadden didn't appear to make much contact on the play, saying after the game, "I didn't feel like there was pass interference, but all I can do is go back and look at the film and make corrections."
Siliga for Sopoaga.
The Patriots made something of a personnel shift on defense, with second-year defensive tackle
Sealver Siliga
playing over veteran
Isaac Sopoaga
. Sopoaga didn't enter the game until the fourth quarter, playing minimal snaps. Siliga notched six tackles in total.
Brady (quietly?) goes over 400 yards.
If such a thing as a quiet 400-yard passing performance exists,
Tom Brady
accomplished it on Sunday. Brady threw for 418 yards, his second-highest total of the season. He added two touchdown passes, upping his total to 21 for the season.
Belichick extends record streak.
Patriots coach Bill Belichick has led his team to 11 straight seasons with 10 or more wins, extending his own NFL record. The Patriots also improved to 41-6 in December since 2001, best in the NFL.
December, 8, 2013
12/08/13
2:35
PM ET
FOXBOROUGH, Mass. -- Sharing some halftime thoughts as the
New England Patriots
trail the Browns
6-0
:

Uninspiring performance from Patriots:
Dropped passes. Missed blocking assignments. Substitution issues on the sideline with the coaching staff and players that lead to 12-men-on-the-field penalties and general confusion. Simply put, it's been uninspiring football from the Patriots. At the same time, credit also goes to the Browns in some areas (e.g.
D'Qwell Jackson
's range on an interception of a throw that was forced), who certainly haven't quit after last week's loss to the Jaguars.
Not as much about adjustments as execution:
Unlike last week, when the Patriots altered their offensive plan at halftime, this game doesn't strike us as much about being adjustment-based. It's more about execution. There are opportunities there if they can make the plays. The Patriots looked like one of the NFL's worst teams in the first half.
Charting Ridley's usage:
The Patriots have eased running back
Stevan Ridley
back into the mix after he was a healthy scratch last week because of ball-security issues. He played five snaps in the first half.
Siliga's presence highlights focus on interior rush defense:
One of the areas prioritized defensively during the week of practice was the Browns' inside running game. Along those lines, the Patriots started nose tackle
Sealver Siliga
(6-2, 325) over
Joe Vellano
(6-2, 300), electing for more bulk and power (and choosing Siliga over veteran
Isaac Sopoaga
to provide it). That was a notable personnel shift, and the results have been good. The inside running game, outside of the first few plays of the game, hasn't been a big factor.
Closer look at cornerback usage:
The Patriots started
Aqib Talib
and
Logan Ryan
at cornerback in the base defense, with Talib shadowing receiver
Josh Gordon
all over the field. When the Browns go to a three-receiver package, the Patriots are taking Ryan off the field and adding cornerbacks
Alfonzo Dennard
and
Kyle Arrington
as the fourth and fifth defensive backs. Something different, with Talib and Ryan two of the bright spots in a half with few of them.
Patriots open the half with ball:
After winning the opening toss and deferring the choice to the second half, the Patriots will receive the opening kickoff of the half.
December, 5, 2013
12/05/13
7:45
PM ET
November, 27, 2013
11/27/13
3:45
PM ET
FOXBOROUGH, Mass. -- The Patriots announced the promotion of practice-squad defensive tackle
Sealver Siliga
today, a move that gives the defense some more bulk inside after some struggles defending the run in their nickel package Sunday night against the Denver Broncos.
Siliga, a second-year player out of Utah, is listed at 6-foot-2 and 325 pounds. He has a
Kyle Love
-type build.
Since losing starters
Vince Wilfork
(Sept. 29) and
Tommy Kelly
(Oct. 6) to season-ending injuries, and before that, unexpectedly having first-year player Armond Armstead land on the reserve/non-football illness list that ultimately knocked him out for the season, the Patriots have worked hard to add size and create depth at the position.
Siliga first joined the practice squad on Oct. 23. He entered the NFL as an undrafted free agent in 2011 and has spent time with the 49ers, Seahawks and Broncos, appearing in one career game.
The Patriots now have rookies
Joe Vellano
(6-2, 300) and
Chris Jones
(6-1, 309) as their top defensive tackles, with veteran nose tackle
Isaac Sopoaga
(6-2, 330) also on the depth chart. Sopoaga played just 14 snaps Sunday night and might be managing an injury, which could have sparked the promotion of Siliga.
The Patriots also formally announced the previously reported signing of tight end D.J. Williams and practice squad offensive tackle/guard Patrick Ford.